Noodles are served with chicken and mushroom stew and a side of soup. This is one popular noodle dishes in Indonesia with many regional variations. Whether you are familiar with Indonesian food or not, you will love this for sure.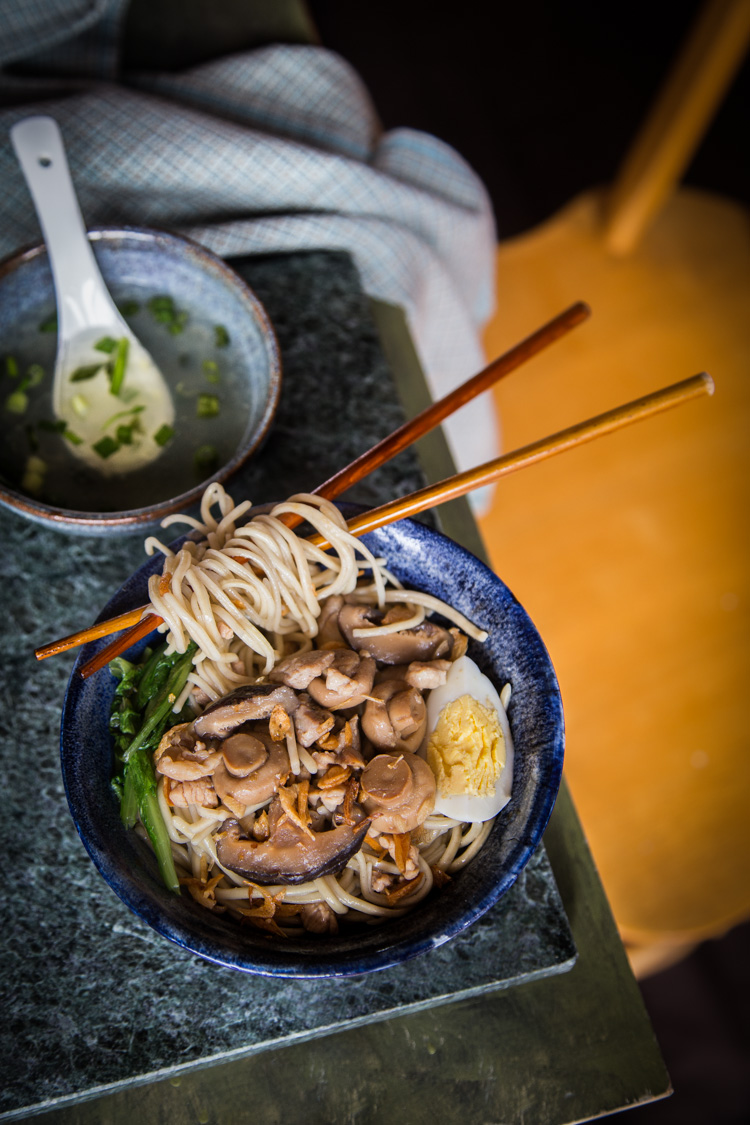 I keep declaring myself a noodle lover (and I am) and now I realized because I grew up with lots of varieties of noodles. This mie ayam jamur is one of my favorite noodle dishes I grew up eating. It may not be the exact copy cat of what they sell, kinda like my own version but it never fails to satisfy that craving. I can make the chicken and mushroom stew in a bigger batch and eat it again the next day, sometimes over rice 🙂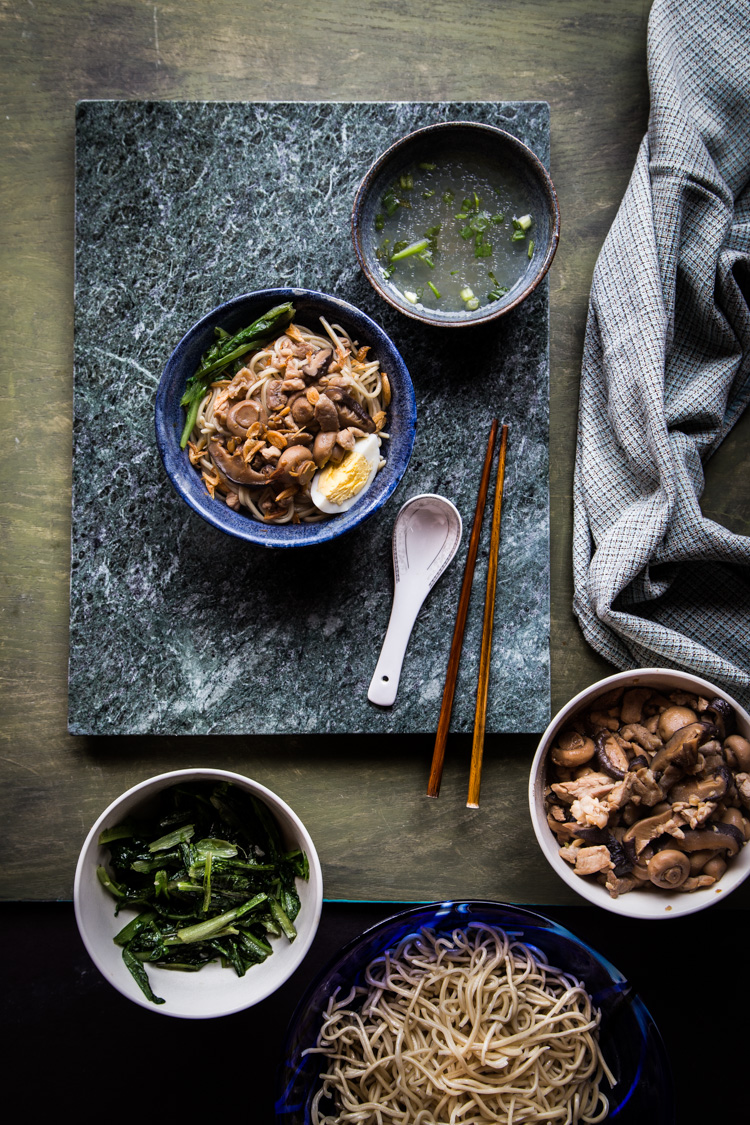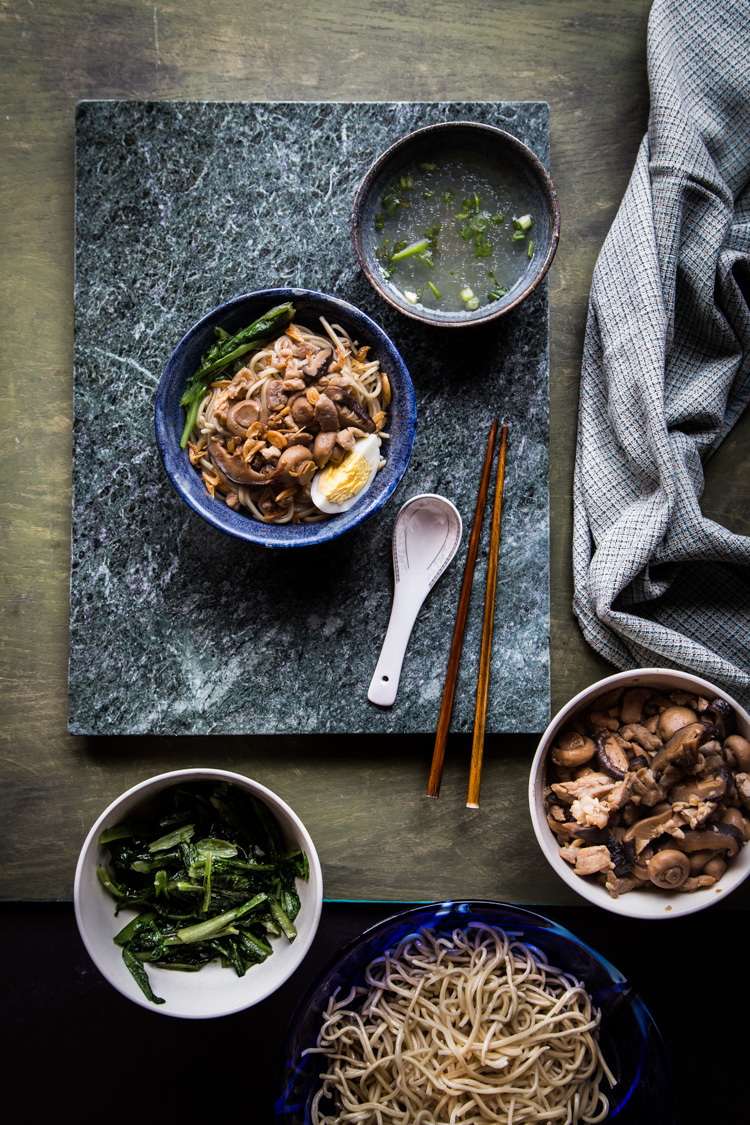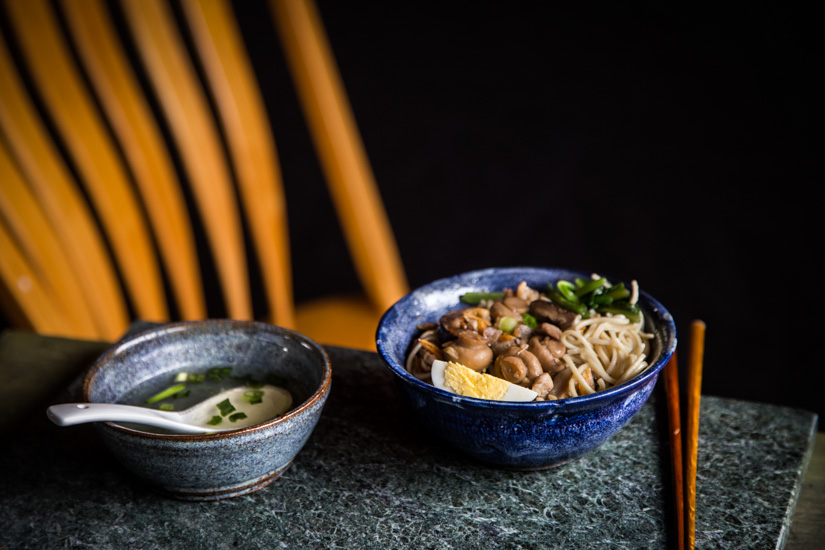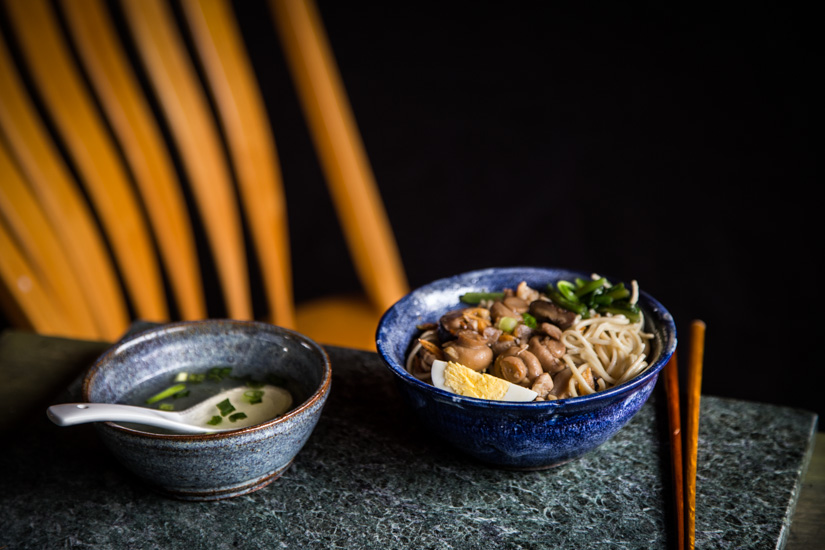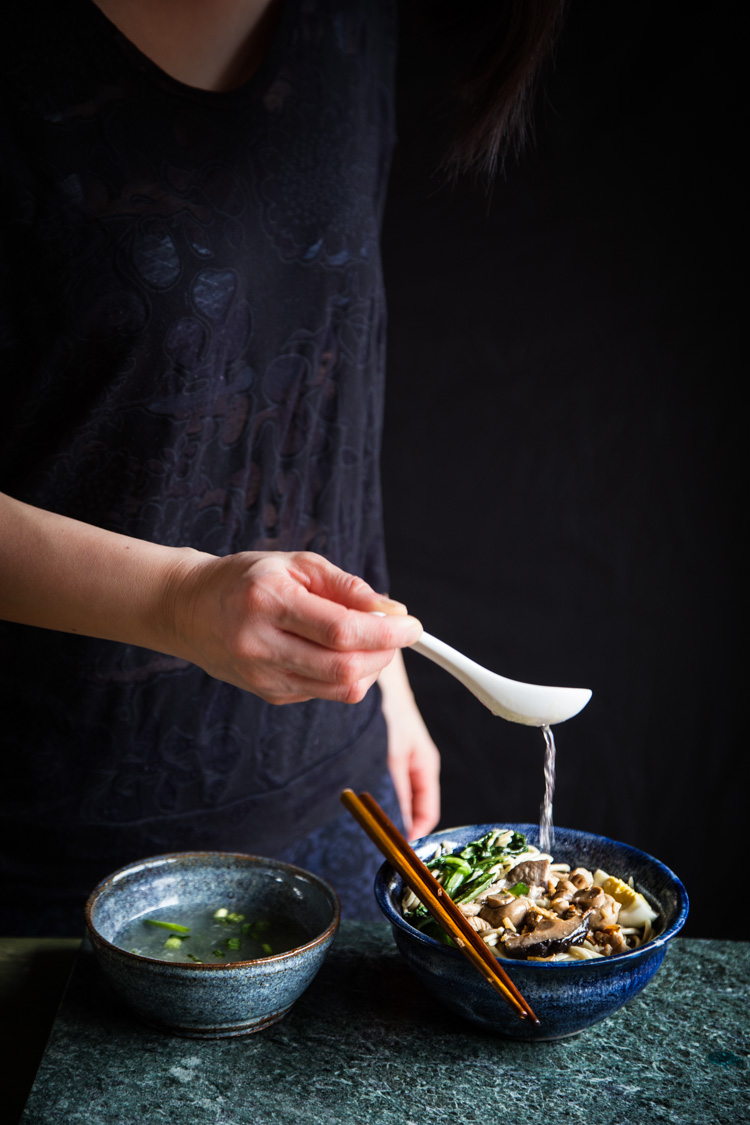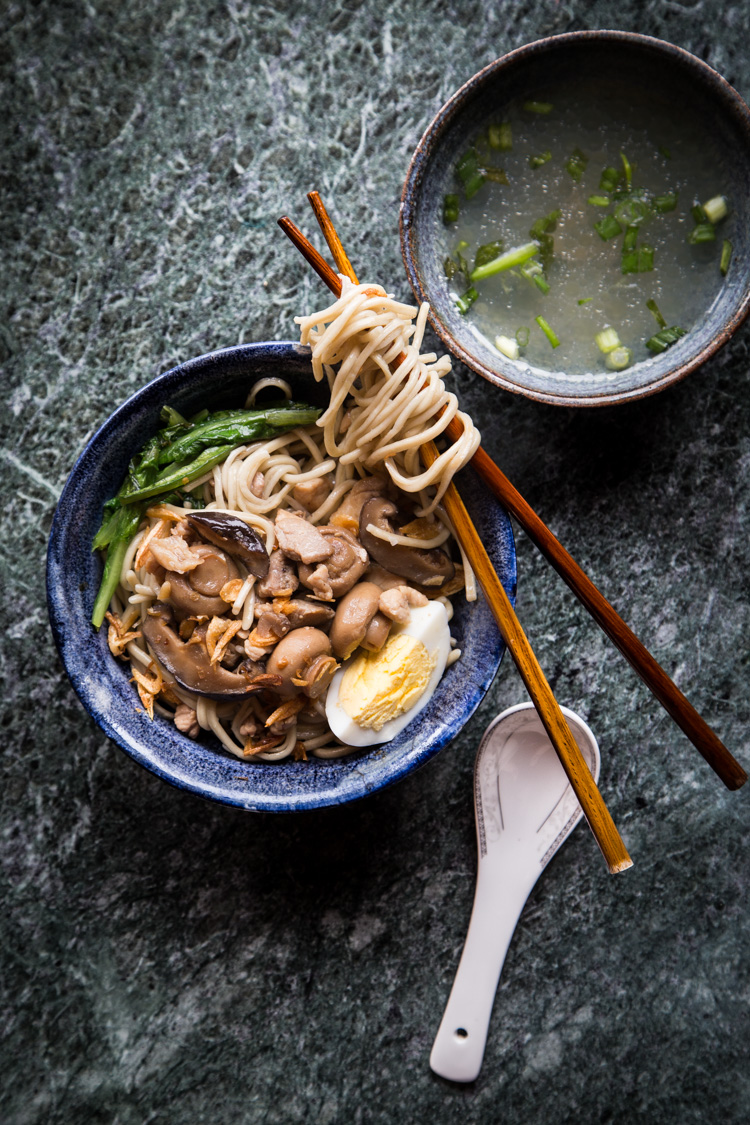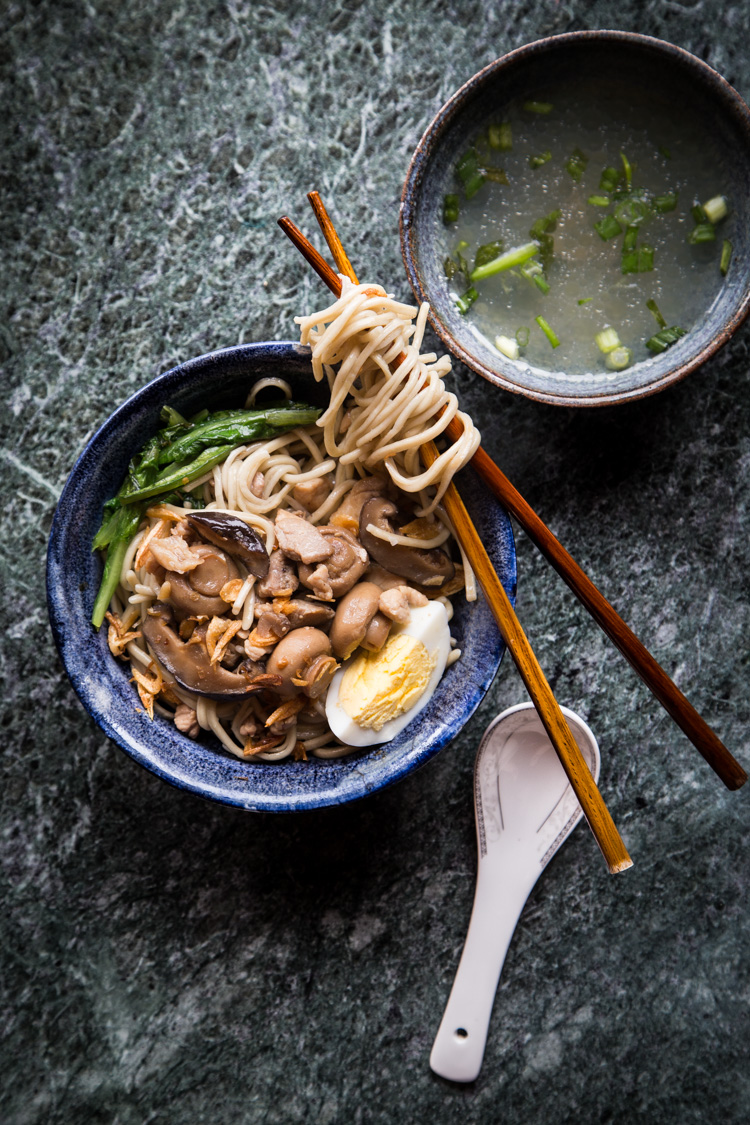 Chicken noodles with mushroom (Mie ayam jamur) - 4 servings
Ingredients
10

oz

fresh egg noodles or spaghetti/linguine

1

lb

boneless skinless chicken thighs

trim off the fat and save it to render the fat

2-3

bunch of Chinese greens (yu choy)

2

Tbsp

cooking oil

3

cloves

garlics

peeled and minced

1

inch

knob of fresh ginger

peeled and thinly sliced

5-6

large shiitake mushrooms

2

cups

button mushrooms

I used the canned button mushrooms

4

cups

chicken stock

divided

Salt to taste

2

Tbsp

lard

or cooking oil

2

hard-boiled eggs
Garnishes:
2

stalks

green onion

finely chopped
Instructions
Cook the chicken and mushrooms the day before:
Remove all visible fat from the chicken. Cut the chicken meat into bite-size, set aside

Soak the dried shiitake in a warm water until they are soft and double in size, about 2 minutes. Thinly sliced them.

Preheat a large wok or skillet. Add 2 Tbsp of cooking oil. Add in the garlic and fry for about 30 seconds. Take care not to burn them. Add in the ginger and stir fry for another 30 seconds. Add chicken meat and cook until they turn opaque, about 1 minute. Add mushrooms and 2 cups of chicken stock and the seasonings and bring to a boil and then lower the heat to let it gently simmer for another  15 minutes. Have a taste. Season with more salt if needed. Submerge the hard-boiled eggs inside the sauce. This is best if you prepare it one day before so the eggs have time to pick up the brown color. Just reheat it on the day you want to serve the noodles
On the day you want to serve this noodle
Cook the noodles according to the package. Do not overcook the noodles. Rinse with cold water after cooking. Blanch the Chinese greens (yu choy) in water until soft, but not mushy and refresh with cold water and set aside for later use

Place the remaining 2 cups of chicken stock in a small sauce pan. Bring it to a gentle simmer and season with pinch of salt and sugar to your taste. 
When ready to serve:
Remove the hard-boiled eggs from the sauce. Cut into half or quarter

Prepare an individual bowl. Add in about 1 tsp of the chicken fat and 2-3 Tbsp of the sauce from the chicken stew. Portion out the noodle into bowl and give it a toss. Ladle a generous amount of chicken meat and mushrooms over noodles. Garnish with chopped green onions, fried shallot crisp, hard-boiled egg, and fried lard. Serve this with a side of chicken stock in a small soup bowl. Sprinkle some chopped green onions over the soup. Serve immediately