Japchae is a very popular Korean stir-fried sweet potato noodles. The noodles are round, thick, and almost translucent. Some call it glass noodles. Perfect for any celebration, potlucks or everyday quick delicious meal.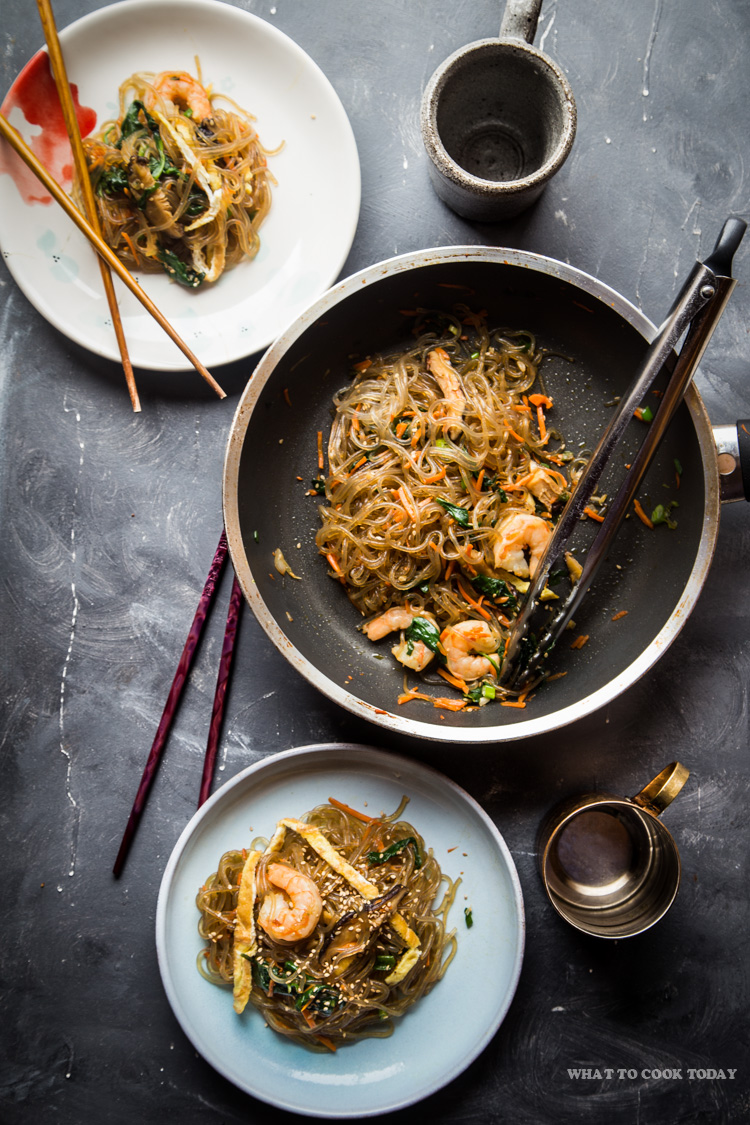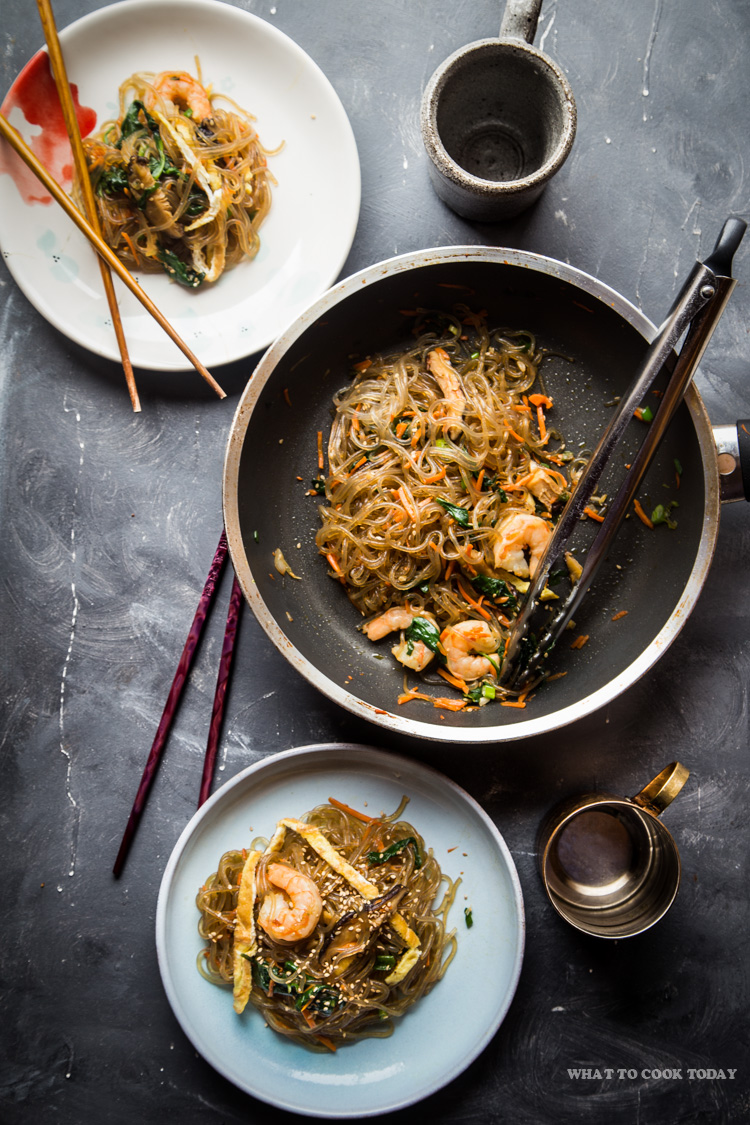 I made Japchae few years ago when I first got the Easy Korean Cooking cookbook by Cecilia Hae-Jin Lee. I've made it several times since then because it's our favorite noodle dish. Along the way I've modified it just because a dish like this is usually versatile and you can pretty much adapt it with ingredients of your choice. I've made Japchae with beef, pork, chicken, and now shrimp.
Japchae is traditionally made for parties or celebrations in Korea. The sweet potato noodles are almost similar to Chinese' bean thread noodles or cellophane noodles in terms of texture but skinnier. This is a perfect dish you can make for potlucks too. Kids to adult love japchae.
My daughter loves this noodle. It was funny that she was eating it like how a real Asian would eat their noodles – with a "slurping" sound by sucking the noodles in lol!
My father-in-law is another noodle head (wow…seriously! like there aren't enough already in this household!) and he absolutely loved japchae when I made it 2 years ago when he was here visiting us. He said, "It's very smooth". I guess that explains how easily it is to just "slurp" it in !!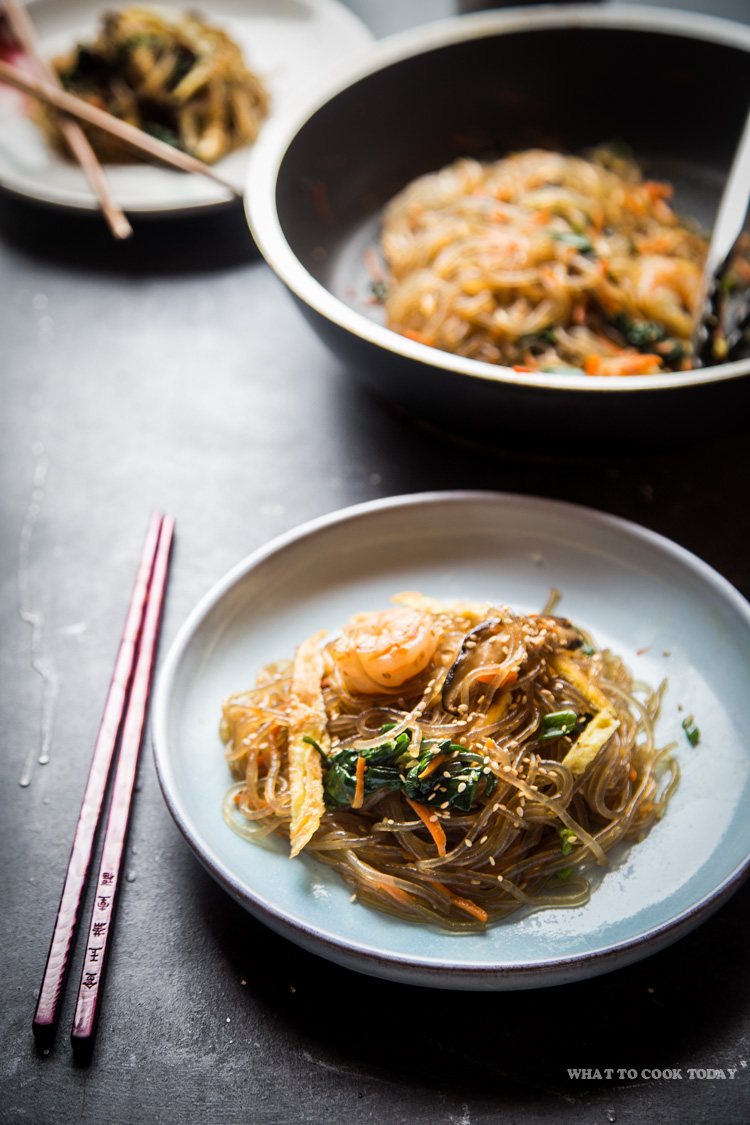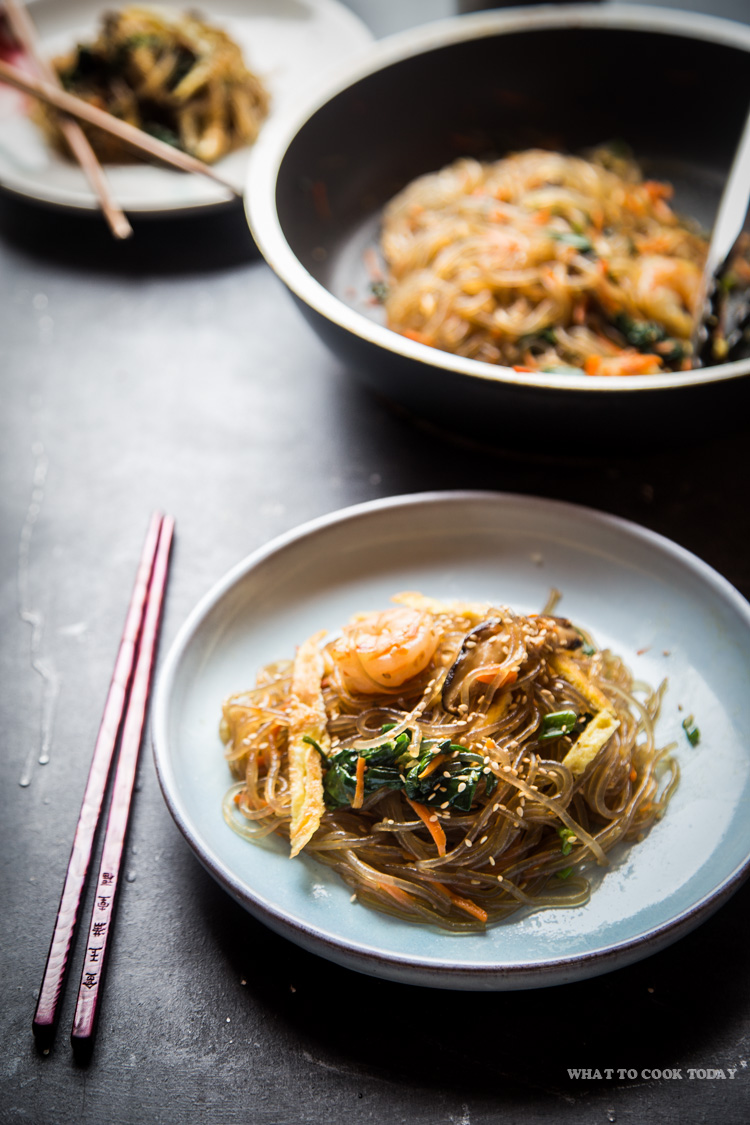 Recipe is adapted from Easy Korean Cooking cookbook by Cecilia Hae-Jin Lee
Japchae (Korean Sweet Potato Glass Noodle Stir-fry)
Ingredients
8

oz

sweet potato noodles

2

large

eggs

beaten

Small pinch of salt

2

cloves

garlic

minced

3

Tbsp

of cooking oil

¼

medium onion

sliced

2

cups

of baby spinach

3

to 4 dried shitake mushrooms

soaked and sliced

1

carrot

shredded or cut into thin strips

6

oz

beef rib-eye

or substitute with chicken, pork ,tofu, or seafood like shrimp

¼

cup

soy sauce

1

Tbsp

of sesame oil

¼

cup

sugar

Salt to taste

2

stalks of green onion

finely chopped

Toasted sesame seeds for garnish
Instructions
Cooking the noodles:
Cook the sweet potato noodles in a large pot of boiling water for about 7 minutes, soft but still chewy. Immediately drain and rinse thoroughly under cold water. If you like, cut the noodles with scissors into 6-to-7 inch lengths for easier eating
Making the omelette strips:
Preheat a large skillet with 1 Tbsp of oil. When the oil is hot, pour the eggs into the middle of the pan and swirl around to spread the egg mixture on the pan surface. Let it cook for 1 minute on one side or when the bottom is set and then flip over and cook for another 30 seconds. Remove from the pan. When cool enough to handle, cut into strips and set aside
Stir-frying the noodles:
If using meat, put the meat in the freezer for about 15 minutes and then thinly slice it and set aside.

In the same skillet, preheat 1 Tbsp of cooking oil in a large skillet over medium-high heat. Add the meat and garlic, Stir-fry until the meat (or whatever you use, in my case shrimp) is cooked, 2 to 3 minutes, dish out and set aside. On the same skillet, heat the skillet back up, add in 2 Tbsp of cooking oil. Add the onion, garlic, spinach, mushrooms, and carrot and cook until the onion is translucent and the spinach is soft, about 2 minutes

Add in the cooked noodles and pour in 1/4 cup soy sauce, 1 Tbsp sesame oil, pinch of salt and the sugar. Stir to mix and have a taste. Add more soy sauce if needed. Garnish with green onion and sesame seeds. Serve immediately
Recommended products: