Soft, chewy, and slightly sweet nian gao with 3 different filling combination is wrapped in buttery and flaky puff pastry is another creative way of using up the Chinese New Year nian gao.
NIAN GAO PUFF
Can we just get a consensus that pretty much anything that is wrapped with a buttery flaky puff pastry should be made illegal? I mean seriously!! I don't know why I didn't do this baked nian gao puff pastry any sooner. But they say better late than never. The idea is basically as simple as it sounds. Slices of nian gao are wrapped with ready-made puff pastry sheets and then baked to perfection. Seriously easy but it works.
DIFFERENT FILLING COMBINATIONS
A friend of mine send me this amazing box of Chinese pastries that she hauled back all the way from Penang. It's ridiculous how tasty those pastries were. Sinful but only God knows how amazing they were. The pastries were filled with some of the most amazing filling combinations such as lotus seeds paste with chicken floss, salted egg yolk with pandan paste, shredded coconut with gooey nian gao. What really caught my attention was the lotus seeds paste with chicken floss! I thought that combination was really amazing and creative! This may not be something new anymore in Asia, but it was certainly new to me and I'm loving it and decided to give this combination twist in my baked nian gao puff pastry!
Here are my filling combinations:
1. Nian gao slice + nuts (slivered almond in my case)
2. Nian gao slice + pork floss
3. Nian gao slice + red bean paste + pork floss
You can really just go crazy with your own combinations if you wish.
HOW TO EASILY MAKE BAKED NIAN GAO PUFF PASTRY
1. Cut nian gao into sticks about 3 x 1.5 inch and 1/2-inch thick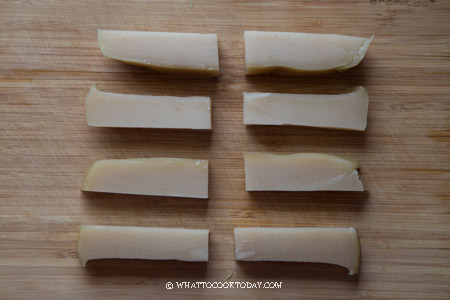 2. Roll out the ready-made puff pastry into thin sheet, about 6 x 6 inch or larger if you put more filling and put the nian gao and your filling combination here
3. Wrap them up a bit loose as the nian gao will expand when you bake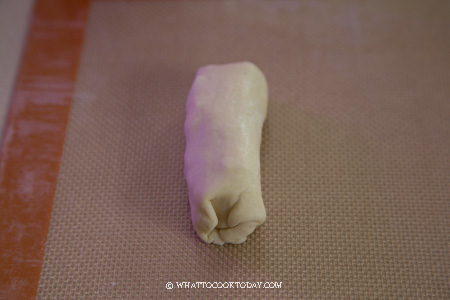 4. Make about 3 slits diagonally on top of the pastry


5. Brush with egg wash and sprinkle with some sesame seeds or nuts if you wish


6. Bake in the oven at 400 F for 15-20 minutes or until nicely golden brown. Let them cool down on the cooling rack
TOP TIPS YOU NEED TO KNOW
1. Use all-butter puff pastry
I highly recommend all-butter puff pastry. I like Trader's Joe all-butter puff pastry, but feel free to use other of your favorite brands
2. Wrap it loose
I can't emphasize enough that it's important NOT to wrap the puff pastry around the nian gao too tightly. Leave it a bit of wiggle room as the nian gao will expand when you bake it and we don't want your puff pastry to explode in the oven

CAN I BAKE NIAN GAO PUFF PASTRY AHEAD OF TIME?
The good news is, YES you can. This applicable to other puff pastry recipe in general too. Just proceed with the recipe and you can freeze the baked puff pastry. Here's how:
STORING: Arranged the baked puff pastry on a baking sheet in a single layer lined with parchment paper, not touching each other and place in the freezer for 1 hour and then transfer to a freezer bag. They can be kept in the freezer for up to 2 weeks
REHEATING: They can be reheated in the preheated oven, toaster oven, or air fryer at 350 F for 10 minutes or until they are crispy and flaky on the outside and heated through inside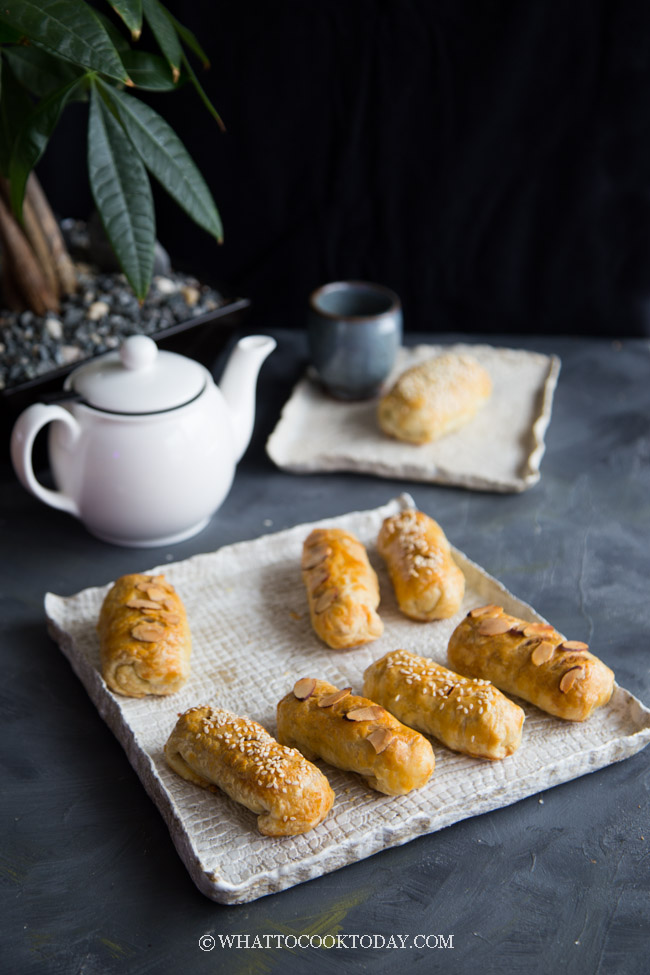 Even a person who doesn't like to eat nian gao enjoy this baked nian gao puff pastry. My husbands and kids really enjoy the filling combinations. Ever since I introduced them to meat floss in my easy crispy mini pork floss rolls, they are hooked to this date. I won't be surprised to see more recipes incorporating more meat floss in the future 😉 It's something that I grew up with and love so much to this date!

Buttery flaky crust with soft, chewy, slightly sweet nian gao and the savory meat floss, nutty nuts, and sweet red bean paste are THE BOMB!

This blog post contains affiliate links. I earn a small commission when you made purchase at no extra cost to you. Learn more.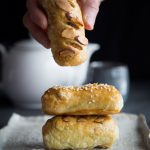 Super Easy Baked Nian Gao Puff Pastry (3 filling combo)
Ingredients
258

gr

All-butter puff pastry

about 1 sheet (8.5-9 oz)

8

-10 thick long slices of nian gao

about 3 x 1 1/2 inch, 1/2 inch thick
Filling combination idea:
Meat floss

Slivered almond

or any chopped nuts you like

Red bean paste

or other Asian-style sweet bean or seeds paste
Egg wash:
1

egg + 1 tsp water

beaten
Instructions
Prepare the puff pastry:
I used a frozen puff pastry sheet and I left it out at the counter for about 30-40 minutes to let it softened before cutting and rolling it out

Cut the puff pastry into 10 equal size. Work with one at a time and roll them out thinly into roughly about 6 x 6 inch square (a bit bigger if you add more stuff in your filling combination)
For nian gao + nuts combination:
Place the nian gao stick on the puff pastry and then scattered some nuts on top. You can do this the other way around too by scattering some nuts on the puff pastry and then top with nian gao stick
For nian gao + meat floss combination:
Place the nian gao stick on the puff pastry and then scattered some meat floss on top. If you do this the other way around, meat floss first then nian gao, the meat floss might get "burn" because we will make few slits on top of the puff pastry later to let some "steam" out and this will expose some of the meat floss
For nian gao + red bean paste + meat floss combination:
Spread some red bean paste on the puff pastry, about the length of your nian gao stick. Top with some meat floss. Place one nian gao stick and then spread another layer of red bean paste along the length of the nian gao stick
Wrapping:
Preheat oven to 400F. Wrap them up slightly loose because the nian gao will expand when you bake and we don't want any "explosion" in the oven. There's no right or wrong in how you wrap it. Place them on a baking sheet lined with parchment paper, about 1-inch apart as they will expand as they bake
Baking:
Use a small paring knife to make about 3 slits diagonally on top of the puff pastry. Brush with an egg wash. Sprinkle with some sesame seeds or nuts. This is optional

Place them in the oven, about 3rd rack from the top and bake for about 15-20 minutes or until the puff pastries have nice golden brown

Let them cool down on the baking sheet for 1 minute and then transfer to cooling rack to let them cool down completely
Storing:
They can be stored in the refrigerator for a week. For longer storage, arranged them on a baking sheet in a single layer lined with parchment paper, not touching each other and place in the freezer for 1 hour and then transfer to a freezer bag and can be kept for up to 2 weeks
Reheating:
They can be reheated in the preheated oven, toaster oven, or air fryer at 350 F for 5 minutes or 10 minutes if they are frozen