Easy potato spiral curry puff filled with aromatic potato and chicken filling. You can choose to deep fry or bake the curry puff for a healthier version. Easy step-by-step on how to create the spiral patterns. If you are looking for curry puff recipe that stays crispy for hours, this is it!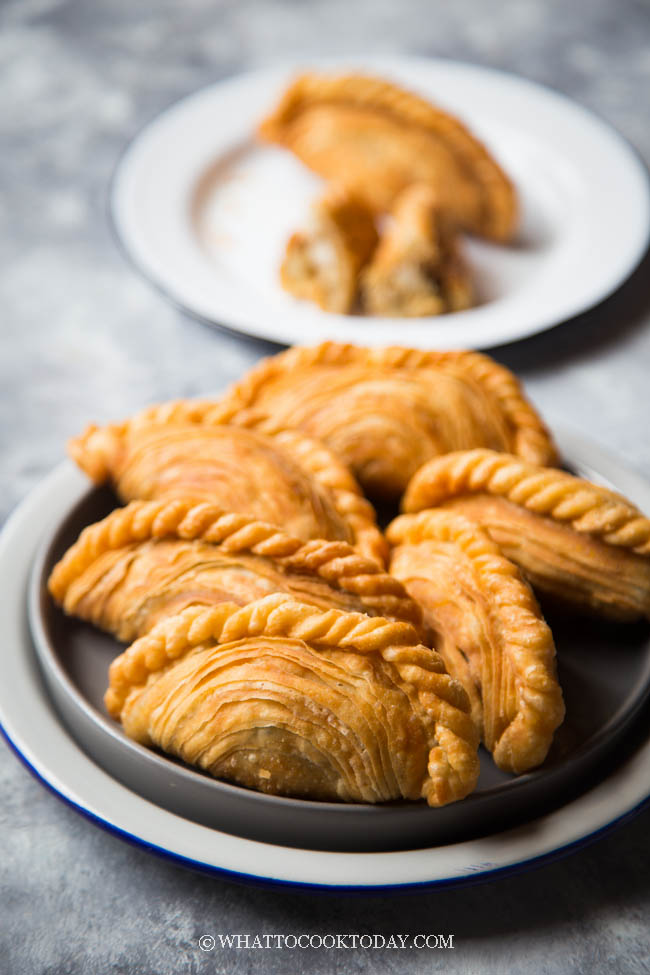 Spiral curry puffs are all the raves in Singapore and Malaysia. I learned about spiral curry puffs when I lived in Singapore for a short while. I bought Old Chang kee's curry puffs that are so popular in Singapore and got addicted to them ever since. I grew up with Indonesian curry puffs or we call it karipok without the spiral pattern on the dough. Curry Puff is almost like empanadas, but Southeast Asian style I suppose I can put it that way. They are normally filled with curried potatoes, onions, and in my case, I added chicken, sardines, other veggies like carrots, peas, and hard-boiled eggs. They are then deep-fried or baked. Most of the time they are deep-fried.
It is known as karipap pusing in Malaysia and Singapore. Pusing means in a spiralized pattern in this context in Malay language.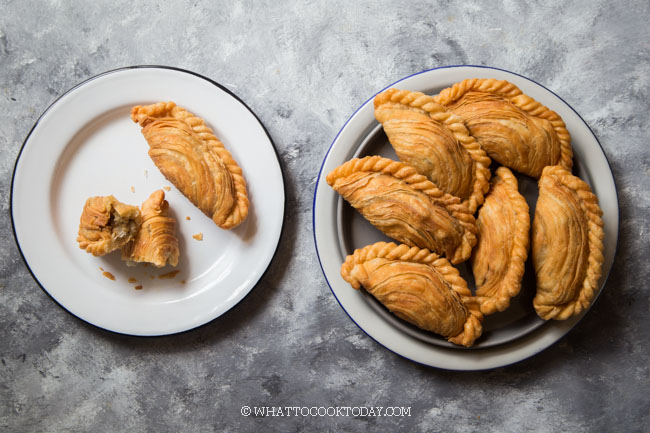 What makes this spiral curry puffs special is well, the spiralized pattern (the pusing pattern) on the puff pastry. I used to think it's super complicated to make, but it's actually easier than I thought. Let's get started!
First things first, let's make the potato and chicken filling, shall we?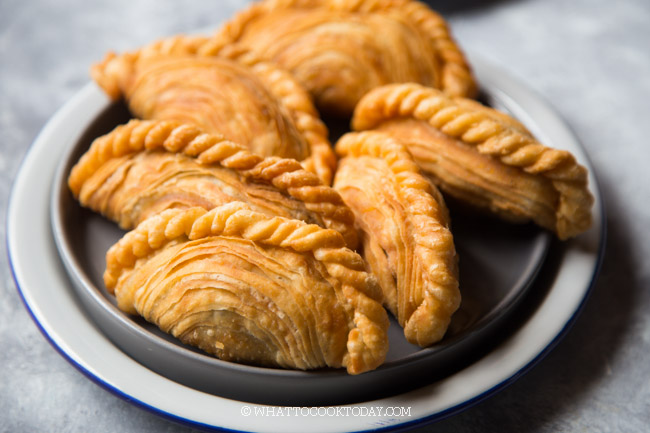 HOW TO MAKE POTATO FILLING FOR KARIPAP PUSING
I suggest preparing the filling the day before. It simply makes your day less hectic and you will keep your sanity too 😉
1. Heat skillet/wok with oil. Saute onion until soft, about 3-4 minutes.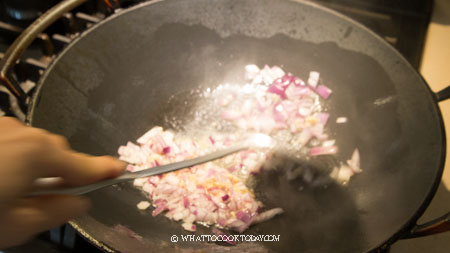 2. Add chicken pieces and stir fried until they turn color.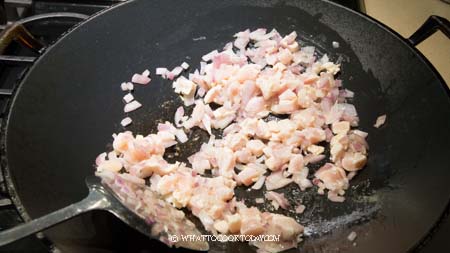 3. Add potatoes, mixed vegetables, curry powder, chili powder and continue to cook for about 5 minutes.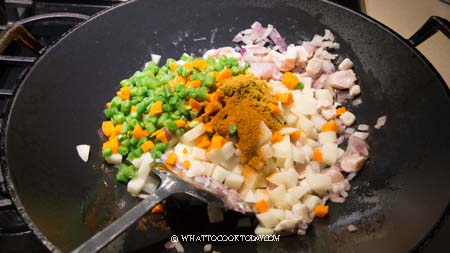 4. Add chicken broth,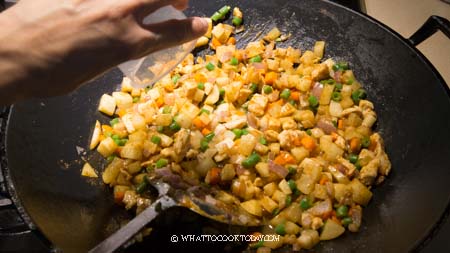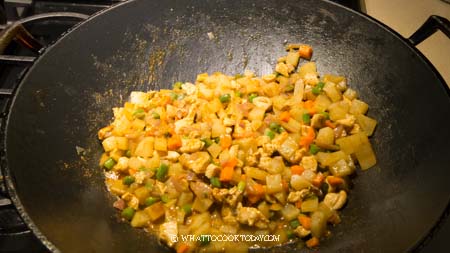 5. Cover with a lid and let it simmer for about 5 minutes or until the potatoes are soft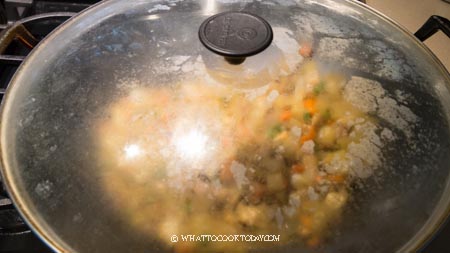 6. Uncover the lid and continue to cook until liquid has evaporated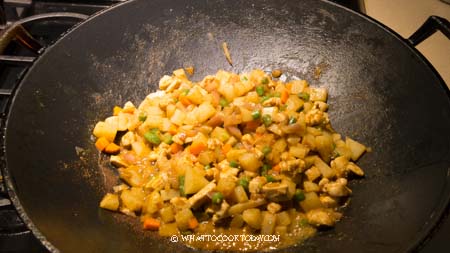 7. Sprinkle in the flour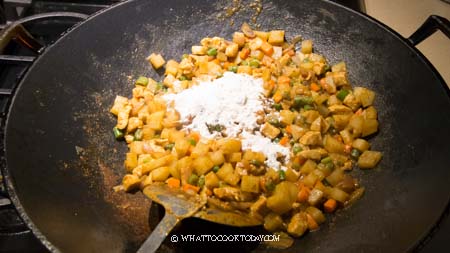 8. Continue to stir fry until the mixture sort of more "glue" together because of the flour. It is easier to wrap it later. Have a taste and adjust seasoning as needed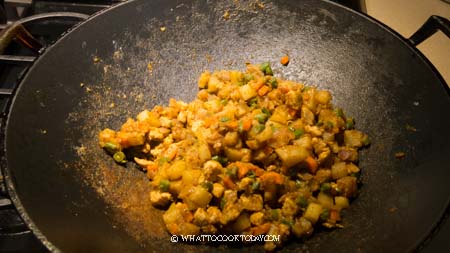 9. Remove from the heat and let it cools down completely before wrapping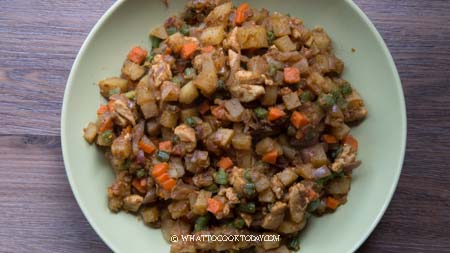 Next, let's talk all things spiral 😉
HOW TO CREATE SPIRAL PATTERN ON KARIPAP PUSING
The spiral patterns are created by using two different types of dough, water dough, and oil dough.
1. START WITH MAKING WATER DOUGH AND OIL DOUGH
For water dough: Mix flour, salt, sugar in a mixing bowl and stir to mix thoroughly. Rub the butter into the flour to form coarse crumbs.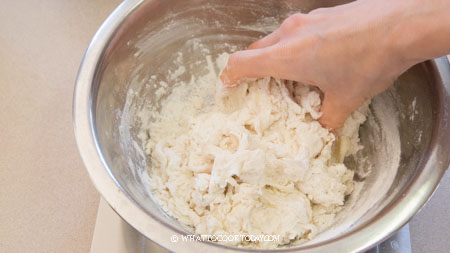 Add the water and gradually mix into a dough.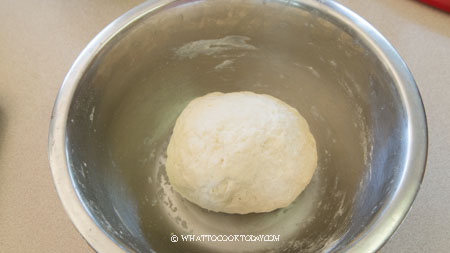 Wrap it up with a plastic wrap while you prepare the oil dough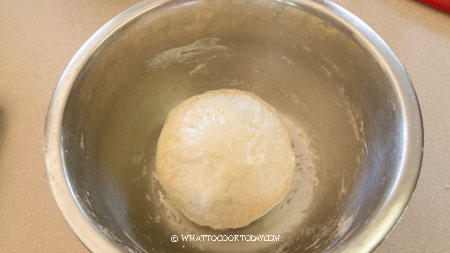 For oil dough: Mix the flour with butter and continue to knead until you can form a dough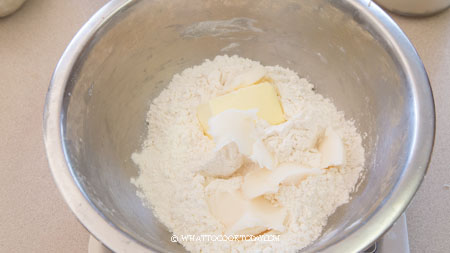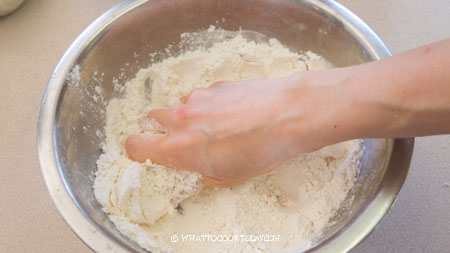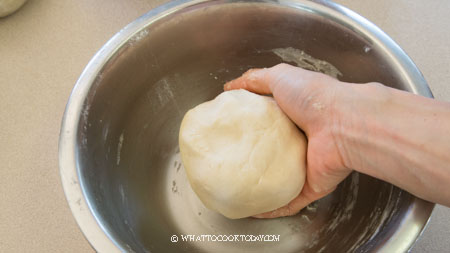 Now you have water dough (slightly bigger than the oil dough) and oil dough. Rest both doughs for 30 minutes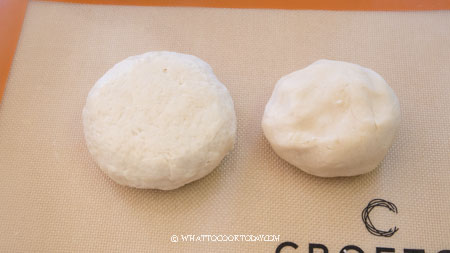 2. PUT WATER AND OIL DOUGHS TOGETHER
Give both doughs a few kneads. They should be smooth now after resting. Get the water dough and flatten into a disc.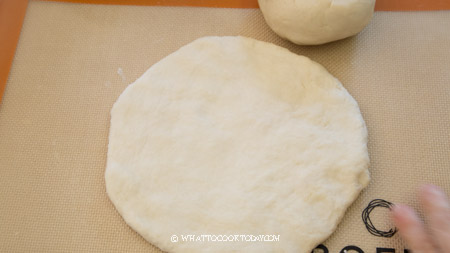 Place the oil dough on top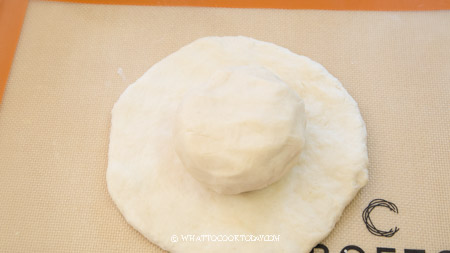 Wrap the water dough around it.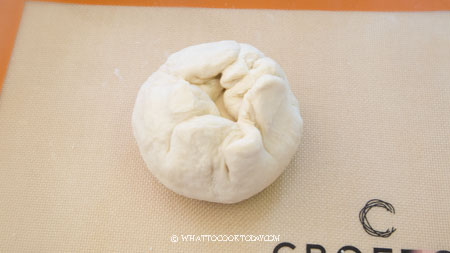 Wrap the whole thing up and let it rest for 15 minutes before rolling the dough out. Don't skip this resting step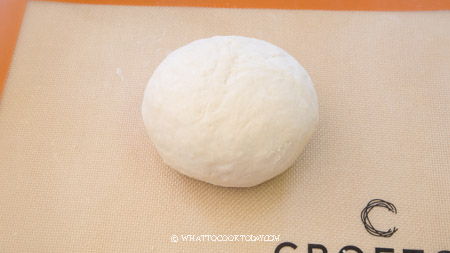 4. SHAPING
Lightly dust your working surface with a bit of flour. Get the water dough and roll it out into about 14 x 10 inch rectangle.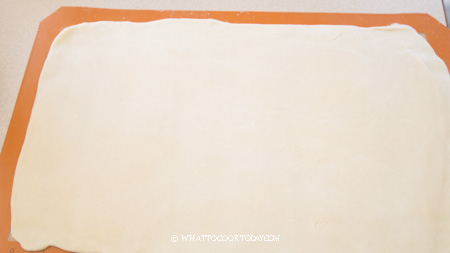 Then roll it up with your fingers, starting from the side near you to the other side (like a Swiss roll)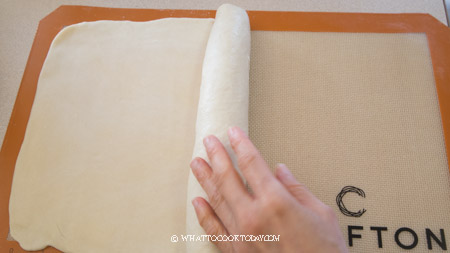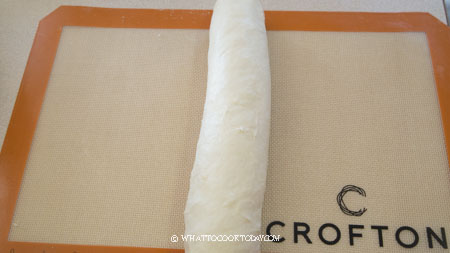 Then rotate the dough 90 degrees to the left or right (doesn't matter).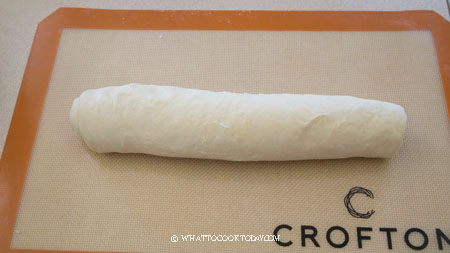 Use a rolling pin to roll it out again to a rectangle again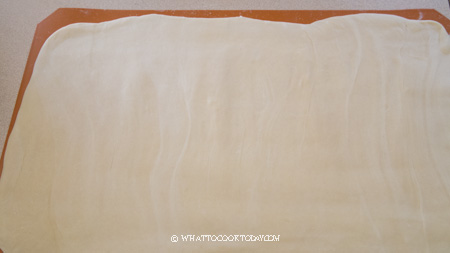 Use your fingers to roll it up again starting from the side near you to the other side like a Swiss roll again. Wrap it up tightly to prevent drying and rest for 15 minutes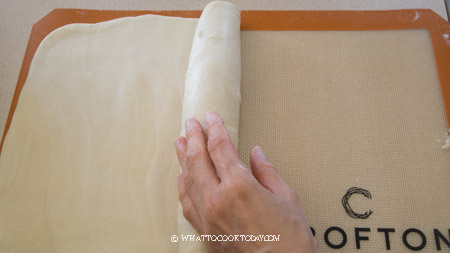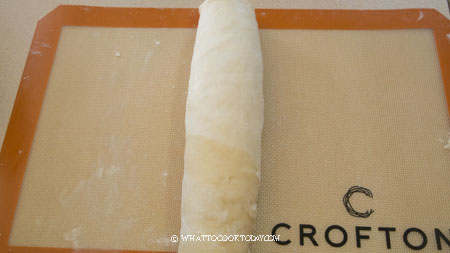 5. WRAPPING
Cut the dough into 20 equal portions. Keep them covered and work with one dough at a time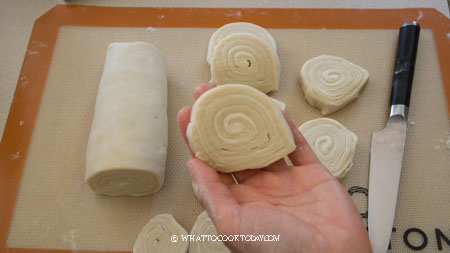 Lightly dust your working surface with a bit of flour. Flatten the cut dough with your palm and then use a rolling pin to roll it out into a circle, about 5-6 inches in diameter.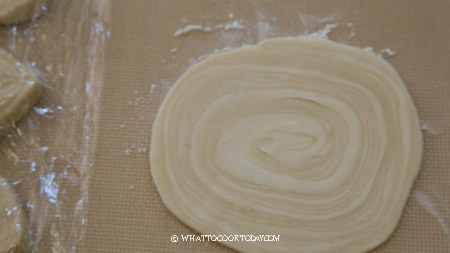 Place one portion of the filling and egg in the middle (if using)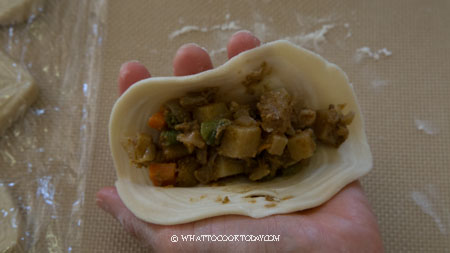 Fold the dough into half to create a half circle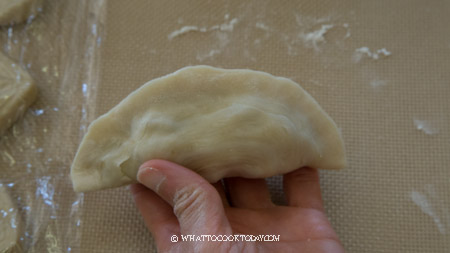 Seal the edge by pinching and folding up (you can watch the video).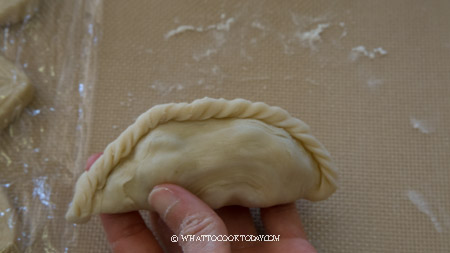 Repeat with the rest of the doughs and fillings


6. FRY THE CURRY PUFFS
Heat about 4-inches of oil for deep-frying over medium heat and fry in small batches until they are golden brown. Make sure there is enough oil and also to move them around a little bit as they are frying so the curry puff won't be touching the bottom of the pot as it will create a dark burn spot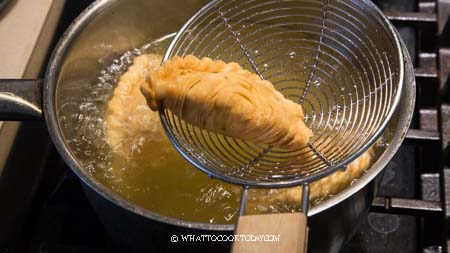 Remove from the oil to an absorbent paper towel and then transfer to a cooling rack for best result. Keep them warm in the oven at 200 F if you like. The fried curry puffs stay crispy for hours at room temperature too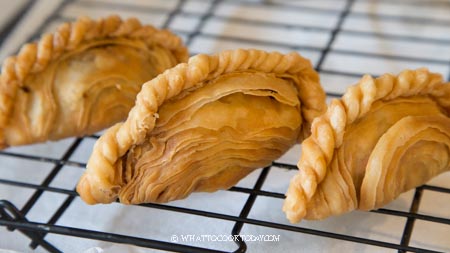 RELATED READING: Teochew Red Bean Spiral Thousand Layer Mooncake
HOW TO BAKE CURRY PUFFS IN THE OVEN OR AIR FRYER
Baked curry puffs don't have even browning and don't stay crispy as long as the fried curry puffs but it sure saves you some calories and the hassle of having to fry them.
For air fryer: Preheat air fryer at 350 F for 10 minutes. Brush the curry puffs with some egg wash. Place the curry puffs in a single layer and bake for 15-20 minutes or until golden brown.
For oven: Preheat oven at 350 F. Line a baking sheet with a parchment paper. Brush the curry puffs with some egg wash. Place the curry puffs on the baking sheet and bake for 25-30 minutes or until golden brown.
HOW TO STORE LEFTOVER CURRY PUFFS
UNCOOKED CURRY PUFFS: Place the uncooked curry puffs on a baking sheet lined with parchment paper. Arrange the curry puffs on top without touching each other. Place the tray in the freezer for about 1 hour. They are not completely frozen yet. Transfer to a freezer bag and they won't stick to each other anymore. When ready to cook, do not thaw and simply fry over medium-heat oil and expect a bit longer frying time since it's frozen. Control the heat so the outside won't be burnt while the filling is still cold.
COOKED CURRY PUFFS: Same method as the uncooked curry puffs above where you freeze them in the freezer for 1 hour and then transfer to a freezer bag. When ready to be reheated, preheat oven or air-fryer at 350 F and reheat for about 10-15 minutes or until heated through.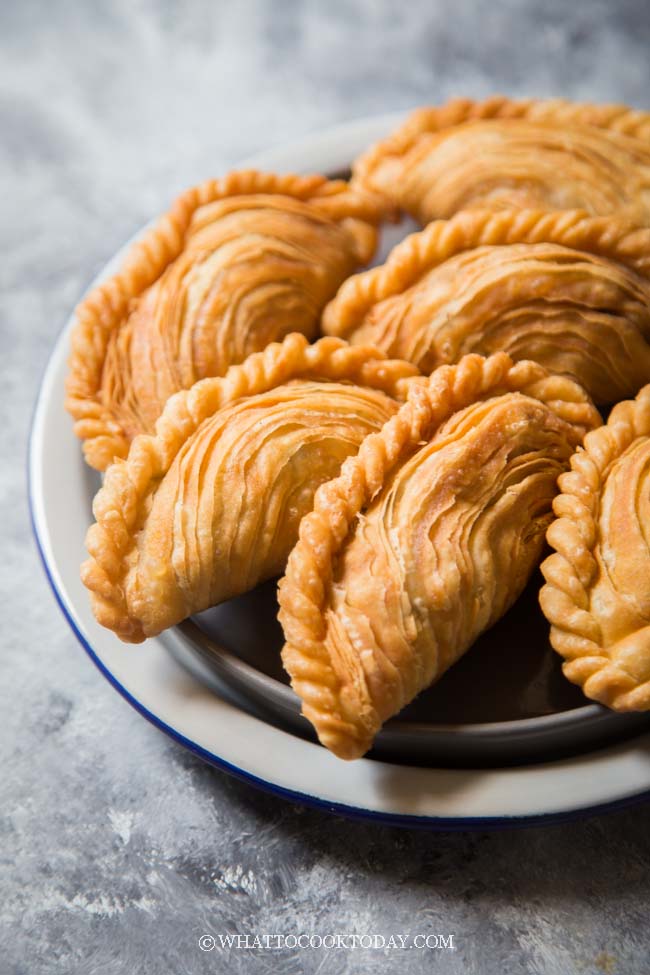 STAYS CRISPY FOR HOURS
This thing stays crispy at room temperature even after 3-4 hours. I was pretty amazed. My family raved about this version and that's when I decided this one is definitely a keeper.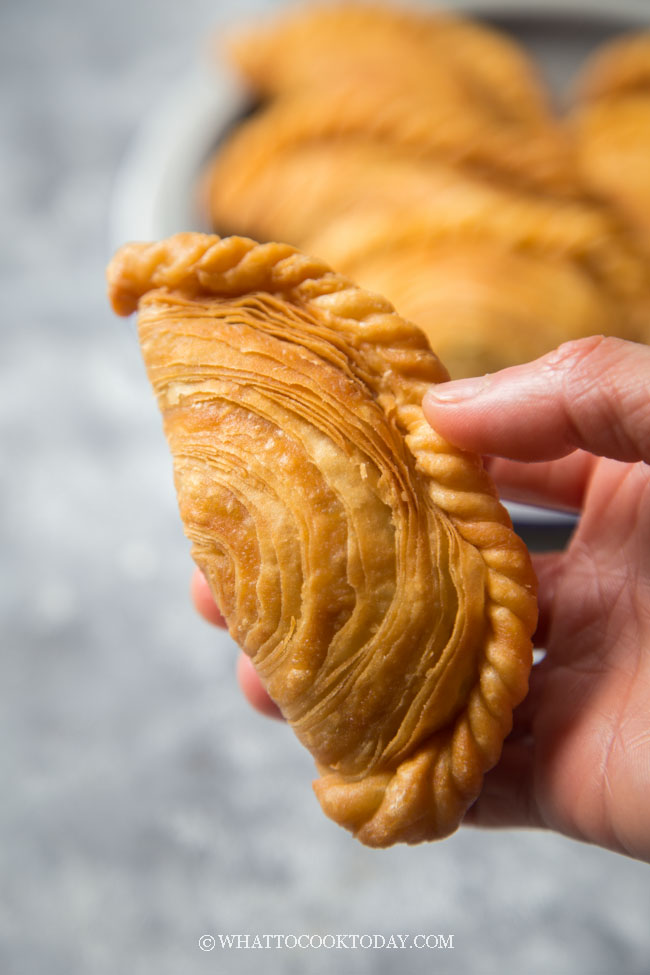 DID YOU MAKE THIS SPIRAL CURRY PUFF (KARIPAP PUSING) RECIPE?
I love it when you guys snap a photo and tag to show me what you've made 🙂 Simply tag me @WhatToCookToday #WhatToCookToday on Instagram and I'll be sure to stop by and take a peek for real!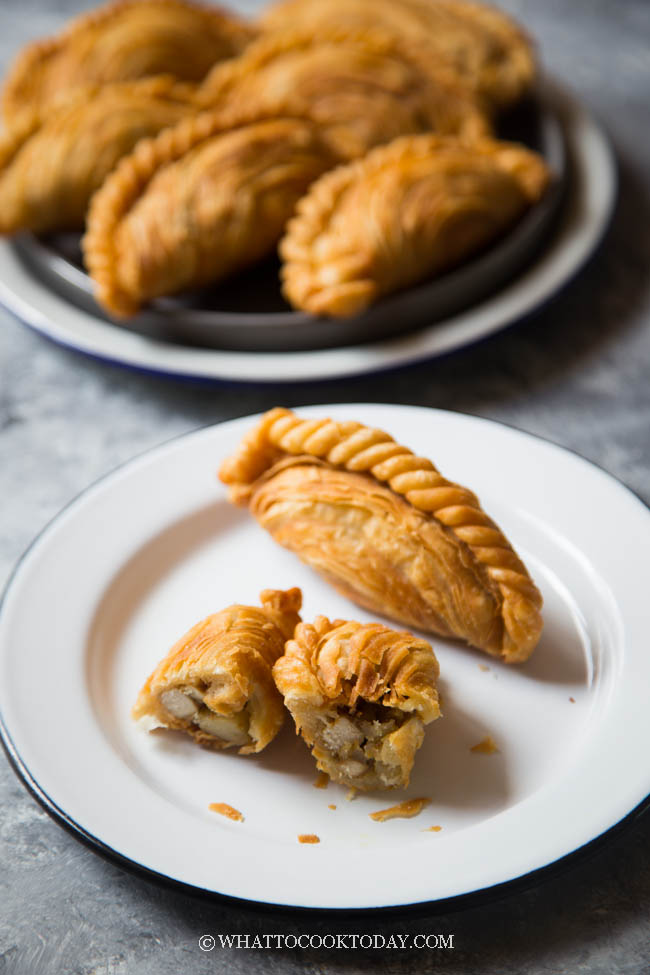 Original recipe was published in 2019 and I have updated the recipe with an even better puff pastry recipe that stays crispy for hours at room temperature. Recipe for the puff pastry is adapted from Katherine Kwa's with slight modifications.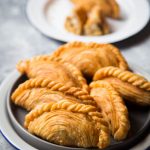 Spiral Curry Puff / Karipap Pusing / Karipok (Baked or Fried)
Ingredients
Potato filling:
2

Tbsp

cooking oil

350

gr

potatoes

peeled and cut into 1/2-inch cubes

200

gr

boneless skinless chicken meat

diced

100

gr

mixed veggies

thawed if frozen

1

large onion

diced

2

Tbsp

curry powder

adjust to your preference

1

Tbsp

chili powder

adjust to your preference

¼

cup

water or chicken broth

¼

tsp

sugar

Salt to taste

2

Tbsp

all-purpose flour

2

hard-boiled eggs

optional, cut into 10 portions
To fry curry puff:
To bake curry puff:
1

large

egg

beaten

1

tsp

milk
Instructions
Prepare the filling (can be done the day before):
Heat skillet/wok with oil. Saute onion until soft, about 3-4 minutes. Add chicken pieces and stir fried until they turn color. Add potatoes, curry powder, chili powder and continue to cook for about 5 minutes. Add water or chicken broth, cover with a lid and let it simmer for about 10 minutes until the potatoes are soft. Uncover the lid and continue to cook until liquid has evaporated

Sprinkle in the flour and continue to stir fry until the mixture sort of more "glue" together because of the flour. It is easier to wrap it later. Have a taste and adjust seasoning as needed. Remove from the heat and let it cools down completely before wrapping
Prepare the oil and water dough:
For water dough: Mix flour, salt, sugar in a mixing bowl and stir to mix thoroughly. Rub the butter into the flour to form coarse crumbs. Add the water and gradually mix into a dough. Wrap it up with a plastic wrap while you prepare the oil dough

For oil dough: Mix the flour with butter and continue to knead until you can form a dough. If it feels dry, add more butter/lard/shortening so it can come into a smooth pliable dough

Rest both doughs for 30 minutes to 1 hour
Put water and oil doughs together:
Get the water dough and flatten into a disc. Place the oil dough on top and wrap the water dough around it. Wrap the whole thing up and let it rest for 15 minutes before rolling the dough out. Don't skip this resting step
Shaping:
Portion the filling into 20 equal portions when you are ready to wrap the curry puffs

Lightly dust your working surface with a bit of flour. Get the water dough and roll it out into about 14 x 10 inch rectangle. Then roll it up with your fingers, starting from the side near you to the other side (like a Swiss roll)

Then rotate the dough 90 degrees to the left or right (doesn't matter). Use a rolling pin to roll it out again to a rectangle. Use your fingers to roll it up again starting from the side near you to the other side like a Swiss roll again. Wrap it up tightly and rest for 15 minutes

Cut the dough into 20 equal portions. Keep them covered and work with one dough at a time
Wrapping:
Lightly dust your working surface with a bit of flour. Flatten the cut dough with your palm and then use a rolling pin to roll it out into a circle, about 5-6 inches in diameter. Place one portion of the filling and egg in the middle (if using)

Fold the dough into half to create a half circle and then seal the edge by pinching and folding up (you can watch the video). Repeat with the rest of the doughs and fillings
Deep fry curry puffs:
Heat about 4-inches of oil for deep-frying over medium heat and fry in small batches until they are golden brown. Make sure there is enough oil and also to move them around a little bit as they are frying so the curry puff won't be touching the bottom of the pot as it will create a dark burn spot

Remove from the oil to an absorbent paper towel. Keep them warm in the oven at 200 F if you like. The fried curry puffs stay crispy for hours at room temperature too
Air-fryer curry puffs:
Preheat air fryer at 375 F for 10 minutes. Brush the curry puffs with some egg wash. Place the curry puffs in a single layer and bake for 15-20 minutes or until golden brown
Baked curry puffs in the oven:
Preheat oven at 375 F. Line a baking sheet with a parchment paper. Brush the curry puffs with some egg wash. Place the curry puffs on the baking sheet and bake for 25-30 minutes or until golden brown
Notes
You can freeze them before frying. Place them in a freezer bag with some space so they won't stick to each other, and seal tightly. When ready to be fried, do not thaw, and fry directly. Heat the oil until really hot and then lower it a little bit, and you need to fry a bit longer so the inside will not be cold while the outside is too dark in color