Teochew Red Bean Spiral Thousand Layer Mooncake- Pastry-style mooncakes are filled with sweetened red bean paste and made with coconut oil instead of lard and colored with natural juice from blue pea flowers. Ultra flaky crust you will absolutely love!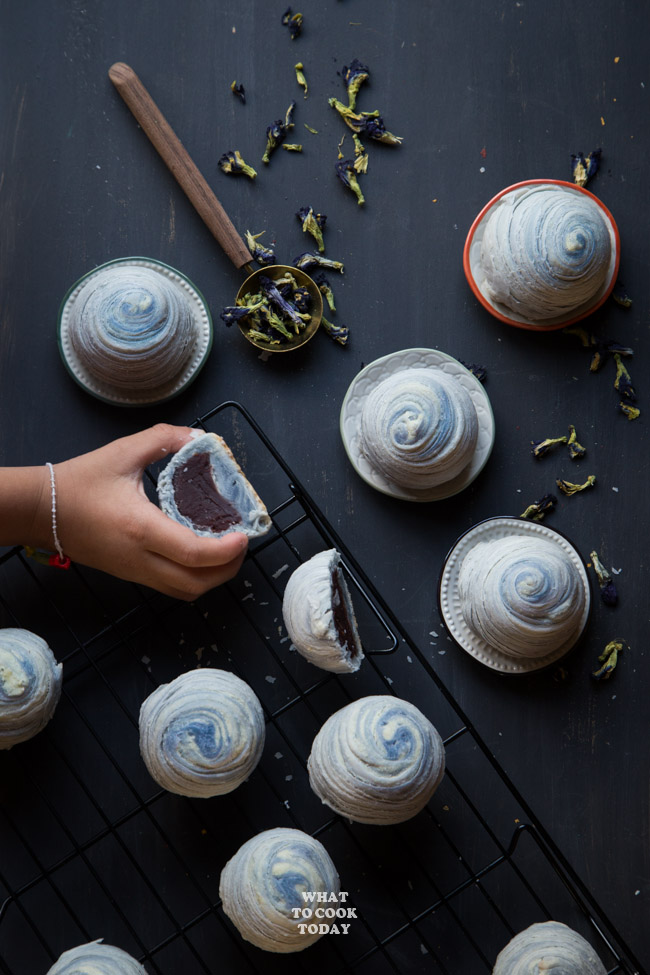 Mooncake festival is next monday and I'm a little late with posting this Teochew style red bean paste thousand layer mooncake. But, better late than never they say! I actually made these out of a whim! I had all the ingredients on hand and decided to spend the time I didn't really have to make these! LOL! BUT, the family loves them so I guess that's worth it!
TRADITIONAL TEOCHEW MOONCAKE
I grew up with traditional Teochew mooncake. Basically, it's a pastry-style mooncake made with lard for the outer flaky crust and inside the pastry is sweetened lotus filling. There are also version with savory filling. The mooncake is usually "stamped" with red stamp on top of the cake (the Chinese likes red remember? LOL). Unlike these thousand layer mooncake that shape like a ball, traditional Teochew mooncake is shaped like a disc.
TEOCHEW SPIRAL THOUSAND LAYER MOONCAKE
The spiral thousand layer mooncake is not something I've known as a kid, but sure has gained popularity in the past decade probably! Nobody really knows for sure how it came about but the inspiration is definitely from the traditional disc-shaped Teochew mooncake. It reminds me of the spiral curry puff that is very popular in Singapore.
Most people like to fill this spiral thousand layer mooncake with sweetened yam paste. I don't feel like making any filling from scratch (I shouldn't even be spending time making these mooncakes to begin with LOL!). I still have ready-made sweetened red bean paste and that's what I use. They still turn out very delicious. The kids love them.
As I'm trying to minimize the use of artificial coloring, I use dried blue pea flower juice to color the mooncake.
HOW TO EXTRACT BLUE PEA FLOWER JUICE:
1. Start with warm water (in this case 80 gr of warm water)
2. Add 1/4 cup of dried blue pea flower (add more if you want a more intense color)
3. Let them steep for at least 15 minutes
4. Squeeze out any extra liquid from the flower, discard them and you have yourself some blue pea flower juice

HOW TO STORE TEOCHEW THOUSAND LAYER MOONCAKES
How to store flaky pastry like this
1. Let them cool down completely on a cooling rack
2. If you plan to eat them the next day or two, keep them in paper bag. Push all the air out and fold over. The paper bag can help to retain the crisp and flakiness at least for a day or two
3. For longer storage, put the whole paper bag inside a freezer bag. Push all the air out and seal the bag. They can be kept for up to 3 months in the freezer
4. Thaw them at room temperature and then reheat briefly in the oven or an air-fryer at 350 F for 8-10 minutes or until crisp again

HOW TO REHEAT TEOCHEW THOUSAND LAYER MOONCAKES
They tend to lose that flakiness after refrigeration, but you can "recrisp" them with:
1. Air fryer
Set the temperature to 350 F and reheat for about 5 minutes and they are as good as new
2. Oven
Set the temperature to 350 F and bake for about 5 – 8 minutes
Did you make this Teochew red bean spiral mooncake recipe?
I love it when you guys snap a photo and tag to show me what you've made 🙂 Simply tag me @WhatToCookToday #WhatToCookToday on Instagram and I'll be sure to stop by and take a peek for real!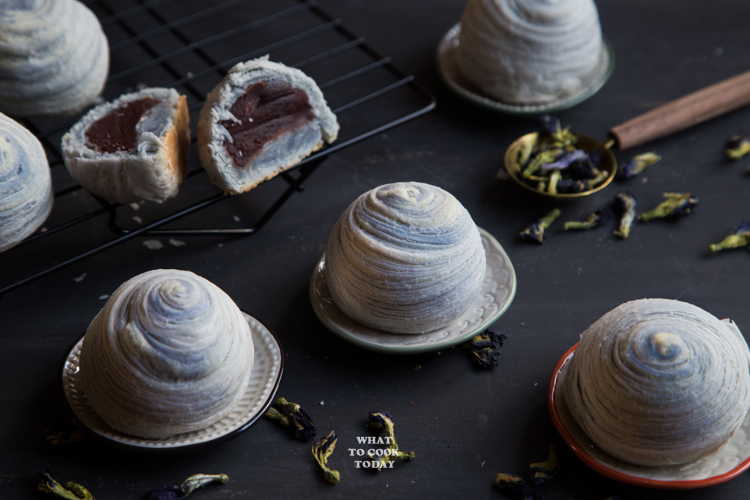 You may also like this Teochew Rainbow Spiral Yam Mooncake

Recipe is adapted from Bake For Happy Kids'. The mooncakes do not taste so heavy (a.k.a sinful) but love that it's still flaky and the family still enjoyed them.
Teochew Red Bean Spiral Thousand Layer Mooncake
Ingredients
Water dough (Blue layer):
¼

cup

dried blue pea flower

(packed) see notes 1

80

gr

hot water

¼

tsp

vinegar

60

gr

shortening

see notes 2

2

Tbsp

sugar

180

gr

all-purpose flour
Filling:
600

gr

red bean paste filling

less amount if you use salted egg yolks in the filling

12

salted egg yolks

optional, I didn't use in this recipe
Instructions
Prepare blue pea flower juice
Add the blue pea flower and vinegar to 80 gr of warm water. Let them sit for 15 minutes. Use the back of the spoon to lightly mash the flower. Squeeze out any liquid from the flowers and you have the blue color liquid now
Prepare the filling (without salted yolk):
I use a store-bought red bean paste and roll the paste into about 50 gr balls. Set aside
Prepare the filling (with salted yolk):
If you plan to use egg yolk, you need a smaller ball, about 30-35 gr. Roll into balls. Flatten with your palm to about 4-inch circle. Place one salted egg yolk in the middle and wrap the bean paste around it. Continue with the rest
Prepare the water dough:
Add sugar to the warm blue liquid.  In a large mixing bowl, rub the shortening into the flour. It will feel crumbly. Gradually add the blue liquid and continue to mix and knead until you form a non-sticky dough. Cover and let it rest for 30 minutes
Prepare the oil dough:
Rub the shortening into the flour until it forms a smooth dough. Cover and let the dough rest for 30 minutes
Shaping:
Give both dough a few kneads and they should be smooth now. Divide the water dough and oil dough each into 6 equal portions

Keeping the rest covered, take one oil dough and one water dough. Flatten the water dough and place one oil dough in the middle

Wrap the water dough around the oil dough. So the oil dough is nested inside the water dough now. Repeat with the rest of the doughs

Use a rolling pin to roll this dough into a flat oval shape

Roll it up tightly starting from the bottom like a Swiss roll

Turn the dough vertical and roll it out again

Now you have a long flat strip of dough. Roll it as thin as you can as it will give you more spiral in the finished products later

Roll it up tightly again starting from the bottom into a Swiss roll

Here is how the cut-side looks like (all those beautiful spirals are right here after baking!). Keep them covered tightly and rest for another 30 minutes before rolling them out

Work with one at a time, flip the cut side down and use a rolling pin to roll it out into a circle, about 7-inch in width

Place the filling in the middle

Gather the sides to wrap the filling. Pinch to seal at the bottom. When you flip it over, this is how it looks like. Place them on a baking sheet lined with parchment paper

Repeat with the rest of the doughs. Preheat your oven to 350 degrees while you are halfway through working with the dough
Baking:
Place the baking sheet, 3rd rack from the top into the oven and bake for about 20-25 minutes or until the bottom is golden brown. Remove from the oven and let them cool on the baking sheets for 5 minutes and then remove to cooling rack to let them cool down completely
Notes
If you decide to use food coloring: you can use 80 gr water with food coloring if you want
If you use coconut oil, make sure it's not in liquid. If it's really warm where you are, I recommend using shortening or lard because it's a bit hard to work with coconut oil as they get melty so quickly. You can refrigerate the coconut oil briefly until they turn solid, but once you touch the dough a lot, they get melty in warm weather