Slices of bratwurst are cooked in aromatic Asian spices, herbs, yogurt and chickpeas. Currywurst with a twist. Don't miss out on a giveaway too!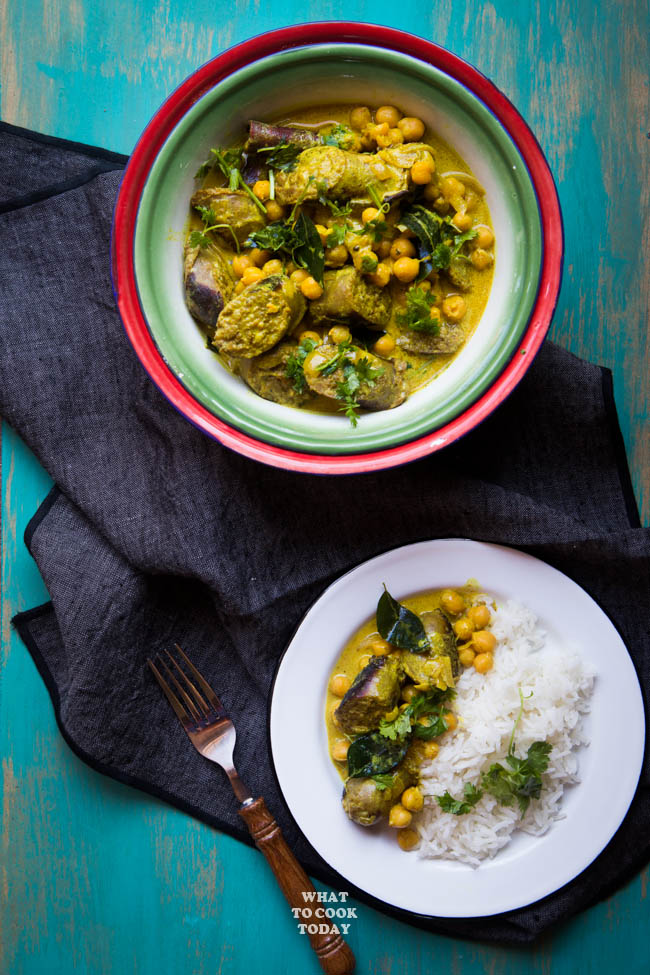 This year I'm celebrating Oktoberfest virtually with other fellow food bloggers 🙂 I've always heard about Oktoberfest. Seen lots of photos on Instagram about the celebration, but never really knew much about it until my dear food blogger friend, Milena from Craft beering invited me to join her Oktoberfest Bash where all of us will be sharing our German-inspired recipes.
With Oktoberfest in mind and Milena's great suggestion to make currywurst, I decided to whip this version of aromatic currywurst. Traditional German currywurst recipe is pretty different from what I have here 🙂 Currywurst is a popular German fast food/street food where the grilled bratwurst is smothered with a sauce made of ketchup, curry powder, and other spices.
MY VERSION OF CURRYWURST WITH A TWIST
My version of currywurst is made with South Asian and Southeast Asian spices and herb. Then my son, who is a chickpea monster (He LOVES chickpeas to the max) was pretty adamant about me adding chickpeas to this currywurst and so in they go!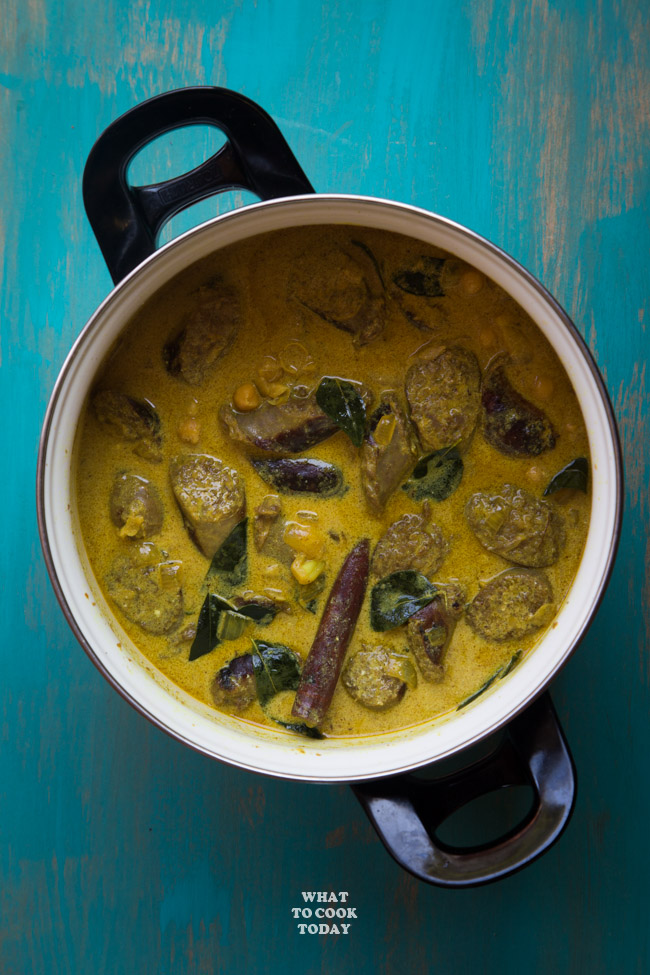 SPECIAL HERB I USE TO MAKE THIS CURRYWURST.
Curry leaf is one of my most favorite herbs. It is so flavorful with its own distinctive aroma. These leaves only available at Asian grocery store, and not all the time too. So, if you can't find them, just skip them and don't even sweat it! I can't think of any close substitute for them.
TIPS FOR GOOD AROMATIC CURRYWURST
If you look at the list of the ingredients you might think that it's a pretty long list of spices, but they can all be easily found in mainstream grocery stores these days. Those spices really make the curry so aromatic!
1. Cook the bratwurst first
This will make sure that the bratwursts are cooked through and we won't be overcooking them in the curry sauce later
2. Saute the spices and herbs
This helps to enhance the aroma of the spices and herbs
3. Yogurt last
Stir in the yogurt last so it won't separate
WHAT CAN I SERVE THIS CURRYWURST WITH?
Of course I'm going to say rice 🙂 It's great to eat with naan bread too. The German likes to serve currywurst with fries. I haven't tried my version with fries, but I don't see why it won't work 😉 I cook the sauce not too thick and not too thin, you can adjust the consistency to your liking.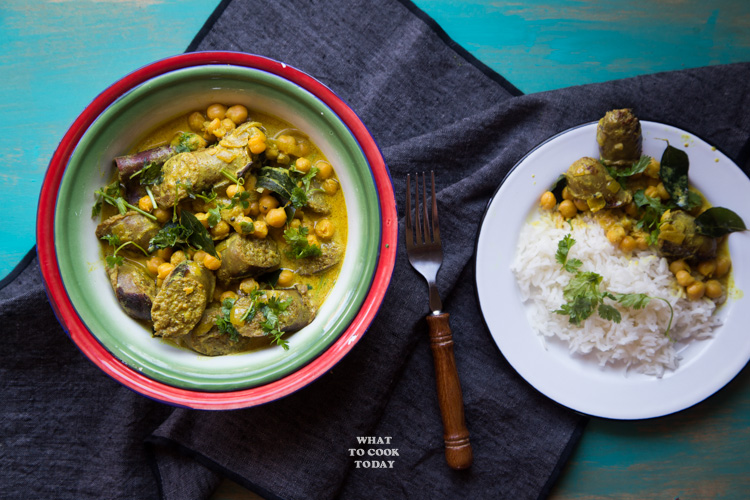 Here are 9 more delicious Oktoberfest recipes that other talented food bloggers are contributing:
Hot Cheese Dip with Onions and Gruyere made by Julie from Cooks with Cocktails
Bratkartoffeln (German-Style Pan Fried Potatoes with Bacon) made by Annie from Ciao Chow Bambina
Bratwurst Burger made by Brittany from Beyond the Bayou
German Pan Fried Trout made by Amanda from Burrata and Bubbles 
Schnitzel Platter made by Milena from Craft Beering
Cinnamon Streusel Muffins with Hefeweizen Drizzle made by Kelly from Kelly Lynn's Sweets and Treats
Gebrannte Mandeln (Roasted Candied Almonds) made by Dawn from Dawn the Gourmand
Danube Waves Cake made by Kelsie from The Itsy Bitsy Kitchen
Bavarian Cream Donuts made by Camila from Pies and Tacos
There is also a giveaway of one case (24 bottles) of Prost Brewing Co. Märzen Oktoberfest style lager from September 20 to Midnight EST of September 27 you don't want to miss out!!


Contest open to residents of the 48 contiguous states only. Must be 21+ years old to enter.
a Rafflecopter giveaway


This blog post contains affiliate links. I earn a small commission when you made purchase at no extra cost to you. Learn more.
Aromatic Currywurst (with a twist)
Ingredients
1

lb

Bratwurst

2

Tbsp

ghee

1

cup

water

divided, add more if you like the curry a bit thinner

1

cup

plain Greek yogurt

1

can

chickpeas

about 400 gr, drain off liquid
Aromatics:
1

medium

onion

1

tsp

grated ginger

2

cloves

garlic

finely chopped or grated
Herbs:
3

-4 sprigs of curry leaves

pick the leaves
Seasonings:
1

tsp

salt

or more to taste

¼

tsp

sugar
Instructions
Prepare bratwurst:
If you use raw bratwurst like I did, pan grill the brats on the pan with a bit of oil until lightly brown, about 5 minutes, turning them so they brown evenly. Add about 1/2 cup of water to the pan and cover. Lower the heat a bit and let them cook for the next 15 minutes. Let them rest for 5 minutes then slice into large chunks at an angle. If you use precooked brats, you can slice them into large chunks
Cooking:
Preheat a large heavy-bottom pot. Add ghee and it will slowly melt. Add aromatics and stir fry for about 3 minutes. Add the spices, herbs, and stir fry for another 1 minute

Stir in the brats pieces and mix with all the spices and aromatics. Add water and bring to a gentle simmer for about 1 minute. Stir in chickpeas and seasoning. Let them simmer for another minute. Turn off the heat and stir in the yogurt. Have a taste and add more salt to your taste if needed