Cereal Butter Fried Chicken (Mai Pian Ji) – Crispy fried chicken is tossed in buttery, spicy (or not) and aromatic cereal mix. A combination that is addictingly good.

The inspiration for this cereal butter fried chicken came from the original cereal butter prawn (mai pian xia), which I absolutely fell in love with when I had it in Singapore and Malaysia. Sooo freaking good is perhaps an understatement.
You can read more in detail about why it is called cereal butter prawn and why it is so good in that post.
These beautiful curry leaves were sent to me all the way from Texas by one of my readers (I'm crazy lucky I know!). They were homegrown and organic too! Curry leaves are essentials in preparing this cereal butter fried chicken and the prawn version too. If you don't have any, you can omit it though or use other herb like basil, but it's totally not an equivalent substitution.
BONE-IN CHICKEN OR BONELESS CHICKEN
You can use either bone-in or boneless chicken. If you choose to use bone-in, I suggest cut them in smaller pieces, or use chicken wings. For boneless chicken, I suggest chicken thighs (as always), but that's just me, you can use chicken breast if you prefer

HOW TO MAKE CRISPY FRIED CHICKEN FOR CEREAL BUTTER FRIED CHICKEN
There's no secret by now that the secret to crispy fried chicken is frying the chicken twice. Here's how:
1. Marinade chicken for 30 minutes
2. Use cornstarch
Cornstarch gives a crispier texture to the chicken and the chicken stays moist. Dredge the chicken pieces in cornstarch and shake off any excess
3. Double frying the chicken
I learned this from Martha Stewart's long time ago. First frying helps to cook the chicken, but the chicken won't really get crispy by first frying. Second frying is to help "dry out" the moisture from the chicken and this second frying is usually done in a higher temperature
WHAT IF I DON'T HAVE NESTUM CEREAL TO MAKE THIS RECIPE
Nestum cereal is not common here in the U.S. Your best bet is probably the Asian grocery store. I found something similar to Nestum, but a different brand. You can use raw oats as a substitute. It works great too. I've tried it. It took a bit longer to get the oats to be crispy, but it works.
HOW TO PREPARE BUTTER CEREAL MIXTURE IN SHORT
1. Make the cereal mixture
Mix Nestum cereal (or oats) with sugar and milk powder
2. Melt butter
3. Stir fry the curry leaves until crispy. Add chili if using
4. Add the cereal mixture and continue to stir fry and take care not to burn it because there's sugar in the mixture
5. Toss the chicken into the mixture and stir to mix everything

This cereal butter fried chicken and the prawn version go fast in our house. I usually omit the chili so my kids can enjoy the cereal mixture, which is their favorites.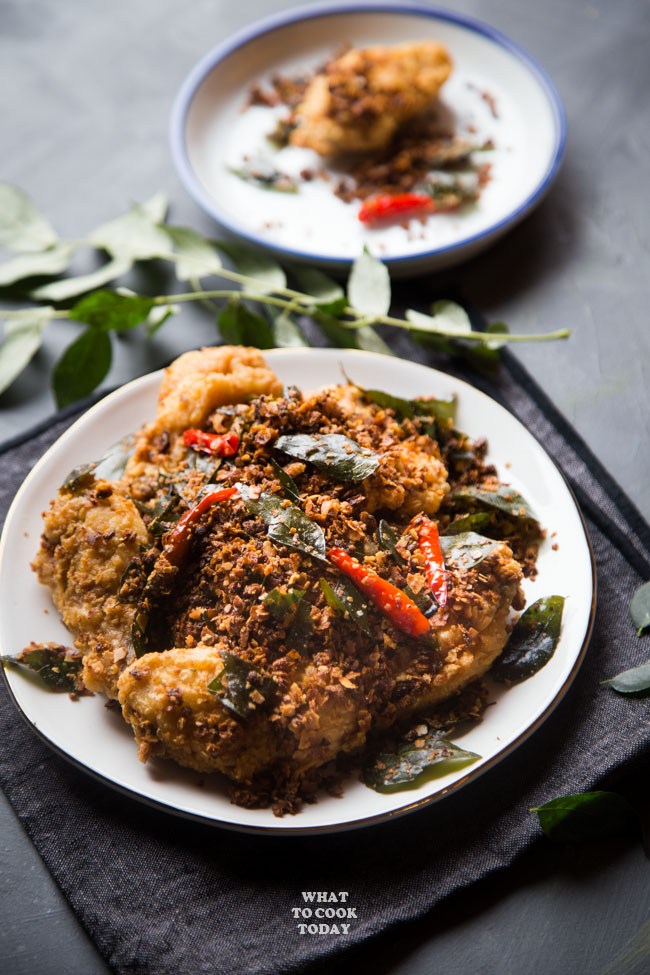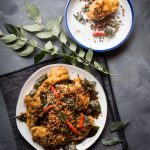 Cereal Butter Fried Chicken (Mai Pian Ji)
Ingredients
2

lbs

chicken wings

or you can use 1 lb boneless skinless chicken fillet of your choice

1

cup

cornstarch

2 -3

red chilis seeded and finely chopped

10

sprigs of fresh curry leaves picked

Cooking oil

for deep frying
Marinade for chicken:
1

Tbsp

shaoxing wine

1

tsp

salt

½

tsp

sugar

1

Tbsp

cornstarch
Cereal Mixture:
3

Tbsp

butter

100

gr

Nestum cereal

see notes

1

Tbsp

sugar

omit if you use Nestum cereal 3-in-1

1 ½

Tbsp

milk powder

omit if you use Nestum cereal 3-in-1

½

tsp

salt
Instructions
Marinade the chicken:
Place chicken pieces in a large bowl. Add marinade ingredients and let them marinade for 30 minutes at room temperature

When ready to fry the chicken, preheat some oil for deep-frying in a deep pot, about 2-inches of oil. Coat each piece of chicken with cornstarch and shake off any excess flour
Frying the chicken:
Fry the chicken until lightly golden and cooked through. Remove from the oil to absorbent paper towel. Remove any frying bits from the oil and bring the oil back to high heat again

Fry the chicken for the second time until the chicken pieces are crispy and has deeper brown, but not burnt. Remove to absorbent paper towel
Prepare the cereal mixture:
In a bowl, combine the Nestum cereal, sugar and milk powder. Whisk to mix everything. In another skillet, melt the butter. Add the chili and curry leaves and stir-fry until fragrant. The curry leaves will crisp up too. Add Nestum cereal mixture and continue to stir-fry for about 1 minute. Take care not to burn it as there's sugar

Add the fried chicken pieces to the mixture and stir everything to combine. Have a taste of the cereal mixture and adjust by adding more salt and/or sugar to your liking. It should be salty, buttery and slightly sweet

Dish out to serving platter and serve immediately with rice as part of multi-course meal
Notes
If you really can't find Nestum cereal, try it with regular uncooked oats. It works really well too. You just need to stir fry the oats a bit longer to get it to crisp up, but my family loves it with oats too before I got a hold of Nestum cerea