Cereal Butter Prawn (Mai Pian Xia) – Prawn are fried and then tossed in cereal mix made of Nestum Cereal, milk powder, sugar, and aromatic curry leaves all stir-fried in butter! Yes, trying not to get addicted is almost impossible!
Perhaps they sound anything but appealing to you if you are not familiar with this dish. Cereal Butter Prawn (Mai Pian Xia) was not something that I'd ever eaten in Indonesia either. A friend brought me to this seafood place many years ago and ordered one of their famous dishes, which was what they called a Nestum cereal prawns.
Named as such because the crumbs were made of Nestum cereal. Nestum cereal is popular in Asia, but I notice not here in the U.S. I got hooked with this Cereal Butter Prawn to this date. It is one of their famous dishes for reasons. My mom told me that she had this dish too while she was in Singapore and really liked it too. Mention this Cereal Butter Prawn to Singaporeans and Malaysians and they will tell you how delicious this dish is. I have to agree!!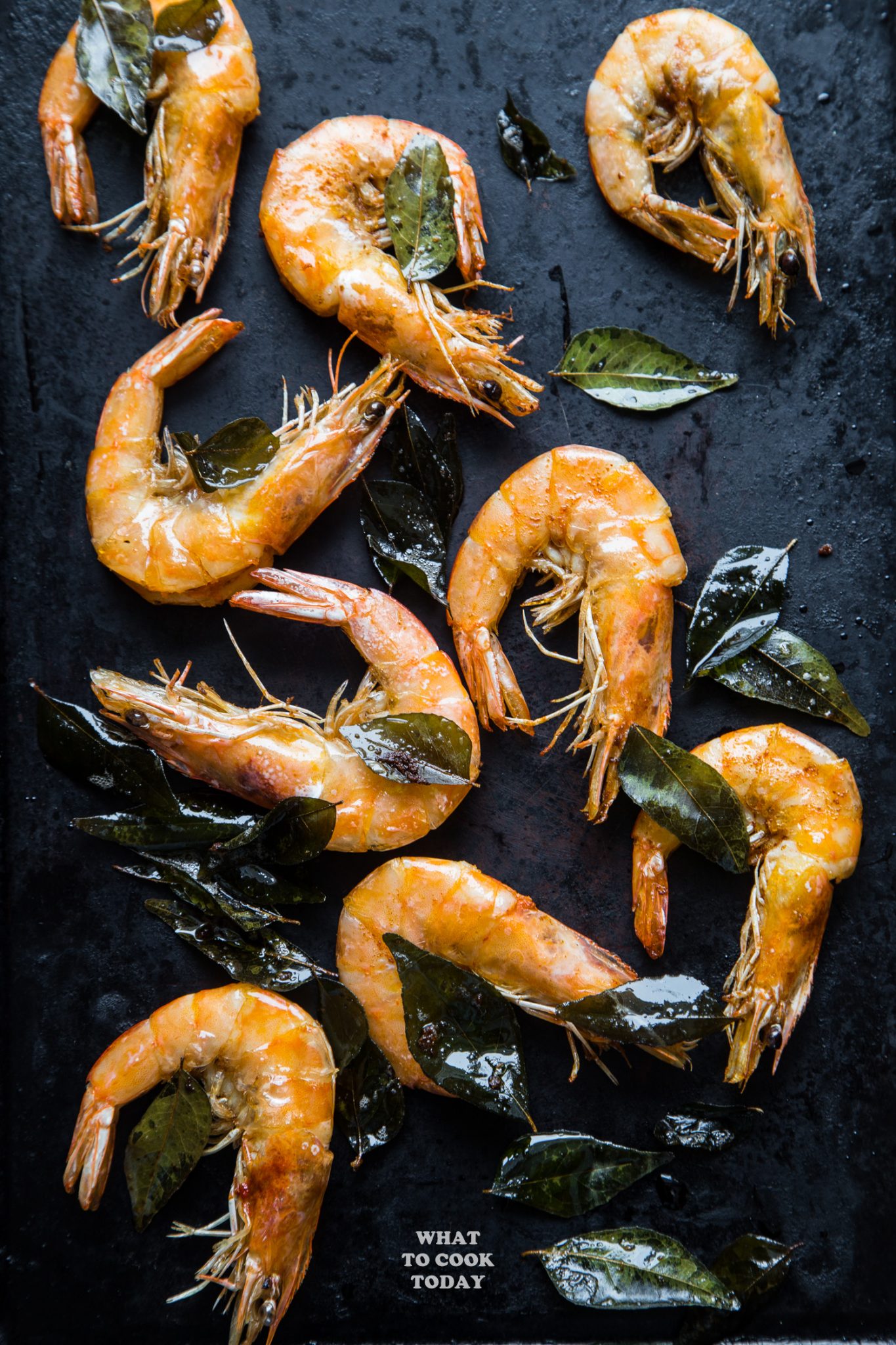 So, you may ask now, what makes it so good? (because you probably still have this image of eating cereal and prawns at the same time and that is just bizarre). The cereal is stir-fried with butter and curry leaves (which I'm so in love with), chili until fragrant and crispy. The deep-fried prawn is then mixed in with the cereal mixture. This combination is AMAZINGLY good. Repeat, AMAZING! If you ask me, I would insist on using curry leaves in this dish, unless you can't find it. I have to admit it's hard to find here in the U.S. But the curry leaves really add that nice fragrant to the dish. It's just not the same without it. I was lucky that one of my generous readers send me her homegrown curry leaves and many other produces she grew in her garden! Yeah…speaking of being lucky! That's me!
This popular Cereal Butter Prawn has made its way to the little hometown where I grew up in Indonesia. It's a big hit over there too.
Cereal Butter Prawn (Mai Pian Xia)
Ingredients
300

gr

large prawns

heads and shells on

1

tsp

salt

½

large

egg

beaten

1

Tbsp

cornstarch
Cooking oil

for deep frying
Cereal mixture:
100

gr

Nestum cereal

original version. see notes

1

Tbsp

fine sugar

omit if you use Nestum 3-in-1

1 ½

Tbsp

whole milk powder

omit if you use Nestum 3-in-1

½

tsp

salt
Other ingredients:
3

Tbsp

butter

2

-3 red chilis

seeded and finely chopped

10

sprigs of fresh curry leaves

picked
Instructions
Preparing the prawns:
Gently run a knife at the back of the prawn to slit open and remove the vein. Use kitchen scissors to trim off the antenna. Keep the rest of the shells and heads. Pat the prawn really dry with absorbent paper towel

Add salt and beaten egg to the shrimp and toss to combine. Sprinkle in the flour and mix to coat the shrimp

Preheat some oil for deep-frying in a deep pot, enough to submerge the prawns in the oil. Deep-fry the prawns until pink, golden and crunchy. Place on top of paper towel to drain off excess oil
Making the cereal mixture:
In a bowl, combine the Nestum cereal, sugar and milk powder. Whisk to mix everything. In another skillet, melt the butter. Add the chili and curry leaves and stir-fry until fragrant. The curry leaves will crisp up too. Add Nestum cereal mixture and continue to stir-fry for about 1 minute. Take care not to burn it as there's sugar (mine is a bit too dark for my liking). Add the prawns to the mixture and stir everything to combine. Have a taste of the cereal mixture and adjust by adding more salt and/or sugar to your liking. It should be salty, buttery and slightly sweet

Dish out to serving platter and serve immediately with rice as part of multi-course meal
Notes
If you really can't find Nestum cereal, try it with regular uncooked oats. It works really well too. You just need to stir fry the oats a bit longer to get it to crisp up, but my family loves it with oats too before I got a hold of Nestum cereal
Other Seafood recipe you might like:
LENG HONG KIEN (MAYONAISE UDANG / SWEET MAYONNAISE SHRIMP)
PAN-FRIED COD FISH WITH CRISPY GINGER
SEA URCHIN TSUKEMEN (DIPPING NOODLE)
EASY SESAME FISH KIMCHI TACO