How to make your own salted eggs and smoked egg yolks – How to make your own salted eggs (2 ways) and smoke them. This adds great flavor when you grate them over pasta or any dishes you like.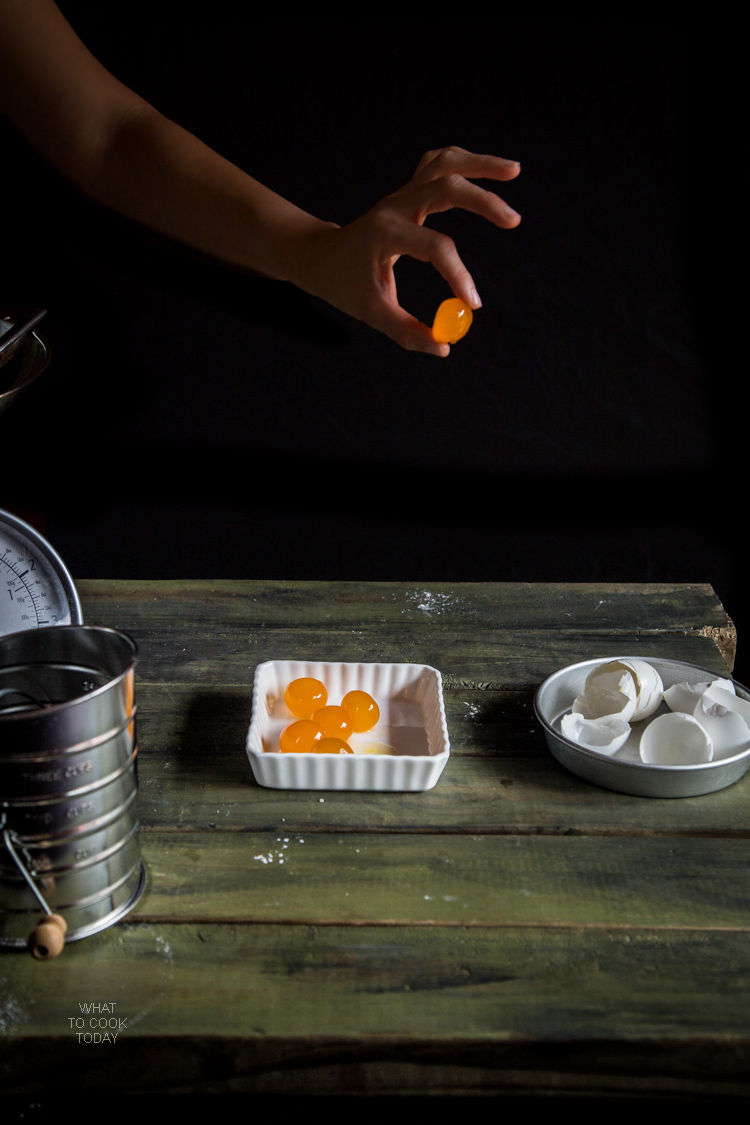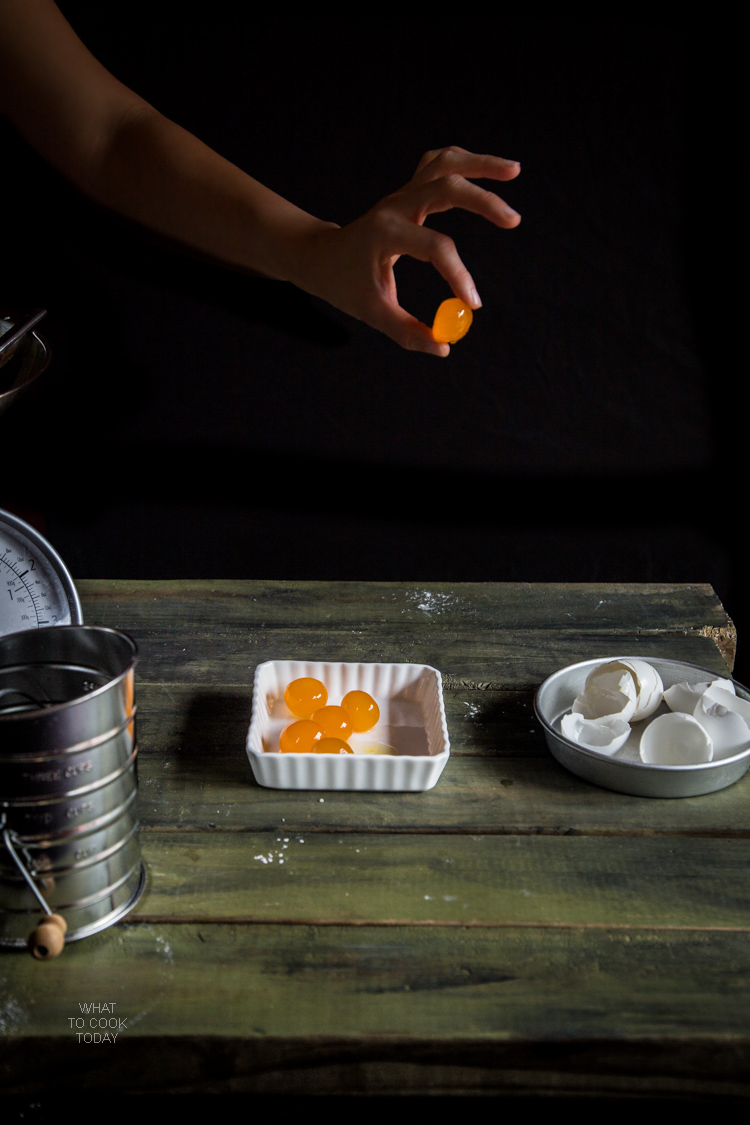 So I decided I wanted to make my own Chinese mooncakes this year and what that meant was, I needed to make my own salted eggs. If I were to eat mooncakes, I want one with salted egg yolk inside the cakes. I love savory and sweet combination when you added that salted eggs in the mooncakes. Uncooked salted eggs aren't sold here where I am. The Asian stores sell the cooked salted duck eggs though, but for making mooncakes, I need the uncooked ones. So, that's when I asked my mom about making salted eggs. The Farmer's market near us did not have any fresh duck eggs in stock either. So, I had to use chicken eggs, which really, I think still turned out pretty good.
HOMEMADE SALTED EGGS : BRINING METHOD
If your purpose of making salted eggs is to make mooncakes, then you will need to follow the brining method, which takes about 30 days or maybe a bit longer. The salted eggs made by submerging the eggs in the brine gives you the round cured yolks, which you need for making mooncakes.

About 30 days later, you will sure look forward to that harden yolk that has deepened in color too.

HOMEMADE SALTED EGGS : QUICK METHOD / DRY METHOD
Another method I had tried, I called it Quick Method because it is much quicker, also worked out beautifully. The shape of the yolks will not be round. They are going to be more like disc because the egg yolks are actually taken out and cured with salt directly where the brining method uses the whole eggs still intact. These are great for grating over pasta or any dishes you like. The egg whites can be used for other purpose because they are not cured.
You basically cover the egg yolks with salt and then wrap with plastic wrap and let it cured in the refrigerator for 3 days.

After 3 days of curing. I brushed off the excess salt gently with clean fingers

I find it easier to clean the excess salt off the yolks by gently washing them with apple cider vinegar after that. I learned about this from Tasting Table
All cleaned up. And if you think they are going to taste sour because of the apple cider vinegar, I can tell you they aren't.

HOW TO SMOKE SALTED EGG YOLKS
I used mixture of tea leaves to smoke the yolks. Some people use wood chips. I didn't have wood chips, and so I just use tea leaves. Grate this over pasta or anything you usually will add cheese, and I believe you will like it.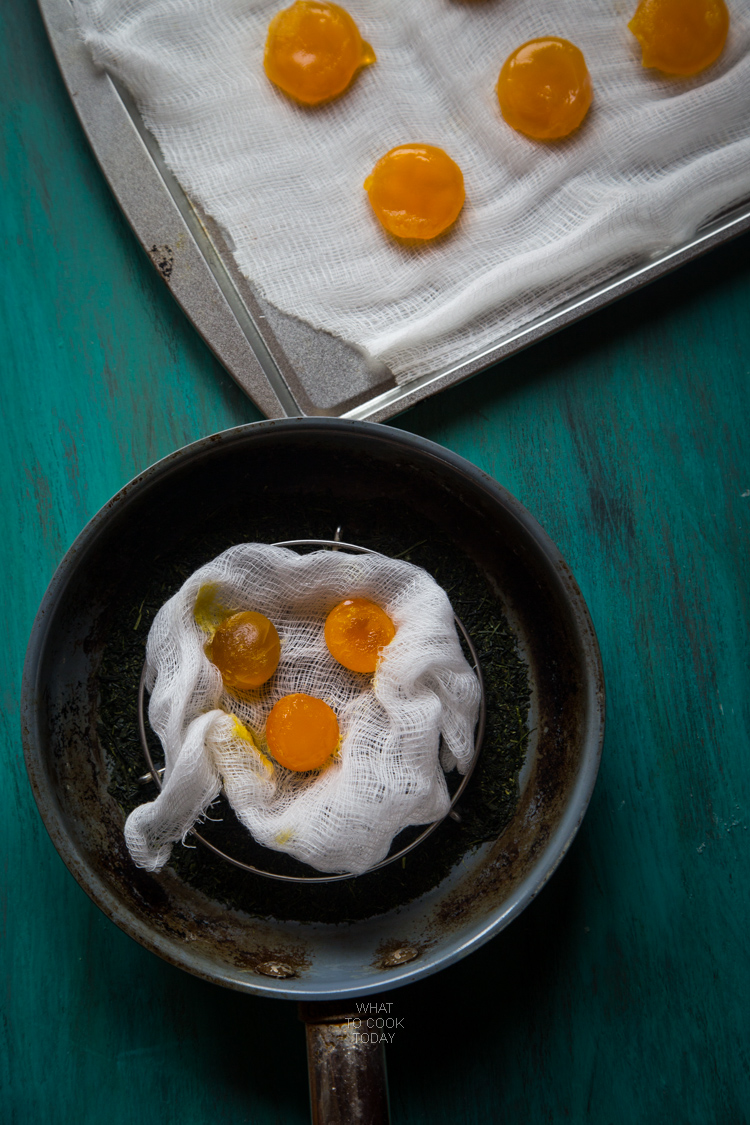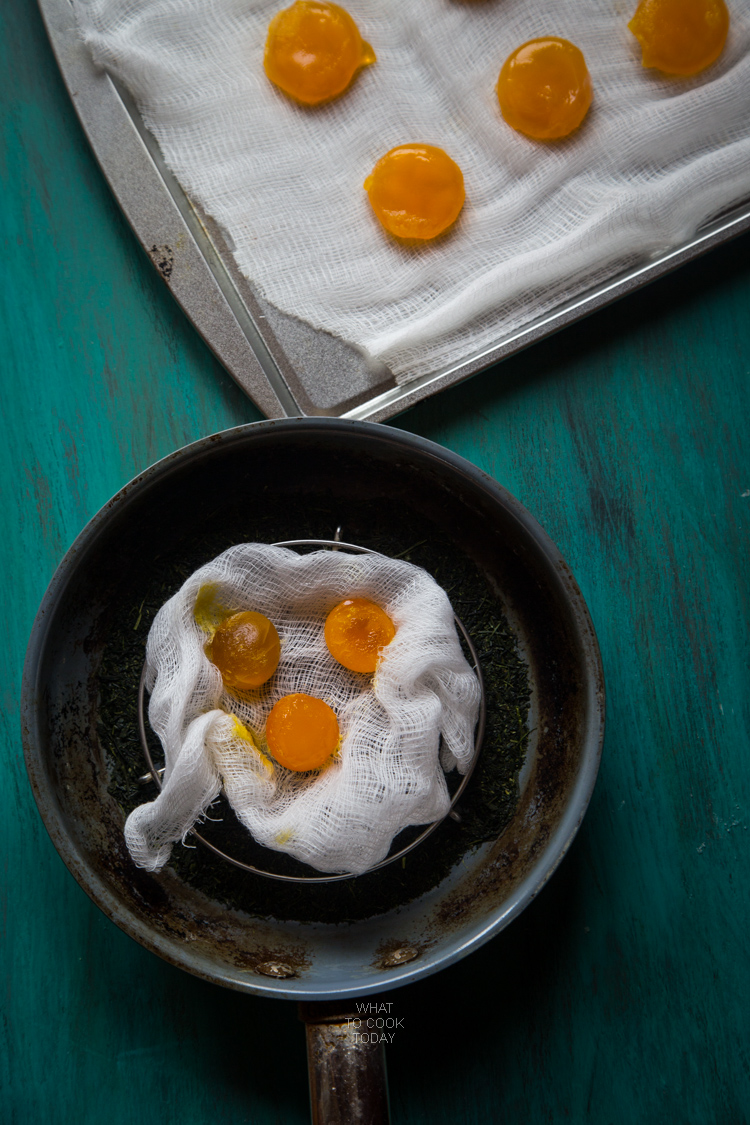 RECIPES THAT USES SALTED EGGS
Salted Egg Yolk Cookies
Pandan Liu Sha Bao (Salted Egg Yolks Custard Pandan Steamed Buns)
Stir-fried Zucchini with Salted Egg Yolks
Bibingka (Filipino Sweet and Savory Cake)
DISCLOSURE: This post contains affiliate links, which support this site at no extra cost to you. Learn more.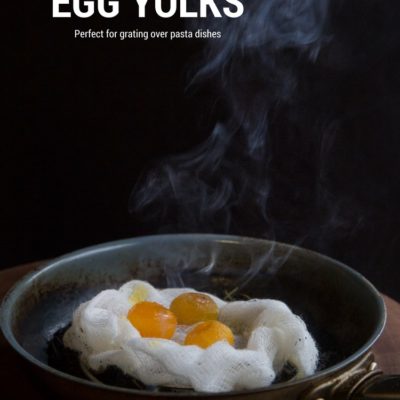 Ingredients
Brining Method:
1

cup

of sea salt

4

cups

water

12

duck/chicken whole eggs
Quick Method:
1-2

cups

of sea salt

6

duck/chicken egg yolks

Apple cider vinegar
For smoking the salted egg yolks:
Wood chips or tea leaves

I used tea leaves
Instructions
Brining Method:
Place the salt and water in a medium saucepan and bring to a boil and cook until the salt dissolves. Let it cool down completely.

Check each egg to make sure there's no cracks (Cracked one will get rotten inside the brine).Gingerly place each egg in a glass jar big enough to harbor 12 eggs. When the brine solution has cooled down, gently pour it into the jar. The eggs will float, but that's ok, as long as they are still submerge in the brine. Let them sit in the brine for the next 30 days. Label it on the jar and mark your calendar or set a reminder

At the end of 30 days, take one egg out and you can boil it and give it a try to see if it's salty enough. Usually the white part is very salty, but the yolk isn't. The yolk will harden and can be held with your fingers. If you are happy with the result, carefully drain off some of the brine and take each egg out and place them in the fridge and use them as you need. I would say keep them for max 3 weeks

For making moon cakes, you will separate the whites from the yolks. The yolks will be hard and round when you use brining method

For use as grating over pasta or other dishes, separate the whites from the yolks. I discard most of the whites because they are very salty. You can keep them to eat with rice porridge or cooking other dishes. Set the yolks on top of the cheese cloth and put them in the refrigerator without any wrap to let them dry out for 2 days. After that, proceed to smoking them as described below
Quick Method:
In a clean small baking sheet or platter (or anything you wish to use), place about 1 cup of salt. Separate the egg yolk from the white (keep the whites for other use) and ver gently place the yolks on the salt (as shown in photos). The yolks should be intact (I have one that was "broken" and I tried to cured it anyway to see how it went, the result wasn't good). Cover with more salt on top of the egg yolks. Wrap with a plastic wrap and place this inside the refrigerator and let them cured for 3 days

After day 3, get them out from the fridge. Gently dust off most of the salt with your clean hands. You can see that the yolks have somewhat hardened at this point. Gently submerge each yolk in the apple cider solution. This will get rid of the rest of the salt. Place a clean cheese cloth on a tray. Lay these yolks down on the cheese cloth and put them back into the refrigerator without any wrapping to let them dry out for 2 days
Smoking the salted egg yolks (for both brining and quick method):
I use tea leaves to smoke the egg yolks. You are welcome to use wood chips to do that. I place

about 1 cup of tea leaves on top of a medium pan and heat them until they started to smoke. Then I lower the heat and place a heat-proof rack on top of it and set the egg yolks on top of the rack along with the cheese cloth. Keep them smoking on this low heat for about 30 minutes. The yolks will have that smoky flavor

Remove and store in an air-tight container. Some said these can be stored at room temperature. But I'm a little nervous about storing them at room temperature. I stored them in the refrigerator. Should be good for about a month