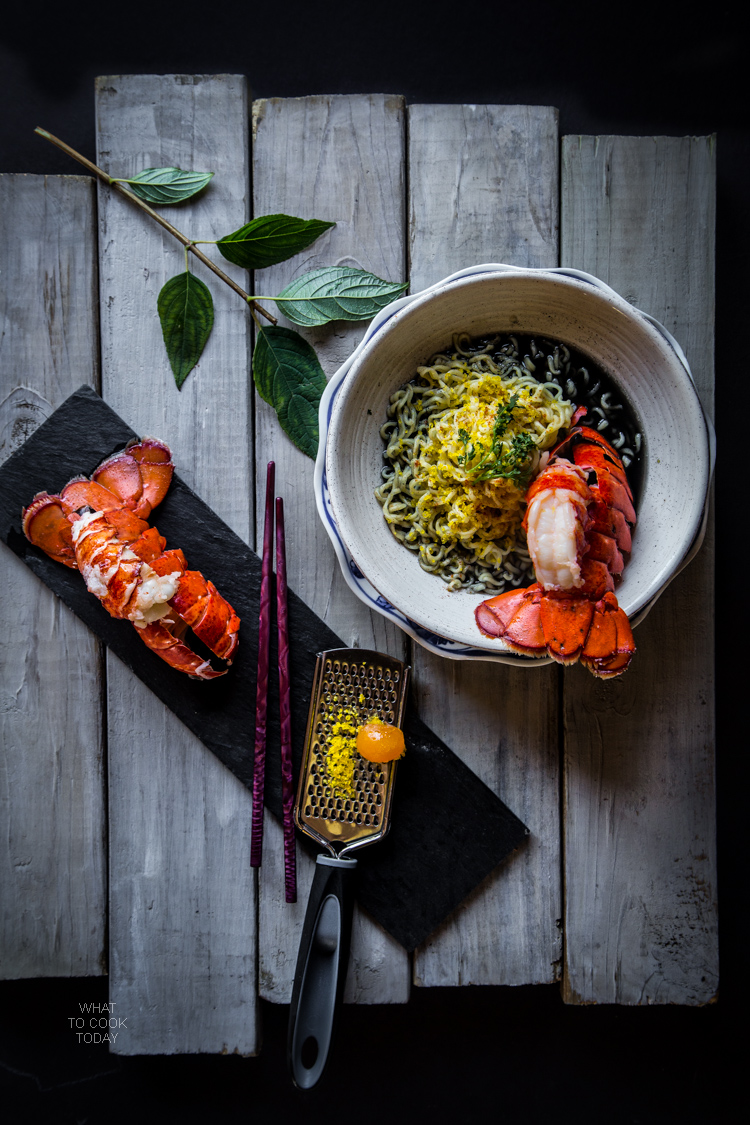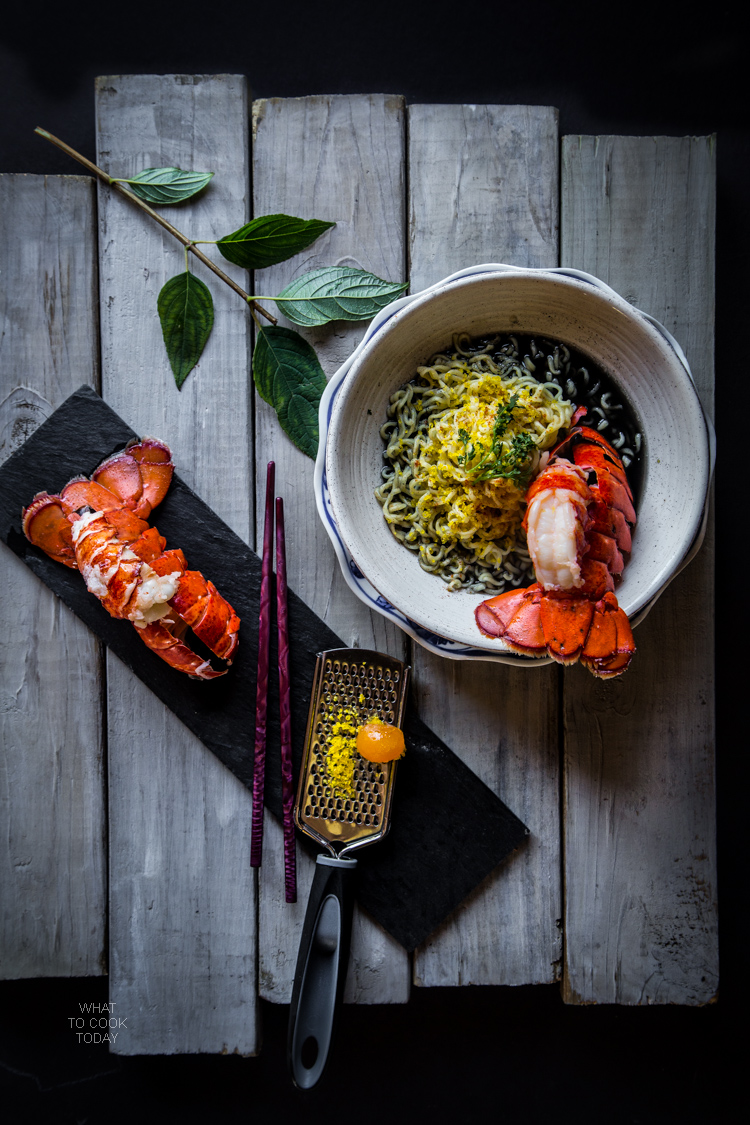 With the weather continues to cool off, I'm working in more soups and stews. I never really understood this before. I lived in a tropical country for the first 18 years of my life where the weather is warm throughout the year and soups and stews were still served in our household despite the weather. Now that I'm living in a 4-season country, I understand why I crave more soups, stews, warm pies when it is freezing cold out there. A bowl of comforting ramen noodle soup always does its job. This idea of ramen with broiled lobster tail in squid ink broth came from an instagrammer. When Maria told me about her squid ink ramen, I thought that was just pure genius!! The husband said now he would get more squid ink 🙂
I love lobster tails with all my heart and usually they don't need much. They are so succulent and sweet as is (won't hurt if you slab some butter on it of course).
Ramen with broiled lobster tail in squid ink broth (2 servings)
Ingredients
Bone Broth (if you choose to make from scratch):
About 3 lbs of pork neck bones

2

bulbs of garlic

peel off extra skin, but leave the rest in tact
Squid ink broth:
6

cups

of bone broth

You can use store-bought chicken/beef stock if you choose to

2

Tbsp

squid ink paste

Salt and pinch of sugar to taste
Other ingredients:
8-10

oz

of ramen noodles

cook to al dente

4

lobster tail

still in shells

Melted butter
Garnishes:
1

stalk scallion

thinly sliced at an angle

1

smoked salted egg yolk

optional

Red chili flakes

optional
Instructions
Preparing the bone broth and proceed to squid ink broth:
Place the bones, and bulbs of garlic in a large pot. Pour in water until it covers the bones. Bring to a boil and then lower the heat and cover. Let it gently simmer away for 8 hours. Skim the scum as it rises. You can definitely do this on a slow cooker and let it simmer away on low overnight. Filter the stock through a fine mesh and keep in bottle jars. I usually freeze them as they will keep for months.

Place about 6 cups of homemade bone broth in a pot. Bring to a gentle simmer and then add in the squid ink and stir to mix. Have a taste and seasoned with pinch of salt and sugar to your taste. Keep the broth warm while you prepare the others
Preparing the lobster tail:
Preheat your broiler on low. Meanwhile prepare the lobster tails. Place them on a cutting board, top side up. Use your finger to lift up the shell a little bit and use a kitchen shears and cut through the middle of the shells. Gently pull apart the shell but leave them on. So the shells will be cut in half leaving the flesh intact. Pull out any black veins if you see one. Run your finger underneath the bottom shells, this will loosen up the flesh from the shells. Now leave the flesh up to rest on the shells (as shown in photos). Brush them generously with butter

Place them in the broiler and broil for about 10 minutes or less. I will not walk out from the oven if I were you. Keep a very close eye on it as you don't want to overcook the lobster tail. The shells will turn red and flesh will turn opaque and that's the sign that the lobster is done. Pull them out from the oven and transfer to serving plate
Put everything together:
Place the cooked noodles in individual serving bowl. Bring the squid ink broth to a rolling boil and generously ladle this over the noodles. Served with the lobster tails. Garnish with some chopped scallions and grate some smoked salted egg yolks (optional) and serve immediately
Because I just made some smoked salted egg yolks, I decided to grate some on top for that extra kick ! This bowl went down a treat. Pure comfort !!