Sweet corns are churned into velvety creamy ice cream is a favorite in our house.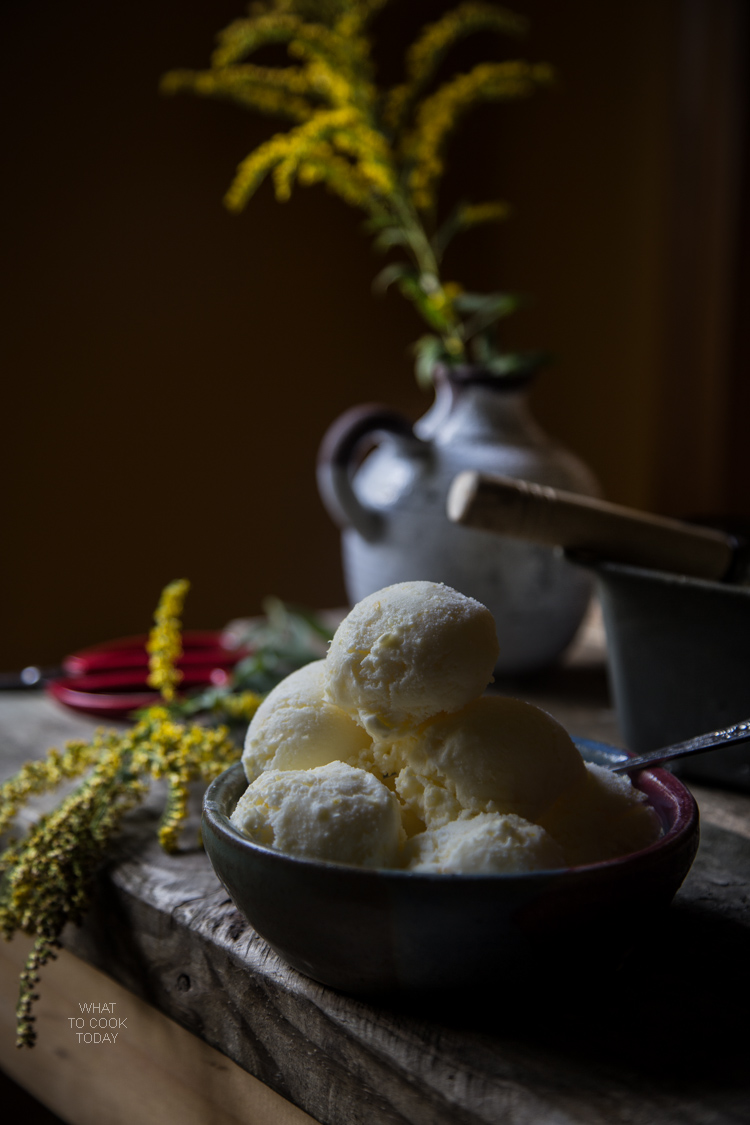 Summer is definitely over but I still find myself making this sweet corn ice cream twice already in a month. Every time I have this sweet corn ice cream, it just reminds me of childhood. The ice cream was sold in a mobile food cart with a bicycle attached to it. So the seller would bike around town with a bell ringer on one hand. I would hear "ring..ring..ring…" and sometimes followed by an occasional shouting of "es krim…es krim" (ice cream in Indonesian). Our faces lighted up and we would be begging mom to let us had some. Sometimes I had them in cones. Sometimes I had them sandwiched between buns!! oh my lord!! He had many flavors, but I often chose corn flavor 🙂
I personally think owning an ice cream maker is one of the best investments in life. We don't have a fancy schmancy one. Probably the most basic one out there, but it works well and seriously..nothing beats homemade ice cream. I've made no-churn ice cream before, but for some reason, they are just not the same compared to churned ice cream IMHO. They get "icey" once you freeze them, which I don't like when it comes to an ice cream. The velvety smooth churned ice cream gets me every time. I just crave for that smoothness and creaminess in churn ice cream.
Sweet corn ice cream / Es Krim Jagung manis
Ingredients
2

ears of fresh corn

1

cup

heavy cream

½

cup

sugar

more if you like it sweeter, I feel like this is the good amount for me

Small pinch of salt

4

egg yolks

beaten
Instructions
Try to use the freshest corn you can get because it does make a difference. Remove all the leaves and husks off the corn. Hold the tip of the corn with one hand while the other hand holding a knife and cut the kernels off the cob. Continue until you are done with both corns. I reserve about 1/4 cup of the kernels aside as I like to bite into those little kernels while eating the ice cream. Put the rest in a food processor and process into a smooth slurry

Place heavy cream, sugar and small pinch of salt in a medium sauce pan and stir until the sugar melted and the cream is heated but not boiled. Remove from the heat and gradually pour in about 1/2 cup of the heated cream into the yolks and continue to whisk the egg to temper it. Put the pan back on medium heat and gradually add in the egg yolks while one hand continue to whisk. Cook until it coats the back of the spatula. Stir in the corn you processed earlier + the kernels you reserved aside until combined and let it cook further for about 5 minutes. Remove from the heat and let it cool down some and then cover with cling wrap and refrigerate overnight. I feel that it churns the best when I refrigerate it overnight (maybe it's just my ice cream maker)

When ready to churn, follow your ice cream maker instruction. Pour this into freezer-friendly ice cream tubs. If you serve immediately, it's more of like a soft-serve consistency. Freeze for about 4 hours and ready to be served as ice cream
I'm just happy that my kids were able to try out the taste of my childhood's favorite food 🙂 They loved it !!