You have to try this popular roti John to realize that it is probably one of the easiest and tastiest sandwiches you have ever eaten. Now you can recreate this at home with this simple yet delicious recipe.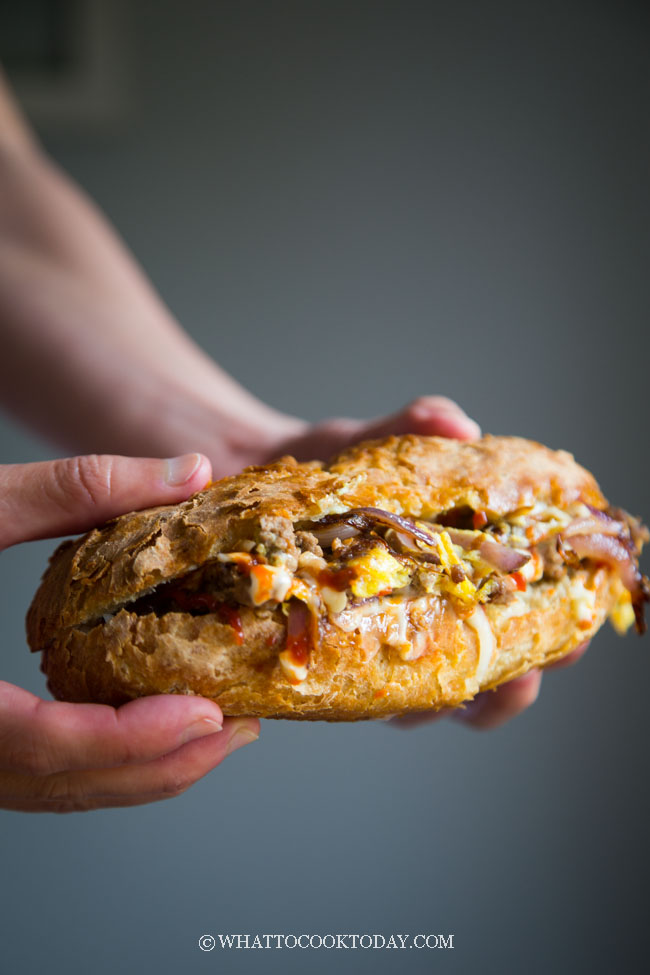 WHAT IS ROTI JOHN
Some have said that roti John was first originated in Singapore back in the 60s. Roti is a general term for bread or anything that is bread-based or flatbread in Hindi, Malay, and Bahasa. How about John you would ask? Well, John is definitely a caucasian name and usually, a general "term" used to describe any caucasian male. Roti John is a fusion between the East and West cultures in a form of sandwich 🙂 Story goes that roti John was born when an Englishman asked a street food vendor to make him a hamburger. He described to him how a hamburger supposed to be like and with that description, the guy made him with what he had, which were baguette, mutton, eggs, onion, ketchup, and chili sauce. He then presented the so-called hamburger to the guy and said "Silakan (please) makan (eat) roti (referring to the hamburger), John (general term for caucasian male)".
And there you have it, Roti John to this date! 🙂
WHAT'S SO GOOD ABOUT ROTI JOHN
Roti John is highly popular in Southeast Asia countries like Indonesia, Singapore, and Malaysia. In Indonesia, we have Burger Daging Sapi, which is, of course, an adaptation from the Western beef burger, but there are eggs and sauces similar to roti john added to the burger. In a way, it is also very similar to martabak telor / martabak mesir
If you ask me what's so good about roti john, well, it's the combination of everything: the crusty baguette, the aromatic onion, minced meat with the omelette, and of course the combination of sauces: ketchup, chili sauce, and mayonnaise. Nothing fancy but oh so addicting. Even my kids love roti john so much that they don't even complain about the heat from chili sauce. They asked me when would I made roti john again LOL!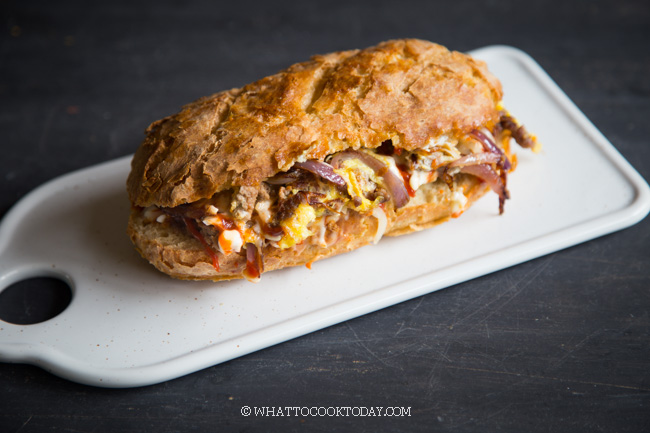 HOW TO MAKE ROTI JOHN
1. PREPARE THE BAGUETTE
Toast the baguette in the oven or toaster oven at 350 F for about 5 minutes.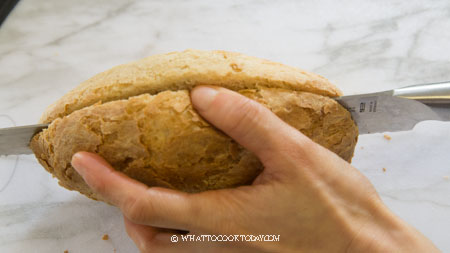 Then cut the baguette in half for one serving. Slice the baguette horizontally with a serrated knife and take care not to cut through all the way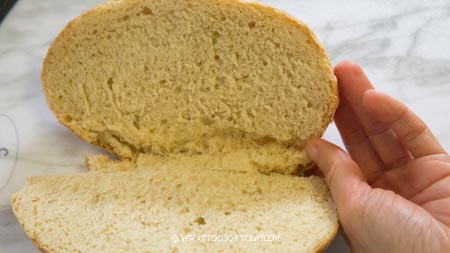 2. COOKING
Add a pinch of salt and black pepper to the egg and lightly beat it. Set aside. Add curry powder and a small pinch of salt to the ground meat and stir to combine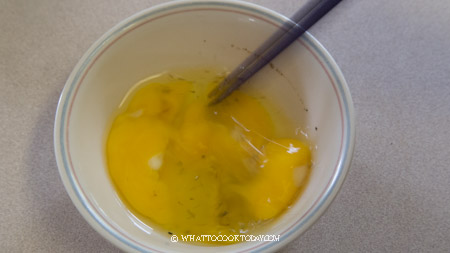 Preheat a non-stick pan, large enough for your baguette. Add onion and stir fry until fragrant, about 3 minutes.


Add the ground meat and continue to stir fry until the meat turns color and breaking up the lumps as you stir fry.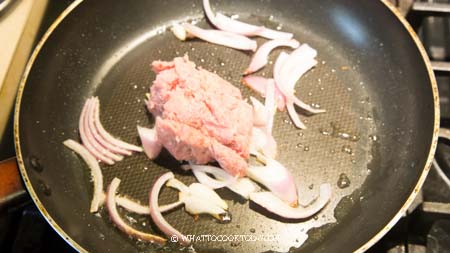 Push everything towards the middle of the pan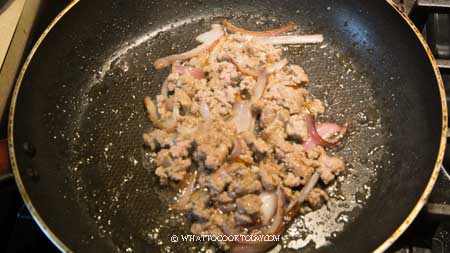 Pour the egg over the meat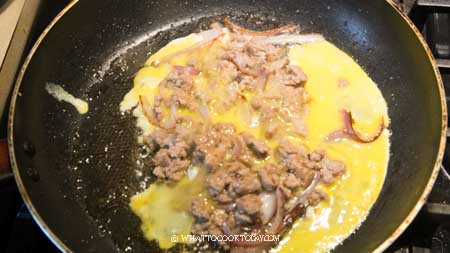 Then get your baguette and put the cut side down on top of the egg mixture and press it down so the bread absorbs some of the juices and eggs and the mixture will stick to the bread too. Gently push in the filling that oozes out from the side. Cook until the eggs are set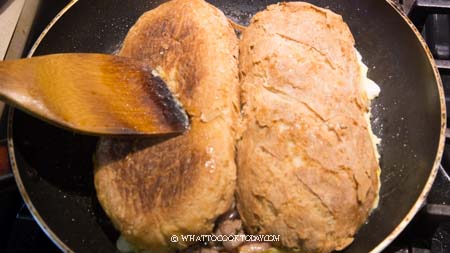 Remove from the heat and with quickly flip this over a plate or you can use a turner to flip the bread over on the plate so the filling side is facing up. If you want to add cheese, quickly add the cheese on top of the filling when the filling is still warm so it can slowly melt the cheese.


There's no fixed amount here, you drizzle how much you want to drizzle 🙂 Drizzle some ketchup, chili sauce, mayonnaise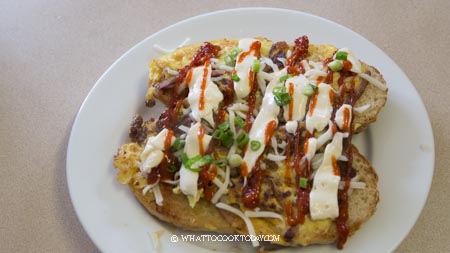 Then close the other half of the baguette over and get ready to eat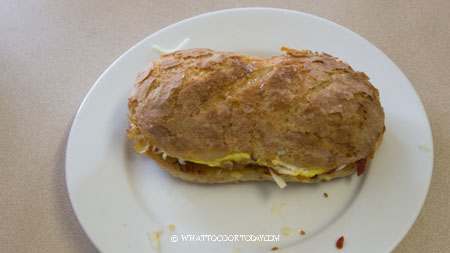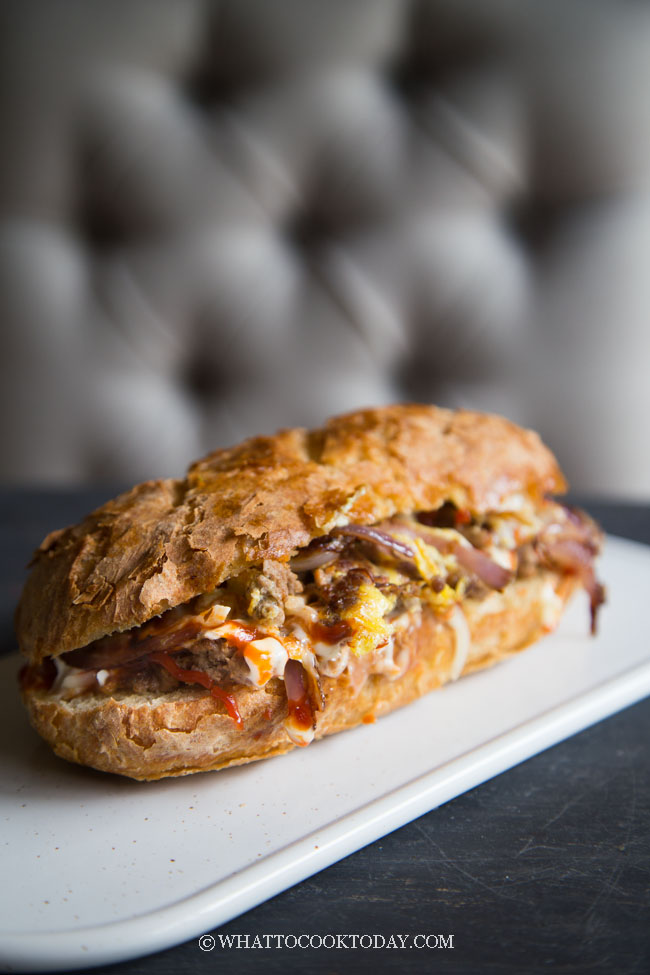 VARIATIONS
Over the years, roti john has developed and the varieties you see these days are not limited to just what I've mentioned above.
Protein: People have also used cheese, canned sardines, and other meat like hotdogs, sausages, sliced turkey/ham, etc.
Vegetables: You can add slices of cucumber, lettuce, tomatoes
Sauces: Sriracha chili sauce, kewpie mayo instead of regular mayo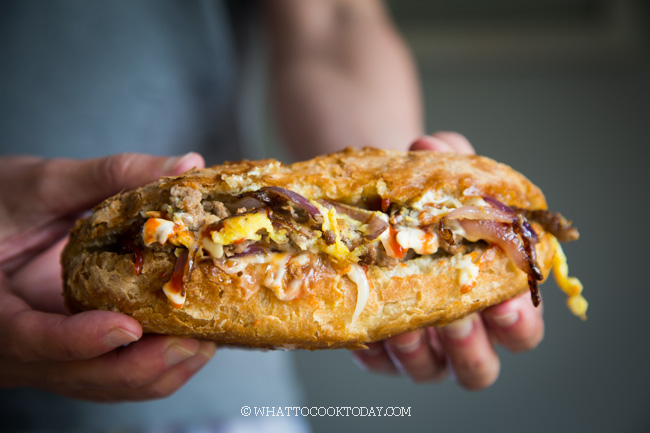 DID YOU MAKE THIS EASY AND TASTY ROTI JOHN RECIPE?
I love it when you guys snap a photo and tag to show me what you've made 🙂 Simply tag me @WhatToCookToday #WhatToCookToday on Instagram and I'll be sure to stop by and take a peek for real!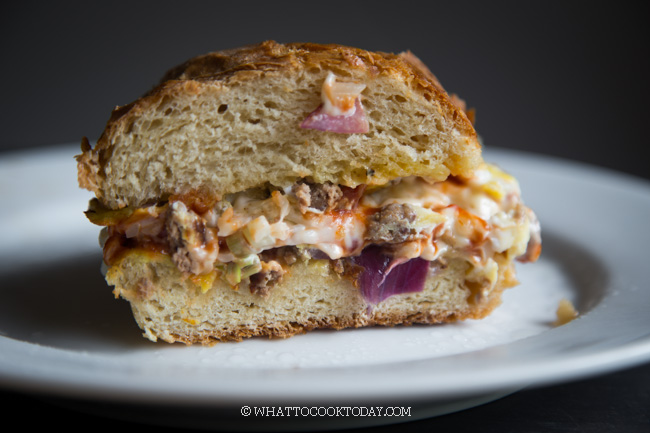 Singapore Roti John (Omelette Sandwich)
Ingredients
½

long baguette

you can use hotdog buns too

100

gr

ground meat

(beef, mutton, chicken, turkey)
Seasonings:
½

tsp

meat curry powder

you can use any of your favorite

⅓

large

onion

thinly sliced

1

large

egg

beaten

¼

tsp

ground black pepper

Small pinch of salt

1

Tbsp

cooking oil
Sauces:
Ketchup

Mayonnaise

Sriracha chili sauce or sweet chili sauce

use any of your favorite chili sauce
Other optional to add on:
Shredded or slices of cheese

I used shredded mozzarella, any cheese will do

Green onion

finely chopped

Lettuce

Tomato slices

Cucumber slices
Instructions
Prepare the baguette:
Toast the baguette in the oven or toaster oven for 5 minutes. If you use a long baguette, cut in half. Slice the baguette horizontally with serrated knife and take care not to cut through all the way
Cooking:
Add pinch of salt and black pepper to the egg and lightly beat it. Set aside. Add curry powder and a small pinch of salt to the ground meat and stir to combine

Preheat a non-stick pan, large enough for your baguette. Add onion and stir fry until fragrant, about 3 minutes. Add the ground meat and continue to stir fry until the meat turns color. Push everything towards the middle of the pan. Pour the egg over the meat and then get your baguette and put the cut side down on top of the egg mixture and press it down so the bread absorbs some of the juices and eggs and the mixture will stick to the bread too. Gently push in the filling that oozes out from the side. Cook until the eggs are set

Remove from the heat and with quickly flip this over a plate or you can use a turner to flip the bread over on the plate so the filling side is facing up

If you want to add cheese, quickly add the cheese on top of the filling when the filling is still warm so it can slowly melt the cheese. Top with lettuce, cucumber, and/or tomato slices if you like
Dressing roti john and serve:
There's no fixed amount here, you drizzle how much you want to drizzle 🙂 Drizzle some ketchup, chili sauce, mayonnaise and then close the other half of the baguette over and get ready to eat