Delicious Javanese style martabak telor / telur stuffed with savory beef filling and served with a spicy tangy sauce. Recipe for easy no-knead martabak wrappers is included.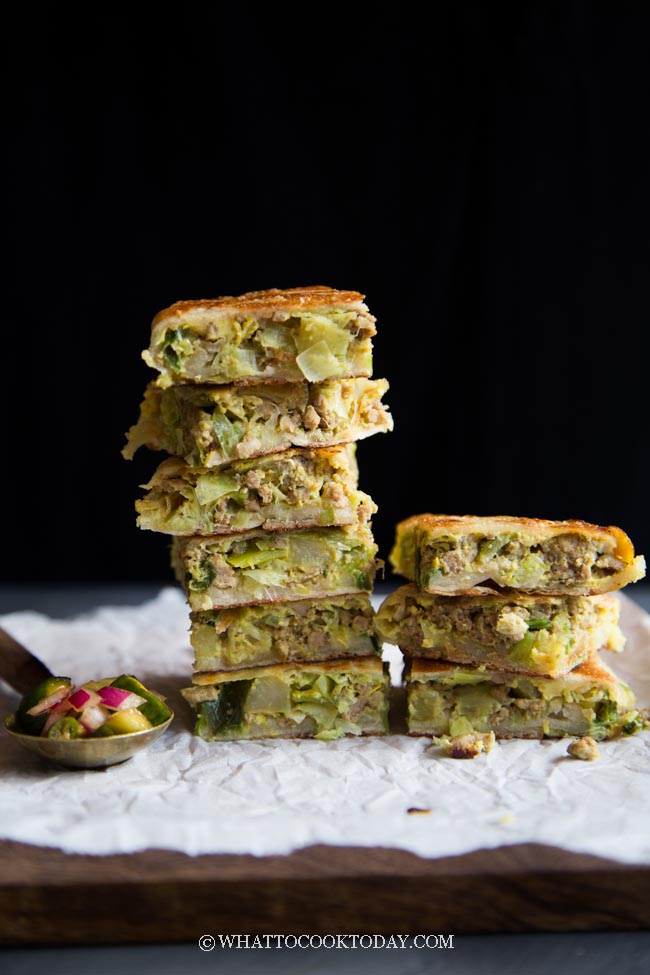 How many of you enjoy eating street food? Something always appeals about street food to me. Perhaps it's the part where I see the sellers preparing food in front of me and the food is as rustic as it can be. Martabak is one of the popular street food in Indonesia. It is known as Martabak telor or Martabak telur or Martabak Mesir in Indonesia. Martabak or Murtabak is of Middle Eastern origin and this is the Indonesian version of it.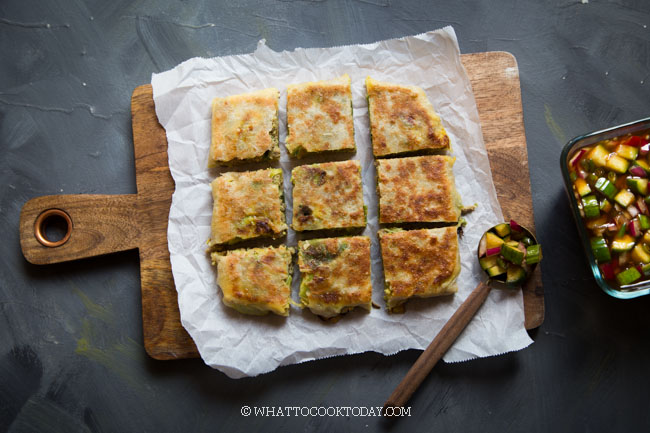 WHY YOU SHOULD TRY TO MAKE YOUR OWN MARTABAK WRAPPER
For the longest time, the thought of making my own martabak wrapper was intimidating. Over the past few months, I've experimented with different methods and finally decided to post this method because it is sooo easy to do.
1. THE DOUGH DOESN'T NEED TO BE KNEADED
This is good news for those who don't own a stand mixer to knead the dough and need to count on manual labor!
2. STRETCHY DOUGH WITHOUT MUCH WORK
Like for real! I couldn't believe how stretchy and thin this dough can be stretched. It blew my mind!
LET ME EXPLAIN WHY THE DOUGH IS STRETCHY WITHOUT MUCH WORK
I've experimented with this method at least 3 times and all 3 times, they work wonderfully!
THE MAGIC HAPPENS DURING RESTING
The long resting allows the gluten to relax, making it easier to pull without retracting back. I divided the dough and then coat them in oil and rest them for at least 8 hours or overnight. The longer it rests, the easier it is for you to pull and stretch the dough without tearing. It is not a short process, but it's all passive waiting time without you having to use much elbow grease, if at all!
NOW ARE YOU CONVINCED YET?
I know it sounds so simple, but really there's nothing complicated about it and you will be surprised by how effective this method is!
Related reading: Martabak Manis / Apam Balik / Ban Jian Kuih (Tips You Need To Know)
HOW TO MAKE STRETCHY MARTABAK WRAPPERS FROM SCRATCH (EASY NO-KNEAD METHOD)
1. MAKE A ROUGH DOUGH: Mix the flour, salt, and water in a mixing bowl. Add in the water bit by bit and then mix the dough until it comes together into a mass. It doesn't need to be smooth.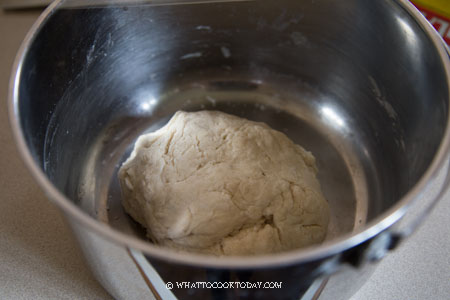 2. REST: Cover and let the dough rest for at least 8 hours or overnight After that, you can see the dough has relaxed quite a bit and you can knead it a few times with your hands and you will get a pretty smooth dough now
3. DIVIDE: Divide the dough into 4 equal-size doughs. Pour 2 Tbsp of oil and rub it all over the dough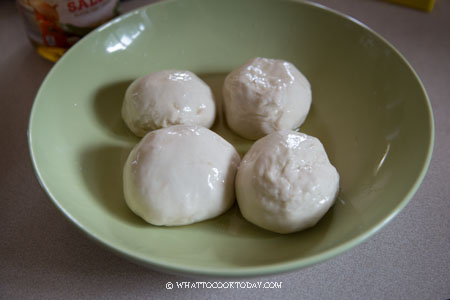 4. REST SOME MORE: Cover them with a plastic wrap and let them rest for about one hour (the longer it sits the easier the dough to pull without tearing).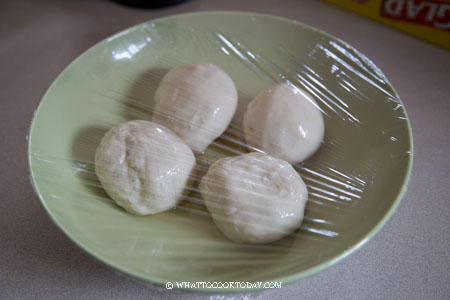 HOW TO PULL AND STRETCH MARTABAK DOUGH
In the video, I'm showing a slightly different approach. Instead of stretching the dough on the pan, I just did it on a working surface and transfer it to the pan to cook. You can do either one. If it's your first time making, I recommend making 8 small ones instead of 4 big ones.
1. OIL YOUR PALMS: After 6-8 hours, oil your palm and your work surface and gently pick up one dough. It is very soft and stretchy at this point.
2. FLATTEN AND START STRETCHING: Put 1 Tbsp of cooking oil in a non-stick skillet. Don't preheat the pan just yet. Gently flatten the dough with your palm and then use your fingers to gently pull and stretch the dough out and stretch into a roughly even square, about 10 x 10-inch in size. The dough should be quite thin and stretchy, but be careful not to tear them. If it tears a bit, don't panic, they will overlap when you wrap it.
3. TRANSFER TO A PAN: Gently peel the dough and place on a top of the pan with the dough overlapping on the rim of the pan.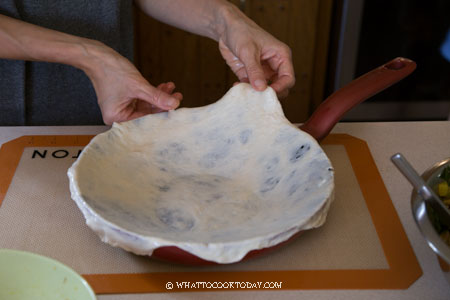 4. FILL IT UP: Scoop about 1/4 of the filling in the middle of the dough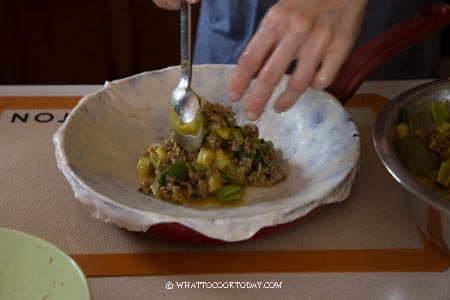 5. FOLD IT LIKE A PARCEL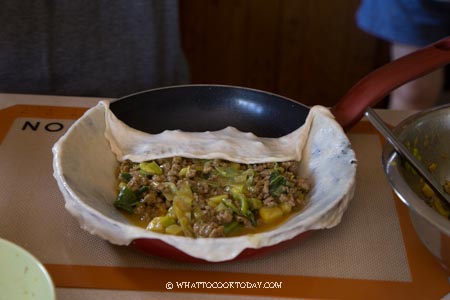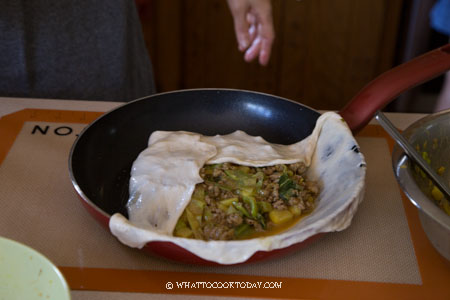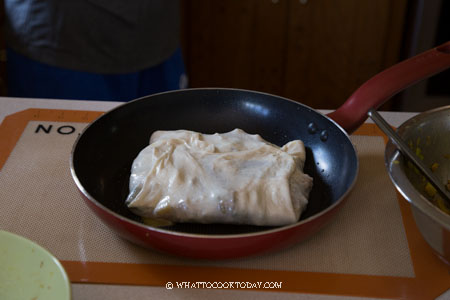 HOW TO COOK THE MARTABAK TELOR PROPERLY
Place the pan on the stove and cook over medium heat until golden brown and the eggs are cooked inside and then flip to the other side and cook until golden brown. Repeat the whole process until you are finished with the filling and dough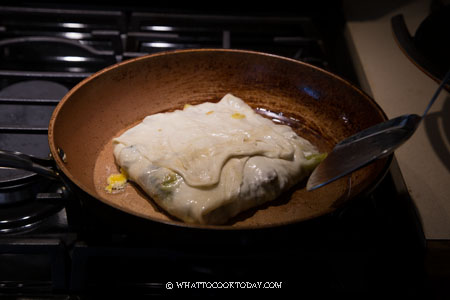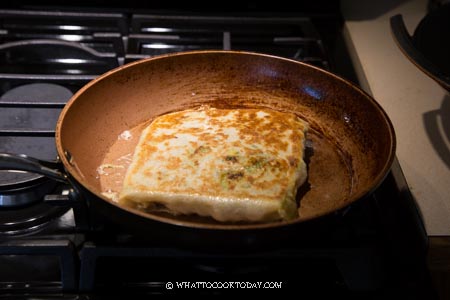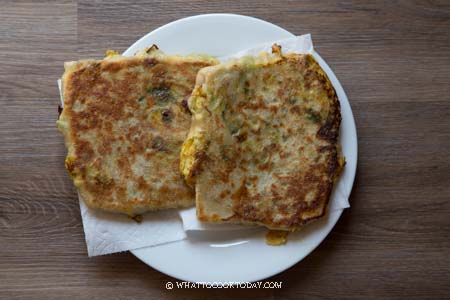 If you are using a ready-made spring roll wrappers to wrap the martabak, the process is much simpler. This photo was taken at a different time before I knew how to make the martabak wrappers so easily without any kneading!
Whether you are making the martabak wrappers from scratch or using the spring roll wrappers, you will still find this martabak telor super yummy!! My kids demolished them faster than I could make them 🙂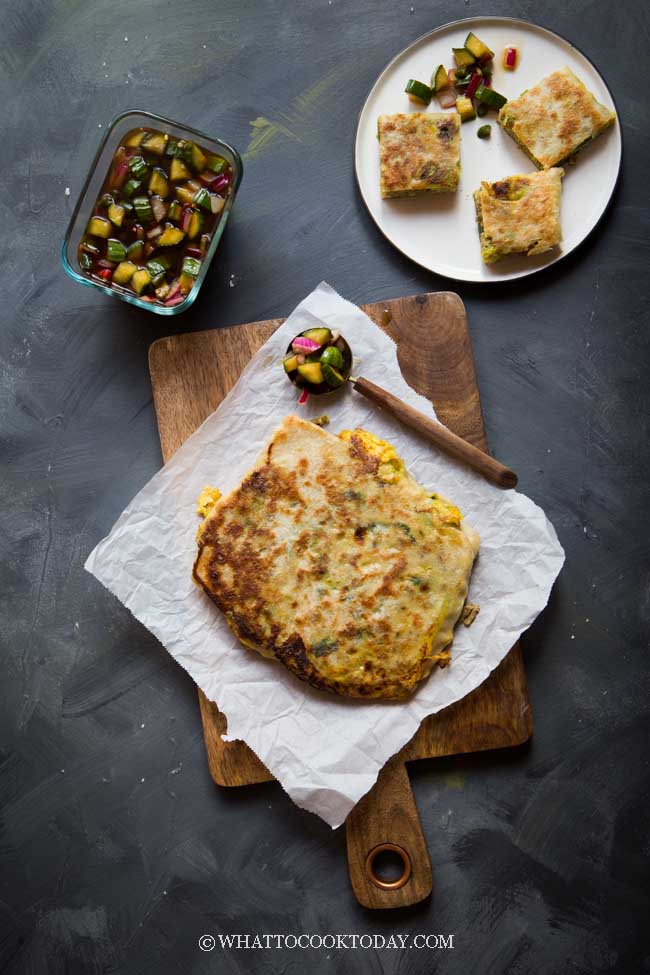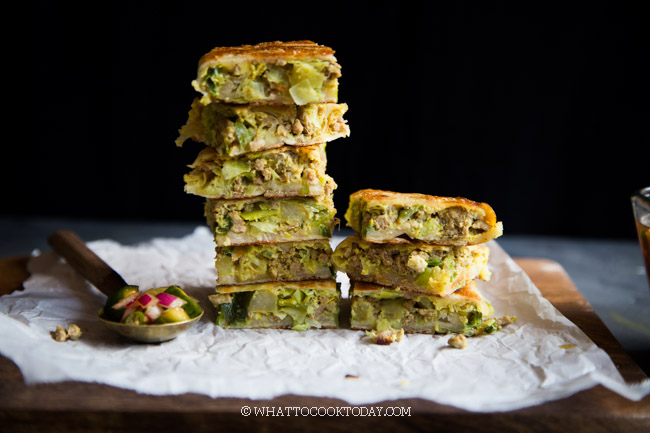 HOW TO STORE LEFTOVER MARTABAK TELOR
STORING: Simply wrap them up with a plastic wrapper or place in a container and keep in the refrigerator for up to 3 days.
REHEATING: Wrap them up in a foil and then reheat in the preheated oven or an air fryer at 350 F for 10-15 minutes or until heated through. You can also just reheat it on a pan with a bit of oil

DID YOU MAKE THIS MARTABAK TELOR – MARTABAK MESIR RECIPE?
I love it when you guys snap a photo and tag to show me what you've made 🙂 Simply tag me @WhatToCookToday #WhatToCookToday on Instagram and I'll be sure to stop by and take a peek for real!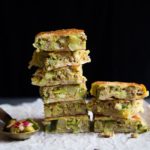 Martabak Telor - Martabak Mesir (Beef and Eggs Pancakes)
Ingredients
Instructions
Preparing the spicy vinegar sauce (can be done the day before):
Stir the sugar with hot water until melted. Add the rest of the ingredients in and let it pickles overnight if you have the time. It can be stored in the fridge for up to 1 week
Preparing the filling (can be done one day ahead):
Prheat a large skillet and then add in 2 Tbsp of oil. Add in the onion, garlic and leeks and stir-fry until fragrant, about 3 minutes or so. Add the ground beef and use the spatula to break up the ground beef and cook for about 2 minutes or until no longer pink. Stir in the curry powder and seasonings and cook for another minute. Have a taste and adjust seasonings to your liking. Stir fry until the filling is really dry. Remove from the heat and let it completely cool before wrapping. Stir in the beaten egg and mix. You can prepare up to this step ahead of time
Prepare the dough: Easy No-knead method (skip this if you use spring roll wrappers):
Mix the flour, salt, and water in a mixing bowl. Add in the water bit by bit and then mix the dough until it comes together into a mass. It doesn't need to be smooth. Cover and let the dough rest for at least 8 hours or overnight in the fridge. The magic happens during the resting period

Bring the dough out from the fridge and let it comes to a room temperature, this may take about an hour or so. Give it a few kneads and you can see the dough has relaxed quite a bit and you can knead it few times with your hands and you will get a pretty smooth dough now

Divide the dough into 4 equal-size doughs or 6 or 8 smaller ones. Pour 2 Tbsp of oil and rub it all over the dough. Cover them a plastic wrap and rest for one hour
Wrapping and cooking (if using homemade dough):
Oil your palm and gently pick up one dough. It is very soft and stretchy at this point

Gently flatten the dough with your palm and then use your fingers to gently pull and stretch the dough out and stretch into a roughly even square, about 10 x 10-inch in size (for large size). The dough should be quite thin and stretchy, but be careful not to stretch it too thin. If it tears a bit, don't panic, they will overlap when you wrap it.

Scoop about 1/4 of the filling (for large martabak) in the middle of the dough and then fold the two sides up and followed by the top and bottom into a parcel 

Preheat 3 Tbsp of oil over medium heat. Place the martabak on the pan, seam side down and cook over medium heat until golden brown and the eggs are cooked inside and then flip to the other side and cook until golden brown. Repeat the whole process until you are finished with the filling and dough. Do not crank up the heat or the outside may get burnt before the dough get a chance to be cooked through on the inside
Wrapping and cooking (if using spring roll wrappers):
Get one spring roll wrapper. Place 1/8 of the filling into the middle of the dough and then fold the two sides up and followed by the top and bottom into a parcel. Preheat 3 Tbsp of cooking oil in a non-stick skillet and place the martabak (seam side down) on the pan and cook until golden brown and then flip to the other side and cook until golden brown and the eggs are cooked inside
Serving:
When cool enough to handle, use a sharp knife to cut the martabak into serving pieces and place them on the serving platter and serve immediately with cucumber relish on the side
Nutrition
Serving:
1
large pancake
|
Calories:
778
kcal
|
Carbohydrates:
85
g
|
Protein:
29
g
|
Fat:
35
g
|
Saturated Fat:
9
g
|
Trans Fat:
1
g
|
Cholesterol:
239
mg
|
Sodium:
1044
mg
|
Potassium:
612
mg
|
Fiber:
5
g
|
Sugar:
16
g
|
Vitamin A:
686
IU
|
Vitamin C:
10
mg
|
Calcium:
109
mg
|
Iron:
7
mg