Learn how to make this tasty stir-fried rice vermicelli noodles (bee hoon/mee hoon) that can be served plain on its own or with as many sides of your choice. It's a popular breakfast in Indonesia, Singapore, and Malaysia. Recipe works for economy fried noodles too.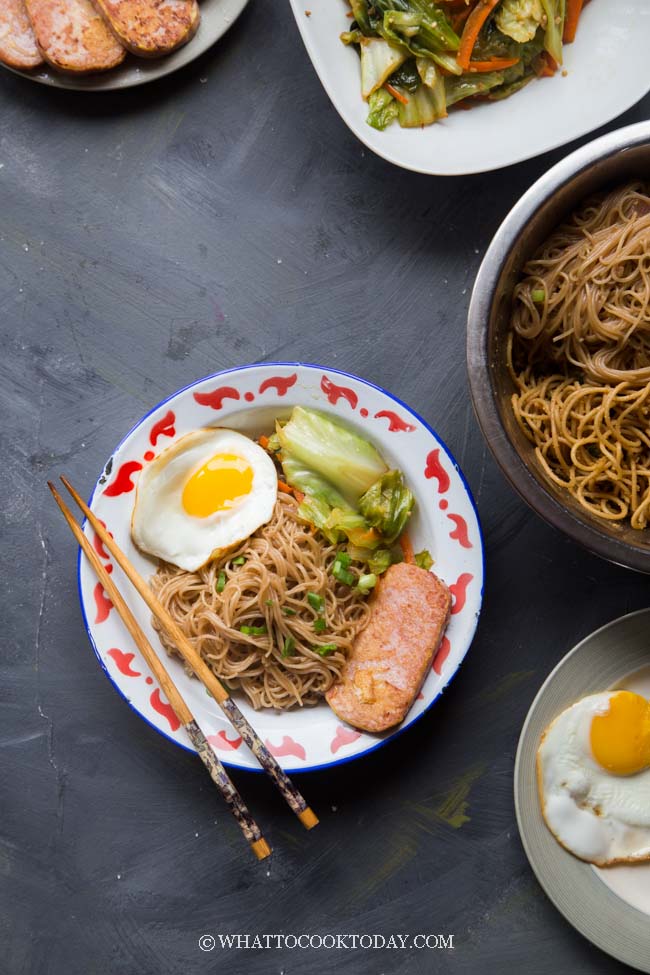 POPULAR HAWKER BREAKFAST
It is not uncommon to have rice, congee/rice porridge, and noodles alike for breakfast in Asia. Fried bee hoon or we call it bihun goreng in Indonesia is one of the popular breakfast food. In Singapore and Malaysia, they are often called economy fried bee hoon. It is supposed to be a "cheap" breakfast food and hence the name economical/ economy.
You can order a plate of fried bee hoon and then there are many choices of sides like stir-fried veggies, fried chicken wings, fried tofu, fish cakes, fried eggs, hot dogs, luncheon meat, etc.
Depending on what you choose, a plate of economy fried bee hoon may cost you quite a bit if you end up choosing lots of sides. The price can range from as few as $1.00 to $5.00 and up 🙂 It adds up!
MY VERSION OF BASIC ECONOMY FRIED BEE HOON
Here are what I used to make this economy fried bee hoon. It's pretty economical when you feed the entire family with this economy fried bee hoon and they couldn't be happier to eat it LOL!
1. RICE VERMICELLI NOODLES (BEE HOON)
There are very fine to thick bee hoon. The one I use is sort of in the middle, not too fine or thick. I like this brand a lot because the bee hoon doesn't break easily when you stir fry
2. LUNCHEON MEAT
Here in the U.S., also known as SPAM, which is one of the brands of luncheon meat. You can use whatever brand you like
3. FRIED EGGS
4. STIR-FRIED CABBAGE AND CARROTS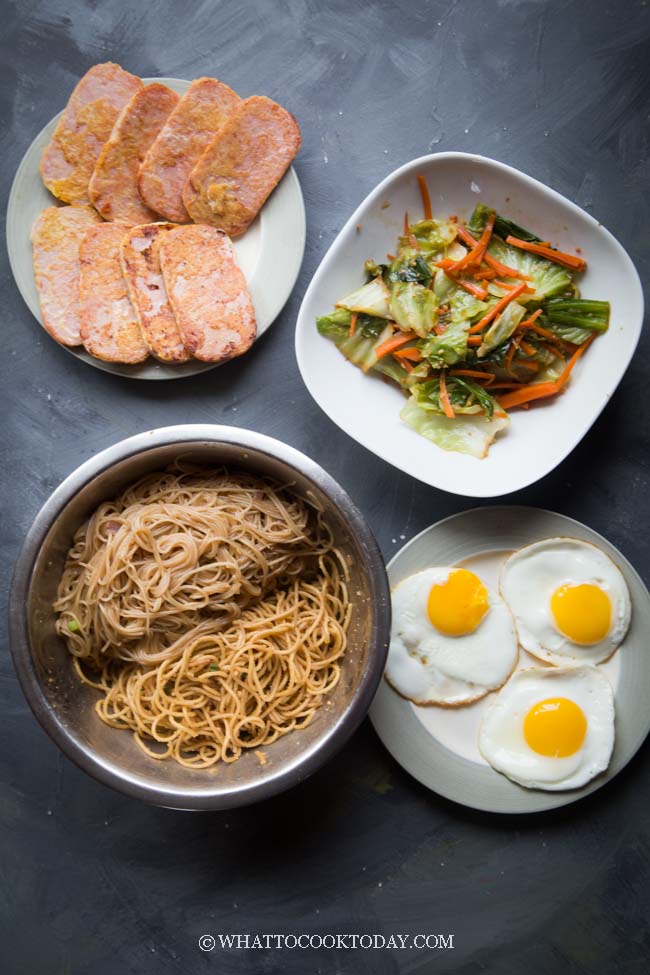 HOW TO MAKE ECONOMY FRIED BEE HOON
1. MAKE THE STIR-FRY CABBAGE
While waiting for bee hoon, you can prepare the rest. Preheat wok or skillet on high heat. Add cooking oil and garlic and stir fry for 10 seconds


Add cabbage and carrots and stir fry for about 2 minutes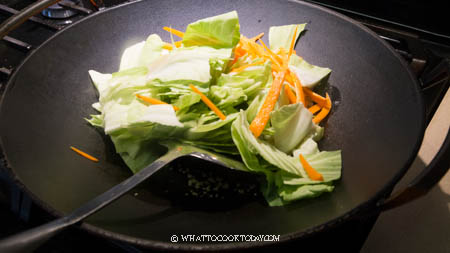 Add seasonings and chicken broth. Cover with a lid and let it cook until soft, about 5 minutes or so. Uncover the lid and cook until the liquid evaporates. Have a taste and add more seasonings to your taste


2. PAN FRY LUNCHEON MEAT
Cut the luncheon meat into about 8-10 1/2-inch pieces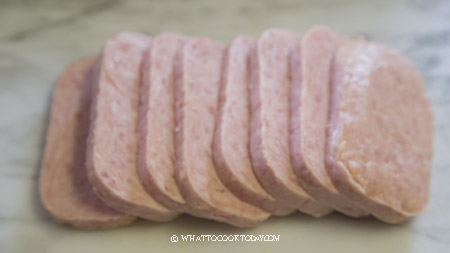 Preheat a non-stick pan on medium-high heat. Add cooking oil. Dip the luncheon meat in a beaten egg and place them on the pan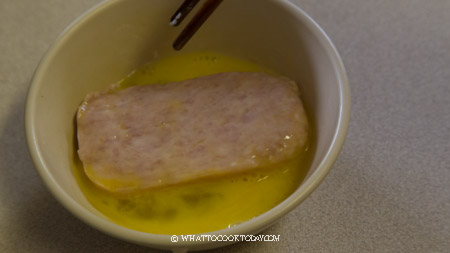 Pan fry until they are lightly golden brown on both sides


3. MAKE FRIED BEE HOON
Soak bee hoon in water for 1 hour or until they are soft. Drain off water


Mix all the seasonings ingredients in a bowl and set aside. Preheat a large wok or skillet over high heat. Add cooking oil, shallots, and garlic. Stir fry until fragrant, about 1 minute


Add the pre-soaked bee hoon and seasonings. Stir to mix everything. Pour in 1/2 cup of chicken broth and continue to stir fry until the bee hoon absorbs the chicken broth. Each brand of bee hoon absorbs liquid differently, so you may need more chicken broth if it still seems a bit dry, add 1-2 tablespoon of liquid at a time as needed. You may not need more too. Use your own judgment here


Have a taste and add more soy sauce and/or fish sauce as needed to suit your taste. Add the bean sprouts (which I forgot to add LOL) and cook for another minute and turns off the heat. Garnish with green onion

HOW TO SERVE ECONOMY FRIED BEE HOON
Portion the fried bee hoon on a plate, a serving of stir-fried cabbage, 1 slice of luncheon meat, and one piece of fried egg and serve with pickled green chilies.

RECIPE WORKS FOR ECONOMY FRIED NOODLES TOO
Instead of using bee hoon, you can also use yellow egg noodles (Hokkien noodles), chow-mein noodles, ramen instant noodles. You can also use spaghetti. Just make sure you boil the spaghetti to al dente (firm to bite) and don't overcook it and then don't rinse with water. All the cooking methods are the same. I actually had half fried bee hoon and half fried noodles 🙂

DID YOU MAKE THIS ECONOMY FRIED BEE HOON RECIPE?
I love it when you guys snap a photo and tag to show me what you've made 🙂 Simply tag me @WhatToCookToday #WhatToCookToday on Instagram and I'll be sure to stop by and take a peek for real!
Economy Fried Bee Hoon / Fried Noodles
Ingredients
For fried bee hoon:
400

gr

rice noodle stick

bee hoon

200

gr

bean sprouts

½

small

onion

or use 2-3 shallots, diced

3

cloves

garlic

finely minced

½

cup

chicken broth

or more as needed
Seasonings for fried bee hoon:
For stir-fry cabbage:
200

gr

cabbage

cut into strips or about 2-inch pieces

1

large

carrot

julienned

1

Tbsp

cooking oil

1

clove

garlic

finely minced

2

tsp

soy sauce

or more to taste

½

tsp

sugar

¼

cup

chicken broth
For luncheon meat:
350

gr

luncheon meat

or 1 can

1

large

egg

beaten

1

tsp

cooking oil
Garnish:
1

stalk

green onion

finely chopped
Serve with:
Instructions
You will get a large amount with this recipe. If you are new to stir-frying noodles, I suggest half the recipe. It's easier to manage when you stir-fry a smaller portion. This is something to keep in mind
Soak bee hoon noodles:
Soak bee hoon in water for 1 hour or until they are soft. Drain off water
Make stir-fry cabbage:
While waiting for bee hoon, you can prepare the rest. Preheat wok or skillet on high heat. Add cooking oil and garlic and stir fry for 10 seconds. Add cabbage and carrots and stir fry for about 2 minutes. Add seasonings and chicken broth. Cover with a lid and let it cook until soft, about 5 minutes or so. Uncover the lid and cook until the liquid evaporates. Have a taste and add more seasonings to your taste
Pan fry the luncheon meat:
Cut the luncheon meat into about 8-10 1/2-inch pieces. Preheat a non-stick pan on medium-high heat. Add cooking oil. Dip the luncheon meat in a beaten egg and place them on the pan. Pan fry until they are lightly golden brown on both sides
Fry the eggs:
Preheat non-stick pan on medium-high heat. Carefully crack in the eggs and fry until the edges are crispy and the yolk is still runny or cooked through (it's your choice)
Fried bee hoon:
Mix all the seasonings ingredients in a bowl and set aside. Preheat a large wok or skillet over high heat. Add cooking oil, shallots, and garlic. Stir fry until fragrant, about 1 minute. Add the pre-soaked bee hoon and seasonings. Stir to mix everything. Pour in 1/2 cup of chicken broth and continue to stir fry until the bee hoon absorbs the chicken broth. Each brand of bee hoon absorbs liquid differently, so you may need more chicken broth if it still seems a bit dry, add 1-2 tablespoon of liquid at a time as needed. You may not need more too. Use your own judgment here

Have a taste and add more soy sauce and/or fish sauce as needed to suit your taste. Add the bean sprouts and cook for another minute and turns off the heat
How to serve:
Portion the fried bee hoon on a plate, a serving of stir-fried cabbage, 1 slice of luncheon meat, and one piece of fried egg and serve with pickled green chilies
Recommended products: