Make this crispy version of thin Apam Balik filled with sweet chocolate, sugar, and peanut filling without any special kitchen tools. Also known as Kue Leker in Indonesia. I call this crispy and thin ban jian kuih.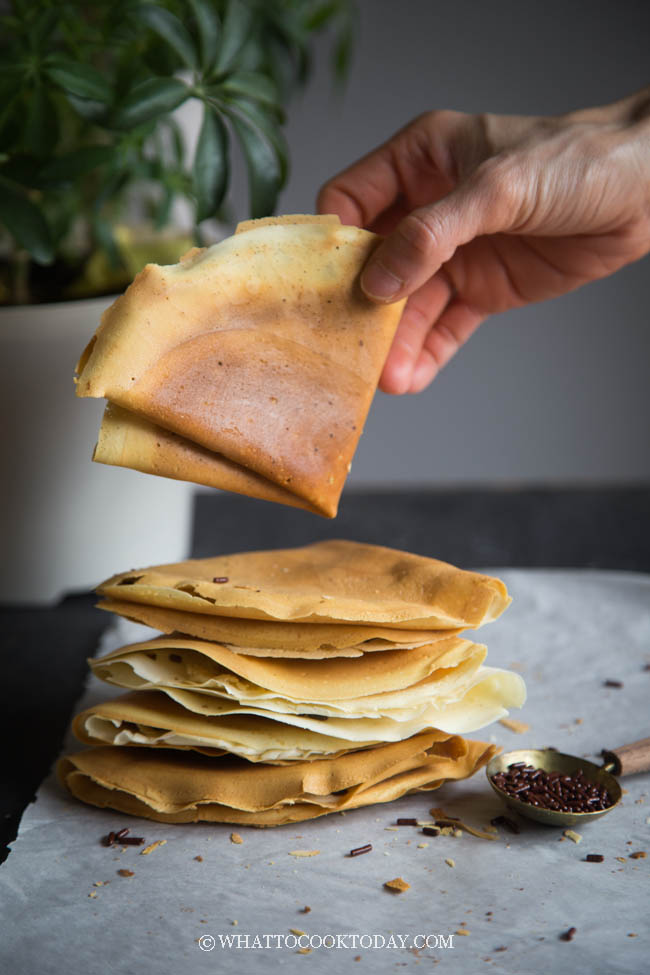 I'm sharing one of my favorite childhood snacks here, crispy apam balik or we call it kue leker in Indonesia. This popular snack in Southeast Asia is sold by street vendors where I grew up. The seller would make them as you ordered. I love watching how they made them. They have multiple mini wok to cook the apam balik. In Indonesia, they are often filled with chocolate sprinkles, shredded cheese, slices of banana, chocolate syrup, sugar, etc. In Malaysia and Singapore, apam balik is often filled with peanuts, sugar, and butter.
WHY YOU'LL LIKE THIS RECIPE
1. It makes really crispy apam balik
They may not seem crispy right after cooking, but as they cool down they will harden and become really crispy (you can hear the crispy sound in the video of me breaking the crispy apam balik)
2. The batter is not eggy
I've tried several recipes and I found them a bit too eggy, but this, IMHO, tastes just right for me
3. No special tools
You only need a non-stick pan, which the majority of us own one I believe. No special crepe pan or anything like that
4. The recipe is pretty straightforward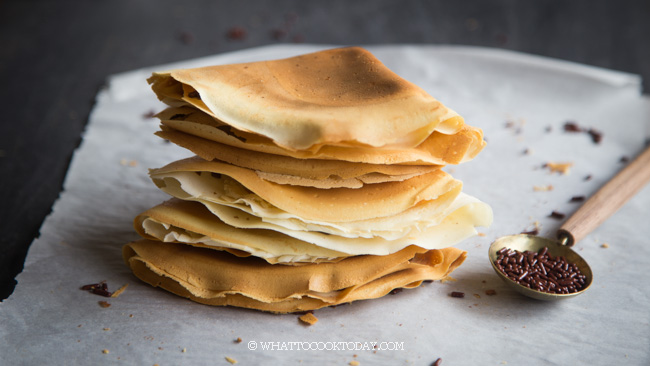 HOW TO MAKE CRISPY APAM BALIK (KUE LEKER)
1. Mix all the dry ingredients in a mixing bowl and whisk to mix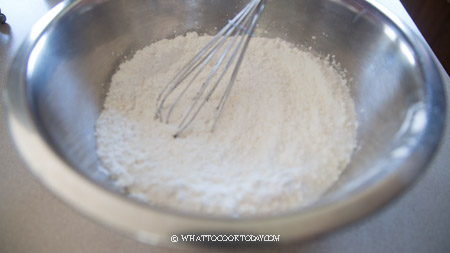 2. Crack in egg and the rest of the wet ingredients. Whisk to combine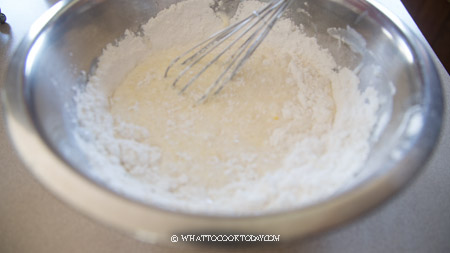 3. Strain the better to get rid of any lumps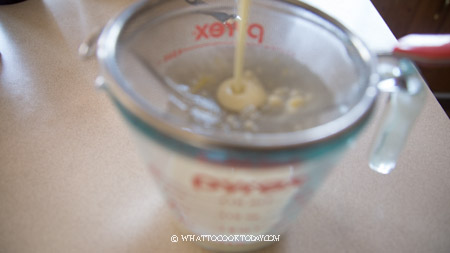 4. Rest the batter for at least 30 minutes at room temperature or store in the fridge overnight
5. Give the batter a good stir before cooking


6. Preheat a non-stick pan over lowest heat. Rub the pan with a paper towel dipped in a bit of cooking oil


7. Pour the batter (about 35-40 ml for 8-inch pan) on the center of the pan and swirl the pan to let the batter flow and cover the base of the pan and the side of the pan (if you want). Don't pour too much. If the batter is too thick, your pancake won't be crispy later. Now you can crank up the heat a little bit to between low and medium, or closer to medium (this depends on your stove too)


8. Drizzle with some melted butter (I didn't). Sprinkle the toppings on the batter when it's still "wet" so they stick better. Let the crepes cook until the bottom is golden brown. It is important to cook until they are really golden brown or they won't be crispy when they cooled down. You can adjust the heat to medium-low, but don't crank up the heat too much or it may get burnt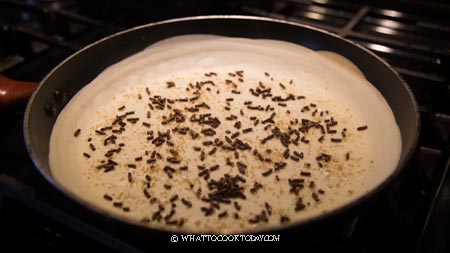 9. Use a rubber spatula to go around the side of the pan and loosen the edge


10. Fold the crepes in half. You can leave it like that. The color should be about this dark for it to be crispy


11. Or fold again into quarter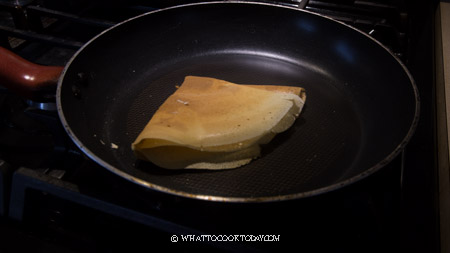 12. Scrape the pan clean each time after cooking one crepe and then rub with a thin layer of cooking oil using a paper towel and continue cooking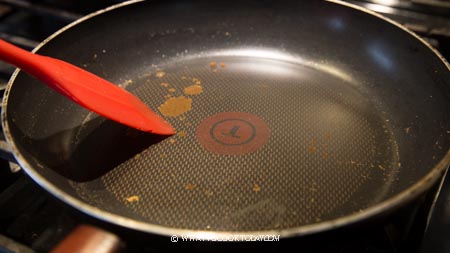 13. The crepes will continue to get crispy as they cool down. Put the crepes on a cooling rack as you continue to cook the rest. Don't forget to stir the batter each time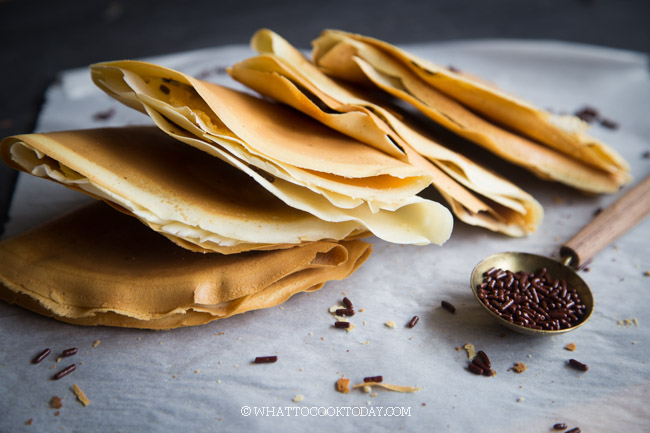 HOW TO STORE AND RECRISP CRISPY APAM BALIK – KUE LEKER
Storage: Once they cool down, store in an air-tight container or zipper bag. Push out all the air. Crispy apam balik stays crispy for a day or two before they get softened.
Recrisp: You can simply re-crisp them in the oven or air-fryer at 350 F for 5 minutes or so.

IMPORTANT TIPS TO TAKE NOTE
1. Make sure you rest the batter for at least 30 minutes or up to 12 hours
2. Stir the batter each time before you cook
3. Only smear a thin layer of oil with a paper towel, do not use too much oil. We are not frying the apam balik here
4. Pour a thin layer enough to cover the base and side of the pan to get crispy apam balik. If you pour too thick, they won't be crispy. They will still taste good, but not going to be crispy
5. Control the heat. I cooked mine over medium heat to make sure the crispy apam balik won't get burnt but it needs to be cooked until as golden brown as you can see in the photos or they won't be crispy
TROUBLESHOOTINGS
1. Crispy apam balik is not crispy
I've tested this crispy apam balik recipe many times and they turned out crispy every time. You need to make sure you take note on the followings:
– You probably pour too much batter. Thick pancake won't be crispy no matter how long you cook them
– The heat is too low. You may want to adjust the heat until the pancake is golden brown at the bottom (as shown in the photo) and dry on the surface before you fold the pancake
2. They taste starchy
Your apam balik is most likely not cooked enough. Again, make sure they are cooked to golden brown over medium heat
3. They don't stay crispy
– Cool them down completely on a cooling rack before storing
– If it's humid where you are, you want to make sure you keep them in an air-tight container
– You can always recrisp them in the oven or air fryer as I mentioned above
DID YOU MAKE THIS EASIEST CRISPY ROAST PORK BELLY RECIPE?
I love it when you guys snap a photo and tag to show me what you've made 🙂 Simply tag me @WhatToCookToday #WhatToCookToday on Instagram and I'll be sure to stop by and take a peek for real!

Crispy Apam Balik (Crispy Crepes - Kue Leker)
Ingredients
Topping suggestions (It can be any combinations you like):
Instructions
Prepare the batter:
Mix all the dry ingredients in a mixing bowl and whisk to mix. Crack in egg and the rest of the wet ingredients. Whisk to combine. Strain the better to get rid of any lumps

Rest the batter for at least 30 minutes at room temperature or store in the fridge overnight
Cooking:
Give the batter a good stir before cooking. Preheat a non-stick pan over lowest heat. Rub the pan with a paper towel dipped in a bit of cooking oil

Pour the batter (about 35-40 ml for 8-inch pan) on the center of the pan and swirl the pan to let the batter flow and cover the base of the pan and the side of the pan (if you want). Don't pour too much. If the batter is too thick, your pancake won't be crispy later. Now you can crank up the heat a little bit to between low and medium, or closer to medium (this depends on your stove too)

Drizzle with some melted butter (I didn't). Sprinkle the toppings on the batter when it's still "wet" so they stick better. Let the crepes cook until the bottom is golden brown. It is very important to cook until they are really golden brown in order for the pancake to be crispy after cooling down. Don't crank up the heat too much either or it may get burnt

Use a rubber spatula to go around the side of the pan and loosen the edge. Fold the crepes in half and then fold again into quarter

Scrape the pan clean each time after cooking one crepe and then rub with a thin layer of cooking oil using paper towel and continue cooking
Cool down:
The crepes will continue to get crispy as they cool down. Put the crepes on cooling rack as you continue to cook the rest. Don't forget to stir the batter each time
How to store crispy apam balik:
Once they cool down, store in an air-tight container or zipper bag. Push out all the air. Crispy apam balik stays crispy for a day or two before they get softened. You can simply re-crisp them in the oven or air-fryer at 350 F for 5 minutes or so
Recommended products: