This Asian-style quick-pickled green chilies is a perfect condiment to many Asian noodle dishes in Southeast Asia or as a snack. You only need 4 ingredients to make this. It's sour, sweet, with a hint of spicy.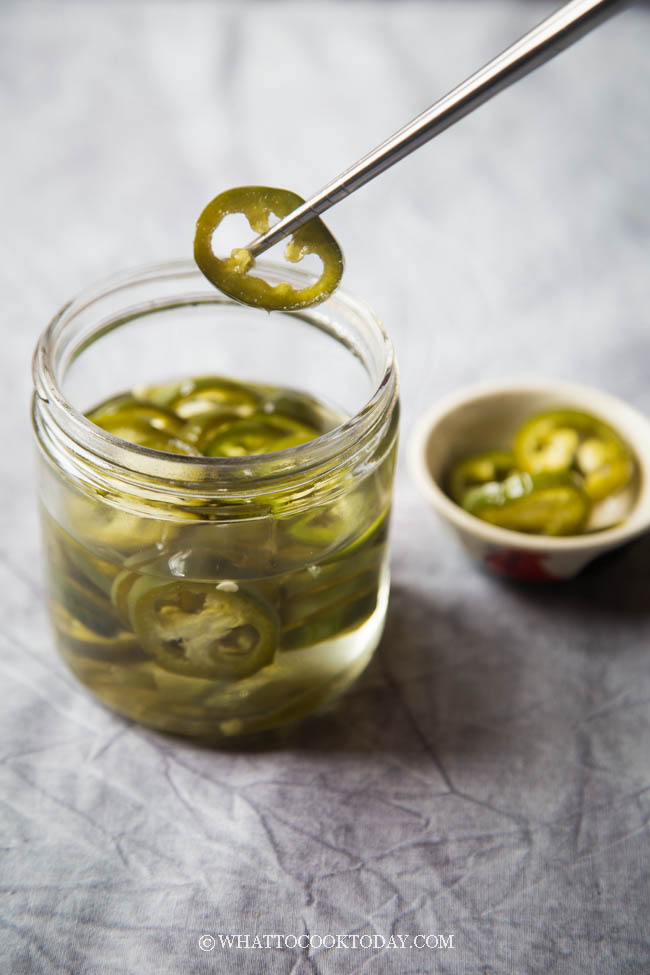 This Asian style pickled green chilies is one of the easiest condiments to make. In Singapore and Malaysia, these pickled green chilies are mainly eaten with noodle dishes. In Indonesia, or at least at the city where we grew up, pickled green chilies like this are not common, if at all.
TYPE OF CHILI YOU CAN USE
1. JALAPENO PEPPERS (what I used in this recipe)
2. SERRANO PEPPERS
3. OR ANY LARGE GREEN CHILIES / PEPPERS (not the spicy type like Thai's green chilies though)
TYPE OF VINEGAR YOU CAN USE
1. RICE VINEGAR
Rice vinegar is usually used for this pickled green chilies
2. DISTILLED WHITE VINEGAR
3. APPLE CIDER VINEGAR
HOW TO EASILY MAKE QUICK-PICKLED GREEN CHILIES
1. Wash the chili clean with water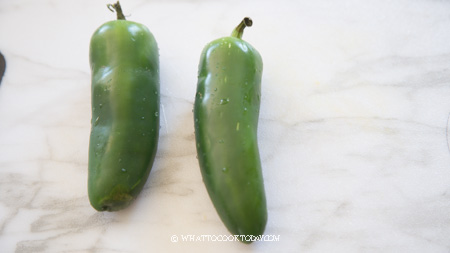 2. Cut off the stems. Cut into rings about 1/4-inch in thickness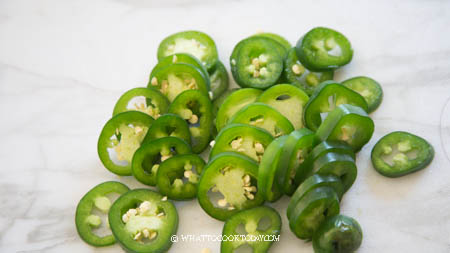 3. Transfer to a colander and rinse with water to get rid of any excess seeds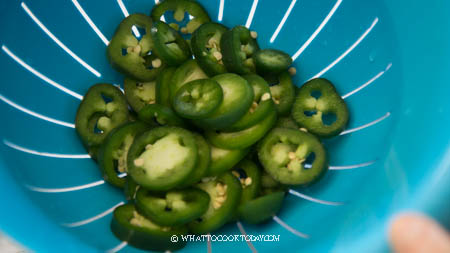 4. Scald the jar with hot boiling water to sterilize. Set aside. This will prolong the shelf life. Place the cut chilies inside the jar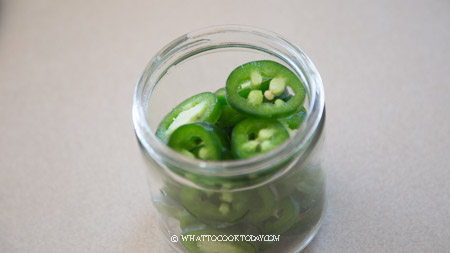 5. Place the sugar, vinegar, and salt in a non-reactive saucepan and bring to a boil to dissolve sugar and salt


6. Pour this hot solution into the glass jar with the chilies inside it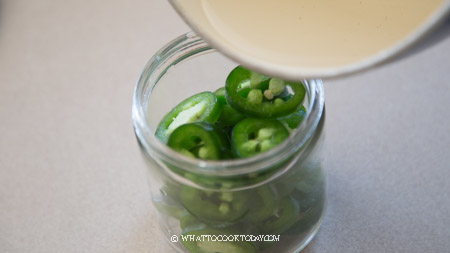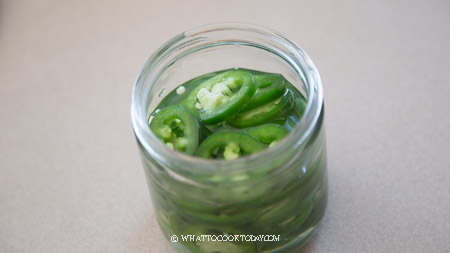 7. Secure the lid and let it cools down before storing it in the fridge. The pickled green chilies is ready in about 2 hours. You'll notice that the color of the chilies have turned from deep green to a more muted green now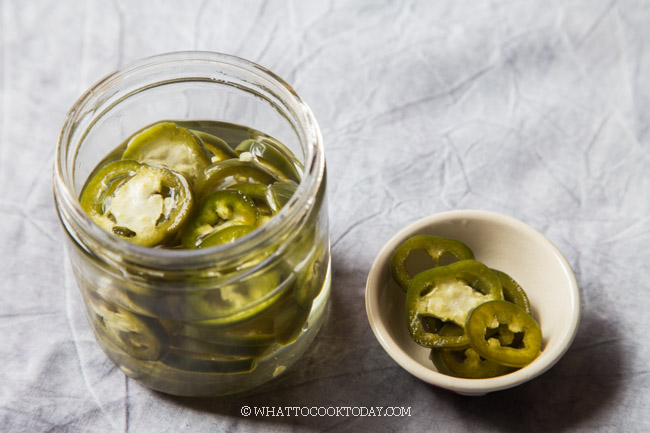 WHAT TO SERVE WITH THIS PICKLED GREEN CHILIES
I made this to go with the kon lo wantan mee and you ji mian, Stir-fried White Bee Hoon (Bihun Goreng Putih), Kwe Tiau Radna (Thai Stir-fried Flat Rice Noodles with Gravy), Pad See Ew (Thai Stir-fried Rice Noodles)
It's really easy isn't it ? I like to snack on this on it own too 🙂

DID YOU MAKE THIS EASY ASIAN QUICK-PICKLED GREEN CHILIES RECIPE?
I love it when you guys snap a photo and tag to show me what you've made 🙂 Simply tag me @WhatToCookToday #WhatToCookToday on Instagram and I'll be sure to stop by and take a peek for real!

Asian Quick-Pickled Green Chilies
Ingredients
200

gr

green chili

7 oz I used jalapeno and sometimes serrano

300

ml

rice vinegar

1 1/4 cups

1

Tbsp

sugar

½

tsp

salt
Instructions
Prepare the chilies:
Wash the chili clean with water. Pat them dry. Cut off the stems. Cut into rings about 1/4-inch in thickness

Transfer to a colander and rinse with water to get rid of any excess seeds
Prepare the glass jar:
Scald the jar with hot boiling water to sterilize. Set aside. This will prolong the shelf life. Place the cut chilies inside the jar
Prepare the vinegar solution:
Place the sugar, vinegar, and salt in a non-reactive saucepan and bring to a boil to dissolve sugar and salt

Pour this hot solution into the glass jar with the chilies inside it. Secure the lid and let it cools down before storing the jar in the fridge. The pickled green chilies is ready in about 2 hours. You'll notice that the color of the chilies have turned from deep green to a more muted green now
To prolong shelf-life:
Only use clean utensils to get the pickled chilies when you need it. The pickled chilies can be kept in the refrigerator for up to one month