Pad See Ew is popular Thai stir-fried rice noodles with meat, eggs, Chinese broccoli, soy sauce and other seasonings. It is a must-try !It is very similar to char (stir-fried) kwe tiau (Rice noodles) in Indonesia, Malaysia, and Singapore.
The mention of Pad See Ew surely makes me feel all nostalgic. Back in college (many many years ago!!), a Thai friend used to bring Pad See Ew and Pad Thai home from the Thai restaurant that serves very authentic Thai food she worked at for me. I can tell you , I was almost in tears when I tasted the Pad See Ew. It was probably the best I've ever tasted. I was hooked with Pad See Ew ever since. She's the sweetest girl I've ever met too! In case you haven't read…I feel so lucky to have always found special people wherever I go. Forever grateful for that !
The stir-fried noodles we are talking about here are the flat rice noodle or what we normally called kuey tiao/kwe tiau in Indonesia, Malaysia and Singapore. In Thailand, pad see ew is their version of char kwe tiau. The dish gets it name from the ingredient use in making this stir-fry, soy sauce, si-io (conveniently spelled into si ew) means soy sauce.
Pad see ew is a dry stir-fried noodles. There is also a wet/with gravy version known as Rad Na or Kwe Tiau Rad Na. I made Rad Na a while back and that was also super delicious.
Serve it immediately. This is the kind of the dish you want to eat when it's sizzling hot and even if you find yourself having to blow on it before eating, still, you shouldn't let the phat see ew sits around waiting for you. Never do that on any stir-fried noodles!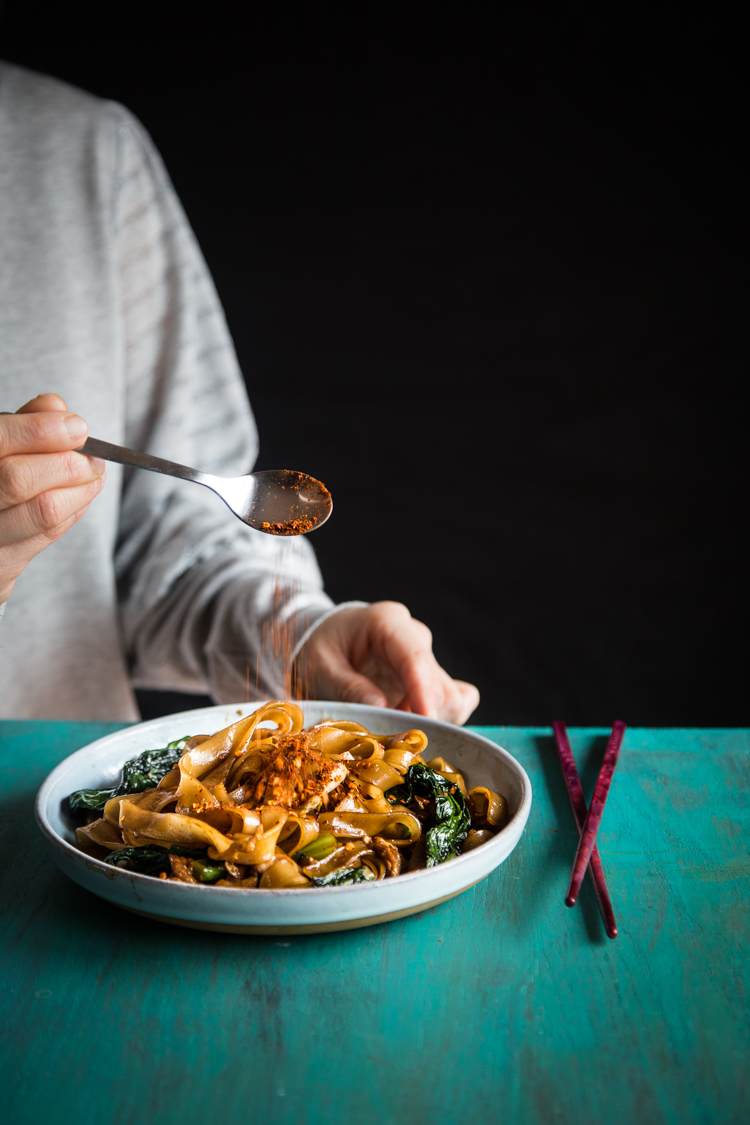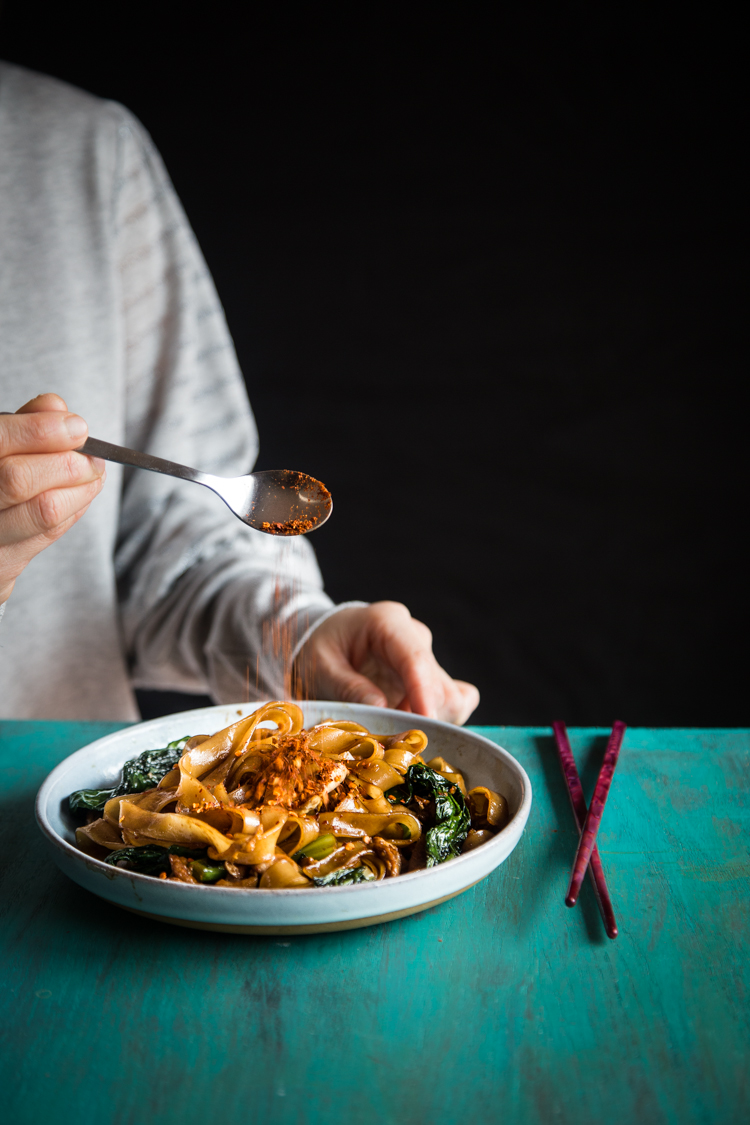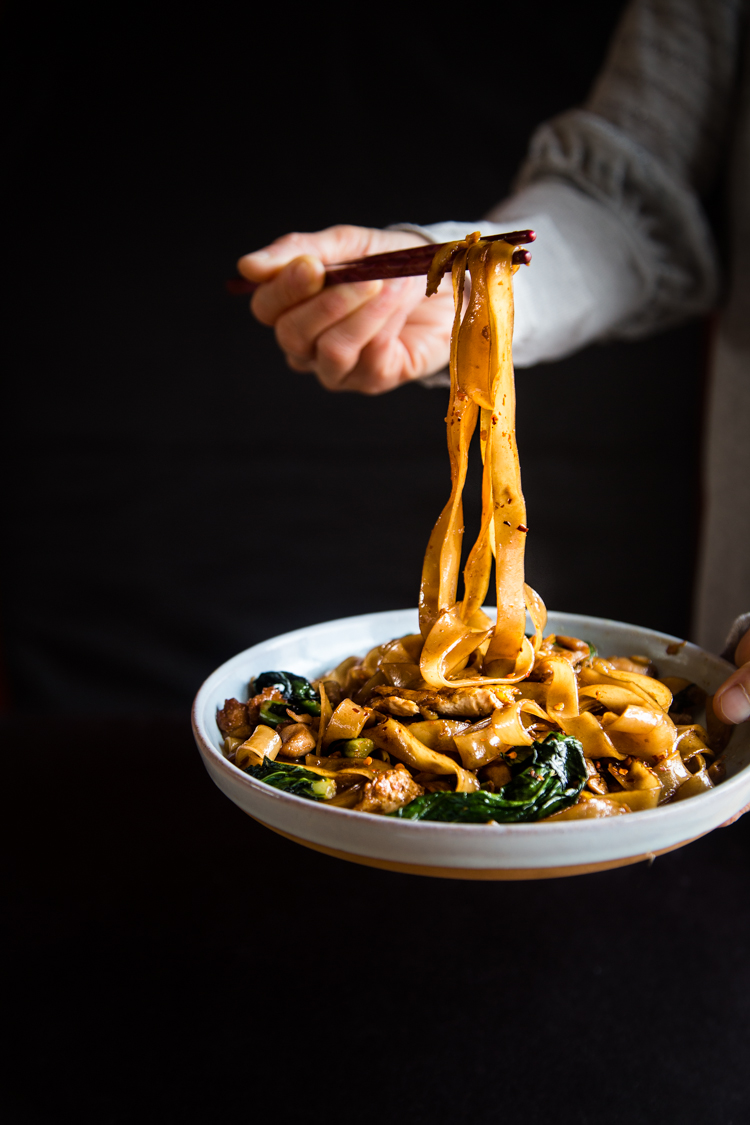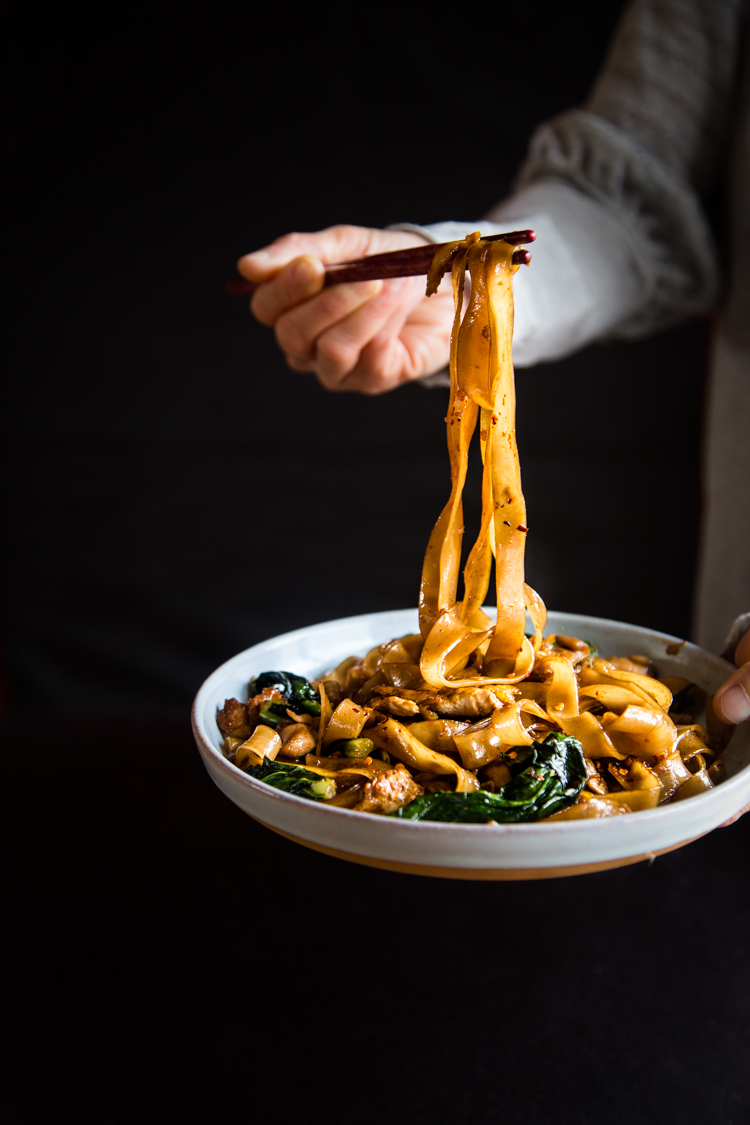 This blog post contains affiliate links. I earn a small commission when you made purchase at no extra cost to you. Learn more.
Pad See Ew (Thai Stir-fried Rice Noodles)
Ingredients
1

lbs

fresh/dried flat rice noodles

4

Tbsp

cooking oil

divided

2

eggs

3

garlic cloves

finely chopped

6

oz

pork loin or meat of your choice

5

stalks of Chinese broccoli/ kai lan
Instructions
Preparing:
If using dried rice noodles, soak in water for at least 2 hours. If you are using refrigerated sheets of rice noodles, they come in one large sheet or pre-cut. Microwave them for about 1 minute and then cut (if you need to) and then separate and loosen the noodle.

Marinate the pork slices with marinade for meat ingredients for 30 minutes and prepare other things while waiting

Separate the big stalks from the leaves of Chinese broccoli. Slice the stems diagonally into 1/2-inch piece
Cooking (I recommend cooking 2 portions at a time):
Preheat your wok (see note) on a high heat until it is really really hot. Add cooking oil

Crack in the eggs and let them fry a little bit, for about 10 seconds and then stir it around to break it up a little bit, but not too much. Push it to the side and add the pork slices and garlic and stir-fry until the pork turn color and cooked through, about 20-30 seconds. Dish everything out to avoid overcooking the pork and egg. Add the vegetables and stir-fry until it started to wilt but still fresh green and slightly crunchy

Wipe the wok clean and bring it back up to high heat. Add cooking oil. Add the stems of the Chinese broccoli you cut earlier and stir fry for about 2 minutes. Add the noodles, the seasonings and stir fry to make sure the noodles pick up the seasonings. The noodles will start to soften (may take a bit longer for dry noodles). Add the egg and pork back into the wok. Stir to mix everything. Have a taste and add more soy sauce if necessary. Transfer immediately to a serving plate and serve immediately
Check out other Southeast Asia recipes you might be interested in.