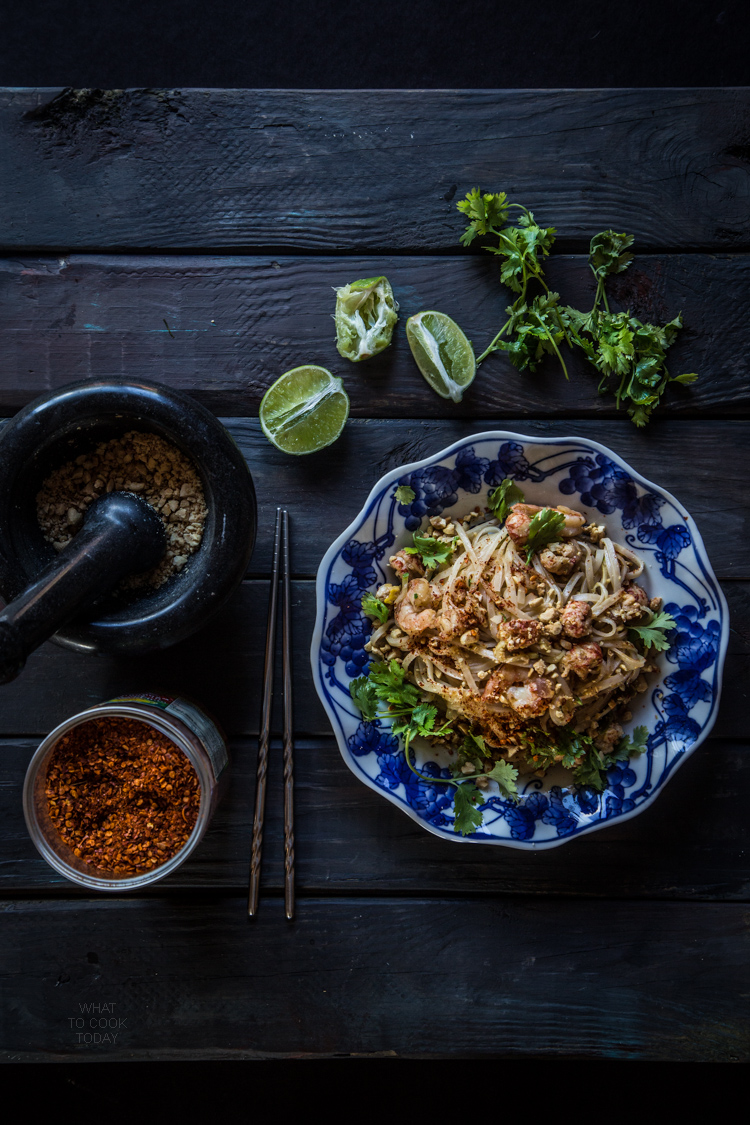 I grew up with my mom's cooking and when we went out to eat, we often ate Indonesian or Chinese food. It's not until  when I first came to the U.S. back in 1998 for school that I learned so much about International food. Thai food, Taiwanese food, Malaysian food, Indian food, Nepali food and of course American food. Several of my good friends in college were Malaysians and Thais. I was truly spoiled by their cooking (I didn't cook much back in the college, or I should say I didn't know how to cook!). I remember my Thai friend who often brought me a Pad Thai take-out from the Thai restaurant she worked at. Oh man….that was seriously the best Pad Thai I've ever tasted.
If you never heard of Pad Thai, well, next time if you give Thai food a chance, start with this. Pad/Phad more or less means stir fry in Thai language. I can tell you though, just like many other noodles stir-fry or in fact many other recipes, there are probably hundreds if not thousands of different recipes out there just for Pad Thai. However, if you break down its composition, you can see that they all have the same characteristic of Thai taste: sweet, sour, savory, and spicy.
So now, fast forward many years later. Married and with two kids. I've tried to make my own Pad Thai. I can't say that it tasted as perfect as the one I had back in college, but it's still a pretty good Pad Thai I must say. This recipe below is what I call a classic Pad Thai with shrimp, pork, tofu, and eggs. I used shrimp and lobster tail in the short clip, but you can use combination of any seafood or meat, or just tofu in your Pad Thai. I also used shredded zucchini because I was out of bean sprouts. Some people use grated carrots, shredded cabbage instead of bean sprouts. But bean sprouts is probably the most common and my most favorite for that extra crunch!

Phad Thai (4 servings)
Ingredients
2

Tbsp

dried shrimp

optional

1

lb

dried of fresh pad thai noodles

3

Tbsp

cooking oil

divided - if using tofu

2

Tbsp

minced cilantro stems

2

garlic

peeled and minced

2

shallots

peeled and minced

1

tsp

crushed red chili flakes or more if you like more heat

I added this last so it won't be spicy for my kids

2

stalks of green onions

cut into 3-inch pieces

2

oz

ground pork

1/4

lb

medium raw shrimp

shelled and deveined

4

oz

extra-firm tofu

2

cups

fresh bean sprouts

or you may use 2 cups shredded cabbage

2

eggs

beaten

1/2

cup

chopped roasted peanuts

for garnish
Sauce:
1/2

cup

seedless tamarind paste + 1 cup hot water

1/4

cup

sugar

I use coconut sugar

6

Tbsp

fish sauce

Juice of 2 limes
Instructions
Preparing the ingredients:
If you are using tofu, press the tofu down by putting paper towels at the bottom and top of the tofu and then weigh it down by placing a heavy pan/pot on top for about 15 minutes. This will "squeeze" out the water: Discard the excess water and pat the tofu dry and cut into about 2x1 inch pieces. Toss the tofu with about 2 Tbsp of soy sauce. Set aside

Meanwhile, soak dried shrimp (if using) in warm water to cover until softened, about 10 minutes; drain and chop finely. If using dried rice noodles, soak in warm water to cover until softened, about 15 minutes; drain. If using fresh rice noodles, rinse with cold water to separate

To make sauce, combine the tamarind paste with hot water until dissolves and then strain into another bowl. Add in sugar, fish sauce, and lime juice and stir to combine. Set aside
Cooking:
If you are using dried noodles, soak them in warm water for 15 minutes until soft. Place a wok/skillet over high heat until hot. If using tofu, add in the tofu and fry the until they are golden brown on both sides. Dish them out and set aside. In the same wok, bring the wok back to hot and add 2 more Tbsp of oil, add dried shrimp (if using) and cabbage (if using). Stir fry until the cabbage is soft and water from the cabbage evaporates. Add in chopped cilantro stems, garlic, shallots, crushed red chili flakes, and green onions. Cook, stiring, for 1 minute. Crumble in the ground pork and cook for 2 minutes. Add raw shrimp and stir-fry until barely pink, about 1 minutes. Push them to the side and crack in the eggs. Gently break the yolk and then let it cook a little bit until the white started to solidify and then stir to mix . Pour in the sauce you prepare earlier. Decrease heat and simmer for 1 minute. Add noodles; toss to coat evenly with sauce. Let it cook for another minute. Add in the bean sprouts and cook for about an extra 10-15 seconds. Turn off the heat. I like the sprouts to still be a little crunchy

Place noodle mixture on serving platter. Garnish with peanuts, cilantro leaves,extra red chili flakes and squeeze of lime juice and serve immediately
Here are Amazon affiliate links to show you some of the ingredients you many not be familiar with. Dried shrimp is a very common ingredient in Asian kitchen. It adds that umami flavor to any dish you cook it with. You don't have to use it, but if you choose to, you know where to look and how they look like at least 😉 Tamarind paste is very common in Southeast Asian kitchen. We used it in many soup dishes and sauces in Indonesia.
So what do you think ? Are you ready for a Pad Thai ? 😉