When Fiorina sees me getting out flour, sugar, and eggs, she knows it's BAKING TIME! It's her favorite time. This just brought me back to the time I spent with my mom at the kitchen. Those were truly my favorite childhood times. I haven't been much of a baker before. I'm trying to bake more now because I know my girl loves to help me out when it comes to baking. This double chocolate cherry coconut sugar muffins are inspired by cherry chocolate muffins from Paul Hollywood's How To Bake cookbook. Love that cookbook by the way.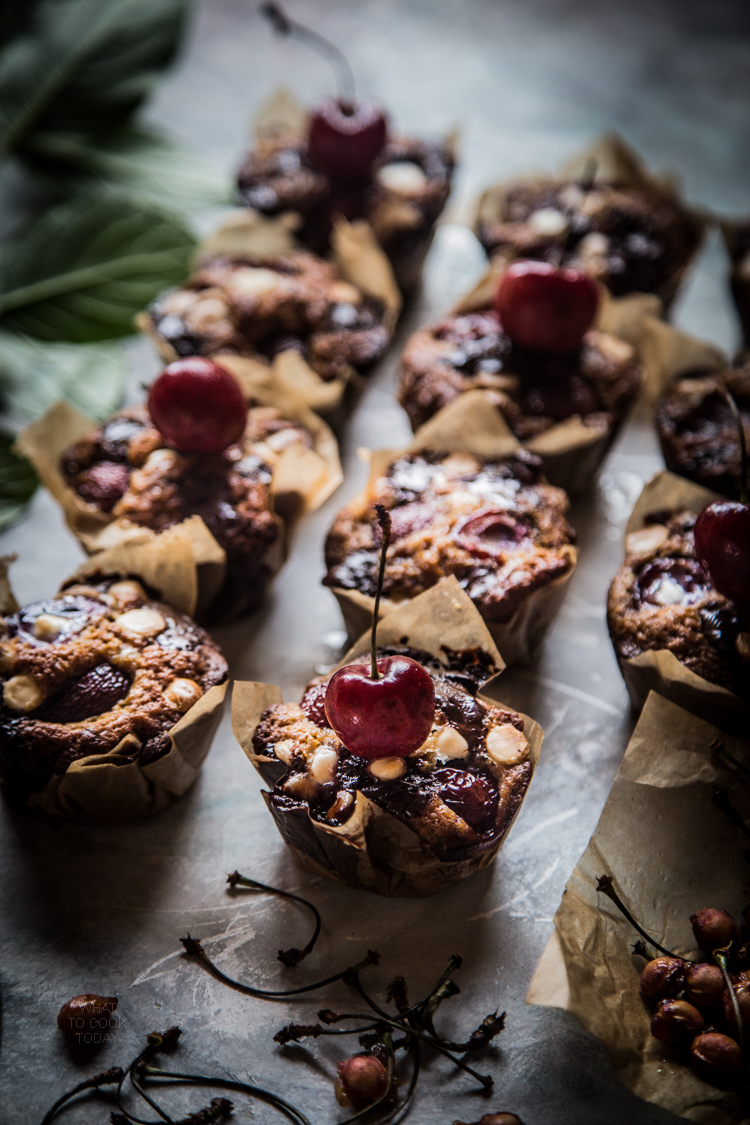 I'm trying to incorporate more coconut sugar in my baking and cooking now. I grew up with coconut sugar. This is very common in Indonesian kitchen. We call it Gula Jawa/Gula Merah/Gula Aren. They have much lower glycemic index and more nutritious compare to regular cane sugar. I'm not going to bore you with that as you can easily google and read the benefit of coconut sugar. Anyway, yes….the coconut sugar gives these muffins their much darker colors, but I love how fragrant the coconut sugar is and don't worry about your muffins smelling like coconuts, because they aren't.
Double chocolate cherry coconut sugar muffins (12 muffins)
Ingredients
7

oz

cake flour

1 ½

tsp

baking powder

Pinch of salt

7

oz

coconut oil

200 grams, you can use unsalted butter-softened

5

oz

coconut sugar

150 grams

4

medium eggs

⅛

cup

of milk

5

oz

good-quality 70% dark chocolate

150 grams, chopped

3

oz

semi-sweet white chocolate morsels

85 grams

1

lb

of fresh cherries

halved and pitted
Instructions
Preheat your oven to 400 F. Line your muffin trays with parchment paper

Place the flour, baking powder, and salt in a mixing bowl. Stir to mix. The coconut oil should not be liquid. If it is, place them in the refrigerator until they turn into soft solid (like a softened butter). Place coconut sugar and coconut oil in another mixing bowl. Cream until they are light. Beat in one egg at a time. Gradually fold in the flour mixture. Stir until just combined. Do not overmix the batter. Fold in 2/3 of the cherries and chocolate chunks and stir until just combined

Fill up the muffin cups with the batter evenly. Gently press in more cherries and chocolate chunks on top of the muffins. Pop into the oven and bake for 15-20 minutes or until the muffins are firm and spring back when gently pressed. Let them cool down in the muffin tray for about 5 minutes and then remove. Can be served warm or room temperature
The tartness from the cherries, the bitterness from the dark chocolate and mild sweetness from the coconut sugar and white chocolate are just so perfect together in these muffins.
Definitely family-approved!!
Here are Amazon affiliate links to show you some of the products I used in this recipe: