Chee cheong fun or sometimes called cheong fun and steamed rice rolls in English is made of rice flour, steamed to perfection and served with sauce. Perfect as snacks and commonly seen in one of the dim sum dishes.
I guess nothing makes you happier than a daughter gives you two thumbs up for the chee cheong fun. She loves chee cheong fun 🙂 Chee Cheong Fun is also one of my favorite childhood snacks. They are also one of the popular Dim Sum dishes. I never ever have Dim Sum without Chee Cheong Fun. Dim sum is the Cantonese term for a type of Chinese dish that involves small individual portions of food, usually served in a small steamer basket or on a small plate.
This very simple steamed rice rolls is made of rice flour, corn starch, water, and a bit of cooking oil and salt. Simple as that! In my hometown where I grew up, they are usually made plain and served with sauce, fried shallot crisp, and sesame seeds. At the Dim Sum restaurant, they usually serve the one with shrimp, pork, beef, vegetables, or other ingredients.
Chee cheong fun (Steamed rice rolls)
Ingredients
Chee cheong fun batter:
1

cup

of rice flour

1

Tbsp

of corn starch

1/4

tsp

of salt

1

Tbsp

of cooking oil

2

stalks of spring onion

finely chopped

2

cups

of water
Sauce:
1

cup

of light soy sauce

3-4

Tbsp

of sugar

adjust accordingly to your taste

1

Tbsp

of sesame oil

Stir until sugar dissolves or you can briefly heat the mixture up to melt the sugar. I love the simple combination of this sauce
Garnishes:
Fried Shallots Crisp

optional-we used this for garnish in Indonesia

White sesame seeds
Instructions
Mix all the ingredients for the batter. Stir until it is well-mixed and no lumps

Prepare a steamer (big enough to harbour an 8 inches tray). Prepare 2 of the 8 inches trays. Brush with some oil or use cooking spray

Laddle about 1/4 cup (25 ml) of the flour mixture onto the tray and swirl around to cover the entire tray. It helps to actually put the tray in the steamer first and then ladle the batter and swirl, it covers the surface much better. Cover with lid for 2-3 minutes, my mom said she 4-5 minutes worked for her. The flour mixture will turn white and slightly transclucent. Make sure the heat is high enough. If it's not hot enough, the flour mixture will not congeal and it will taste starchy

Repeat this process with another tray and while another one is steaming, you can roll this one that is ready. Use a rubber spatula to scrape off any batter that gets stuck to the pan and then oil the pan again and continue with the process. Make sure you stir the flour mixture EVERY TIME before you laddle it to the tray. The flour mixture tends to settle at the bottom after a while

Garnish with sesame seeds fried shallot crisp and douse with the sauce
Recipe Notes
The tray that you use to steam can be round or square. I won't recommend tray that is too thick. I used these round cake pans and the result are always good. © What To Cook Today. All images & content are copyright protected. Please do not use any of my images without my permission. If you want to share this recipe on your site, please re-write the recipe in your own words and link back to this post as original source. Thank you so very much.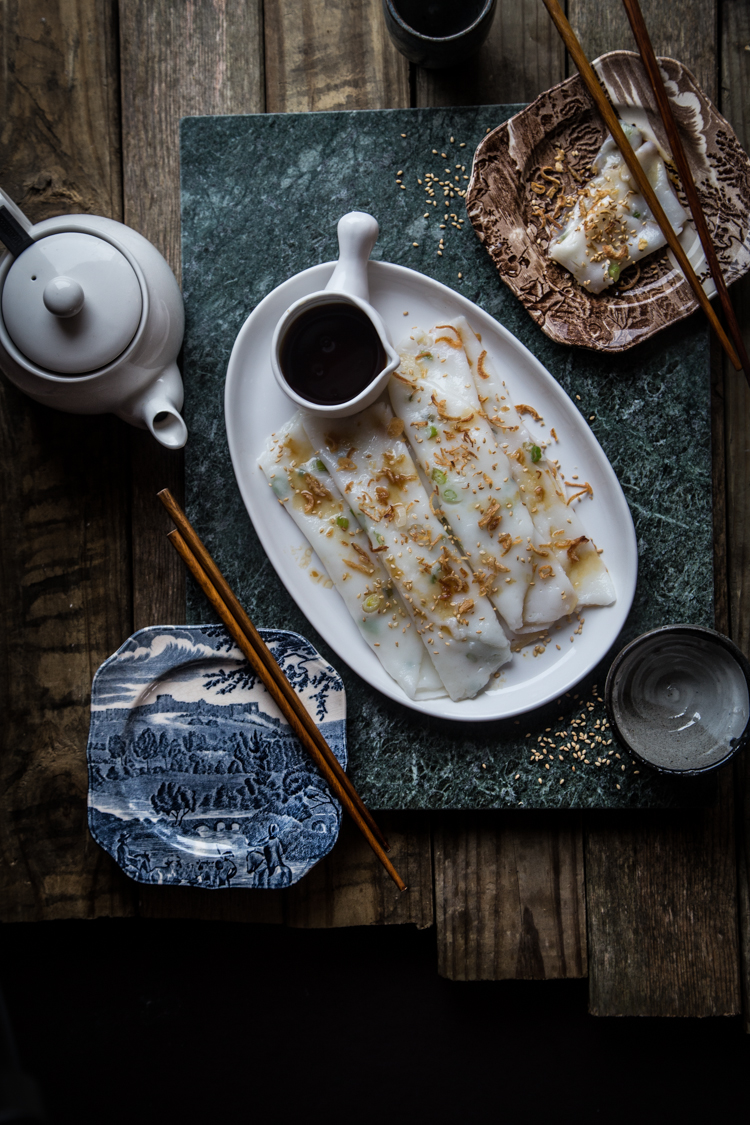 My favorite part as usual!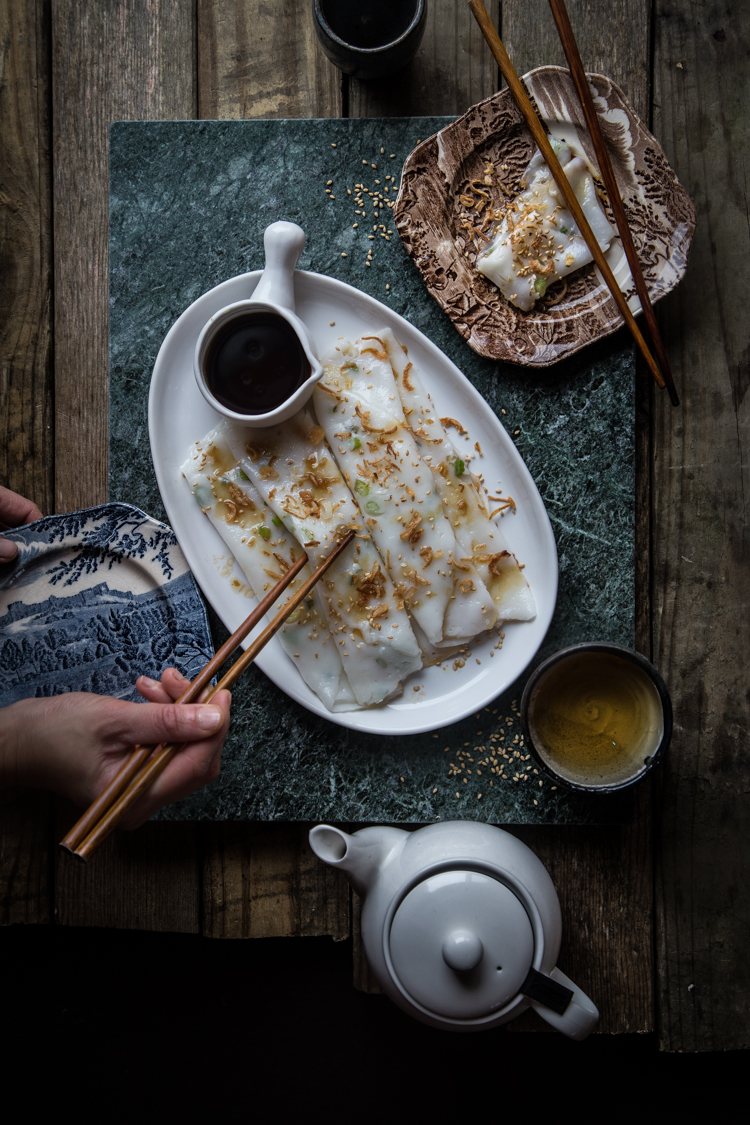 PIN IT!