This is a simplified version of kari ayam kentang Medan I grew up with, yet you will find this easy recipe very delicious. Recipe can be made on the stove or pressure cooker.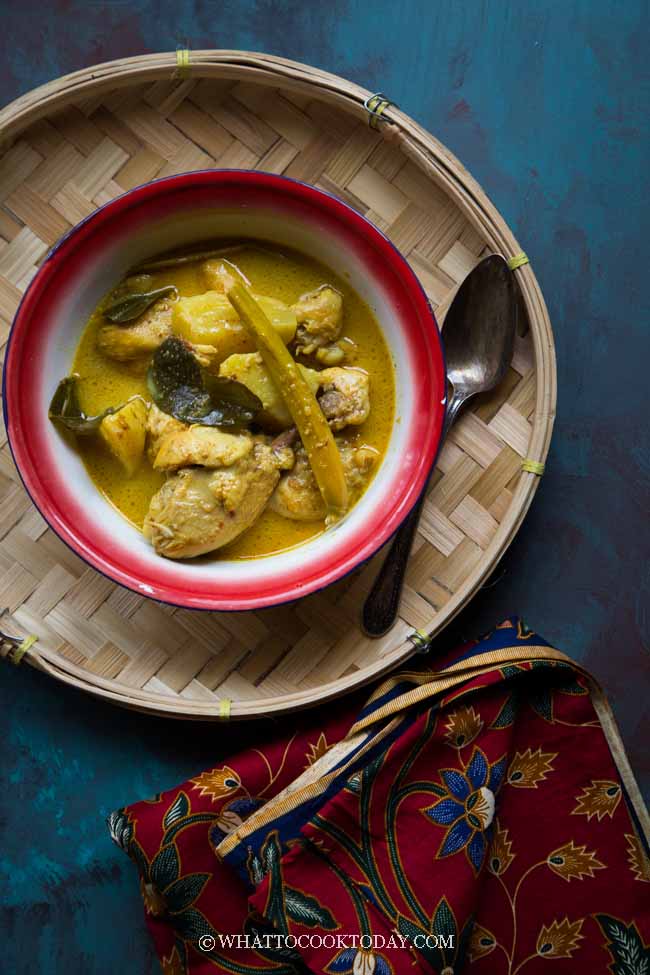 I grew up with my mom's kari ayam since I was a kid. It's something I look forward too. The smooth creamy and super aromatic gravy is seriously to die for. There are many varieties of kari in Indonesia. This particular one I'm sharing here is from the hometown I grew up in.
DIFFERENCES BETWEEN KARI AND RENDANG
Don't be mistaken kari with the famous Indonesian Rendang Padang. Rendang is thick and not soupy like kari. Rendang also made with much more complex ingredients compared to kari. Kari is basically what we call curry in English, but rendang is technically not a curry (though many people translated it as curry).
KARI AYAM GETS MOM'S APPROVAL
I'm happy to announce that my mom is back to Minnesota, visiting us, after 5 years! So, she got a chance to taste this kari ayam that I made from scratch without any premade curry paste. She's really impressed and asked me if I used any premade paste! I told her nope! (Imagine my smug face!).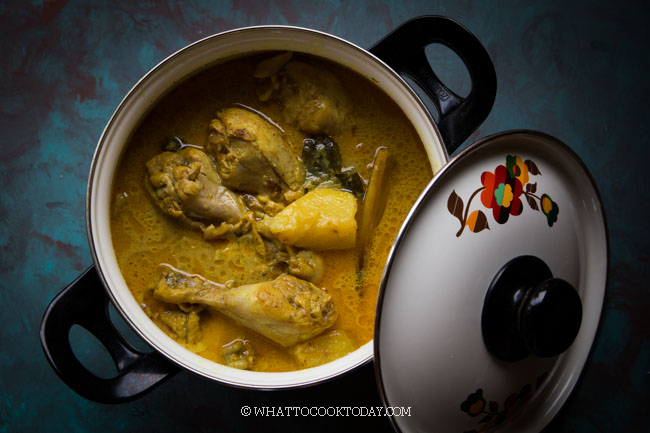 WHY YOU WILL LIKE THIS KARI AYAM RECIPE
1. SIMPLIFIED INGREDIENTS
I used powdered form spices to make this kari ayam. Traditionally, my mom would ground up fresh ingredients to make the kari paste, but I feel like it's a hassle to do that and I substitute with powdered spices. Results are not compromised as my mom loves this kari ayam I made.
2. SERIOUSLY TASTY
Since my mom, who is pretty picky when it comes to kari, gave her two thumbs, it's a sin not to share right?
INGREDIENTS
1. CHICKEN: I recommend using bone-in, skin-on chicken pieces. I use all drumsticks because I can ensure that all pieces will cook through at the same time instead of mixing in different pieces like thighs, and drumsticks for example. You can surely use all thighs too. I definitely do not recommend using chicken breast.
2. POTATOES: You can use any starchy potatoes like russets or waxy potatoes. Make sure you cut into large chunks, especially if you are using pressure cooker to make this.
3. COCONUT MILK and COCONUT CREAM: Coconut milk is thinner compared to coconut cream. The coconut milk and cream are essentials in contributing to that rich, smooth, and creamy taste of the kari ayam. If you don't want to use coconut milk and cream, you can use regular cow's milk to make it a "lower fat" version, but I wouldn't recommend! At least not when you are making this for the first time.
4. AROMATICS: purple onion, garlic, ginger, fennel seeds
Mom would usually use shallots, but purple onion is a great substitution too. The garlic, ginger, and fennel seeds add a nice aroma to the kari
5. GROUND CAYENNE POWDER
This will add a bit of heat to the kari ayam, not much if you ask me. You can certainly add more if you want is spicier
6. GALANGAL, TURMERIC, CINNAMON, NUTMEG, CORIANDER POWDER
All these combination contributes to the amazing aroma of the kari ayam.
7. LEMONGRASS
The lemongrass adds the lemony aromatic flavor to the kari
8. KAFFIR LIME LEAVES
Kaffir lime leaves (daun jeruk) is a must in making this kari ayam Medan. It adds a very distinct flavor to the finished dish
9. SEASONINGS: Salt and sugar
I can't imagine cooking without those two, can' you?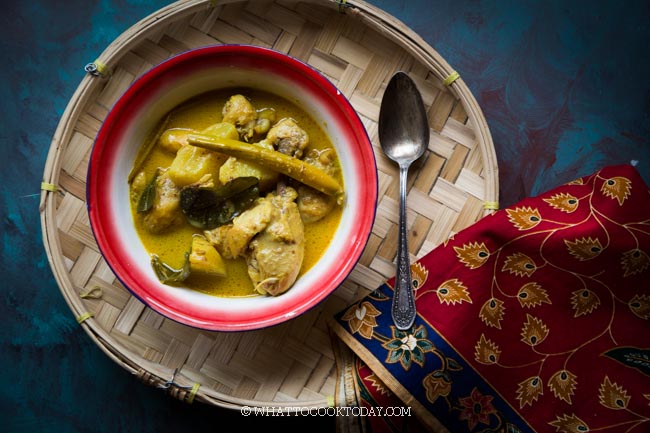 HOW TO EASILY MAKE KARI AYAM KENTANG MEDAN FROM SCRATCH
1. Place the onions, garlic, and fennel seeds in a food processor and grind into a paste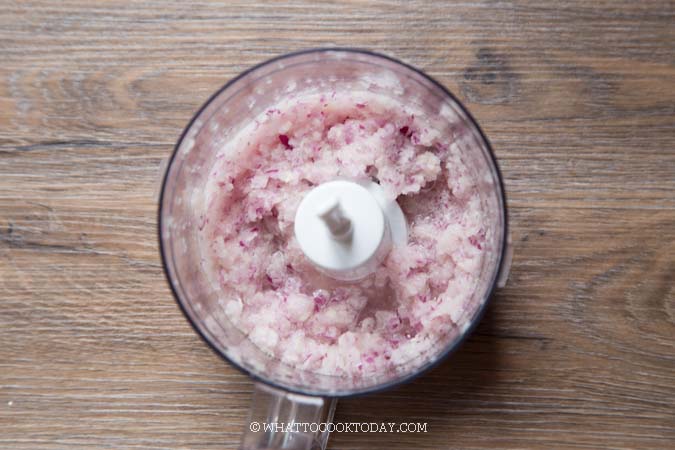 2. Saute the ground ingredients until really fragrant, about 5 minutes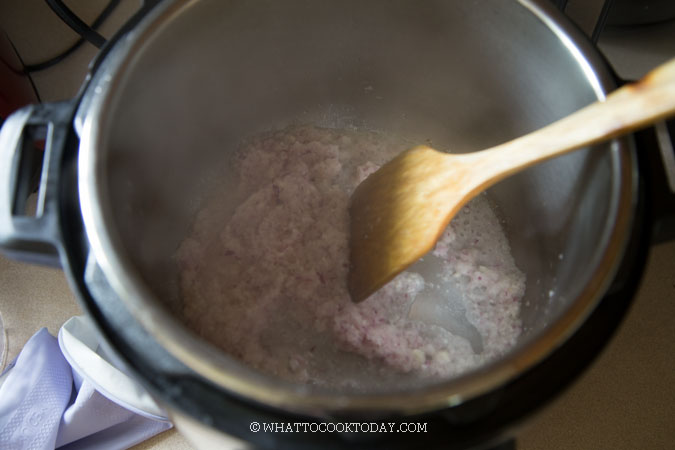 3. Add the spices and herbs and stir fry for another 2 minutes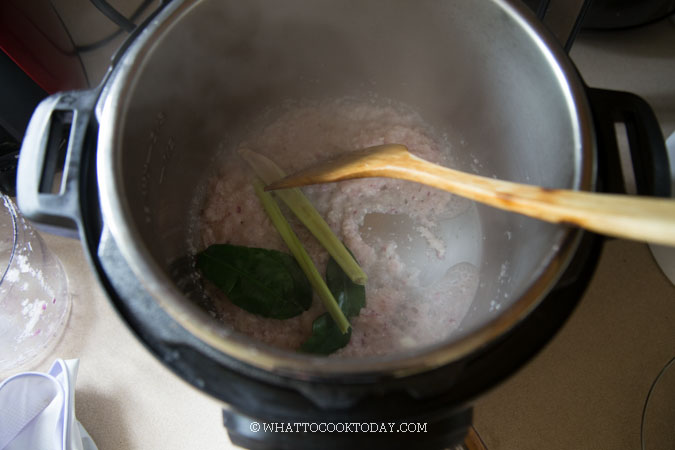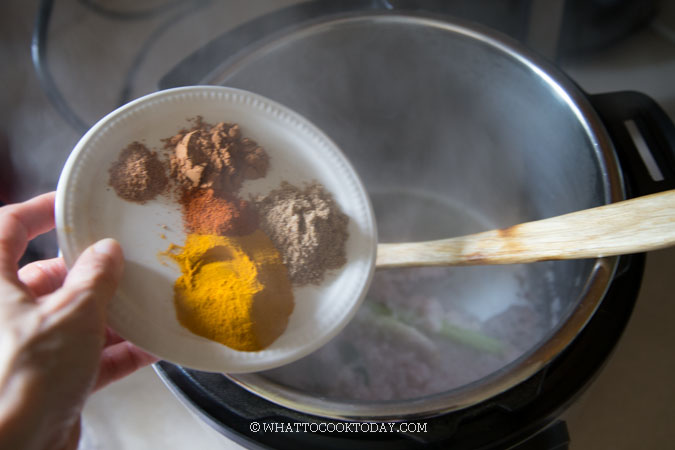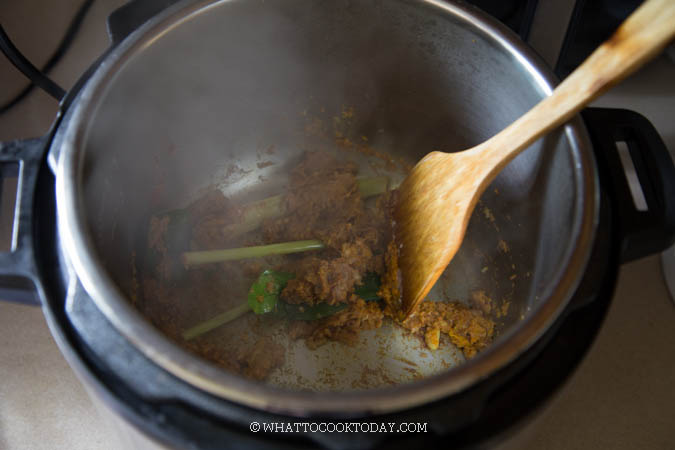 4. Add the chicken pieces and stir to mix briefly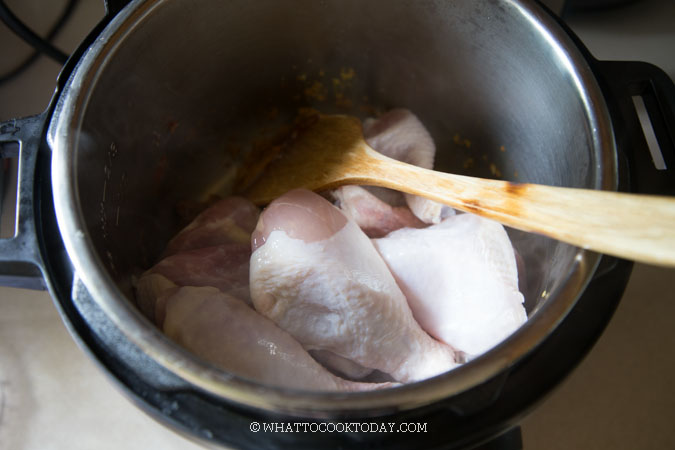 5. Add 200 ml of coconut milk,300 ml of water, and seasonings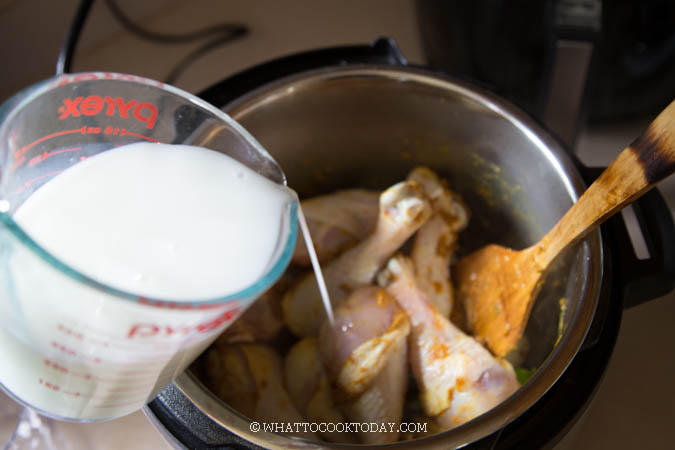 6. If cooking on the stove, bring to a boil and then lower the heat to let it simmer until the chicken pieces are cooked through, about 20-30 minutes. Add potatoes 10 minutes before the end of cooking time
7. If cooking with Instant Pot pressure cooker, add large chunks of potatoes, and seasonings. Give it a good stir. Set timer to 10 minutes. Release pressure immediately after the timer is up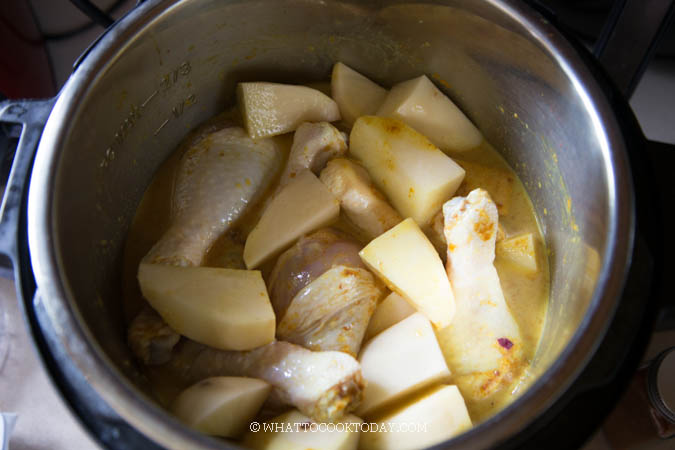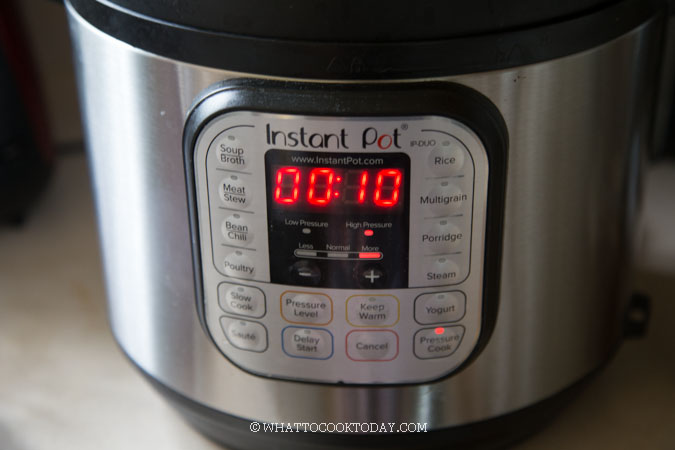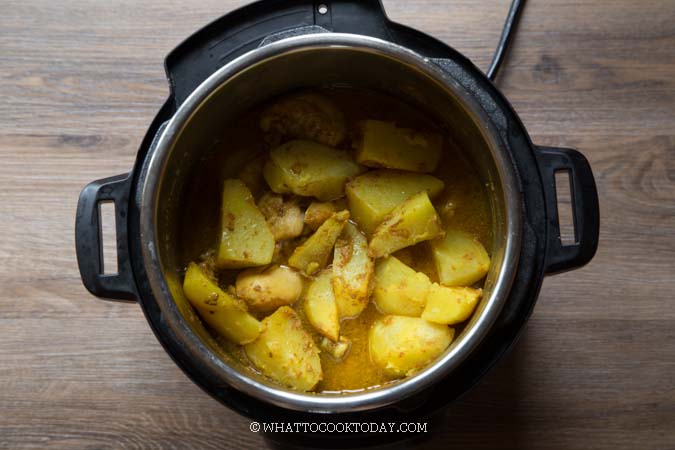 8. Stir in the coconut cream last. Have a taste and add more salt as needed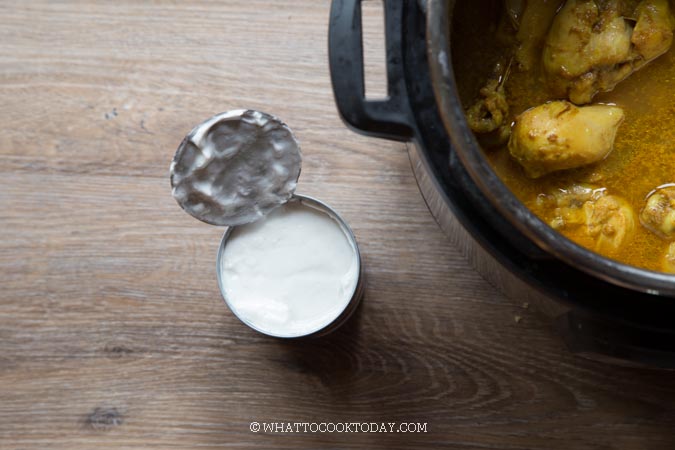 WHAT TO SERVE WITH KARI AYAM
Kari ayam can be served with plain white rice or noodles to make kari mie (curry noodles) or kari bihun (rice vermicelli noodles curry). In this photo the kari was much "redder" in color because of the chili, while the rest of the other photos, I didn't use any chili, only the cayenne pepper powder.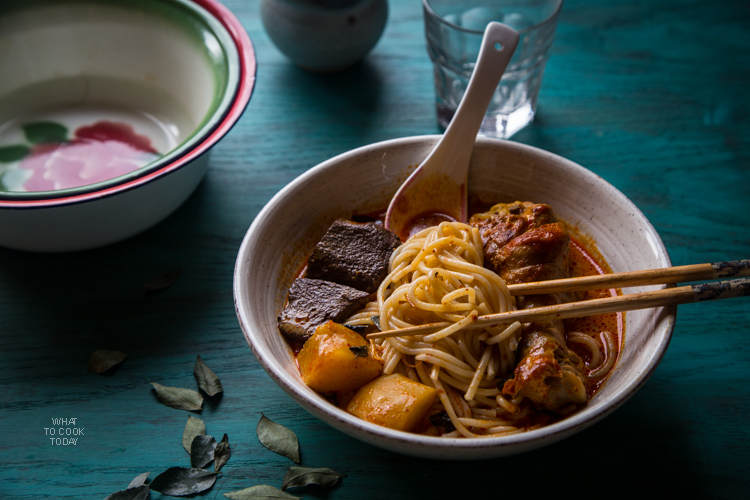 There is a famous shop in Medan that is known for its kari bihun and famously known as kari bihun Tabona. I've tasted it myself years ago and it's rock-solid good!
HOW TO STORE AND REHEAT LEFTOVER KARI AYAM
Leftover will actually taste even better the next day because the flavor has deepened. Store it in the refrigerator for up to 5 days. For longer storage, portion them out into smaller serving size and freeze them for up to one month. Simply reheat them on the stove or in the microwave until heated through. Just know that the kari may not be as smooth after you freeze them but shouldn't compromise the taste too much.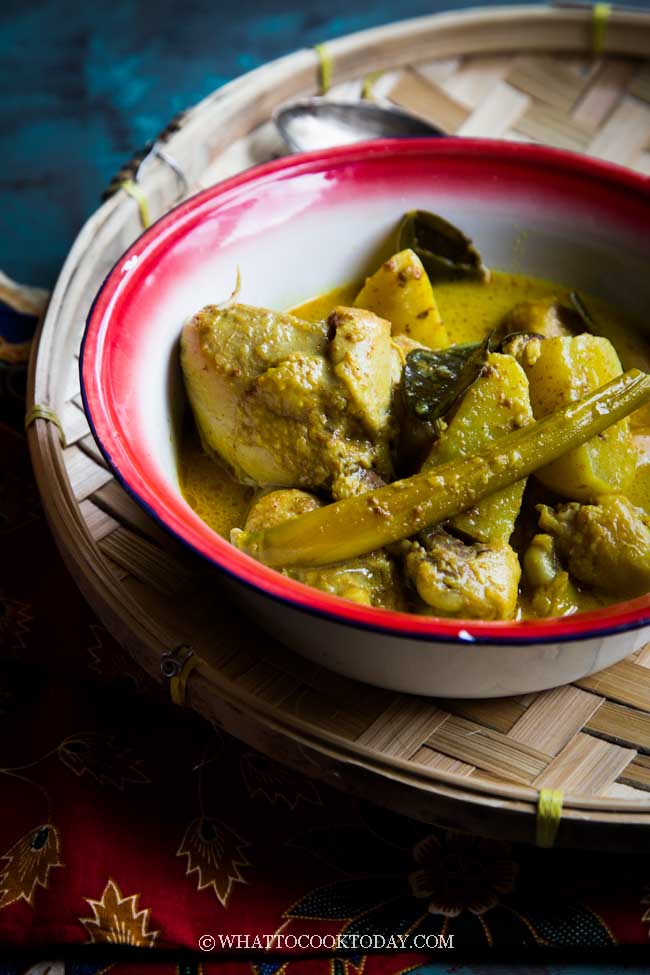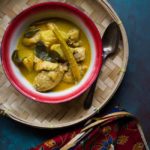 Indonesian Kari Ayam (Indonesian Potato Chicken Curry)
Ingredients
Ground ingredients:
1

large

purple onion

3

cloves

garlic

1

inch

ginger

1

Tbsp

fennel seeds

6-8

dried long red chili

soak in warm water until soft OR use 2 Tbsp chili paste
Seasonings:
1 ½

tsp

salt

or more to taste

1

tsp

sugar
Instructions
Place the onions, garlic, and fennel seeds in a food processor and grind into a paste
Cooking on the stove:
Preheat a large heavy-bottom pot. Add in the cooking oil. Add in the ground ingredients and stir fry until they are really fragrant, about 5 minutes. Add the spices and herbs and stir fry for another 2 minutes. Add the chicken pieces, 200 ml of coconut milk,300 ml of water, and seasonings

Bring to a boil and then lower the heat to let it simmer until the chicken pieces are cooked through, about 20-30 minutes. 10 minutes before the end of cooking time, add in the potatoes and cook until they are soft but not mushy

Lastly turn off the heat and stir in the coconut cream. Have a taste and season with salt to your taste
Cooking with Instant Pot Pressure cooker:
Turn on "Saute" on Instant Pot. When it's hot, add cooking oil. Add in the ground ingredients and stir fry until they are really fragrant, about 5 minutes. Add the spices and herbs and stir fry for another 2 minutes. Add chicken pieces and stir fry briefly. Add 200 ml of coconut milk and 300 ml of water. Turn off saute mode. Really scraping the bottom of the pot to make sure nothing is stuck at the bottom of the pot or it will trigger the "burn" warning. Add large chunks of potatoes, and seasonings. Give it a good stir

Cover the lid and turn steam release valve to "sealing". Set timer to 10 minutes. Release pressure immediately after the timer is up

Carefully unlock the lid. Remove the potato pieces to another plate. Stir in the coconut milk. Have a taste and add more salt as needed. Proceed to serving
Serving:
Serve warm or hot with a side of rice or serve with rice noodle stick (bee hoon/bihun) or yellow noodles to make kari bihun or kari mie
Notes
If you are using bone-in chicken thighs, increase cooking time to 15 minutes on Instant Pot pressure cooker