Kari ayam is one of the popular Indonesian dish. It is characterized by its vibrant color. It is super aromatic from all the herbs and spices used to concoct it. Its rich and smooth gravy will leave you begging for more.


Happy New Year everyone! We didn't stay up to count down to the new year, but we spend the evening hanging out with friends over good food and good laugh. Our kids got to play together and had movie night. The best part is our kids are all in the same age range! It's amazing watching these group of kids grow over the years. 10 years from now, we'll have group of teenagers! (God help us on that one!). Till then, we are enjoying the innocence, the chubby cheeks, and the cuddles. I love having pot lucks with our group of friends because we all come from different countries and culinary background and I get to taste the different food. So much things to learn from and share with each other too. I'm definitely grateful for the company.
One of my resolutions in 2017 is to cook more Indonesian food. I haven't made kari ayam (Indonesian red curry chicken) for the longest time and I thought it's time to make this for my kids to try. The red luscious color of the curry makes it "appetizing", to me at least. Please don't be alarm by the red color. I did not make it spicy at all. The colors come naturally from my all-purpose chili sauce that I made. The herbs like kaffir lime leaves and curry leaves added to this curry really flavors up the whole dish. So, with no further due, here it is, the first recipe and short video to share with you in 2017 🙂
Ingredients
3

lbs

of bone-in chicken thighs/drumsticks or combination of both

3

large potatoes

peeled and quartered

4

Tbsp

all-purpose chili sauce

1

turmeric leaf

omit if you can't find any

5

Kaffir Lime leaves

torn the edges to release flavor

1/4

cup

of curry leaves

1

small star anise

1500

ml

water

500

ml

of coconut cream

2

Tbsp

of cooking oil

Salt to taste

2

store-bought blood cakes

cut into 2x2 inch cubes
Ground ingredients:
6

shallots

3

cloves

garlic

1

inch

of ginger

2

inches

of galangal
Instructions
Preheat a large heavy-bottom pot. Add in the cooking oil. Add in the ground ingredients, chili sauce, cloves, curry leaves, kaffir lime leaves, turmeric leaf, and star anise. Sautee until they are really fragrant, about 5 minutes. Add in the chicken pieces and cook for about 5 minutes

Add in 1500 ml of water and bring it to boil and then lower the heat to simmer

Let it simmer until the chicken pieces are cooked through, about 45 to 1 hour. 15 minutes before the end of cooking time, add in the potatoes and cook until they are soft but not mushy. Once the potatoes are done, add in the blood cakes and let them cook for 5 minutes (they are already boiled if your buy from the store)

Lastly stir in the coconut cream and bring it to a gentle simmer (not boiling). Have a taste and season with salt to your taste. Remove from the heat and serve warm or hot with rice or noodles
Notes
You can serve the chicken in whole or shred the meat. It's up to you. It's typically serve whole with the bone The
all-purpose chili sauce
I made is not spicy at all because they are made with large dried Mexican peppers and it gives nice rich red colors without the heat. You can definitely add in 2-3 Thai chili to make it spicy I serve mine with spaghetti noodles (as shown in the photos) and it is out of this world 
It's a sin not to have shots of me eating the food I made, isn't it?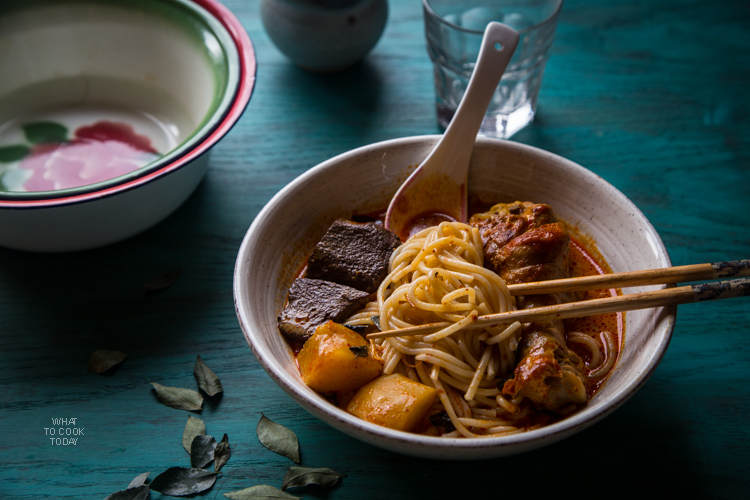 What have you cooked in 2017 ?

PIN IT

Check out other Southeast Asia Recipes you might be interested in.