Make this delicious Padang-style rendang ayam using Instant Pot pressure cooker or on the stove. If you like classic Indonesian beef rendang (rendang sapi), you will absolutely love this rendang ayam too.
PADANG-STYLE RENDANG AYAM
Almost everybody knows about Indonesian famous beef rendang , which is slowly cooked (unless you used pressure cooker like I did) in spices until the meat can be shredded. Ayam rendang is not cooked as long compared to beef rendang, but it has that same amazing spices concoction and richness. Oh…the sauce alone is amazing.
SIMPLIFIED AYAM RENDANG RECIPE (BUT TASTY ONE)
Anything rendang is simply so tasty because of the contribution of all the spices and herbs used in the recipe. Most of the ingredients can be found in major grocery stores. Kaffir lime leaves are only available in Asian store and the leaves contribute significant aroma to the dish that I would not omit if you ask me, but if you have never tasted rendang before, I guess you won't really "know" 🙂 I used lots of powdered spices because they are convenient and widely available these days.


I did not use coconut milk in this ayam kalio recipe. It's really up to you if you want to or not. Traditionally, coconut milk is added so the color of the finished dish will also look more like bright orange or yellowish.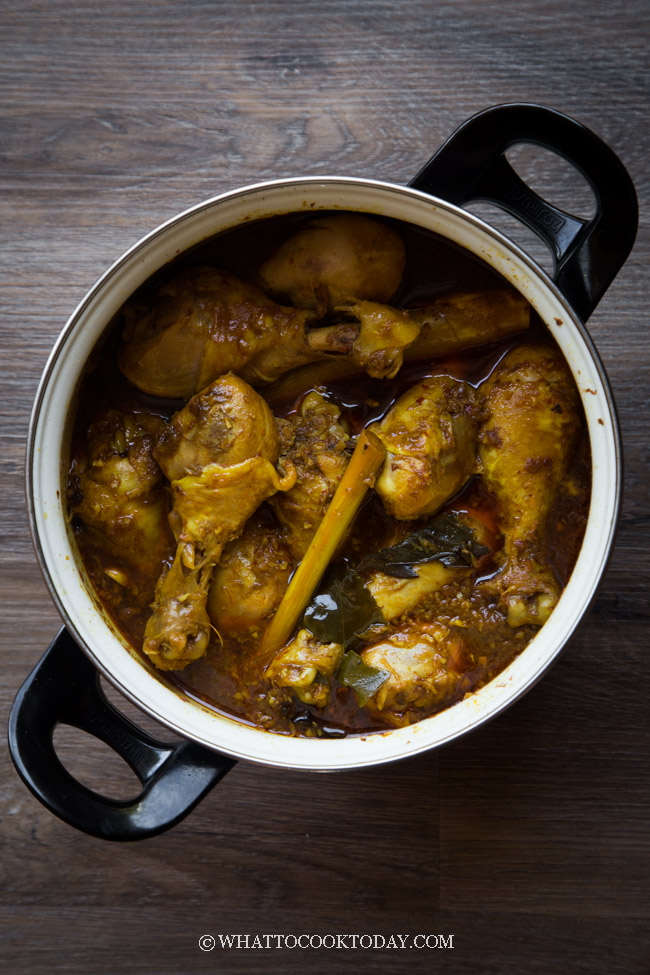 KALIO VS RENDANG
The process of making kalio is similar to rendang, only that kalio takes shorter time to cook because the coconut milk is not cooked until it evaporates completely and left with coconut oil in rendang. Kalio is only cooked until the chicken is cooked through and the coconut milk is slightly reduced so you still end up with a more soupy version of rendang. I don't reduce my liquid as much, so mine is sort of in between kalio and dry rendang consistency 🙂
HOW TO STORE LEFTOVER RENDANG AYAM
The flavor is even better the next day. Leftover can be kept in the refrigerator for up to 3-4 days. They can simply be reheated on the stove-top.
You can also portion this out and freeze the chicken along with the sauce. Just to warn you though, the texture of the meat might not be as moist the longer you freeze them. Tried to consume within a month. Let it thaw in the refrigerator before reheat.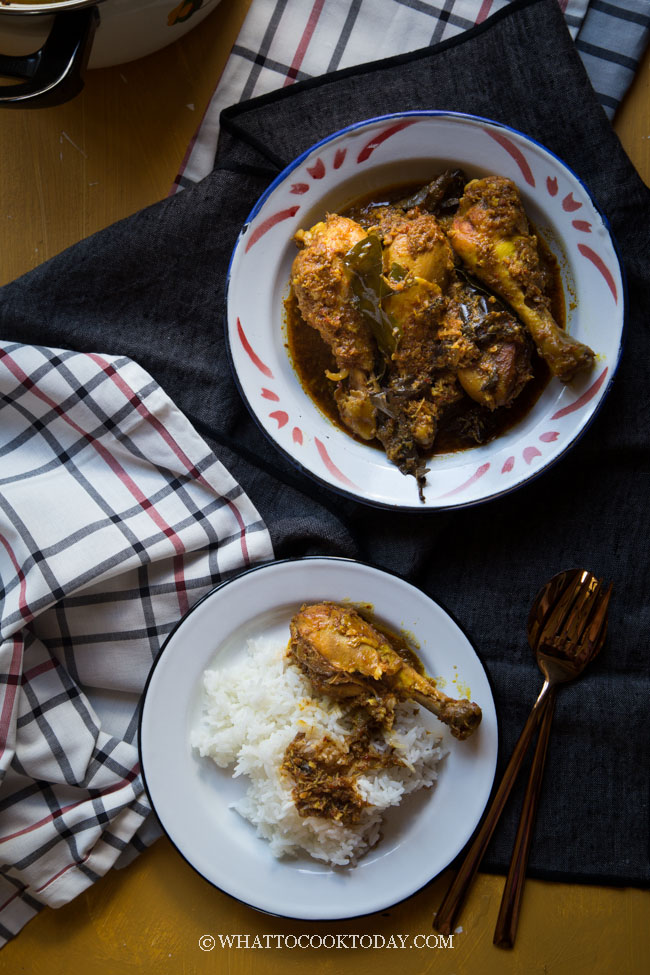 Rendang Ayam Padang (Indonesian Chicken Rendang)
Ingredients
3

lbs

bone-in skin-on chicken pieces such as drumsticks and/or thighs

3

Tbsp

cooking oil

200

ml

water

use 100 ml if using pressure cooker

200

ml

coconut milk

80

gr

unsweetened grated coconut
Aromatics (process into a coarse paste):
10

Cayenne peppers

2

Thai chili

more if you like it spicy

6

shallots

peeled

5

garlic

peeled

1

inch

ginger

peeled
Instructions
Toast the grated coconut:
Place the grated coconut in a dry pan over medium heat. Saute until the coconut turns golden brown and dry. Set aside. Can be kept in a jar in the refrigerator for up to 2 weeks or even a month
Cooking on the stove:
Preheat a large heavy-bottom pot. Add cooking oil. Swirl to coat the base of the pot. Add the aromatic paste and saute for about 3 minutes. Take care not to burn it. Add the spices and herbs and saute for another 30 seconds. Add the chicken pieces and seasonings followed by water and coconut milk

Bring to a boil and then lower the heat to let it gently simmer until the chicken pieces are cooked through. The chicken pieces will ooze out more liquid too as they cook. The oil will separate and you can see it floats. Stir in the toasted grated coconut

Once the chicken is cooked through (no longer pink or bloody, or internal temperature is 165F), probably about 20-25 minutes, depending on the size of the pieces too. Continue to cook until the liquid is reduced. I don't reduce mine to really dry because I still like to have some sauce, it's really up to you
Cooking with Instant Pot Pressure Cooker:
Press saute. When it's hot, add cooking oil. Add aromatic paste and saute for about 3 minutes. Take care not to burn it. Add the spices and herbs and saute for another 30 seconds. Add the chicken pieces and seasonings followed by water and coconut milk (if using)

Turn off saute mode. Scrape the bottom of the pot to make sure nothing is stuck there. Close the lid and turn the steam release valve to "sealing". Press "Pressure Cooker" and make sure it's on "high pressure". Set timer to 20 minutes. If you use frozen chicken, add another 5 minutes to the cooking time

After the timer is up, release pressure immediately. Stir in the toasted grated coconut and press saute mode to continue reducing the liquid until the sauce is thickened. It's really up to you how dry you want to cook the rendang. I prefer to still have some sauce so I don't reduce the liquid as much