This Halloween Squid Ink Spaghetti Worms with Bolognese is a perfect party food to celebrate Halloween. Can be served in cups or plates. Perfect for kids and adults.
HALLOWEEN DINNER MENU IDEA FOR KIDS AND ADULTS
Halloween is just around the corner. My kids remind me of that fact every single week if not day! I want a dinner that both the kids and adults that truly enjoy. Pasta menu always seems to go well with both. I made fresh squid ink pasta from scratch a while ago when hubby got me a jar of squid ink. I didn't make the squid ink spaghetti from scratch this round. I saw the dried squid ink spaghetti from Trader's Joe and decided to make this squid ink spaghetti worms when I saw it in Food Network Magazine October 2018 edition.
The store-bought squid ink spaghetti doesn't look as "black" after being cooked and definitely taste just like regular spaghetti, which I supposed it's good for those of you who just want the black color 🙂 I prefer to be able to taste something from the squid ink 🙂

HOW TO MAKE SQUID INK SPAGHETTI WORMS WITH BOLOGNESE
1. Cook the pasta to al dente
This goes without saying 😉 The last thing you want to put in the cups are mushy spaghetti worms (now..that's the real horror!)
2. To rinse or not to rinse the cooked pasta
I normally would not suggest that you rinse the pasta with cold water after cooking. If you were to cook this as normal weeknight/weekend meal, I would add the pasta to the sauce and add the reserved liquid from cooking the pasta too and let it abosorb the sauce. You can still serve the pasta already tossed with the bolognese sauce too. If you really want to see the distinction between the pasta and the sauce, then I suggest rinsing the cooked pasta with cold water and then portion it out into cups or plates and spoon the sauce over. It's up to you!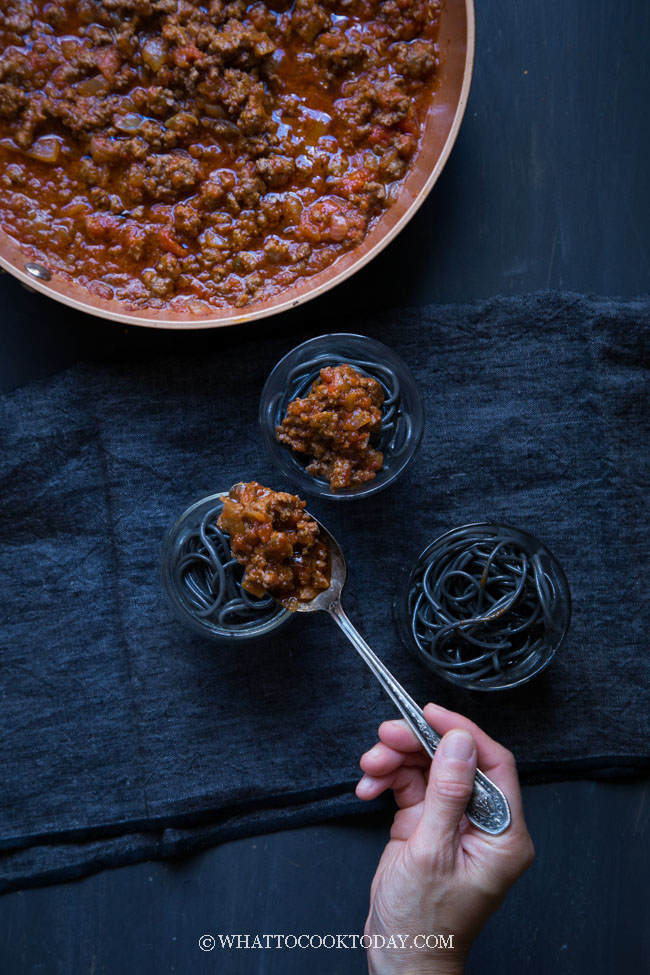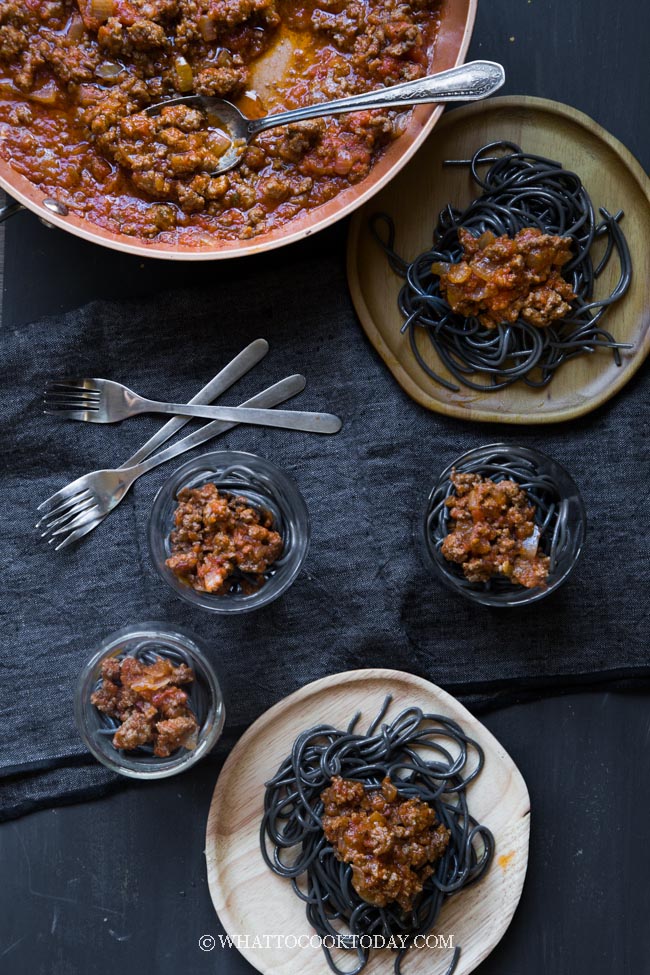 THIS SQUID INK SPAGHETTI WITH BOLOGNESE IS PERFECT FOR ANY OCCASSION
We don't really celebrate halloween until we have kids. This dish is perfect as regular weeknight meal. It's easy to make and well-received from kids to adults. My kids thought that eating black worms spaghetti were so delicious, especially the 4-year old boy, he felt "mighty" just being able to eat worms! tasty ones too!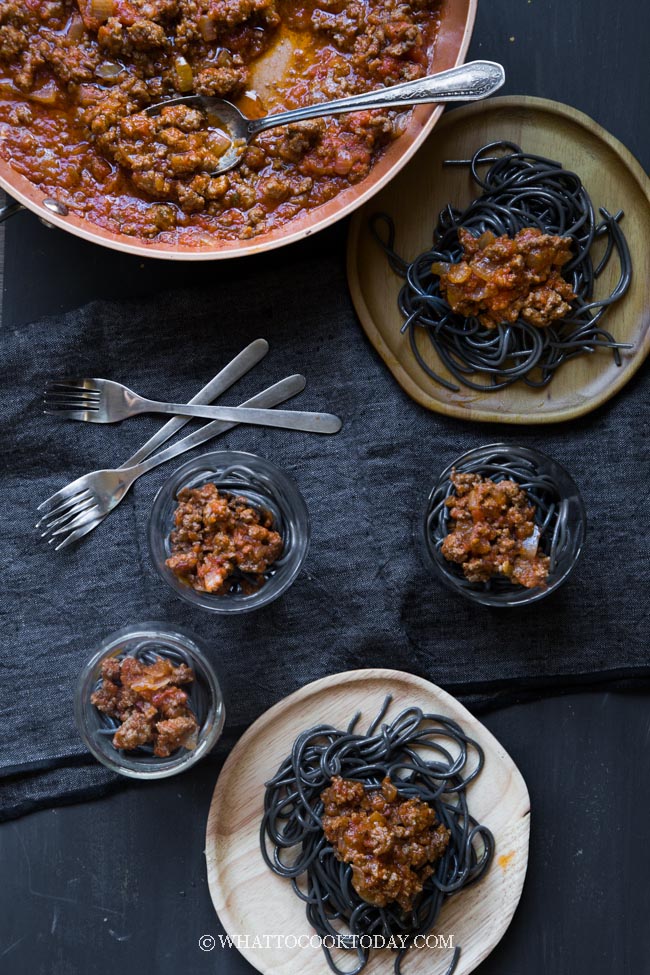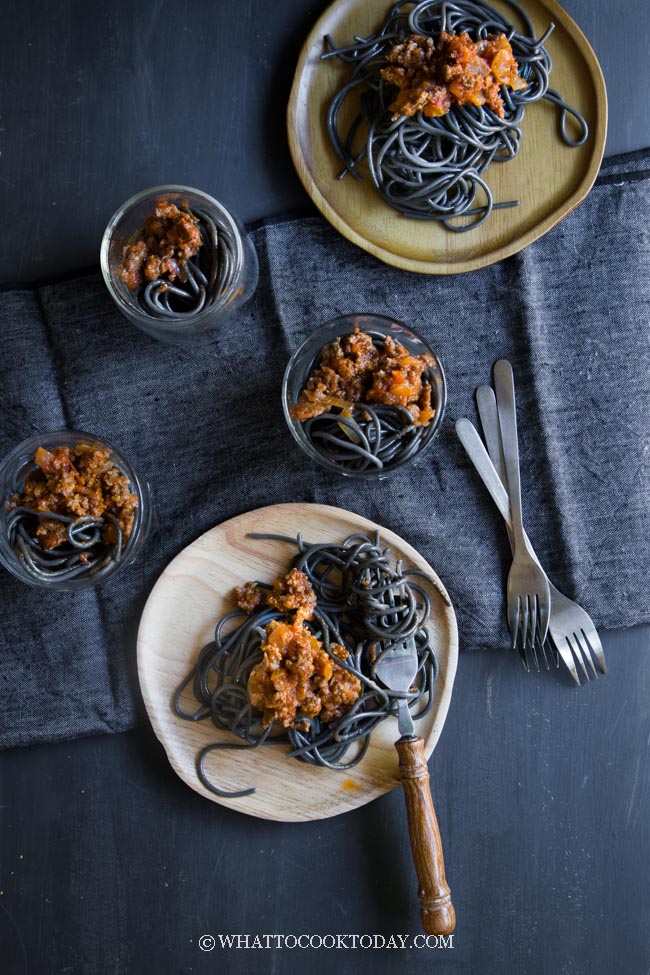 Now if eating worms is delicious like this, perhaps we should eat worms more often!

This blog post contains affiliate links. I earn a small commission when you made purchase at no extra cost to you. Learn more.
Idea is adapted from Food Network Magazine October 2018 edition.
Halloween Squid Ink Spaghetti Worms with Bolognese
Ingredients
Bolognese:
1

large

onion

peeled, diced

5

cloves

garlic

peeled, minced

1

lb

ground beef

½

cup

beef broth

28

oz

can crushed tomatoes

2

Tbsp

tomato paste

¼

cup

grated Parmesan cheese
Aromatics:
Seasonings:
1

tsp

sugar

or more to taste

Salt

to taste

Freshly ground black pepper

to taste
Instructions
Cook the pasta:
Bring a large pot of water to a boil. Add a small pinch of salt. Cook the pasta as directed on the package

Since we will be serving this in cups and top with the bolognese sauce on top, I suggest rinsing the pasta with cold water after cooking so it won't clump together later

If you prefer to toss your pasta in the sauce, do not rinse the pasta. Reserve about 1/2 cup of the liquid from cooking pasta
Prepare the Bolognese:
Preheat a large skillet over medium heat. Add onion and garlic and saute for about 10 minutes until the onions are soft and translucent

Add ground beef and use a spatula to break the meat into small pieces and cook until the meat is brown, about 5 minutes. Add seasonings and stir to mix. Add beef broth, bay leaves, all the tomatoes and their juice, tomato paste, and sugar. Bring to a simmer and cook until the sauce is slightly thickened and reduced, about 20 minutes. Have a taste. Add more salt and pepper to your taste or some sugar if necessary
Serving:
Option 1: Portion the cooked spaghetti into small cups and just before serving, spoon the sauce over the top and sprinkle with some grated cheese.

Option 2: Add pasta to the bolognese sauce and add the reserved pasta water while cooking over medium heat. Toss until the liquid is absorbed and then divide into cups and/or plates or just transfer to a large serving bowl and everyone can help themselves