Soun Goreng (Bean Thread Noodles Stir-fry)- Bean thread noodles are stir-fried with seafood and sauce to make a totally delicious and easy one-pan meal perfect for any weekend or weeknight meal.
WHAT IS SOUN OR TANG HOON?
Soun is made of mung bean starch, potato starch, sweet potato starch. The noodles are usually thin and turn translucent once cooked. This noodle is known as soun among the native Indonesian and tang hoon (in Hokkien dialect) among the Indonesian Chinese. The English version is known as mung bean noodles, bean thread noodles, cellophane noodles, vermicelli noodles, crystal noodles, and glass noodles. At least these are the ones I often heard. They all mean the same noodles. Not exactly the same with the Korean cellophane noodles used to make jap chae, which is bigger in size.

DON'T CONFUSE CELLOPHANE NOODLES WITH RICE VERMICELLI NOODLES
Although these noodles are also known as vermicelli, but don't get them mixed up with rice vermicelli noodles. I know it can be confusing, but when one says vermicelli, usually it's this cellophane noodle, unless you hear RICE vermicelli noodles. Rice vermicelli noodles are usually made with mainly rice flour and the noodles do not turn translucent onced cooked.
Okay, now we get that out of the way, let's talk about how you can easily whip this Soun Goreng or Fried Tang Hoon at home. This is one of my favorite meal from mom when I was a kid. She likes to cook it with seafood and so do I.
HOW TO MAKE SOUN GORENG
1. Soak noodles in hot water
Never boil the noodles. Always soak them in hot water until soften, usually about 10 minutes or less
2. Stir fry the aromatics
3. Cook the seafood
Seafood cooks quickly and so it's good to cook them separately and then dish out before cooking the rest
4. Cook the veggies
Since I'm using yu choy, which has tough stalks and tender leaves, separate the stalks from the leaves. Cut the stalks into smaller pieces. Leave the leaves whole. Stir fry the stalks first and then add the leaves

5. Add the noodles
Add the noodles followed by seasonings, liquid, and the shrimp and fish cake slices. Stir fry to mix everything and let the noodles absorb the seasonings and liquid
6. Adjust taste
Adjust taste by adding more soy sauce if necessary. I like to add a bit of sugar because it brings out the taste more. This is one of the tips mom gave me without having to cook with MSG
7. Serve immediately
VARIETIES YOU CAN DO WITH THIS SOUN GORENG RECIPE
1. For vegetarian version
You can omit the seafood and use eggs instead. Just follow instruction and sub the seafood with eggs,
2. For vegan version
Omit oyster sauce. You can even sub with vegan fish sauce. You can use mushroom like black ear fungus (soaked until soft and then sliced) or mushrooms like cremini or shiitake mushrooms. You don't need to dish out the mushrooms after cooking (like I did in the recipe when cooking the shrimp) Other vegetables you can use are broccolini, broccoli, shredded cabbage, shredded carrots, edamame, etc
3. Using meat instead
You can use thinly sliced beef, pork, or chicken. Just follow instruction and sub the seafood with the meat. You can marinade the meat in a bit of soy sauce, sesame oil, and about 1/2 tsp of corn starch. Dish out to avoid overcooking the meat.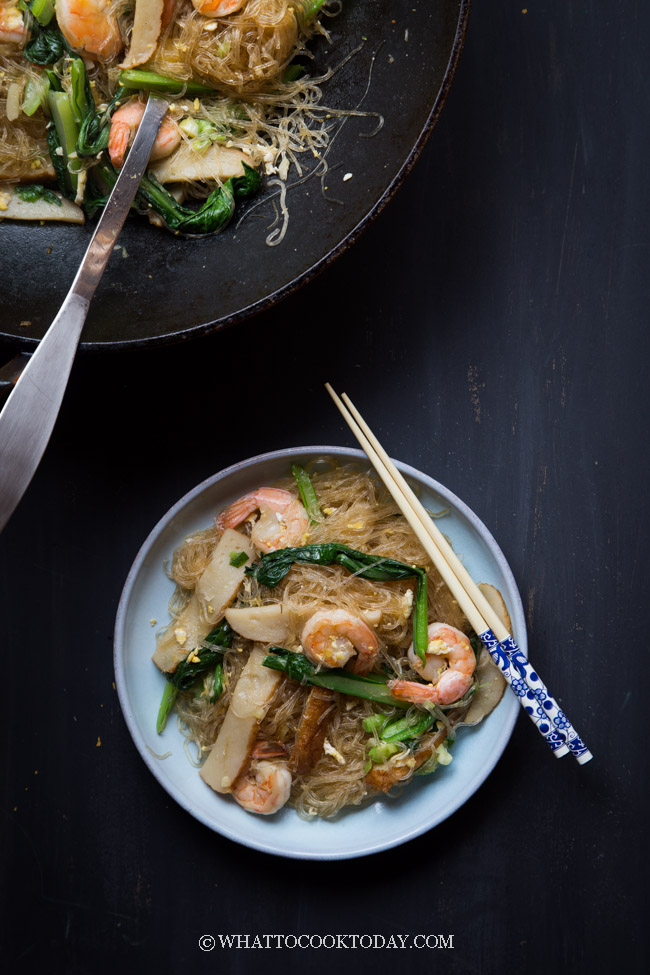 HOW TO STORE AND REHEAT LEFTOVER STIR-FRIED NOODLES
This is applicable to pretty much any stir-fried noodles. Transfer the leftover to container and secure the lid. Leftover can be stored in the refrigerator for up to 5 days. You can reheat in the microwave for a minute or so or reheat on the stove using a skillet. Preheat the skillet/wok on high heat. Add a bit of oil in the skillet and then add the leftover noodles. Gently stir around and then add about few spoonfuls of water liquid to help soften the noodles. Stir to mix and noodles are soften. Dish out and serve.

This blog post contains affiliate links. I earn a small commission when you made purchase at no extra cost to you. Learn more.
Soun Goreng (Fried Tang Hoon/Bean Thread Noodles Stir-fry)
Ingredients
12

oz

dried bean thread noodles

3

Tbsp

cooking oil

250

gr

large shrimp

peeled,deveined, pat dry

90

gr

fried fish cake

sliced

4

-5 stalks yu choy

100

ml

chicken stock
Aromatics:
3

cloves

garlic

peeled and minced

4

shallots

peeled and chopped

1

tsp

grated ginger
Garnish:
1

stalk

green onion

finely chopped
Instructions
Prepare the noodles:
Bring a large pot of water to a boil. Place the dried bean thread noodles bundles in the pot and let them soak until soft, about 8-10 minutes. Once the noodles have softened and turned translucent, discard the water and rinse in cold water to stop the cooking process. Cut into shorter pieces, around 10 cm or so with kitchen shears. Set aside
Before Cooking:
Prepare all the seasoning ingredients by mixing them in a bowl. Set aside

Wash yu choy thoroughly with clean water to get rid of any impurities. Trim off about 1-inch off from the bottom and discard. Separate the stalks and the leaves of yu choy. Cut the bigger stalks into smaller pieces. Set aside
Start Cooking:
Preheat a large wok or skillet. When it's hot, add the cooking oil. Swirl to cover the base of the wok or skillet. Add aromatics and stir fry until fragrant, about 3 minutes

Add the shrimp and stir fry until the shrimp has turn pink and cooked through. Dish out from the wok or skillet. In the same wok, add the yu choy stalks and stir fry until they are soft, about 2-3 minutes. Add the leaves and stir fry for another minute. Add the shrimp, fish cakes and the bean thread noodles followed by seasonings and chicken broth. Stir to mix everything and let the noodles absorb the seasonings and liquid. Have a taste and add more soy sauce if needed

Garnish with chopped green onions and serve immediately
Do you have any of your favorite glass noodle recipe you like to share? Please fill me in! I'm always all ears!