Learn how to make Pempek Ayam Saus Cuko (Savory Chicken Cakes with Sauce) with this easy to follow step-by-step guide. A twist from the classic fish pempek.
Pempek was one of my favorite dinners when I lived in Jakarta for a short while. The lady who sold pempek near where I lived made really good pempek. I usually requested her not to fry the pempek. She gave me that funny look (because pempek is usually fried briefly after boiled) but she went ahead and serve it to me without frying anyway and every time I went there, she knew I wanted mine not fried. I was only 18 you know and a bit image-conscious 😉
PEMPEK PALEMBANG
1. WHAT IS PEMPEK PALEMBANG?
Pempek is also known as mpek mpek or empek empek is said to be in South Sumatra, Palembang to be exact. Palembang is known for its seafood dishes because of a river nearby. This dish is believed to have a Chinese influence and created by an Indonesian Chinese, an adaptation from ngo hiang. But there are several different stories I've heard about how this pempek came about.
The traditional pempek is made with fish, usually ikan tenggiri (wahoo/mackerel), but can be made with other white flesh fish like yellow tail, snapper, etc. The fish is deboned and skin removed and then grind into paste-like consistency and mixed with tapioca starch to form a dough. The dough is shaped and then boiled until cooked and then briefly deep-fried and served with spicy,sweet, and tangy sauce known as saus cuko.
2. WHAT DOES THE NAME PEMPEK MEAN?
I can't tell you for sure, but some said that pempek was created by an old Indonesian Chinese guy, usually refer to as "apek" in Chinese dialect and hence the name pempek, kinda a short of apek!
3. DIFFERENT SHAPES OF PEMPEK
Though there are probably more than 10 varieties of pempek out there, but when it comes to shapes, these are the common ones:
Pempek lenjer: Pempek is shaped into logs like the ones I did here.
Pempek adaan: Pempek is shaped into small balls
Pempek kapal selam: Pempek is shaped similar to kapal selam (submarines). Usually there is egg wrapped inside the dough and then the dough is molded around the egg and shaped like submarines, and hence the name.
WHAT IS PEMPEK AYAM?
It is basically the same concept as the traditional pempek made with fish, but just substitute with chicken meat. That's all! It's more economical for some folks and that's why pempek ayam is popular too.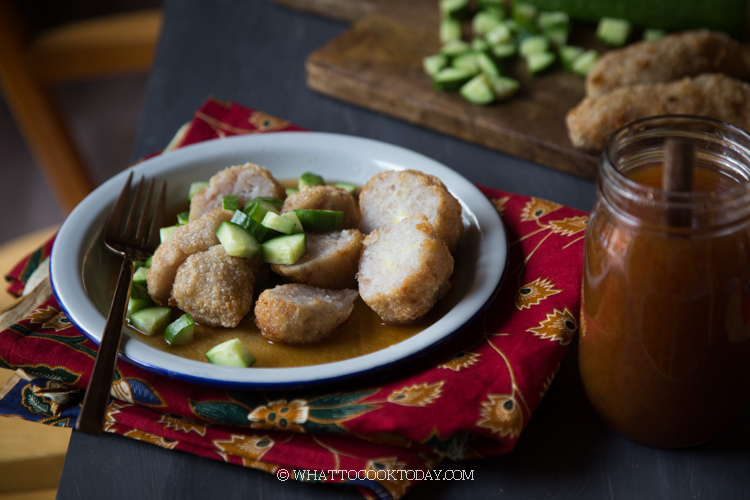 WHAT YOU'LL LIKE ABOUT THIS PEMPEK AYAM RECIPE
Pempek usually is made with fish/meat paste and then mixed with almost an equal amount of tapioca starch. Tapioca starch acts as one of the binder and so that the pempek can hold its shapes better. I've tasted pempek that mainly "dough" and not much flavor, super chewy and tough! This recipe has has the right balance of the taste of the meat without overly starchy. The pempek dough is easy to work with without being too mushy either.

So are you ready to get going? Here's your complete step-by-step guide from how to make the pempek from scratch, how to cook them, how to prepare the saus cuko, how to serve them, and how to keep leftover pempek saus cuko.
HOW TO MAKE PEMPEK AYAM WITH EASY 5 TIPS YOU NEED TO KNOW
1. Use lean meat
I usually hardly ever suggested using chicken breast (Not a fan for one!), but we need to grind the meat into paste, so lean meat will be better for this job. You can use thighs too, just make sure you remove the fat as much as you can
2. Use food processor
We literally want to process the meat into a smooth paste. Food processor will do the job wonderfully. Grind the meat in batches if necessary
3. Ratio of meat paste to starch
I use about 500 gr of meat and close to 400 gr of tapioca starch. I like to cap it at that amount for the starch because if you keep adding the starch, your pempek will taste more like plain dough and lacks flavor.
4. Oil your palms
The dough is still pretty sticky to the touch after grinding. Instead of keep dusting the pempek with starch, oil both of your palms with a bit of oil helps to shape the pempek without it sticking to your palms
5. Boiled and then fried
Pempek usually is boiled until cooked and then briefly deep-fried to create that crispy layer on the outside. There is also method where some people cook the pempek by just deep frying and no boiling. This will work, but will be greasier and take a bit longer to cook.
HOW TO MAKE REALLY GOOD SAUS CUKO
To me, you can't eat pempek without this spicy, sour, and sweet saus cuko. It's a must! Saus cuko is simple to make. I highly suggest to prepare the sauce one day before as the flavor gets better the next day. Here's how:
1. Soak the dried shrimp in warm water until soft
2. Place the chili (if using), garlic, dried shrimp and a bit of water in food processor and grind into fine paste
3. Cook the chili paste along with sugar, tamarind paste, vinegar in saucepan
4. Have a taste and add more sugar if necessary. It should be sweet, spicy, and tangy
5. Leftover saus cuko can be kept in the refrigerator for up to 1 week and can be kept frozen for up to 1 month

HOW TO SERVE PEMPEK AND STORE LEFTOEVER
HOW TO SERVE PEMPEK AYAM


1. Slice the pempek into thick slices
2. Scattered some diced cucumber on top
3. Include some noodles like yellow egg noodles
4. Drizzle saus cuko generously and keep some on the side in case you need more


HOW TO KEEP LEFTOVER AND REHEAT PEMPEK
Once you have boiled the pempek, let them cool down and than wrap them individually with plastic wrapper, place in freezer bags. They can be kept for 1-2 months in the freezer. When ready to serve, thaw the night before in the refrigerator and then fried the next day.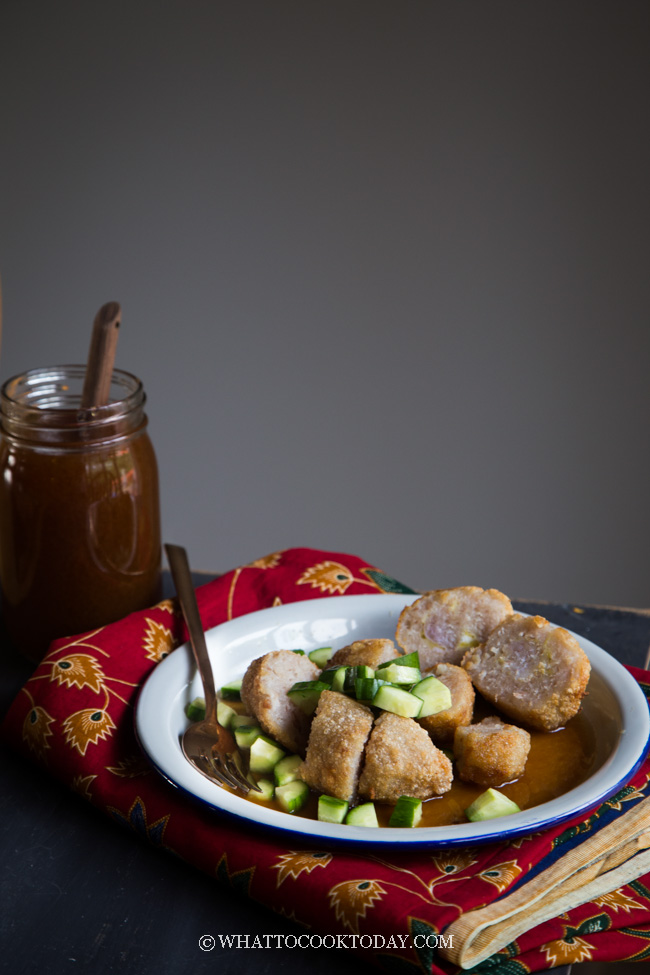 How To Make Pempek Ayam Saus Cuko (step-by-step guide)
Ingredients
Chicken cakes:
500

gr

boneless skinless chicken breast

or use store-bought ground chicken or turkey

2

large

eggs

about 50 gr each

5

cloves

garlic

peeled

3

shallots

peeled

100

ml

ice cold water

350

-400 gr tapioca starch

or more as needed, but not too much

Cooking oil

for deep frying
Cuko sauce:
6

Thai chili

omit if you don't want it spicy

6

cloves

garlic

peeled

30

gr

dried shrimp

soaked in warm water until soft

450

gr

coconut sugar

3

tsp

white vinegar

60

gr

tamarind paste

1

Tbsp

salt

800

ml

water
Serve with:
1

large

cucumber

peeled, seeded, and diced

yellow egg noodles

optional
Instructions
To make pempek:
Cut the chicken meat into small pieces. This will make the job easier on the food processor. Place the meat and the rest of the ingredients, except for the tapioca starch and cooking oil in the food processor and process into a fine meat paste

Transfer the meat paste to a large mixing bowl. Gradually add tapioca flour, start with about 350 gr of tapioca starch and mix the dough with a spatula until you can form a big mass that is still slightly sticky to touch. Take care not to add too much flour or you will end up with chicken cakes that are tough and too springy
Adjust seasoning as needed:
Bring a large pot of water to a boil. When the water is rolling boil, pinch off a small amount of the paste and boil in the water. Have a taste. Adjust the seasonings by adding more salt and/or sugar if needed. If you are happy with the taste, proceed to shaping the pempek below. 
Shaping the pempek:
I found that it helps to rub my palms with a bit of cooking oil instead of dusting with tapioca flour. The more flour you add, the chewier and tougher the pempek will be. Shape the dough into either patties or logs
Proceed to cooking the pempek:
Add the pempek into boiling water and boil for 5-8 minutes, depending on how big of the cakes they are. You can pick one up and cut the log to check and make sure it is cooked through inside. Remove from the water into a plate and let them cool down. Just because they float to the top doesn't mean they are cooked through. I've discovered that several times 🙂

Let the boiled pempek cool down for at least 15 minutes. Deep fry the boiled pempek until golden brown before serving
Make the cuko sauce:
Place the peppers, garlic,dried shrimp, and about 100 ml of the water in food processor and process into a smooth paste

Transfer to a saucepan and add the rest of the ingredients for cuko sauce. Cook over medium heat until sugar is melted. Have a taste. The sauce should be sweet, spicy, and tangy. Add more sugar if needed
Serving:
Slice the fried pempek into large chunks and place some cucumber chunks and drizzle with cuko sauce. Serve immediately
You may like this pempek ikan Palembang too