Chinese Crispy Meat Rolls (Bak Kien / Lor Bak / Ngoh Hiang)- Ground meat along with other fillings are wrapped in dried bean curd sheets and then steamed and deep-fried.
This bak kien recipe is truly one of the recipes that I'm glad my mom passed on to me. It is my mom's classic meat rolls that I look forward to eating every Chinese New Year or any special occasions. We called this Chinese crispy meat rolls as bak kien in Hokkien dialect (one of the many spoken dialects among the Indonesian-Chinese descendants). In Malaysia and Singapore is known as lor bak or ngoh hiang, which I didn't know at first until I lived in Singapore for a short while.
WHAT EXACTLY IS BAK KIEN / LOR BAK / NGOH HIANG?
Ground meat along with other ingredients like shrimp/fish paste, shredded jicama, shredded carrots, salted egg yolks are seasoned with Chinese five-spice powder and then wrapped in dried bean curd sheets and then steamed and deep-fried.
SPECIAL INGREDIENTS USED IN THIS BAK KIEN RECIPE
Salted duck eggs (we just used the yolks)
I could only get the cooked version and you can used the cooked egg yolks.
Dried Bean Curd Sheets
Make sure you bought the right kind. I finally bought the right kind and they are available in the freezer section at Asian grocery store. Despite being frozen, the sheets are pliable and not frozen. Don't buy the sheets that you need to soak in the water, that's not the right kind for wrapping bak kien.
Chinese Five-Spice Powder
WHY BAK KIEN IS SO WELL-LOVED BY MANY
Bak kien is a little elaborate to make but I can tell you it's so worth it! The soft ground meat filling packed with amazing savory, slightly sweet and umami flavor (salted egg yolks!!!) are what making it so darn good. My husband and kids love bak kien even before I deep-fry them. They love the steamed version too.
HOW TO WRAP BAK KIEN
YOU DON'T HAVE TO DEEP-FRY THE BAK KIEN IF YOU DON'T WANT TO
I don't like to deep fry things, but bak kien is few of the things I make an exception for. And it's worth it!! BUT, like I've mentioned before, we love steamed bak kien too. My kids don't lie 🙂

BAK KIEN CAN BE PREPARED AHEAD AND FREEZE
Yes! I love to make a whole bunch of them and then freeze. Here's how to do it:
1. Prepare according to the recipe below up to the wrapping part
2. Place them on a large baking sheet individually not touching each other and freeze for about 1 hour
3. After 1 hour, you can move them to a freezer-friendly bag(s) and they won't stick to each other
4. Just thaw them in the refrigerator and then steam according to the recipe and deep fry them if you choose too
WHAT TO SERVE BAK KIEN WITH
Bak kien is usually served as part of multi-course Chinese meal at our house and I believe many Chinese families do the same, but it can be served as an appetizer or snack (yeah…Asian people snack on meat rolls LOL!).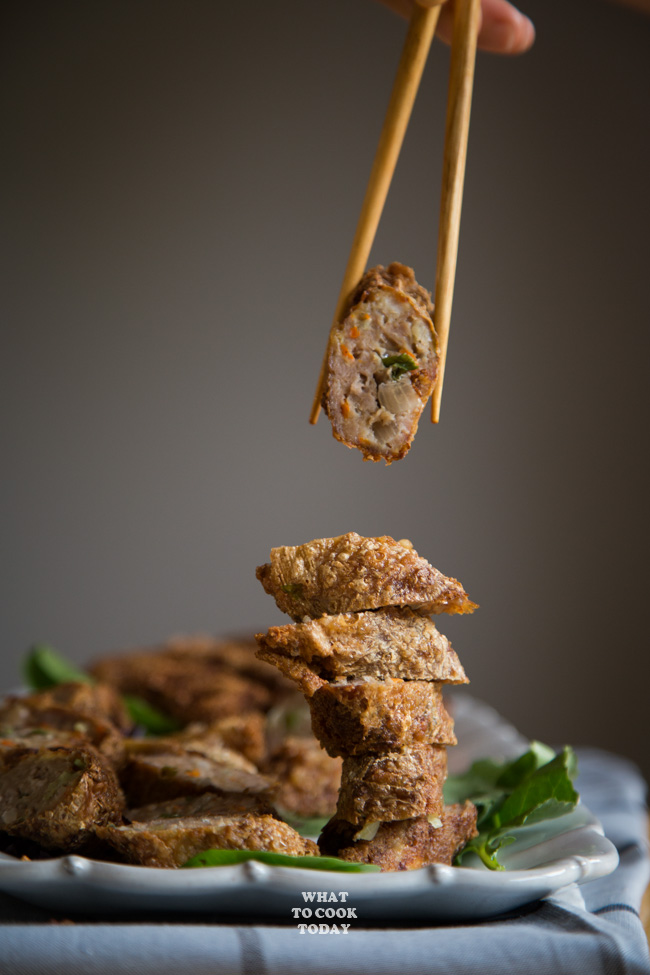 Ground meat along with other fillings are wrapped in dried bean curd sheets and then steamed and deep-fried.
I highly encourage to weigh ingredients with a digital kitchen scale instead of using measuring cups as they are not very accurate especially when it comes to recipe that requires precision.
GRAMS TO CUPS CONVERSION (UNSIFTED)
INGREDIENTS
INSTRUCTIONS
Preparing the filling (can be prepared the day before):
In a food processor, add shrimp, onion and process into a paste. Scoop this out into a large mixing bowl. In a large mixing bowl, add this shrimp paste, salted egg yolks, ground pork and the rest of the filling ingredients and seasonings. Use your clean hand to gently mix it. We don't want to overwork the meat and turn it tough. Cover and let it rest in the fridge for 1 hour or overnight
Taste the filling: (optional)
We can't taste the raw filling here. Steam a small amount of the filling to taste. Add more salt if necessary before proceeding to the next step
How to wrap bak kien /ngoh hiang:
Bring the water in a steamer to a boil and then lower the heat to let it simmer while you are going to wrap the meat rolls

Cut the dried beancurd sheets into about 20 x 20 cm (smaller or bigger is up to you what size you want) or big enough to wrap the filling

Spread the filling on the lower half of the wrapper

If you have your own way of wrapping, please go ahead. There's no right or wrong here. Fold both sides

Fold the bottom over and roll all the way up

There's your meat roll. Repeat with the rest of the filling
Steaming (can be prepared ahead):
Once you have all the meat rolls ready for steaming, place them on a steaming dish, seam sides down, and place inside the steamer, you may need to steam in two batches. Steam for 15-20 minutes on high heat or until the meat inside is cooked through. Let them cool completely before deep-frying
Deep-frying:
Mix the cornstarch with water and stir to mix thoroughly. When ready for deep-frying, bring the oil to 375 F. Coat the meat rolls with cornstarch solution

Gently and carefully place the meat rolls into the oil and deep-fry until golden brown, about 4-5 minutes. Use tongs to remove from the oil and place on paper towel to let the towel absorbs some of the excess oil

Let it cool down or 2 minutes or so before slicing with a very sharp knife. You can slice each roll into 3-4 pieces at an angle for presentation
Notes
Bak kien is usually steamed and then deep-fried. However, you can just steamed and not deep-frying it. The deep-frying is only to create make the bean curd sheets crispy
Nutrition Facts
Chinese Crispy Meat Rolls (Bak Kien / Lor Bak / Ngoh Hiang)
Amount Per Serving (1 roll)
Calories 230
Calories from Fat 162
% Daily Value*
Fat 18g28%
Carbohydrates 16g5%
Protein 7g14%
* Percent Daily Values are based on a 2000 calorie diet.
This blog post contains affiliate links. I earn a small commission when you made purchase at no extra cost to you. Learn more.