Chinese broccoli (gai lan) is stir-fried with tender juicy pork slices and oriental sauces. Learn how to make it in 4 simple steps.
Stir-fried gai lan (Chinese broccoli) is probably one of the side dishes that I missed the most during my college years. Mom made this dish often at home. I didn't have much time to cook during college years. I couldn't recall much what I ate during those years to survive 🙂 If I wanted to make stir-fried gai lan, I had to go to Asian store to get the Chinese broccoli and the store was pretty far away from me. So, you get the picture!
WHAT IS GAI LAN VEGETABLE (CHINESE BROCCOLI)?
Gai lan is also known as Chinese Kale or Chinese Broccoli in English. It has a taste profile almost similar to broccoli, but gai lan is slightly bitter and it's a leafy vegetable with really thick stems.

GAI LAN IS POPULAR ACROSS ASIA
Gai lan is one of the popular vegetables you will see across Asia. The most common usage of gai lan is to make this stir-fried gai lan. Though, gai lan is also used often in stir-fried noodles like this
kwe tiau radna
,
pad see ew
or
wat tan hor
. I added sliced pork to the dish, but it can be made without any meat or with other type of meat, such as beef. One of the common seasonings used in stir-fried gai lan is oyster sauce. I can almost safely say that the two go hand in hand. Stir-fried gai lan is one of the commonly seen side dishes served in Chinese restaurants and also popular among home cooks.
HOW DO YOU MAKE STIR-FRIED CHINESE GAI LAN IN 4 SIMPLE STEPS
You don't need to hold a degree in culinary to make stir-fried gai lan that's for sure! You just need to know few tips so you can make a really good one just like how the Asian home cooks would make it 🙂
STEP ONE-PREPARE GAI LAN FOR STIR-FRYING
The stems of gai lan are usually pretty big and thick and the leaves are tender and do not take long to cook. If you cook both of them at the same time, chances are the leaves will be overcooked and you end up with dull looking leaves.
Here's what you can do:
1. Separate the leaves from the stems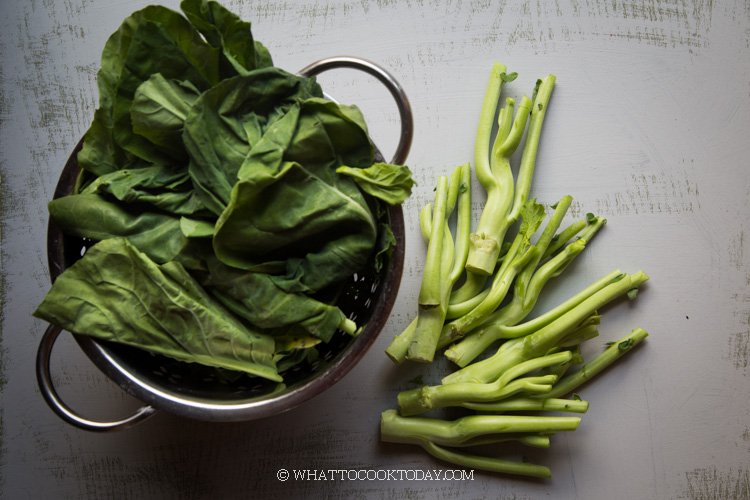 2. Cut the stems into smaller pieces
I like to slice them at an angle for "prettier" presentation.


3. Blanch the stems
Blanch the stems for 1-2 minutes and then stop the cooking process with cold water. This part will ensure the stems and leaves cook at the same time.
STEP TWO – MARINADE AND COOK THE PORK FIRST
This will ensure the pork gets enough flavor. There is also a little bit of cornstarch in the marinade. Home cooks in Asia like my mom loves to use cornstarch in meat marinade as it helps to tenderize the meat. Cooking the pork first separately will also help to avoid overcooking the pork.
STEP THREE – PREPARE THE SAUCE
The sauce is made with simple ingredients such as sesame oil, chicken stock (use water if you like), soy sauce, a bit of sugar and cornstarch as a thickener and to add shiny gloss to the finished dish too.
STEP FOUR – STIR-FRYING
1. Make sure the wok/skillet is hot
Any Chinese cooks can tell you that a cold wok/skillet for stir-frying is no good!
2. Cook the veggies next
Since we have blanched the tough stems earlier, the leaves and the stems will cook at the same time now
3. Pour in sauce
The sauce has cornstarch in it, which will help to thicken the sauce and give it that nice shine. Adjust the taste by adding more soy sauce and/or sugar if needed. It should taste savory with just hint of sweetness.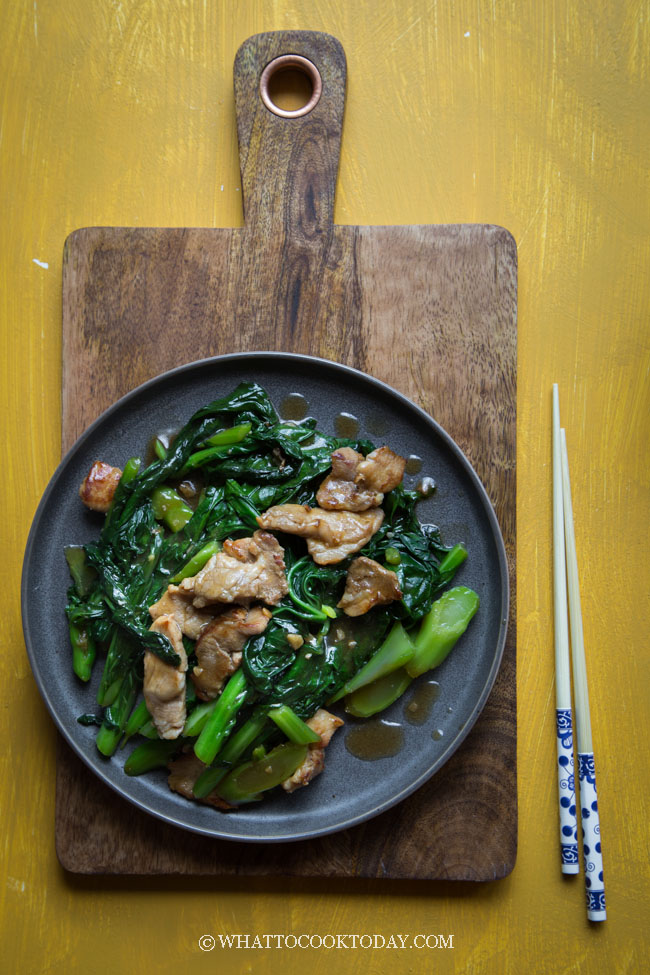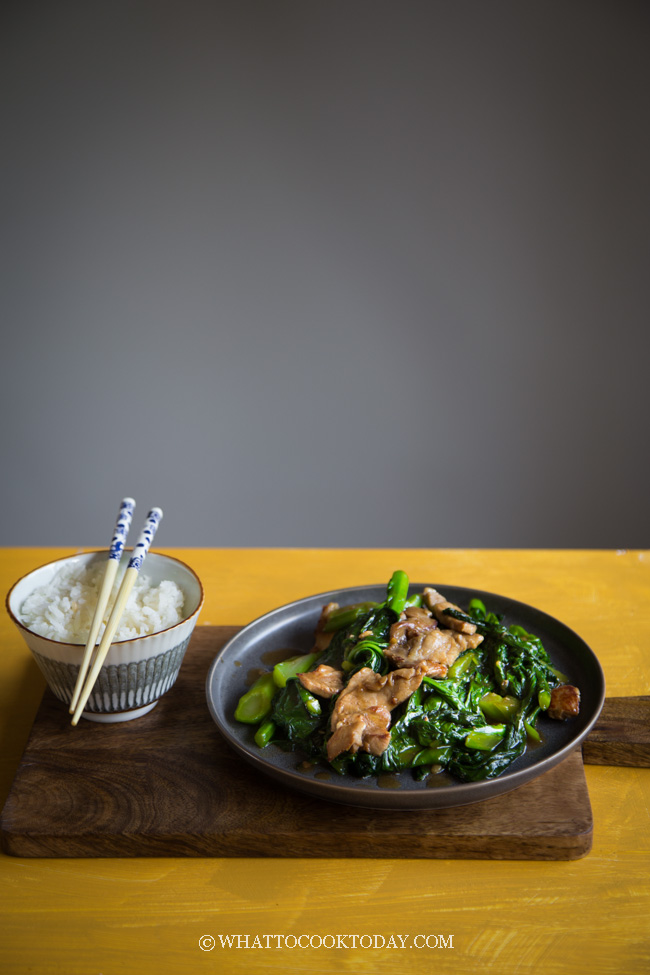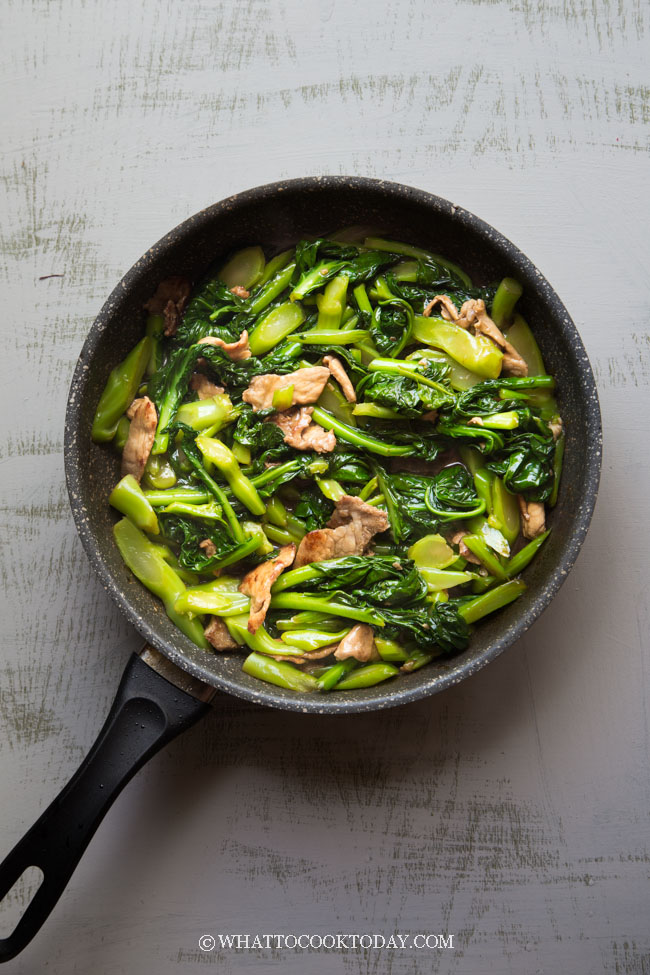 WHAT IS A SUBSTITUTE FOR GAI LAN?
If you can't find gai lan, you can use broccoli, broccoli rabe, or broccolini.
VARIETIES YOU CAN DO WITH THIS STIR-FRIED GAI LAN RECIPE
Meatless version: just omit the pork and if you like it "garlicky", just add more garlic
Use a different type of meat: You can use thinly sliced beef such as skirt steak or flank steak. Thinly sliced them across the grain.
Use seafood: Shrimp is the best to stir fry with gai lan. You don't need to marinade the shrimp. Just stir fried the shrimp first and dish out and follow the rest of the instructions.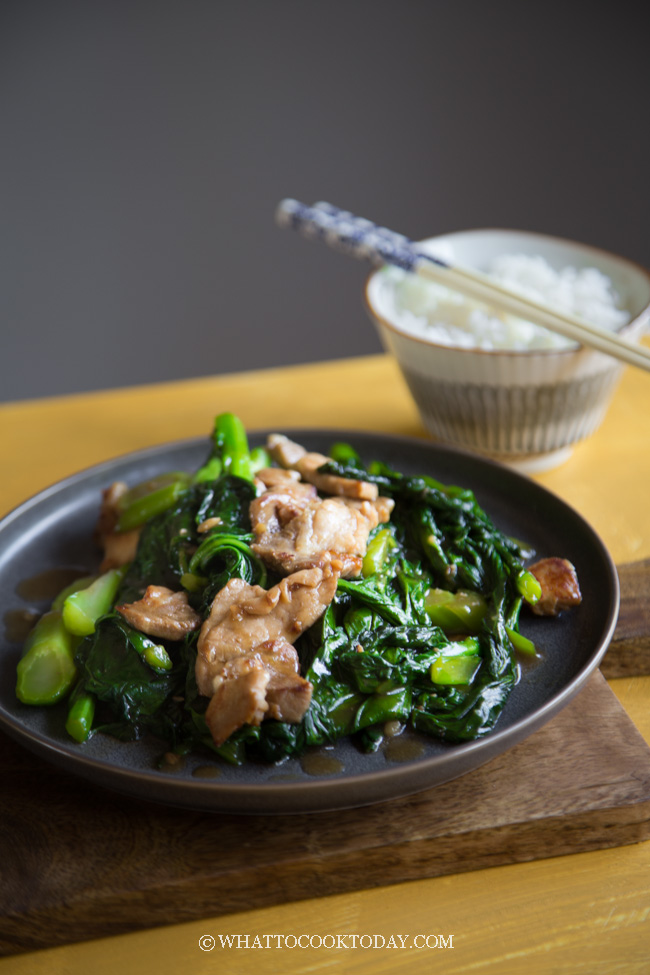 This blog post contains affiliate links. I earn a small commission when you made purchase at no extra cost to you. Learn more.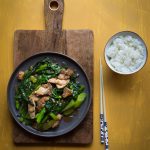 Stir-fried Gai Lan with Pork (How To Make in 4 Simple Steps)
Ingredients
1

lb

Chinese Broccoli (gai lan)

¾

lb

pork tenderloin

thinly sliced

2

Tbsp

cooking oil

divided
Aromatics:
1

tsp

minced garlic

½

tsp

ginger
Instructions
Mix all the ingredients for sauce in a bowl and set aside
Prepare and marinade the pork:
Place the pork in the freezer for about 15 minutes to help you thinly sliced the pork. Slice the pork to about 1/8-inch thickness and then add the marinade ingredients and marinate for at least 15 minutes to 30 minutes
Prepare the Chinese broccoli:
Wash the gai lan thoroughly with water. Trim about 1/2 inch off the bottom of the stems. Separate the stems from the leaves. You can leave the green leaves whole. Slice the stems at an angle into bite-size pieces. Set aside

Bring a small pot of water to a boil. Add gai lan stems and let them cook for about 2 minutes. Remove from heat and refresh with cold water to stop the cooking process. This process will ensure the stems and the leaves are cooked at the same time later
Cooking the meat first:
Bring the wok or skillet to a high heat. When you start seeing smoke, add 1 Tbsp of oil. Add the pork slices and spread them out evenly on the wok/skillet. Let them cook undisturbed for about 1 minute and then stir to flip over and let them cook for another minute or until no longer pink. Dish the pork out from the wok/skillet to a serving platter
Cooking the veggie next:
Wipe the wok or skillet clean if necessary. Bring it back up to heat. Add another 1 Tbsp of cooking oil. Add garlic and ginger and stir fry until fragrant, about 1 minute. Add gai lan stems and the leaves and stir fry for about 1-2 minutes or until the veggies are tender. Return the pork slices back to the wok/skillet

Give the sauce mixture your prepared a stir to make sure the cornstarch is not sitting at the bottom of the bowl

Pour in the sauce and continue to stir until the sauce is thickened. Have a taste and adjust taste by adding some salt if needed. Remove from the heat and transfer to serving platter. Serve immediately


What's your favorite way of cooking gai lan?