Kwe Tiau Radna is a Thai stir-fried flat rice noodles with gravy that is not as widely known like Pad Thai but seriously need more acknowledgement ! SUPER DELISH!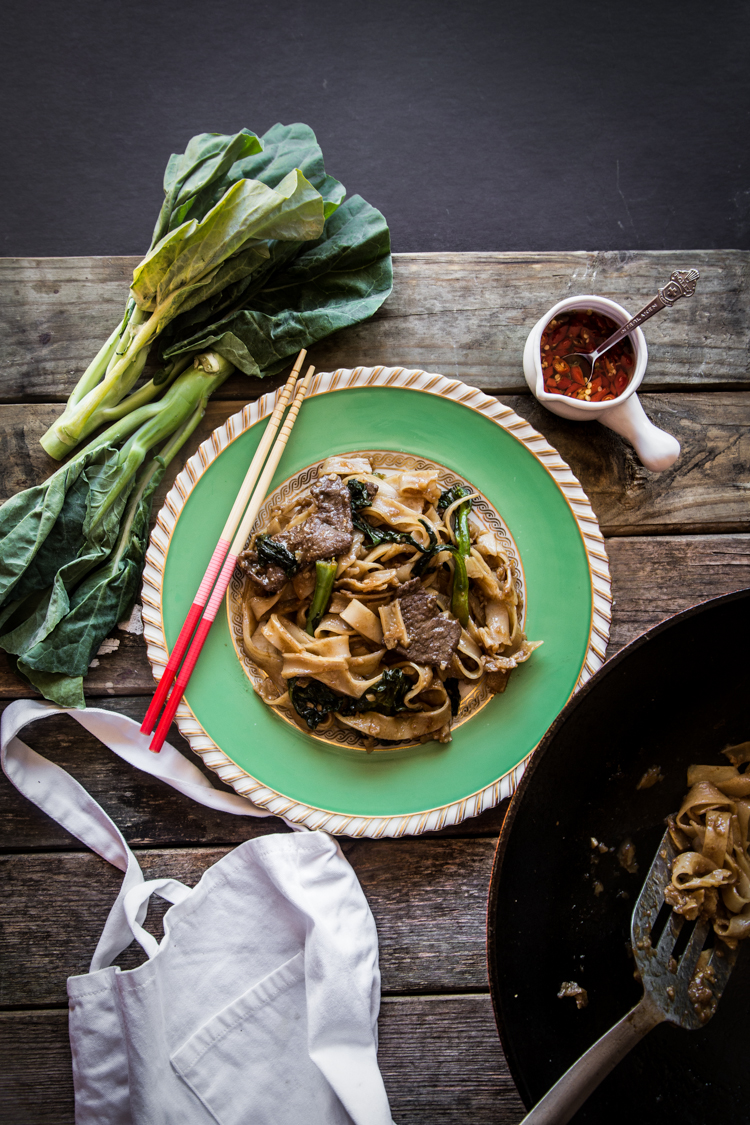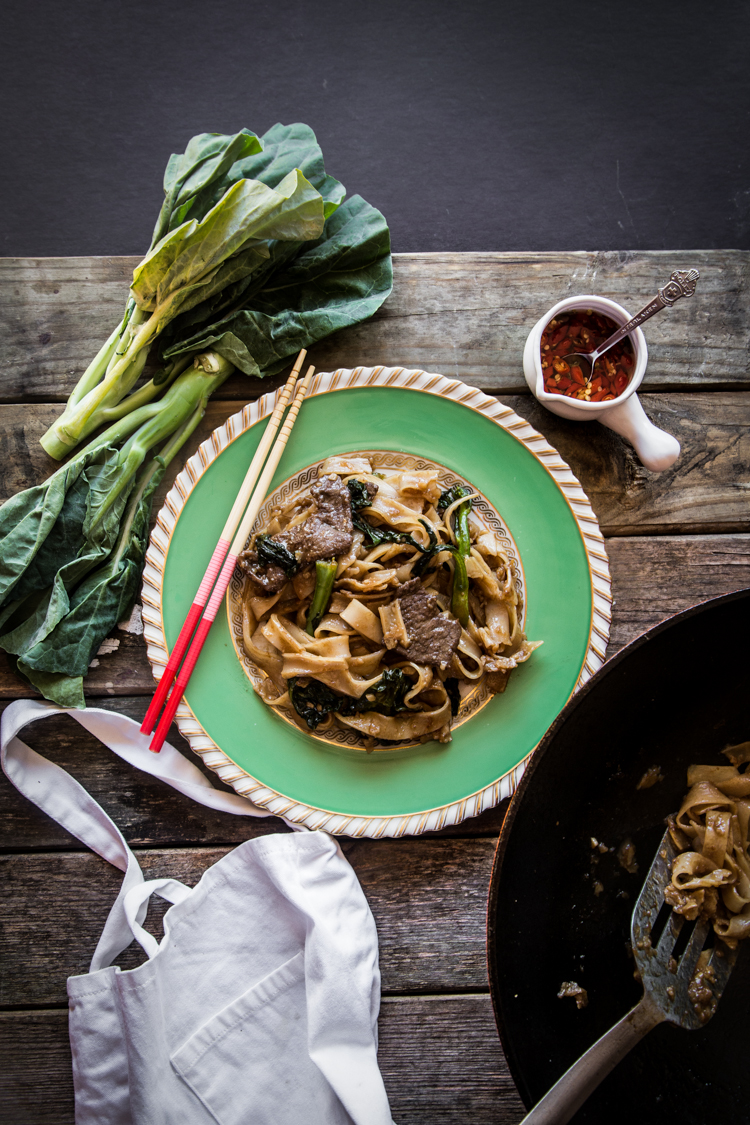 Have you ever turned on the radio in the car and just keep changing through channels because…well, because I couldn't find one freaking song that I like. I'm usually stuck on the classical channel (like 98% of the time). You can't go wrong with classical I guess! and I love classical! Until of course my kids started to complain that there's no one singing and only music (duh? isn't that the point ?).
They always "make" me play the song list from my phone. I have all my favorite songs I like saved on my You Tube list ! I thought that was the greatest thing though. Despite being my favorites (to the point of obsessive, like seriously obsessive!), let's face it that I can grow tired of that list too! But, the great thing..yes, I can change the song or just create a different list and have different songs in there! It seems like the best solution for us (me and the kids) at the moment! Who would have thought even kids can be picky with their songs !
Speaking of obsession, let me share with you one of my food obsessions. This kwe tiau rad na. Have you heard of it by any chance ? You might heard of pad see ew, or pad thai, but rad na is a lesser known Thai stir-fried noodles. Radna is a stir-fried noodle dish made of fresh wide rice noodles, dark green vegetables, and a little thinly sliced meat, all bathed in a flavorful gravy and slightly sour vinegar chili sauce. Ohh…gosh..that gravy and the chili sauce are my favorites in this dish.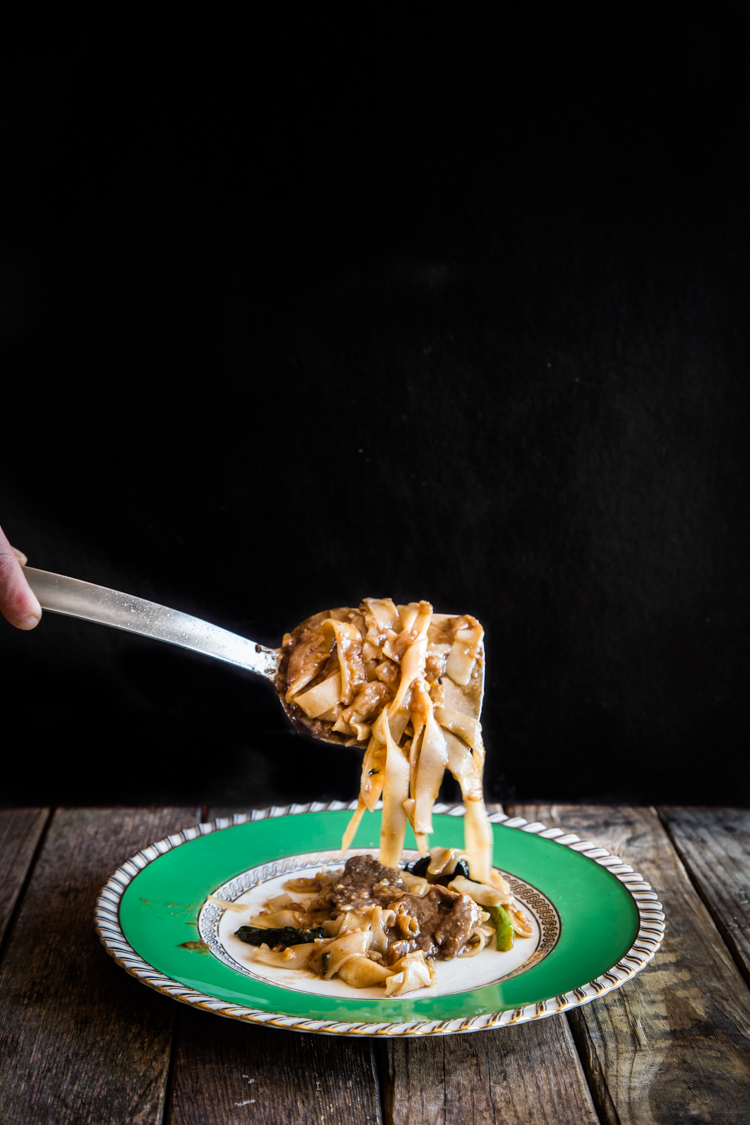 Recipe is adapted from Jeffry Alford and Naomi Duguid's Sweet, Sour, Salty cookbook. I love this cookbook guys! Love the stories behind their traveling to Southeast Asia too.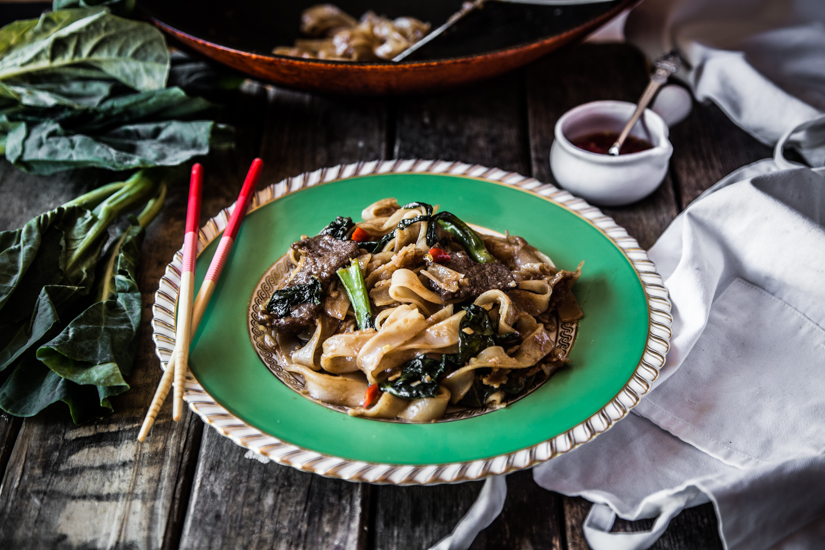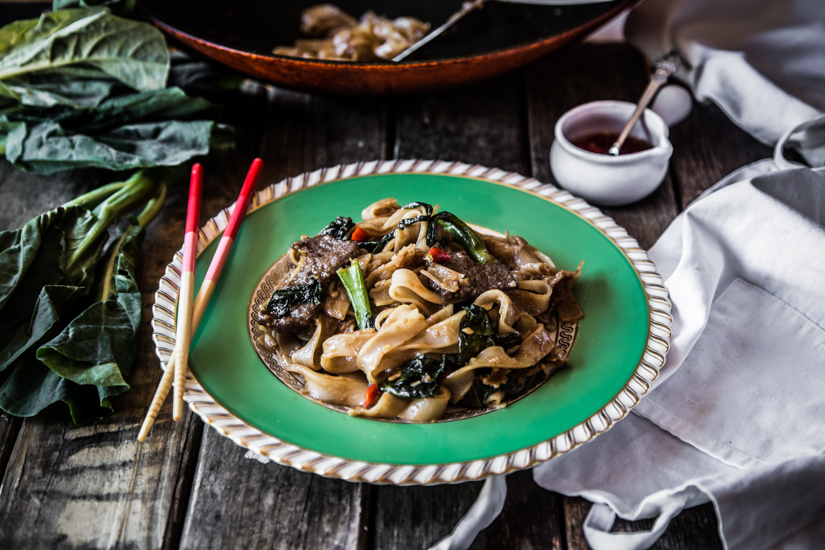 Kwe Tiau Radna (Thai Stir-fried Flat Rice Noodles with Gravy) (4 servings)
Ingredients
2

lbs

fresh rice noodle or Fresh noodle Sheets or 1 lb of wide dried rice noodles

¼

cup

peanut or vegetable oil

2

to 3 Tbsp minced garlic

Scant 1/2 lb boneless pork butt or shoulder

, thinly sliced across the grain into 1-by 1/2-inch pieces (or substitute lean beef or boneless chicken, sliced similarly)

1

tsp

sugar

1

lb

of Chinese broccoli

(Gai Lan), cut lengthwise into 1/4-inch wide spears and well washed (3 to 4 cups loosely packed)

1

Tbsp

fermented soybean paste

(dao jiao/dao jio), mashed until smooth

1

Tbsp

soy sauce

1 ½

Tbsp

fish sauce

1 ½

Tbsp

rice or cider vinegar

1 ¼

cups

mild chicken

, beef, or pork borth or water

1

Tbsp

cornstarch

, dissolved in 3 Tbsp water

Generous grinding of white or black pepper
Chili vinegar sauce (1/2 cup):
½

cup

rice vinegar

2

to 3 Tbsp sugar

½

mild chile

(such as Cubanelle, Hungarian wax, or banana chile), I used 10-15 bird's eye chiles, sliced into rings
Instructions
If using fresh rice noodles, rinse under warm running water. Stack the sheets, if using, slice into 3/4-inch-wide noodles, and separate gently with your fingers; set aside. If using dried rice noodles, soaking warm water for 30 minutes to soften, then drain and set aside

Place all the other ingredients by your counter top near the stove. Have a platter and 3 or 4 dinner plates (one per person) nearby

Heat a large work over high heat. Pour in 1 1/2 Tbsp of the oil and swirl to coat the wok. When very hot, toss in approximately half the noodles and stir-fry gently for about 2 minutes, pressing them against the hot pan, then turn out onto the platter and repeat with the remaining noodles, using only 1 Tbsp oil. Divide the noodles among the four dinner plates

Wipe out the wok, then place back over high heat. Add the remaining 1 1/2 Tbsp oil and, when it is hot, toss in the garlic. Stir-fry briefly until starting to turn golden, about 20 seconds, then add the pork slices and a generous pinch of the sugar. Stir-fry for about 1 minutes, or until all the meat has changed color. Toss in the sliced greens and stir-fry, pressing the vegetables against the hot sides of the wok, until they turn bright green, about 1 1/2 minutes or more (depending on the size of your wok)

Add the soybean paste, soy sauce, fish sauce, vinegar, and the remaining scant teaspoon sugar and stir-fry to mix, then add the broth or water and the cornstarch mixture. Stir to mix, then cover for 30 seconds to a minute, until the liquid comes to a boil. Remove the cover and simmer, stirring carefully from time to time, for another 2 minutes, or until the liquid has thickened a little and the greens are tender

Use your spatula or a ladle to distribute the meat, greens, and gravy over the noodles. Grind pepper over generously and serve hot, with a bowl or cruet of the chile-vinegar sauce

Put the vinegar in a small bowl and stir in the sugar until it is completely dissolved. Add the chile rings. Serve with a small spoon so guests can spoon a little onto their noodles. Store in a sealed container in the refrigerator, this will keep for 4 to 5 days
This is such an awesome one-dish meal. I can see why this is their favorite dish. I encourage you to give it a try.

I just have to dedicate a shot of me drizzling that chili sauce on!

Check out other Southeast Asian Recipes you might be interested in.