Egg noodles served in creamy red curry broth with melt-in-the mouth beef shanks and cripsy egg noodles as toppings is one of the popular Chiang Mai noodle dishes known as Beef Khao Soi.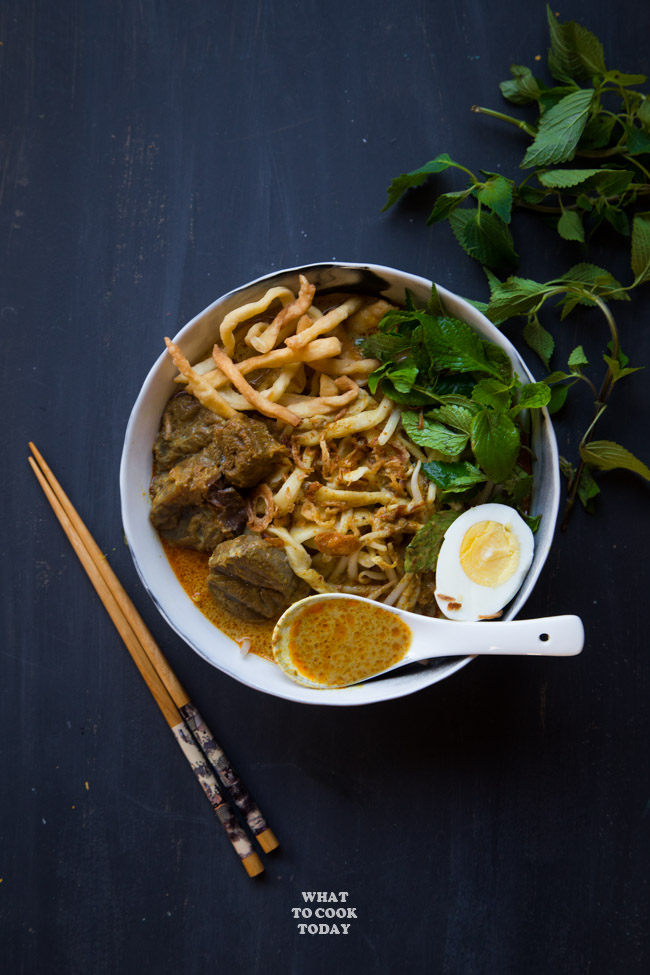 THAI FOOD IS TRULY ONE OF THE BEST
I love Thai food so much and so blessed to have the opportunity to have Thai friends back in college who cooked really mean authentic Thai dishes! It's been a while since I visited Thailand, more than a decade ago. My college best friend and I took a trip to Bangkok many years ago and I had many many street food and boat noodles. It reminded me of childhood. Watching these people selling food from the boat and washing the bowls right there in the river and then using that bowls to serve you again and I'm sure many other customers too, supposedly should be repulsive when I think about it, but I chose not to think too much and just enjoyed the noodles right then and there. I had 4 bowls of them too on the boat (It's a very tiny portion and so damn delicious, give me a break!).
PRESSURE COOKER BEEF KHAO SOI
I'm sharing this beef khao soi with you today because this is one of my favorite Thai noodle dishes. There are khao soi made with chicken and pork too. I especially like the beef khao soil made with beef shank. SOOO good! Thanks to pressure cooker I don't have to be boiling the beef shanks for hours on end to make them tender. I love beef shanks because they are sinewy. Not so popular here in the U.S., but this cut of beef is well-loved by Asian (me included!). Beef shanks do require long hour of cooking to be tender. But only 40 minutes with pressure cooker! Sweettt!!
It's hard to find beef shank at regular grocery store, but you should be able to find boneless beef shank at Asian grocery store.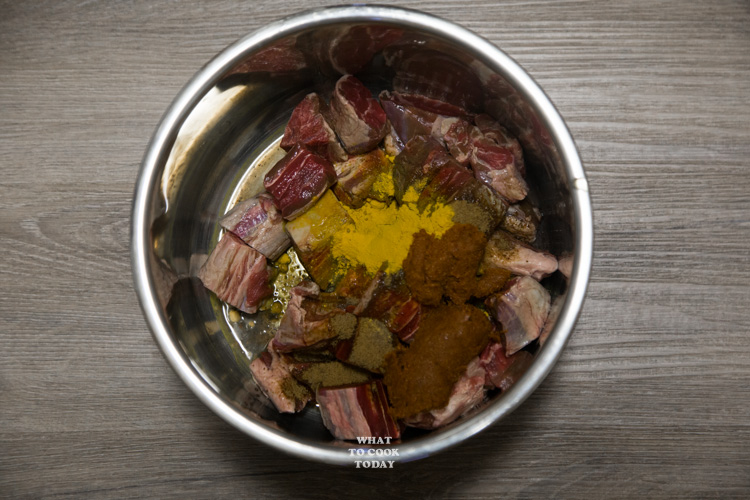 This blog post contains affiliate links. I earn a small commission when you made purchase at no extra cost to you. Learn more.
HOW TO MAKE EASILY MAKE PRESSURE COOKER BEEF KHAO SOI AT HOME
This beef khao soi is so easy to put together, especially if you use pressure cooker (electric pressure cooker in my case). I can pretty much set and forget.
1. Use ready-made red curry paste
You can make the
red curry paste
from scratch, but there are many good ones out there too and it saves you some time.
2. Coconut milk last
Do not pour the coconut milk in there to cook along with the beef. The coconut milk will "break" and the broth will no longer be smooth and creamy
BEEF KHAO SOI IS SUITABLE FOR MEAL PREP
They can be made in big batch and then freeze into portion. Here's how:
Leave the coconut milk out
Cook the beef per instruction in the recipe. Portion them out into smaller batch and freeze. Only stir in the coconut milk when you are ready to serve. Easy as that. They can be freeze up to 1 month and in the refrigerator for up to 5 days.


Recipe inspiration is from Jeffrey Alford and Naomi Duguid's Hot, Sour, Salty, Sweet cookbook. This recipe was originally published in 2011 and updated with new photos and updated to using pressure cooker.
I used my homemade egg noodle recipe in this beef khao soi recipe, but you can certainly just get store-bought Chinese style egg noodles.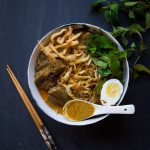 Pressure Cooker Beef Khao Soi (Chiang Mai Beef Curry Noodles)
Ingredients
2

lbs

boneless beef shank

cut into 2-inch chunks

1

lb

Chinese flat egg noodles

reserve about a handful of it to make crispy egg noodles
Toppings:
2

hard-boiled eggs

halved

Crispy egg noodles

3

cups

fresh mung bean sprouts

briefly blanch in boiling water
Condiments:
Limes

quartered

Fresh basil and mint leaves
Instructions
Pressure cook with Instant Pot (can be prepared the day before you plan to serve):
Place the beef pieces along with the ingredients for red curry broth, except for the coconut milk, and seasonings in the inner pot of instant pot. Add water and stir to mix everything. Cover the lid. Turn the steam release valve to seal. Press "pressure cooker" and then "high pressure". Set timer to 40 minutes

When the timer is done, wait 5 minutes and then release all the pressure. Unlock the lid. Stir in the coconut milk. The residual heat will heat up the coconut milk. We don't want to hard boil the coconut milk or it will "break" and separate and turns frothy

You can prepare ahead up to this point if you make it the day before. Don't stir in the coconut milk yet until the day you plan to serve. Keep in the refrigerator. The next day, you can heat it up, turn off the heat and stir in the coconut milk. Have a taste and add more fish sauce and/or sugar if needed. It should be savory, spicy, with a hint of sweetness
Making crispy egg noodles:
Meanwhile, make the optional crispy noodles: place a plate lined with several layers of paper towels by your stove. Place a large wok or heavy pot over high heat and add about 1 cup of oil, or 1/2 inch oil. When the oil is hot, drop in a strand of uncooked egg noodles to test the temperature. It should sizzle slightly as it falls to the bottom, then immediately puff and rise to the surface; adjust the heat slightly, if necessary

Toss a handful (about 1 cup) of noodles into the oil and watch as they puff up. Use a spatula or long tongs to turn them over and expose all of them to the hot oil. They will crisp up very quickly, in less than 1 minute. Lift the crisped noodles out of the oil and place on the paper towel-lined plate
Cook the egg noodles:
To serve, bring a large pot of water to a vigorous boil over high heat. Drop in the remaining noodles, bring back to a boil, and cook until tender but not mushy, according to direction. Drain well and rinse in fresh water to get rid of extra starch and stop the cooking process
Serving:
Divide the cooked noodles among four large bowls. Portion out the mung bean sprouts. Ladle over the broth and meat. Top with halved egg, crispy noodles, crispy shallots. Serve with the remaining condiments set out in small bowls
You might also like this Burmese Ohn No Khao Swe, which is very similar to Thai Khao Soi.