In Southeast Asia, most dishes are prepared to accompany the rice. Whether it is sticky rice/glutinous rice or jasmine rice. In most cases, it is the jasmine rice. Though I must say noodles are also the other important ingredients used widely in Southeast Asian cooking. This is also the case in Cambodia, as part of Southeast Asia countries.
This Khmer fish stew with lemongrass is from Cambodia. Like its neighboring countries, Thailand, Laos, and Vietnam, Cambodians use lots of similar herbs and seasoning (fish sauce) found in Thai, Laos and Vietnamese cuisine. Being colonized by French for over 70 years had surely influenced their cooking as well, just like in Vietnamese cuisine. I have yet to visit Cambodia. I'd love to one day. From what I read from wikipedia, Cambodia's 2nd largest source of income is tourism. Most tourists visit Siem Reap to see the Angkor Wat historical park.
As shared by Jeffry Alford and Naomi Duguid in their Hot, Sour, Salty, Sweet cookbook, Samla' are wet dishes, somewhere between a stew and a hearty soup. This stew is a standard accompaniment for rice in Cambodia, hot and sour with the strong fragrance from lemon grass.
This dish is super easy to make and take a short period of time to make. It's almost like Tom Yam soup in terms of taste. Give it a try and you probably will get hooked with the combination of herbs in the samla'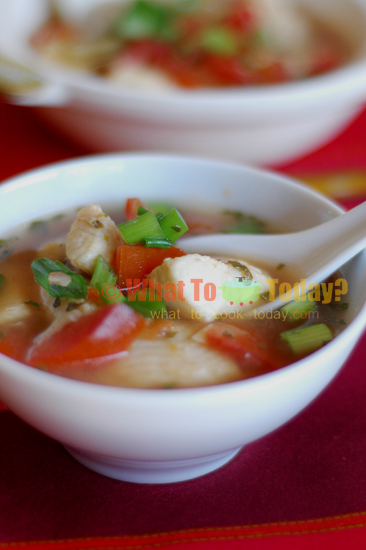 For baking/ kueh making: I highly encourage to weigh ingredients with a digital kitchen scale instead of using measuring cups as they are not very accurate especially when it comes to recipe that requires precision.
GRAMS TO CUPS CONVERSION (UNSIFTED)
INGREDIENTS
4

cups

water

4

stalks lemongrass

-

, trimmed and smashed flat with the side of a cleaver

3

Tbsp

tamarind pulp

3/4

lb

fish steaks

-

(catfish, tilapia, or other freshwater fish of your choice)

1

Tbsp

minced garlic

1

Tbsp

fish sauce

1/2

tsp

salt

1/2

lb

green or half-ripe tomatoes

-

(I use red tomatoes), seeded and cut into scant 1/2-inch pieces

4

sawtooth herb leaves/culantro

-

, coarsely chopped

12

Asian basil or sweet basil leaves

-

, coarsely chopped

4

to 6 sprigs rice paddy herb

-

(ngo om), coarsely chopped or substitute with cilantro if you can't find any

1

tsp

sugar

-

, or to taste
INSTRUCTIONS
Put the water in a large pot, add the lemongrass, and bring to a vigorous boil. Boil for 5 minutes, half-covered, then lower the heat and simmer over medium heat for a few minutes

Once the broth is simmering, scoop out about 1 cup of the liquid into a small bowl. Add the tamarind pulp to a bowl, stir well to dissolve it thoroughly, and set aside

Rinse off the fish. If using large steaks, cut into roughly 1 1/2- to 2-inch pieces. If using small steaks, cut in half. Add to the broth, together with the garlic, bring to a boil, and simmer until the fish is opaque

Add the fish sauce and salt. Place a sieve or fine strainer over the soup and pour the tamarind liquid through it. Use the back of a wooden spoon to press the tamarind pulp against the strainer, then discard the remaining seeds and pith. Stir the stew well and let it simmer for several minutes

Add the tomatoes, scallions, herbs, and sugar to the stew and simmer for 5 minutes. Serve hot