Homemade noodles are unarguably simply the best. With only 4 ingredients you have yourself wholesome delicious noodles without any additives or preservatives you don't want on your food.
A few years ago when my mom came for a visit, she made some egg noodles manually (without a machine). It did work. It just took more time to cut the noodles into equal size. She decided that pasta machine would make life easier, considering how often she makes the noodle and eats them too (like mother like daughter). She loved that machine a lot and brought it home with her.
I broke down and bought the Kitchen Aid stand mixer last year (and never regretted it ever since). It has seriously done many kneading, mixing, and whipping jobs for me. I'm not sponsored in case you are wondering 😉 I had never acquired any pasta roller and cutter ever since my mom brought it home with her for some reason. I was really craving for homemade noodles couple months ago and so I made them and hand cut them. It's doable like I said. But I didn't do a good job cutting them into even strands and I just felt like it took an eternity some days and I could only make a small batch.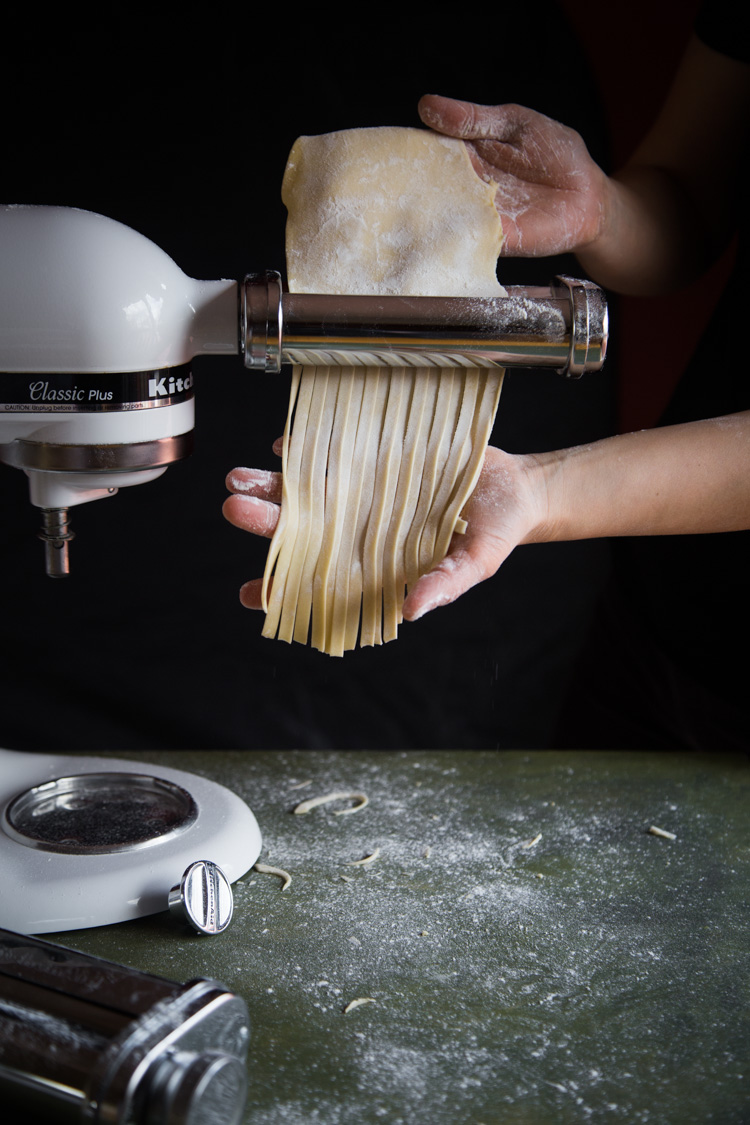 So after did a few pieces of research and asking around, I decided to just get the pasta roller and cutter set (Spaghetti and Fettucine) from Kitchen Aid too. Might as well, since I already have the machine. So glad I purchased them, though. I have made lots of noodles (and ramen) since then 🙂

Homemade Egg Noodles (With Pasta Machine)
Ingredients
16

oz

bread flour

2

tsp

salt

4

egg yolks from large eggs

beaten

7

oz

water
Instructions
Mix the flour with salt in a mixing bowl of stand mixer or large mixing bowl if you are not using stand mixer

Make a small well in the middle and add in beaten egg yolks. If you are using standmixer, attached a dough hook and run it on low to medium speed (speed 4 on kitchen aid) and gradually add in the water until the dough come together and let it knead until the dough is smooth and no longer sticky. Add a bit more water teaspoon by teaspoon if the dough is a bit dry. If you are kneading by hand, gradually incorporate the flour with the egg yolks and gradually add in flour and knead until the dough is no longer sticky to your hand and smooth

Cover the dough with plastic wrap and let it rest for 3o minutes

After 30 minutes, the dough is soft and pliable at this point. Lightly flour your work surface and divide the dough into 4 and work with one dough at a time and keeping the rest covered to prevent them from drying out. I flattened the dough with my palms (flat enough to feed through the roller) and generously dust it with some flour and set the roller to 1 and roll and fold again and gradually up the setting to 4 until you get a nice "sheet" of noodles. It's the thickness I like, not too thin and not too thick

If you plan to cook immediately, bring a large pot of water to a boil. Meanwhile, place this sheet of noodles and liberally dusted with flour and roll the rest of the dough. Change to cutter (I used fettuccine cutter for this) and feed it through the cutter and repeat with the rest of the sheets

Cook the noodles in a rolling boil water with a pinch of salt for about 1 1/2 - 2 minutes. It doesn't take long to cook fresh noodles. Do not over cook them. Once they are cooked, drain the water and rinse with cold water to stop the cooking process. You may toss the noodles with a bit of oil to prevent it from sticking to each other (depending on what you are using it for). Proceed with your recipe using the noodles

If you don't cook them on the same day, it is best to hang them on a drying rack to let them dry completely. Cooking time may take few minutes longer after you dry them
Recipe Notes
You may store the fresh noodles by freezing them. After you finished cutting the noodles, toss them in generous amount of flour and then roughly shape into several small round nest and place in a freezer bag. They go straight from freezer to boiling water to cook
This egg noodles recipe from my mom uses less eggs compare to the Homemade Matcha Egg Noodles that I made last year. Both are good. The one that used fewer eggs has a firmer texture.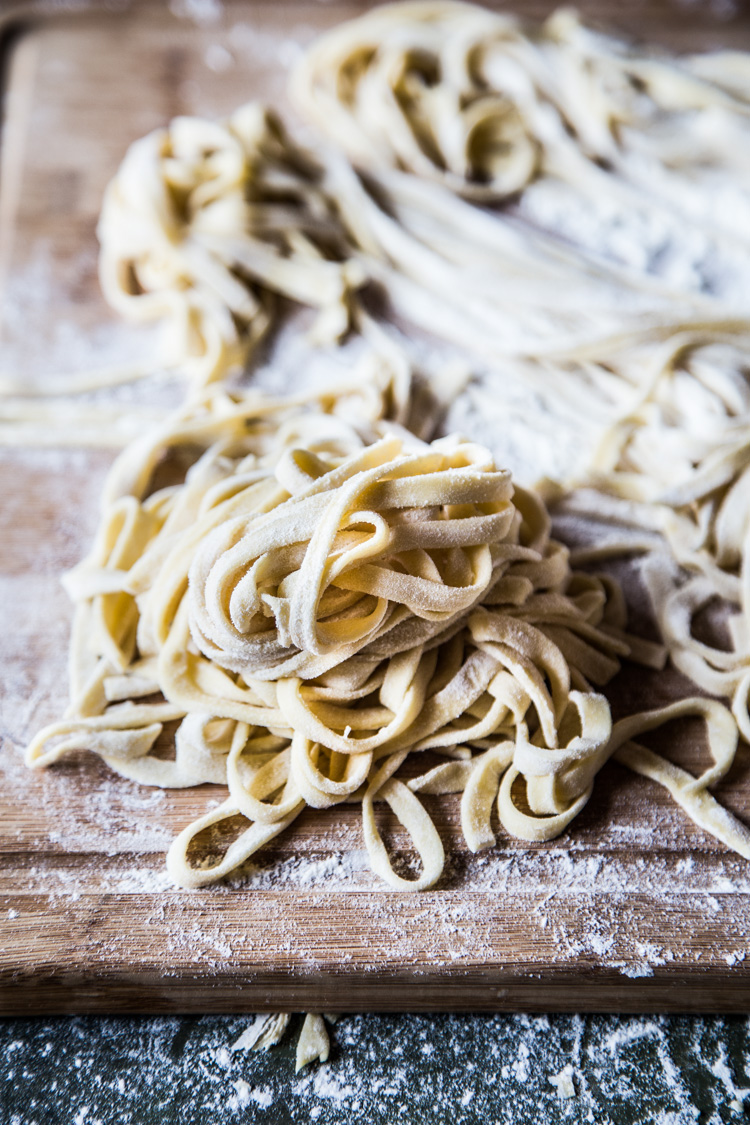 *This post contains affiliate links. You don't pay extra as a consumer if you choose to click on the link and purchase from there. What To Cook Today just receives a small commission from this. That's all. It helps to pay for the cost to have this blog up and running. Thank you so much for your support !