Make this easy and chewy delicious Chinese egg noodles or wonton noodles or also known as or mee pok or mee kia from scratch. All with natural ingredients.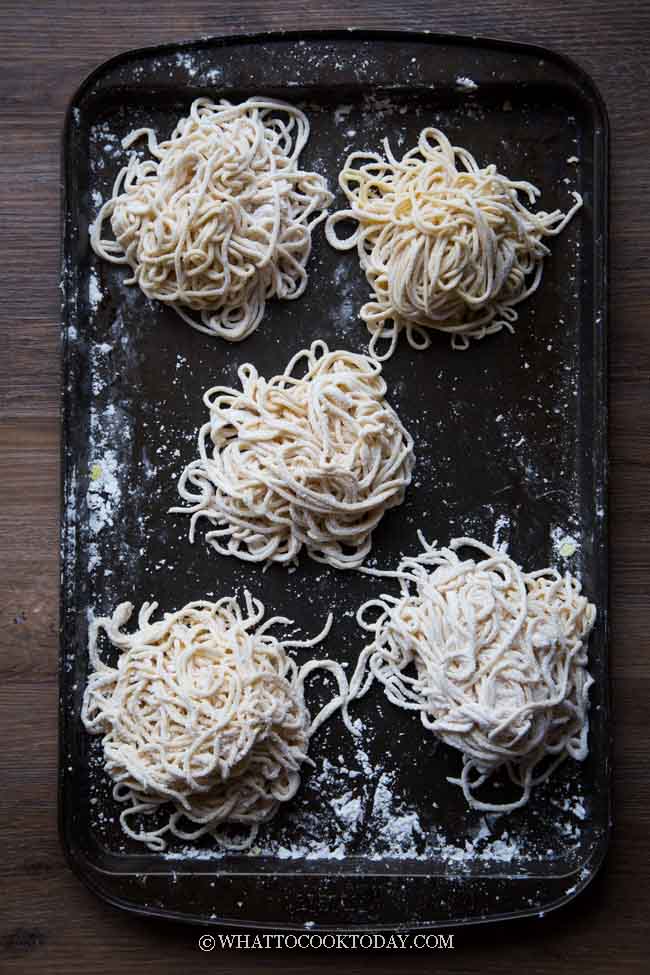 If there's such thing as noodlehead, our family will sure win that title 🙂 I think we eat noodles more often than we do rice, which is another Asian staple for carbs. Wonton noodles are my favorite. Homemade is even better because it's without preservatives and additives. In Singapore, this is known as mee kia (thin strands) and mee pok (thicker strands). We call this mie keriting (curly noodles), mie telor or mie telur, or mie kuning, or sometimes the general term is just mie basah (wet/fresh noodles) in Indonesia.
WHY YOU'LL LIKE THIS RECIPE
1. It's easy and no fuss
Most people have these ingredients in their pantry. Tapioca flour may not be common in your pantry, but they are easy to find in major grocery store these days
2. Recipe is suitable for both machine and handmade version
3. The noodles are chewy, reminds you of chewy ramen noodle texture
4. Noodles do not break easily into short pieces when you cook them
INGREDIENTS FOR CHINESE EGG NOODLES
1. BREAD FLOUR
Bread flour has the highest gluten content compared to all-purpose flour. The brand I used has 12.7 % gluten content. You can use all-purpose flour too, the noodle will have a softer texture.
2. TAPIOCA STARCH
The addition of tapioca starch contributes to that bouncy and chewy texture too, which is nice without having to add alkaline water / lye / kansui. Tapioca starch is widely available in pretty much any grocery store these days. You don't have to go to the Asian store to find one.
3. EGGS
The eggs add some richness to the noodles. This can be omitted for vegan version
4. SALT
I would not recommend omitting salt in this recipe, or any noodle dough recipe. The salt is needed to help form a nice stretchy dough
5. WATER
The dough doesn't need a whole lot of water, so do not dump all in the recipe, instead, you need to add a bit by a bit.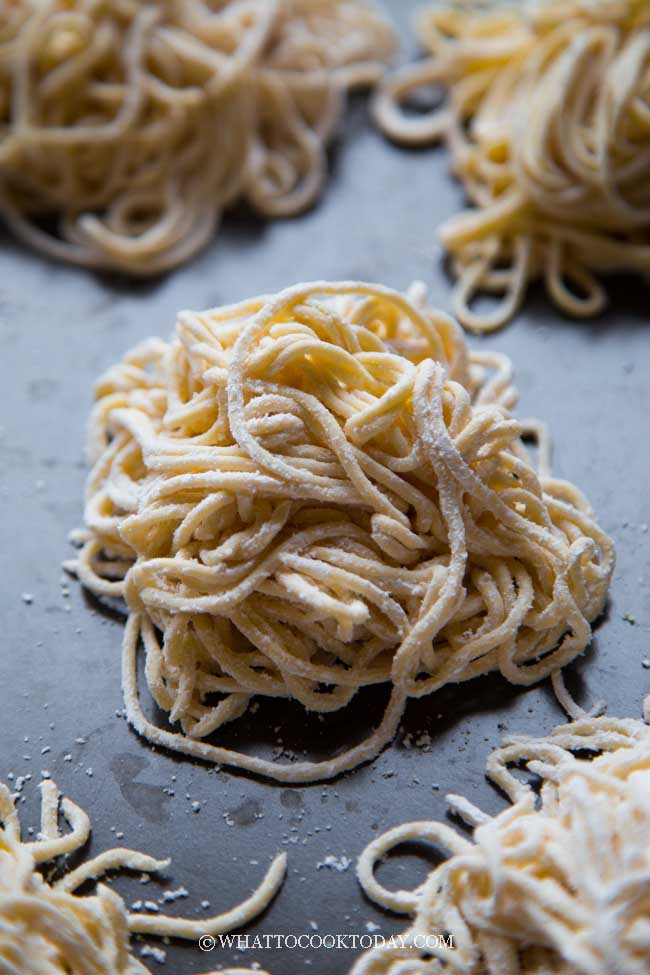 HOW TO MAKE CHINESE EGG NOODLES
1. PREPARE THE DOUGH
Mix the two flours, salt, and eggs (omit for vegan version) in a mixing bowl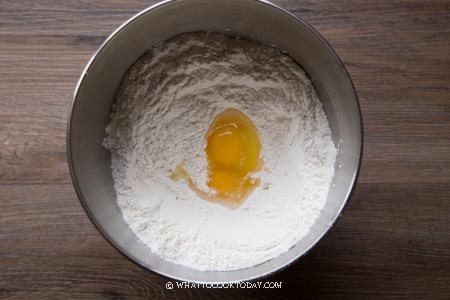 Stir to mix with a spatula and gradually add in water a bit by a bit, then eventually use your hands to mix. The dough will be VERY DRY (unbelievably dry that you might think I'm crazy!). The dough will barely come together. You still have a mass, but there will still some loose crumbs. You are on the right track. If you get a smooth dough, you won't get chewy noodles
Cover the dough with plastic wrap and let it rest for 30 minutes if you plan to roll and cut with a machine. You CANNOT skip this part. If you plan to roll and cut the noodles by hands, rest it for 1 hour. It will be easier on your arms later


After 30 minutes, uncover the wrap and you will notice that the dough is noticeably softer and easier to knead together to form a DRY mass. Yes, the dough will still be at a dry side. We want it this way, but no more loose crumbs, just dry and still ragged looking and not smooth


2. CUT THE NOODLES (WITH A MACHINE)
Flour your work surface and divide the dough into 4 and work with one dough at a time


I flattened the dough with my palms (flat enough to feed through the roller) and generously dust it with some flour


Set the roller to 1 and roll and fold again and gradually up the setting to 2 (I won't go thinner than that) until you get a nice smooth "sheet" of noodles.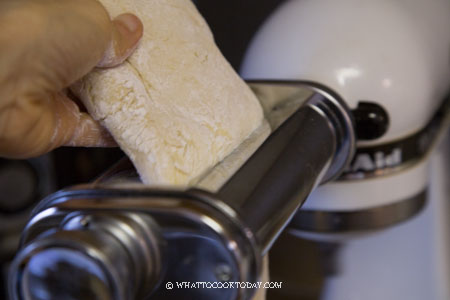 This is not smooth yet. Fold and roll again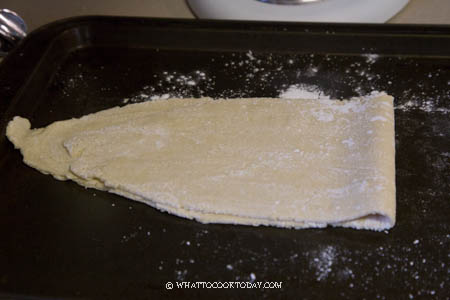 I like spaghetti cutter the best. It's perfect for this type of noodles. Fettucine may be a bit too thick and too chewy for this type of noodle, but still good. Change to a cutter, I use a spaghetti cutter. Turn the speed to 2. Generously flour the sheet with flour again and feed the sheet through the cutter. Generously toss the cut noodles with more flour to prevent sticking. Repeat with the rest of the sheets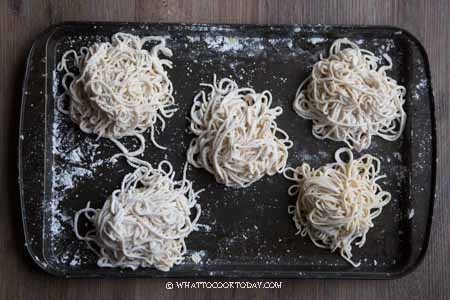 3. COOK THE NOODLES
Cook the noodles in a rolling boil water with a pinch of salt and few drops of cooking oil and boil for about 1- 1.5 minutes. It doesn't take long to cook fresh noodles. Do not overcook them


Once they are cooked, drain off all the cooking water and rinse the noodles with cold running water to get rid of excess flour/starch and proceed with a recipe you are going to use

These were cut using fettuccine cutter, so they are wider and flatter.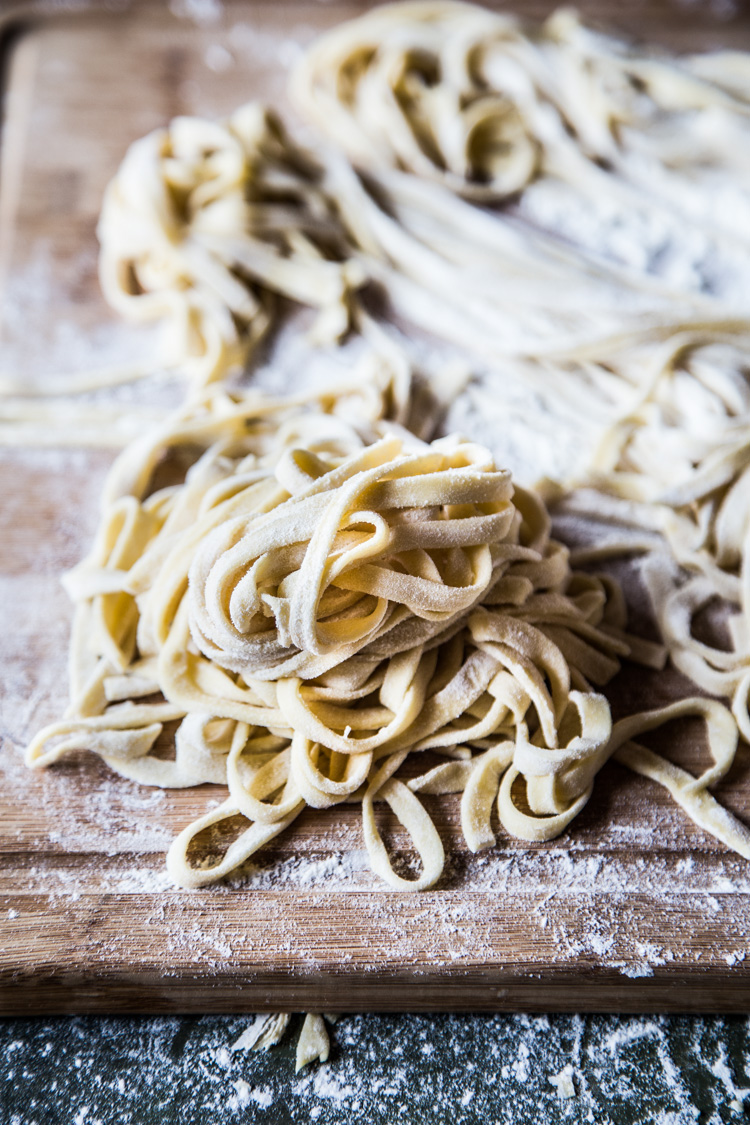 These were cut using the spaghetti cutter.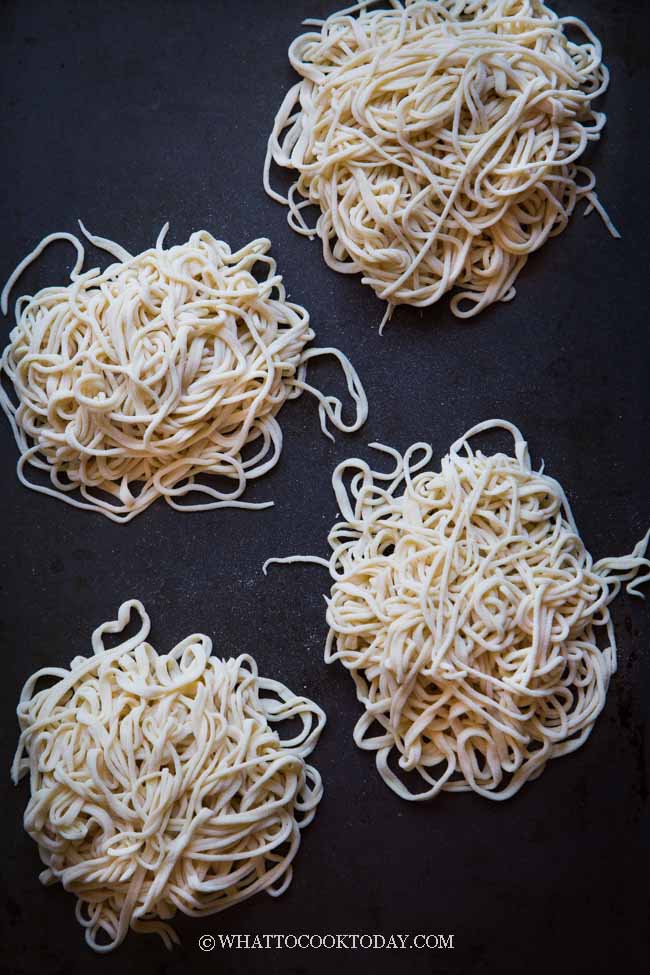 STIR-FRY NOODLES OR TOSSED NOODLES RECIPE IDEAS
Dry Wonton Noodles (Kon Lo Wantan Mee)
The Best Indonesian Mie Goreng (Mie Goreng Jawa)
Super Easy Scallion Oil Noodles
Asian Crispy Ground Beef Noodle Salad
Mie Kangkung Belacan Medan (Spicy stir-fried noodles with shrimp paste and water spinach)
Mie Aceh (Aceh noodles)
Super simple spicy and tangy noodles
NOODLE SOUP IDEAS
Mie Sop Ayam Medan (Indonesian Chicken Noodle Soup)
Speedy Rotisserie Chicken Noodle in Coconut Lemongrass Soup
Saucy Curry Shrimp Chow Mein
Mie Hokkien Medan / Hokkian Noodle
Mie Ayam Jamur (Noodles with Chicken and Mushroom)

HOW TO STORE HOMEMADE NOODLES
STORING: For cooked noodles, toss the noodles with a bit of cooking oil after cooking, let them cool down completely. Place them in a ziplock bag and they can be kept in the fridge for up to 5 days. For uncooked noodles, portion the noodles out and coil them into rounds and then place in a baking sheet lined with parchment paper and place the noodles not touching each other and let them freeze for 1 hour and then transfer to a freezer bag. They can be kept in the freezer for up to 1 month. DO NOT KEEP uncooked noodles in the fridge, they will not survive and turn into mush! You can proceed to cook the frozen noodles without thawing in boiling water after that.
This egg noodles recipe from my mom uses fewer eggs compared to the Homemade Matcha Egg Noodles that I made last year. Both are good. The one that used fewer eggs has a firmer and chewier texture.

DID YOU MAKE THIS CHINESE EGG NOODLES RECIPE?
I love it when you guys snap a photo and tag to show me what you've made 🙂 Simply tag me @WhatToCookToday #WhatToCookToday on Instagram and I'll be sure to stop by and take a peek for real!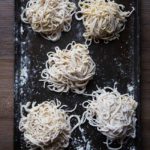 Chinese Egg Noddle/Wonton Noodles (Mee Pok / Mee Kia) - from scratch
Ingredients
500

gr

bread flour

plus more for dusting

125

gr

tapioca starch

2

large

eggs

beaten

½

tsp

salt

200

ml

water

Gradually start with this amount and add more as needed
For vegan version:
500

gr

bread flour

plus more for dusting

125

gr

tapioca starch

½

tsp

salt

280

ml

water

Gradually start with this amount and add more as needed
Instructions
The full recipe yield about 1500 grams (3.3 lbs) cooked noodles
Prepare dough:
Mix the two flours, salt, and eggs (omit for vegan version) in a mixing bowl. Stir to mix with a spatula and gradually add in water a bit by a bit, then eventually use your hands to mix. The dough will be VERY DRY (unbelievably dry that you might think I'm crazy!). The dough will barely come together. You still have a mass, but there will still some loose crumbs. You are on a right track. If you get a smooth dough, you won't get chewy noodles

Cover the dough with plastic wrap and let it rest for 30 minutes if you plan to roll and cut with a machine. You CANNOT skip this part. If you plan to roll and cut the noodles by hands, rest it for 1 hour. It will be easier on your arms later

After 30 minutes, uncover the wrap and you will notice that the dough is noticeably softer and easier to knead together to form a DRY mass. You just need to knead it a couple times to form a ragged dough. Yes, the dough will still be at a dry side. We want it this way, but no more loose crumbs, just dry and still ragged looking and not smooth
Cutting the noodles with a machine:
Flour your work surface and divide the dough into 4 and work with one dough at a timeI flattened the dough with my palms (flat enough to feed through the roller)  and generously dust it with some flour and set the roller to 1 and roll and fold again and gradually up the setting to 2 (I won't go thinner than that) until you get a nice smooth "sheet" of noodles.

I like spaghetti cutter the best. It's perfect for this type of noodles. Fettucine may be a bit too thick and too chewy for this type of noodle, but still good. Change to a cutter, I use spaghetti cutter. Generously flour the sheet with flour again and feed the sheet through the cutter and repeat with the rest of the sheets 
Cutting the noodles by hands:
I have to warn you it's a bit harder to roll it with rolling pin because of how dry the dough is, but it's doable, just more elbow grease. Dust your working surface with flour. Flatten the dough slightly and then use a rolling pin to roll into about 1/4-inch thickness. You may have to fold and re-roll the dough several times to get a smooth sheet of noodles. If at any point the dough is getting resistant, rest it for 10-15 minutes and go back and you'll be surprised by how easier it is to roll it now

Starting from the side near you, roll the sheet of dough up into a long roll and use a sharp knife to cut into thin or thick strips (it's up to you). Dust the strips of noodles you cut with flour to prevent them from sticking together. Repeat with the rest of the dough
Cooking the noodles:
If you don't cook them on the same day, it is best to hang them on a drying rack to let them dry completely. Cooking time may take few minutes longer after you dry them. You can also make them into bundles and freeze each bundles

Cook the noodles in a rolling boil water with a pinch of salt and few drops of cooking oil and boil for about 1- 1.5 minutes. It doesn't take long to cook fresh noodles. Do not overcook them. Once they are cooked, drain off all the cooking water and rinse the noodles with cold running water to get rid of excess flour/starch and proceed with a recipe you are going to use
Recommended products:
Nutrition
Serving:
1
serving (with egg version)
|
Calories:
394
kcal
|
Carbohydrates:
79
g
|
Protein:
12
g
|
Fat:
3
g
|
Saturated Fat:
1
g
|
Polyunsaturated Fat:
1
g
|
Monounsaturated Fat:
1
g
|
Trans Fat:
0.01
g
|
Cholesterol:
62
mg
|
Sodium:
224
mg
|
Potassium:
111
mg
|
Fiber:
2
g
|
Sugar:
0.3
g
|
Vitamin A:
92
IU
|
Calcium:
23
mg
|
Iron:
1
mg