Noodles (or pasta) are tossed in savory sauce and aromatic and easy homemade scallion oil. The cong you ban mian recipe can be easily customized to your liking too.
CONG YOU BAN MIAN
Talking about simplicity, cong you ban mian or scallion oil noodles is an example of exactly that. Noodles tossed in seasoned scallion oil and nothing else. Something so simple but incredibly flavorful. Over the years I have made scallion oil noodles countless times. Similar to the super simple spicy and tangy noodles that my mom made for me several years ago when she visited and I got hooked immediately. The key to the amazing scallion oil noodles is well…hello..the fried scallion oil 😉

HOW TO MAKE SEASONED SCALLION OIL
You pretty much only need scallions and cooking oil. Please note that scallion is also known as green onion or spring onion. They all mean the same thing. Here's how to easily make it:
1. Cut scallion into about 3-4 inch length
2. Preheat 1/3 cup of oil in a medium skillet over medium heat
3. Fry them over medium heat until dark brown, but not burn. Remove the scallion from the oil and set aside


4. Add seasonings to the oil and cook until sugar is melted and the oil bubbles. Remove from the heat. They are ready to be used
WHAT KIND OF OIL TO USE
You can use any neutral tasting oil such as canola oil, grapeseeds oil, avocado oil, peanut oil, vegetable oil.
WHAT KIND OF NOODLE OR PASTA TO USE
You can use dried or fresh noodles. Usually, people like to use thin round noodles, but it's really up to you. You can use ramen noodles, egg noodles, udon noodles. I've made it with pasta like spaghetti and angel hair pasta too. My kids like short pasta like penne and elbow and I've tossed those short pasta with seasoned scallion oil and they gobbled them up in no time.
In this post, I used this thin round dried wheat noodles

TOP TIPS YOU NEED TO KNOW
1. Do not overcook the noodles
Dried noodles will take slightly longer to cook compared to fresh noodles. You want to cook it to al dente (firm to bite)
2. Do not rinse the noodles after cooking
Since we will be tossing the noodles with seasoned scallion oil, you don't want to rinse the noodles with fresh water as the sauce will not cling to the noodles. Which is why it's important not to overcook the noodles too as the noodles will continue to cook even after you drain off all the liquid
3. Fried the scallions over medium heat
You want the scallions to release flavor into the oil. If you cook them over high heat, the scallions will get burn before they have time to flavor the oil

CUSTOMIZE THE NOODLES
Scallion oil noodles are intended to be served as a side. Well, though it is eaten as if it is a main course in Shanghai. But here in America, it is considered as a side simply because it is mainly carbs 🙂
You can make it into a complete meal by doing this:
1. Add protein
You can add fried egg, boiled egg, leftover rotisserie chicken, leftover turkey, grilled shrimp, pan-fried tofu, ground pork, ground beef
2. Add veggies
Blanched bokchoy, blanched beansprouts, mushrooms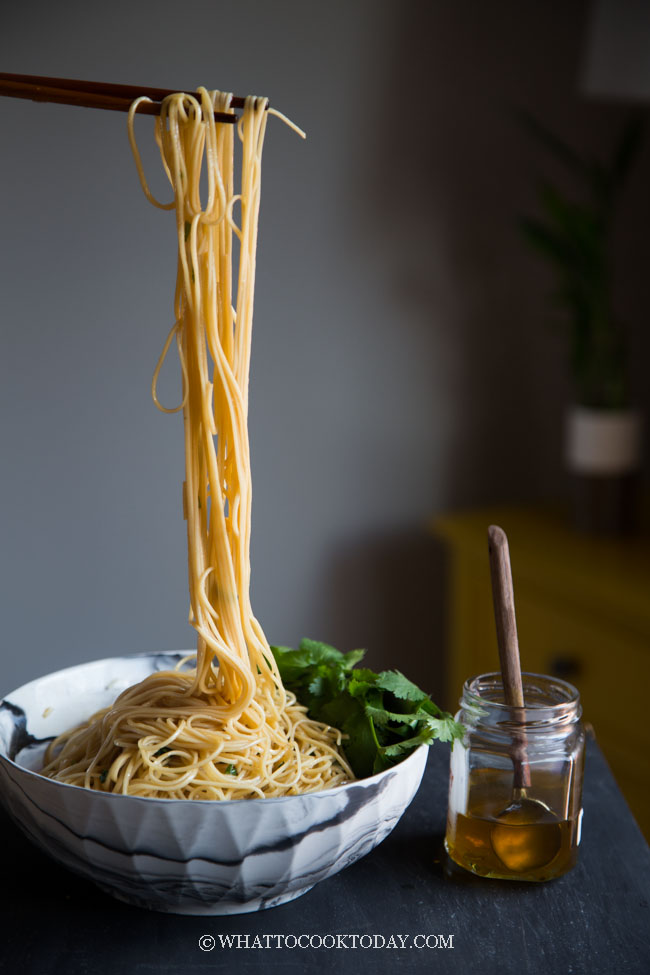 This blog post contains affiliate links. I earn a small commission when you made purchase at no extra cost to you. Learn more.
Super Easy Scallion Oil Noodles (Cong You Ban Mian)
Ingredients
1

lb

dried thin round noodles

about 450 gr
Scallion oil:
⅓

cup

cooking oil

10

stalks

green onion

cut into about 3-4 inch length
Garnish:
Fresh cilantro leaves

optional
Instructions
Prepare seasoned scallion oil:
Pour cooking oil on a medium pan and heat over medium heat. Add scallion and let them fry over medium heat until they are dark brown, but take care not to burn them. Remove the scallion from the oil with tongs and set aside. You can include the scallion in the noodle or discard, or leave them in the oil. Mine was a tad too brown and so I didn't include them in the noodles

Add the seasonings to the oil and cook until sugar melted and the oil bubbles. Remove from the heat
Cook the noodles:
Cook the noodles according to instruction on the package. Do not overcook the noodles (or pasta, if using pasta). Drain off the water but do not rinse
Put everything together:
Put cooked noodles in one large serving bowl. Add the seasoned scallion oil by few spoonfuls and toss. Have a taste and add few more until the noodle tastes good to you. They are ready to be served