Sweet Chinese-style soup made with snow fungus, dried longan, black dates, red dates, lotus seeds, goji berries and sweetened with rock sugar is often served as light dessert at the end of the meal.
WHAT IS TONG SUI?
It is not unusual to be served "soup" dessert at the end of the meal when you dine at restaurants that serve authentic Chinese, mainly Cantonese, cuisine. Tong sui literally translated to "sugar water". This snow fungus dessert soup is just one example of tong sui.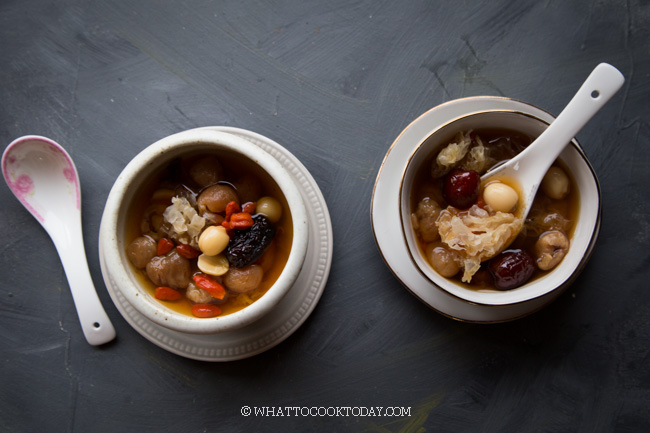 WHAT IS SNOW FUNGUS?
Snow fungus is very commonly used in Chinese cuisine, for both savory and sweet dishes. Snow fungus or also known as white fungus or pek bok nie (jamur putih), silver ear (银耳 "yin er") has been grown in China for hundreds of years. As its name implies, it is a fungus. Snow fungus usually comes in dried form and need to be rehydrated by soaking in the water until it's soft and plump up before you can use it in cooking.
WHERE TO BUY SNOW FUNGUS?
Snow fungus is available in majority of Asian grocery stores. The fungus is usually whitish yellow in color (as shown in the photo below)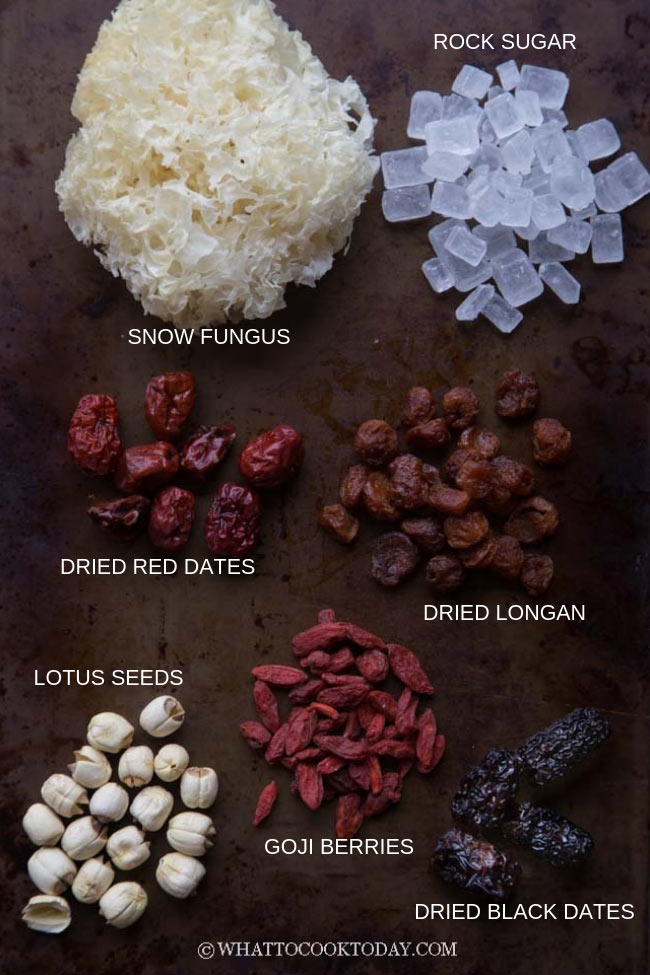 BENEFIT OF CONSUMING SNOW FUNGUS
I'm not a Traditional Chinese Medicine experts, but I know from my mom that the Chinese consumes it mainly for its medicinal properties such as in healing dry cough, respiratory problems, and anti inflammatory properties. The women consume it for beauty reason, yes..the collagen. The collagen content in snow fungus is believed to be comparable to those of bird's nest but not nearly as expensive as bird's nest.
HOW TO PREPARE SNOW FUNGUS
1. Soak the snow fungus in clean warm water until they are soft. The time really depends on how big the snow fungus is. It took me about 10 minutes to soften this one.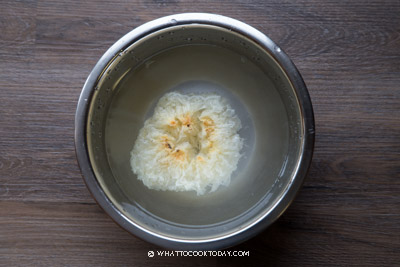 2. Once it is soft, trim off the tough yellowish part at the bottom of the snow fungus with kitchen shears and cut into smaller pieces. They are ready to be used now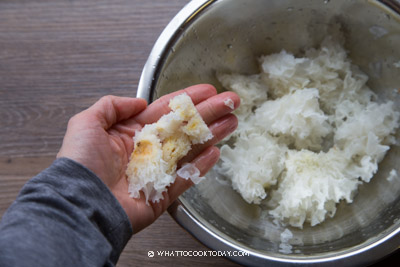 HOW TO COOK SNOW FUNGUS DESSERT SOUP
1. Bring water to a boil and add the prepared snow fungus, red dates, black dates, lotus seeds, dried longan in the large pot


2. Bring back to a boil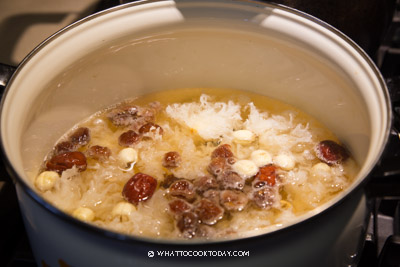 3. Lower the heat to let it gently simmer with a lid ajar slightly if you afraid it might boil over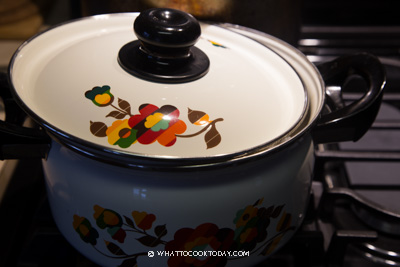 4. After about 20 minutes, everything in there should've been softened and plump, if not, cook a bit longer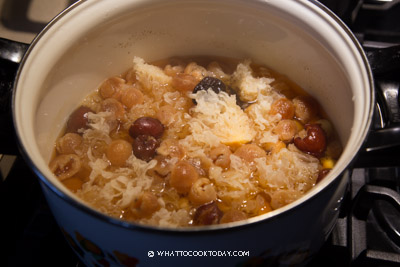 5. Add rock sugar and stir until they melt. Have a taste until you are happy with the level of sweetness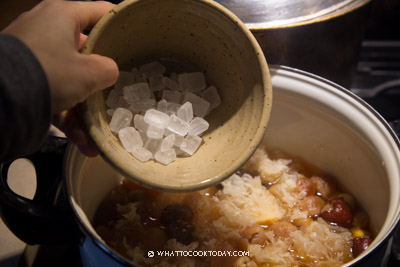 6. Add goji berries last
Overcooked goji berries will make your soup tastes sour. Only add goji berries in the end as they only need 5 minutes or less to cook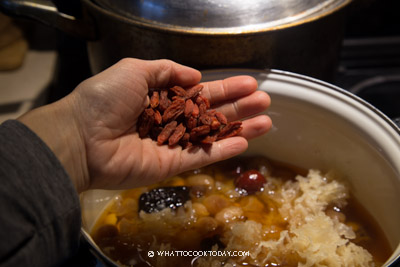 7. Turn off the heat and they can be served warm or chilled
YOU CAN CUSTOMIZE THE INGREDIENTS
There's really not hard and fast rule here. The main star here is obviously the snow fungus. The rest of the ingredients, you can pretty much substitute with whatever you like. My suggestion is to have at least : dried longan and red dates.
Other possible ingredients: fruit like pears, papaya and apples, gingko nuts
Substitution for dried longan: you can used fresh longan or canned. Just add them after everything is cooked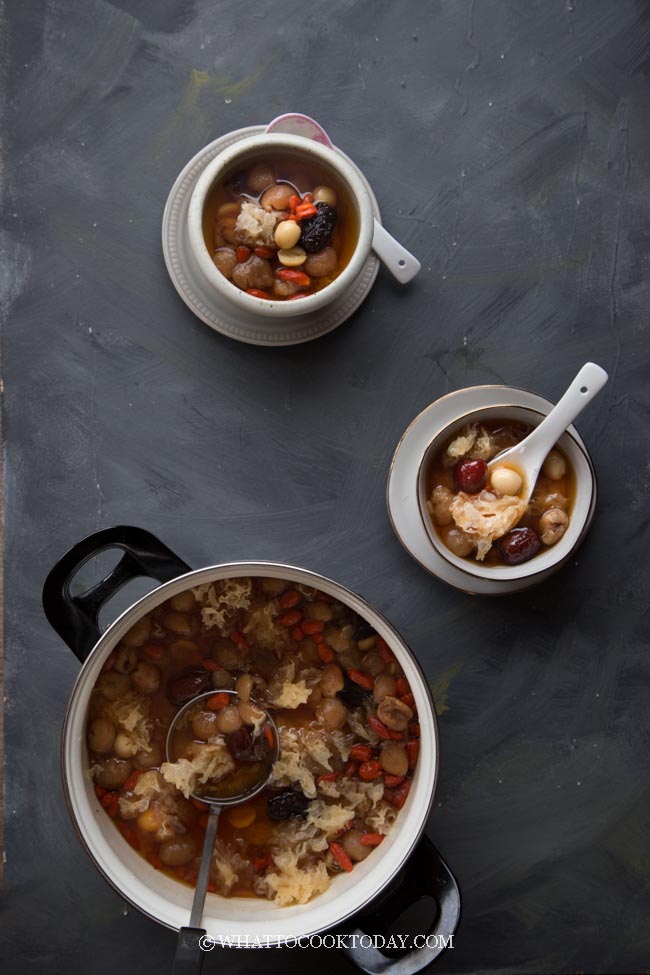 Snow fungus soup dessert is also often prepared for important celebrations such as Chinese New Year, weddings, birthdays, etc. to give you the sweet year and sweet blessings. Yup, another food with auspicious meaning.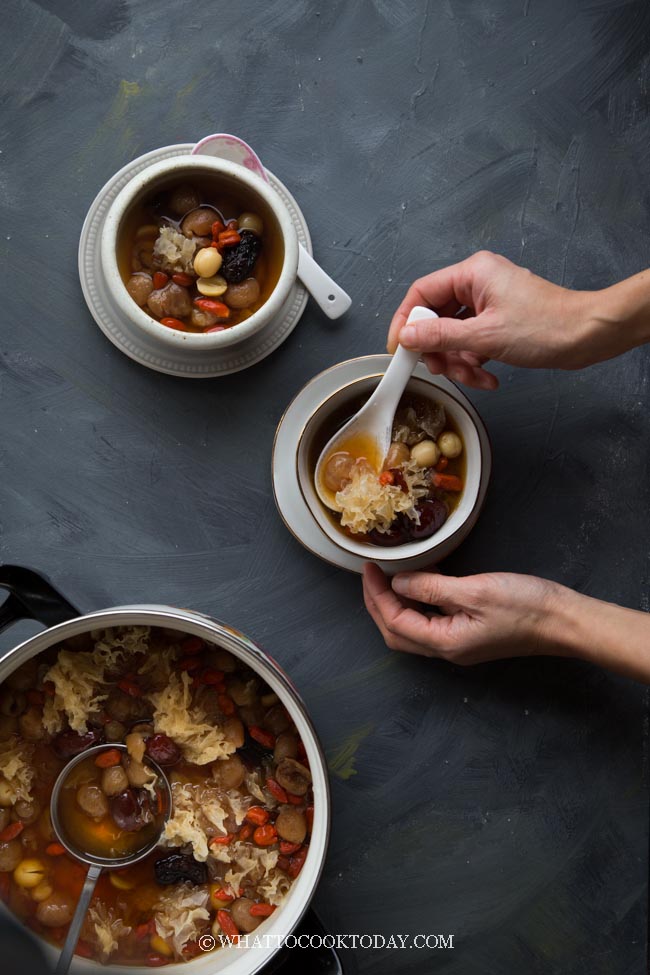 Have you ever tried snow fungus before? If you like snow fungus, you will like it in savory dish like in this fish maw snow fungus soup.
Snow Fungus Dessert Soup (Tong Sui)
Instructions
Prepare red dates, black dates, snow fungus, and lotus seeds:
Rinse the red dates, black dates, lotus seeds, dried longan, and goji berries with clean water before using

Soak red dates and black dates in warm water for 5 minutes and then use small knife to make a slit and remove pits in the middle

Use a small knife to pry open the lotus seeds and remove the black seed in the middle. Soak the seeds in hot boiling water while you prepare other things. There's no need to soak lotus seeds overnight

Soak the dried snow fungus in warm water until soft and plump. Discard water and use kitchen shears to cut snow fungus into smaller pieces and then trim off the yellowish crusty part at the bottom. Discard those
Cooking:
Bring water to a boil. Add the snow fungus, red dates, black dates, lotus seeds, longan in a large pot. Bring back to a boil and then lower the heat to let it gently simmer for the next 20 minutes. Cover with a lid, leaving a bit gap if you are afraid it might boil over

After 20 minutes, everything in there should have been softened. If not, let them simmer a bit longer. Add rock sugar and stir until melt. Taste for sweetness. Add more if you prefer. Once you are happy with the level of sweetness, add the goji berries, turn off the heat. The residual heat will soften the goji berries. You don't want to overcook goji berries as they will turn sour

The dessert can be served warm or chill
Storing:
Leftover can be stored in the refrigerator. I recommend not to store for more than 3 days if possible