Easy to prepare dried scallop abalone congee is comforting and packed with incredible flavors.
Dried scallop congee is one of my favorite childhood congee. The mention of dried scallop reminds me of mom. I love fresh scallop for its sweetness and dried scallop is the same. So sweet and packed with umami flavor. Chinese home cooks love to use dried scallop in preparing rice congee like this
WHAT ARE DRIED SCALLOPS?
Dried scallops or known as "gan bei" or "con poy" in Chinese (干贝) are considered one of the gourmet ingredients. The price varies depending on the size. They are made by cooking raw scallops and then dehydrated until they are dried. Back in the olden days, dried scallops are made as a way to prolong shelf life. Dried scallops have very intense flavor and lend some sweetness to the finished dish too. Dried scallops are commonly used to cook congee like this, stir-fry, sauces, and stews. The famous Cantonese XO sauce that is used in stir-fry dishes is made with mainly dried scallops.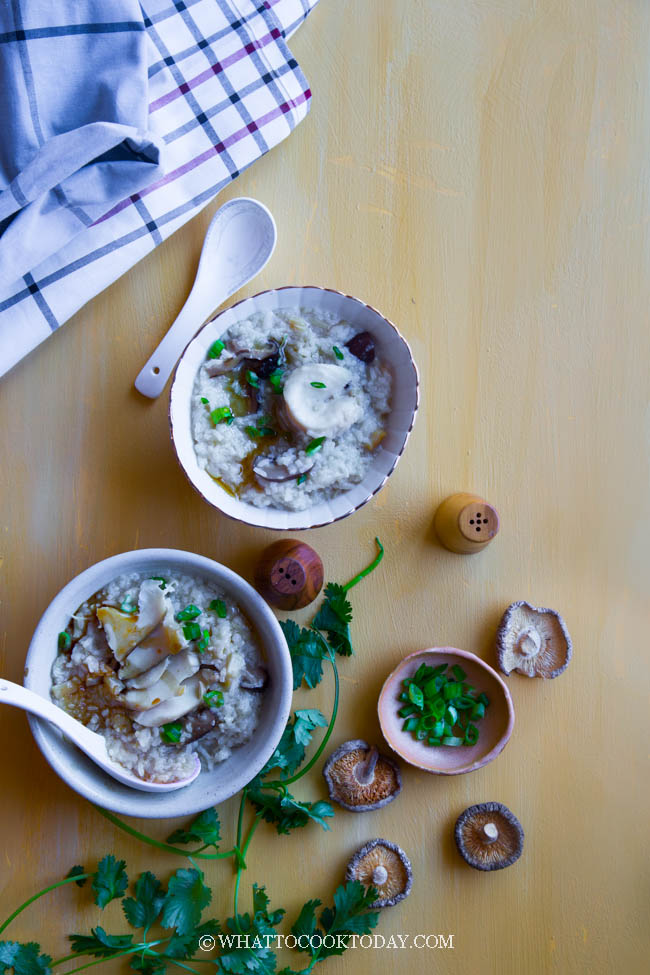 HOW DO YOU USE DRIED SCALLOPS?
Dried scallops need to be reconstituted before you can use them in cooking. Here's how:
1. Rinse the dried scallops with clean water and place them in a bowl


2. Soak in warm water for 30 minutes or until softened


3. Once softened you can easily shred them and they are ready to be used

This recipe also used canned abalone. Like I mentioned before in my other posts using abalone that canned abalone doesn't take long to cook as they have been prepared and cooked and it's suitable for making this congee. I also used the juice that was packed with the abalones to elevate the taste further!

I leave one of the abalones in whole for presentation and photography reason 🙂

This dried scallop abalone congee recipe is perfect to make during Chinese new year because canned abalone is one of the gifted items during CNY.

What's your favorite food made with dried scallops?

This blog post contains affiliate links. I earn a small commission when you made purchase at no extra cost to you. Learn more.
Dried Scallop Abalone Congee (Porridge)
Ingredients
Serve with:
Fresh ginger

julienned

Green onion

finely chopped

¼

tsp

white pepper powder
Instructions
Place the dried scallops in a bowl and soak in warm water until softened, about 15-20 minutes. Once they are softened, they can be easily shredded into strands

Soak shiitake mushrooms in warm water until softened. Cut into long strips

Wash the rice briefly and drain off all water. Pour chicken broth and juice from canned abalone into a large pot. Bring to a boil and then add the rice, dried scallops, and mushrooms. Lower the heat to medium and let the congee simmer for the next 30 minutes with the lid slightly ajar. Stir the congee every now and then to prevent the rice grains getting caught at the bottom of the pot and burn

If the congee is too thick, you can add a bit more water to thin it out to the consistency you like

When you are happy with the consistency of the congee, add the abalone slices and cook for about 2 minutes and then turn off the heat. I leave one of the abalones in whole for presentation reason. Season the congee with salt to your taste
Serving:
Serve the congee with julienned ginger strips, green onions, white pepper and soy sauce on the side. Some drizzle of sesame oil if prefer