Learn how to easily prepare this colorful, simple yet tasty yu sheng / prosperity toss salad to welcome the Chinese New Year with a prosperity toss (lo hei) without feeling overwhelmed. This recipe also includes two kinds of plum dressing you can choose from to toss with your prosperity salad.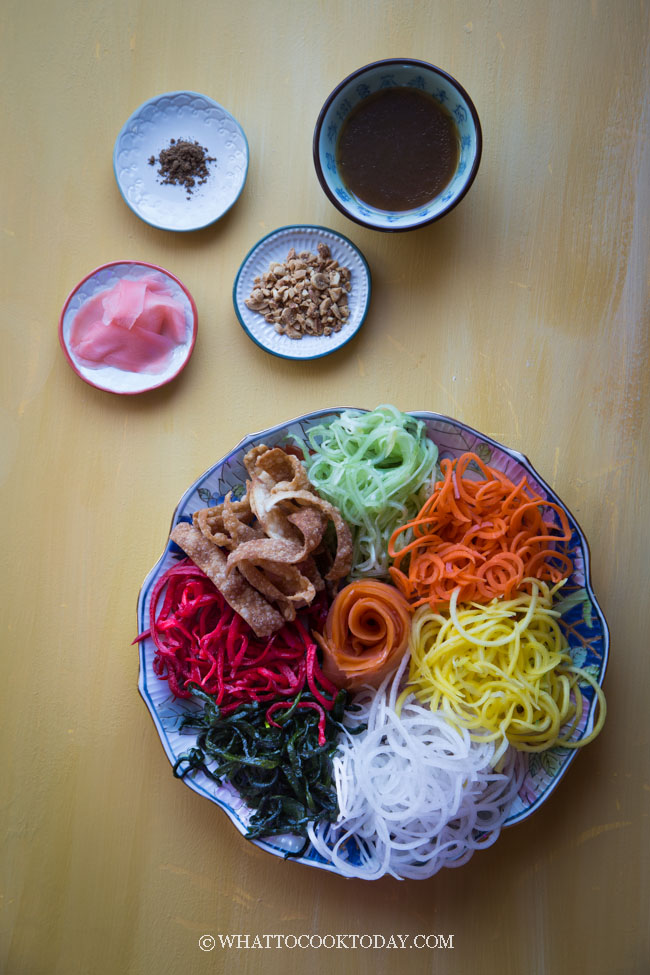 I learned about this tradition of lo hei when I was in Singapore. I was able to participate in this fun ceremony sponsored by the company I worked for back then. Businesses like to have yee sang to bring them more fortunes and prosperity. Restaurants charge hefty price for yu sheng. I always thought making yu sheng at home is troublesome and probably not something I can do at home, but that's not true. My version of yu sheng is not super fancy. I did not use raw salmon or slices of abalones, but I can tell you that it's still very tasty and my husband who had yu sheng for the first time love it!
CHINESE NEW YEAR LO HEI (PROSPERITY TOSS SALAD)
This tradition is only common in Singapore and Malaysia. This practice is not common in China. Lo hei or also known as yu sheng or yee sang is basically a salad made with colorful strips or strands of vegetables, fresh raw fish slices, condiments, and plum sauce (dressing). Each of the ingredients has its auspicious meaning in yu sheng. Yu sheng (魚生) itself means raw fish. This yu sheng has the same pronunciation with the other yu sheng (余升), which means an increase in abundance. Sounds the same, but different writing in Chinese and means a different thing. Now you can see why yu sheng is considered one of the auspicious food for Chinese new year and represents prosperity and abundance.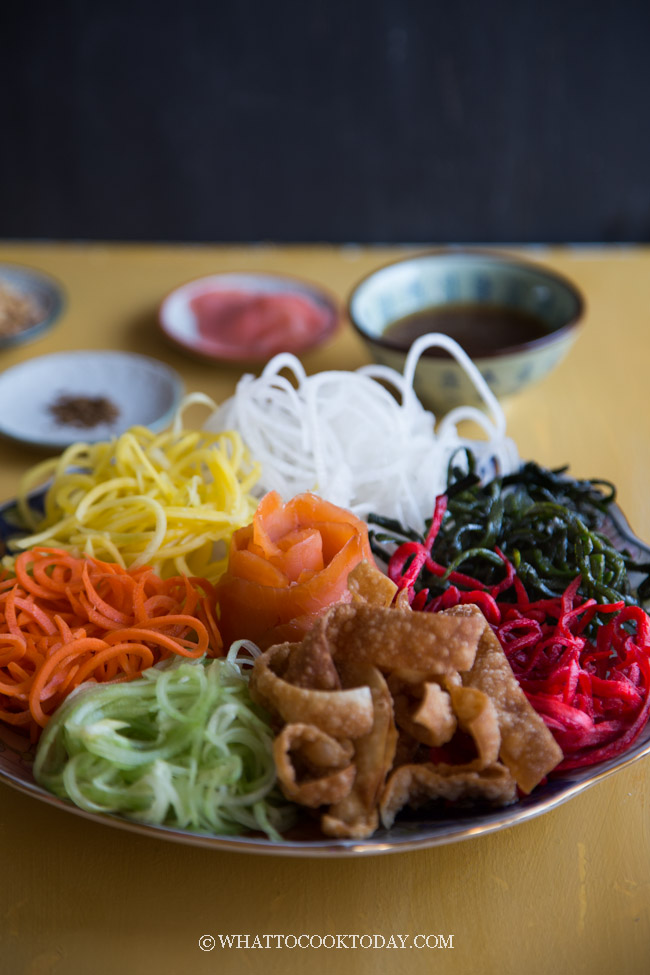 INGREDIENTS FOR YU SHENG
In this recipe I use: smoked salmon, white daikon, cucumber, green and red yam that I colored with food coloring, pickled ginger, carrot, mango, fried wonton strips, plum sauce, sesame oil, five-spice powder, sesame seeds, peanuts.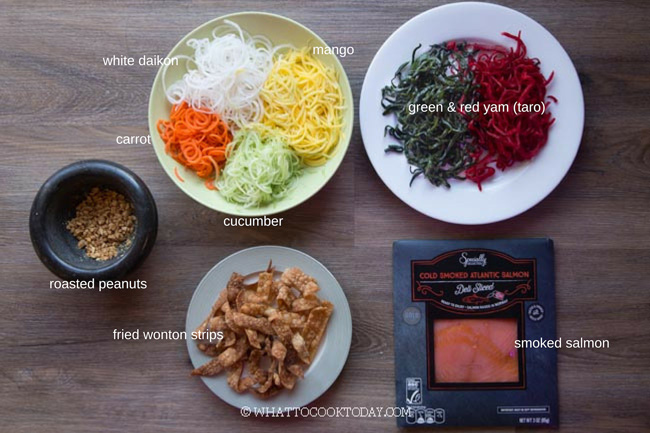 In the cooking video for no-cook yu sheng I use: smoked salmon, surimi (imitation crab meat), jicama, scallion, carrot, mango, cara cara orange, store-bought wonton strips, chow mein crisp, plum sauce, sesame oil, five-spice powder, sesame seeds, peanuts.
POSSIBLE VARIATIONS
You can pick whichever ingredient listed below you want to put together for your yee sang. You don't have to use everything on the list below. Just keep in mind that you want your yu sheng platter to be colorful.
FISH YOU CAN USE: raw salmon, smoked salmon, jellyfish, abalone
VEGETABLES YOU CAN USE: Chinese white daikon, cucumber, yam (colored into green and red), red capsicum (bell peppers), green capsicum, pickled ginger, purple cabbage, red beets, jicama, coriander, pickled leeks, onions, green onion, Japanese seaweed salad
NUTS: roasted peanuts, sesame seeds
FRUITS: pomelo, mango, mandarin oranges, papaya, grapefruit
CRACKERS: fried wonton strips, wheat crackers
DRESSING (I highly recommend this plum mayo version): sugar, kewpie mayo, thousand island dressing, plum sauce, lime juice, sesame seeds
MODERN DAY YEE SANG
In these modern days, many ingredients have been added to make the salad even more colorful. You will see meat and grilled fish added to it. Some only do fruit yee sang or vegetarian yee sang. I supposed the most important thing is to keep it colorful and to make sure you are able to grab the ingredients with chopsticks and toss it high.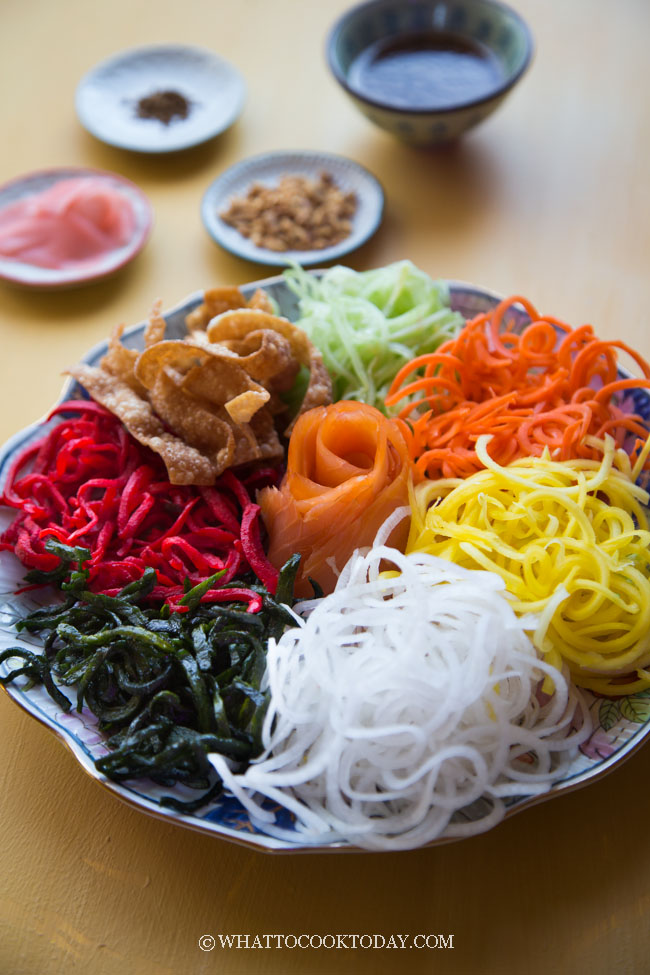 HOW TO PREPARE YU SHENG AT HOME (MY VERSION)
1. THE DAY BEFORE
– Make fried wonton strips (if you choose not to buy)
– Make colored yam strips (red and green colors) if you choose to use yam
– Make the dressing


-Shred the vegetables and fruits
If you have a special veggie peeler with julienne blade (teeth), it will definitely make your life easier. You can also use mandoline or spiralizer. I use my spiralizer to spiralize some of the veggies and fruit! Those that can't be spiralized, I simply use a knife and manually cut into strips (as shown in cooking video)
2. ON THE DAY OF SERVING
-Make the smoked salmon rose
1.Line slices of smoke salmon slightly overlapping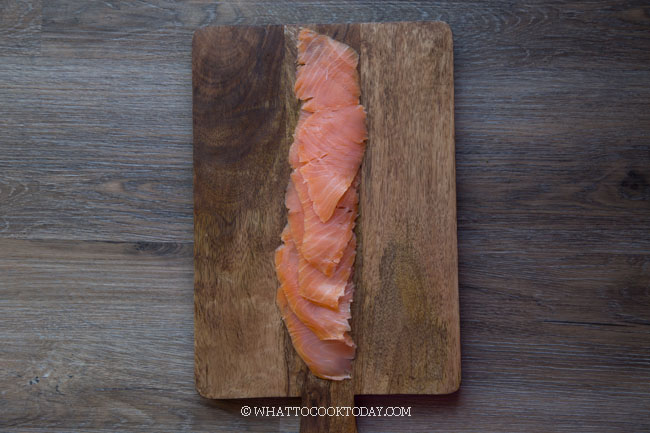 2. Roll it up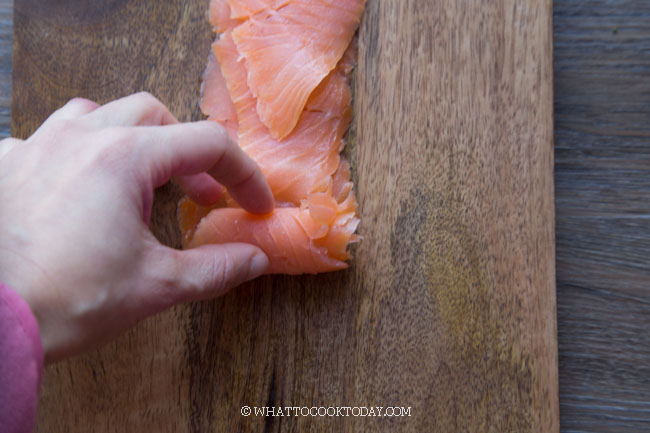 3. And there you have the rose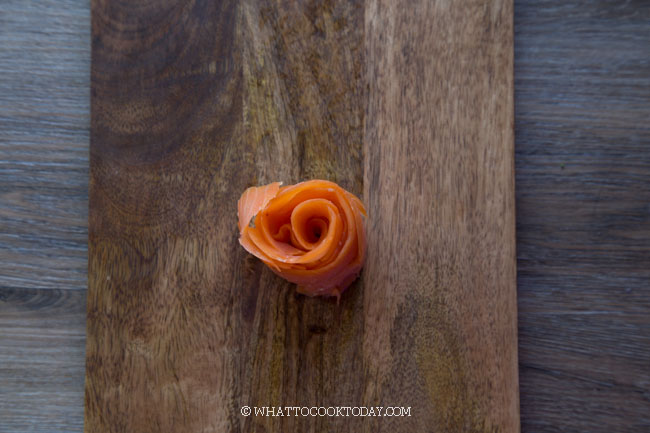 3. PROCEED TO THE LO HEI CEREMONY
HOW TO EAT YU SHENG? and WHAT TO SAY FOR LO HEI CEREMONY?
STEP ONE: Everyone will gather around the table and say "Xin Nian Kuai Le, Gong Xi Fa Cai, Shen Ti Jian kang, Wan Shi Ru Yi" (which means Happy New Year, May you be prosper, Blessed with good health, All your dreams come true) when they put the yu sheng ingredients on the table.
STEP TWO: Then each ingredient is added to the plate while saying auspicious greeting for each one.
1. Fish is added and say "年年有余 (Nian Nian You Yu)" means abundance throughout the year
2. Red or orange items like red yam, cara cara orange, carrots, pickled ginger, surimi are added and say "鸿运当头 (Hong Yun Dang Tou)" means good luck is approaching
3. Green items like cucumber, green yam, scallion are added and say "青春常驻 (Qing Chun Chang Zhu)" means eternal youth
4. White radish or jicama is added and say "步步高升 (Bu Bu Gao Sheng) and 风生水起 (Feng Sheng Shui Qi)" means reaching higher level with each step and progress in a fast pace
5. Pomelo (in my case mango) is added and say "大吉大利 (Da Ji Da Li)" means good luck and smooth sailing
6. Fried wonton strips or crackers is added and say "满地黄金 (Man Di Huang Jin)" means flooded with gold
7. Crushed roasted peanuts is added and say "金银满屋 (Jin Yin Man Wu)" means house is filled with gold and silver
8. Oil is added and say "多多油水 (Duo Duo You Shui)" means lots of oil and water
9. Five-spice powder is added and say "五福临门 (Wu Fu Lin Men)" means five blessings
10. Sesame seeds are added and say "生意兴隆 (Sheng Yi Xing Long)" means may the business prosper
11. Plum sauce is added and say "甜甜蜜蜜 (Tian Tian Mi Mi)" means sweet and loving relationship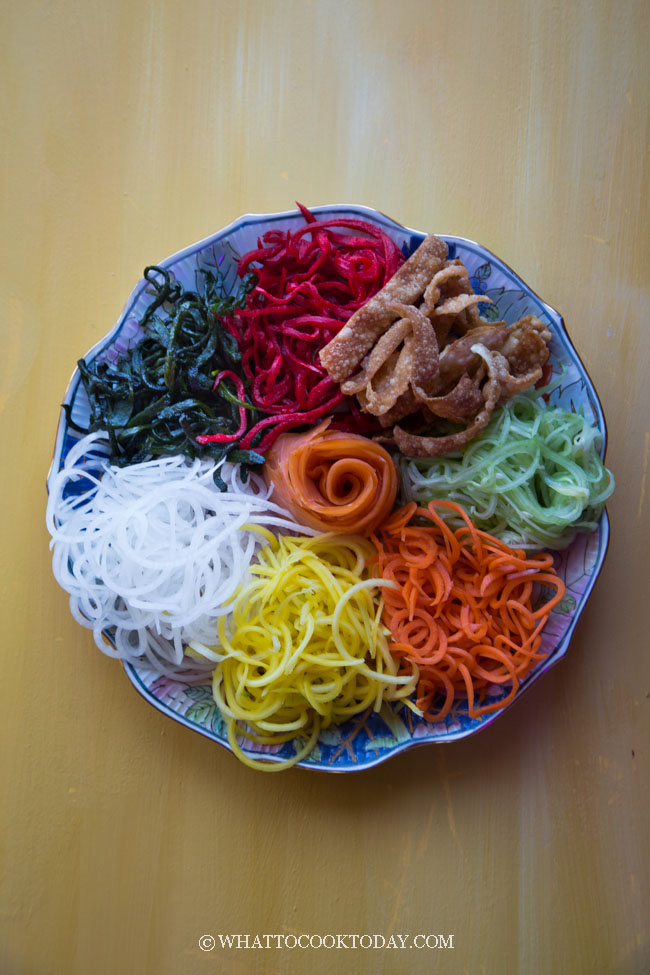 STEP THREE: TOSSING TIME
After all the ingredients are added, toss them together 7 times while shouting your auspicious wishes as loud as you can. Toss the salad as high as you can while saying your wishes. The higher you toss and the louder you say your wishes, the greater the fortunes will be.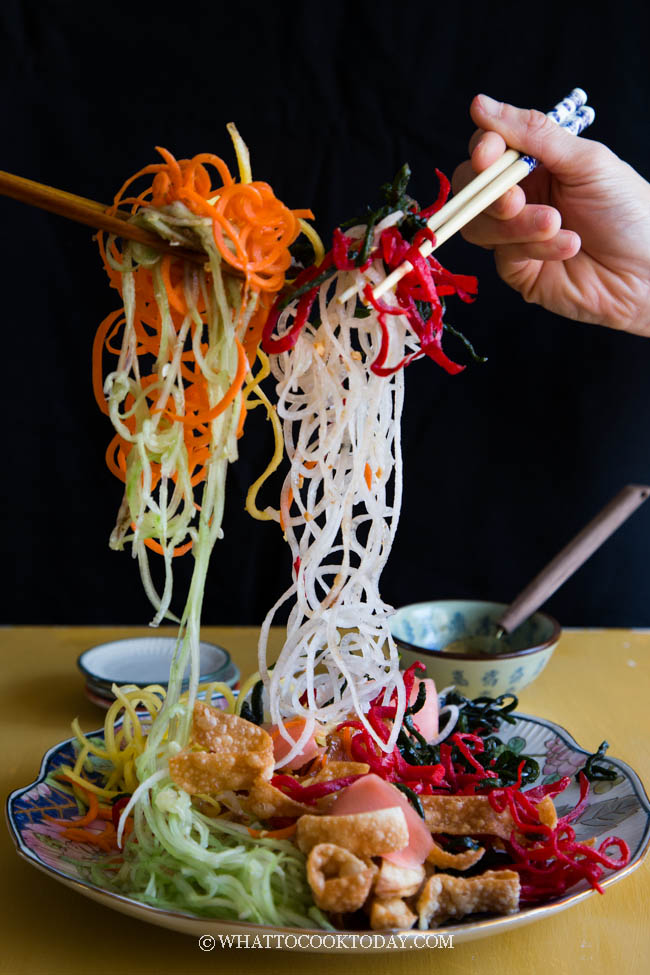 I find lo hei ceremony is fun to do with family member or colleagues. The more people the merrier. It's not a tradition I grew up with. I just started with lo hei this year because I really want my kids to get exposure to lo hei ceremony that they probably will never witness unless they are in Singapore during Chinese New Year time.
It's not just a fun ceremony, the yu sheng itself tastes great! I love all the different textures and taste in the dish and the plum dressing just ties everything together nicely!
Some of the information for this post are from:Nomsaurus , Wikipedia, Noob Cook. This post has been updated to include the easy no-cook yu sheng video, be sure to watch it 😉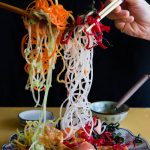 How To Prepare Yu Sheng / Yee Sang /Prosperity Toss Salad
Ingredients
150

-200 gr smoked salmon

1

medium

peeled yam (taro)

1

small

jicama

1

carrot

1

mango

1

cucumber

don't use the seeds

10

thin wonton wrappers

cut into 1/2-inch strips

Cooking oil

for deep frying
For no-cook yu sheng (as shown in cooking video):
1

mango

1

small

jicama

4

stalks

scallion

4

strips

surimi

(imitation crab meat)

1

large

carrot

1

large

cara cara orange

or any orange of your choice
Plum mayo sauce dressing (highly recommend this):
Plum sauce dressing (simple version):
4

Tbsp

plum sauce

1

Tbsp

sesame oil

1

tsp

Water

or as needed to thin out the sauce
Special tool (optional):
Instructions
THINGS YOU CAN PREPARE THE DAY BEFORE:
Choose either one of the plum dressing you want to prepare
Prepare plum mayo dressing:
Add sugar and warm water in a bowl and stir until sugar dissolves. Add the rest of the ingredients for dressing and whisk to combine and keep in the refrigerator
Prepare plum sauce dressing (simple version):
Mix plum sauce and sesame oil in a bowl. Then add water by the teaspoon to thin the sauce to the consistency you like. It should be pourable but not too thin. Cover and keep in the refrigerator
Make fried wonton strips:
Preheat about 1-inch of cooking oil. Lower the heat to medium and fry the wonton strips until golden brown. They turn brown very quickly so be sure to lower your heat when you are ready to fry. Place on absorbent paper towel. They can be kept in an air-tight container after cooled down completely
Shred the veggies:
You can either use a veggie peeler with a teeth to cut the veggies into long strips or use a spiralizer to spiralize the veggies and fruit, or simply use a knife to cut them into strips (like I did in the video) Cover with a wrap and keep in the refrigerator until ready to be used
Color the yam with green and red (if you choose to include):
Separate the shredded yam into two equal portions. Add few drops of green food coloring on one and red on the other. Wear gloves and toss them to make sure they pick up the color. Spread them out on a baking sheet lined with parchment paper to let them dry a little bit while you prepare other things. I actually let them dry on the counter until the next day
ON THE DAY OF LO HEI CEREMONY:
Fry the colored yam:
Preheat about 2-inches of oil. When the oil is hot, add the yam and fry for about 3-4 minutes. You don't want to fry them until they are too crispy like potato chips. Place on absorbent paper towel. Repeat with the green yam
Make smoked salmon rose:
Arrange each smoked salmon slices by overlapping slightly. Roll it up and it will from a rose
Lo Hei Ceremony:
Place all ingredients for lo hei ceremony on a plate, grab an empty big round platter and then gather everybody around the table

Add each ingredient to the round platter and say the auspicious greeting for each ingredient as you add it. Please refer to my post above on what to say

Finally, everyone proceeds with the lo hei ceremony. Please refer to my post above for detail
Nutrition
Nutrition Facts
How To Prepare Yu Sheng / Yee Sang /Prosperity Toss Salad
Amount per Serving
% Daily Value*
* Percent Daily Values are based on a 2000 calorie diet.