This delicious Nyonya-style fish maw soup is commonly found prepared at the Peranakan and Chinese home kitchen and considered a delicacy.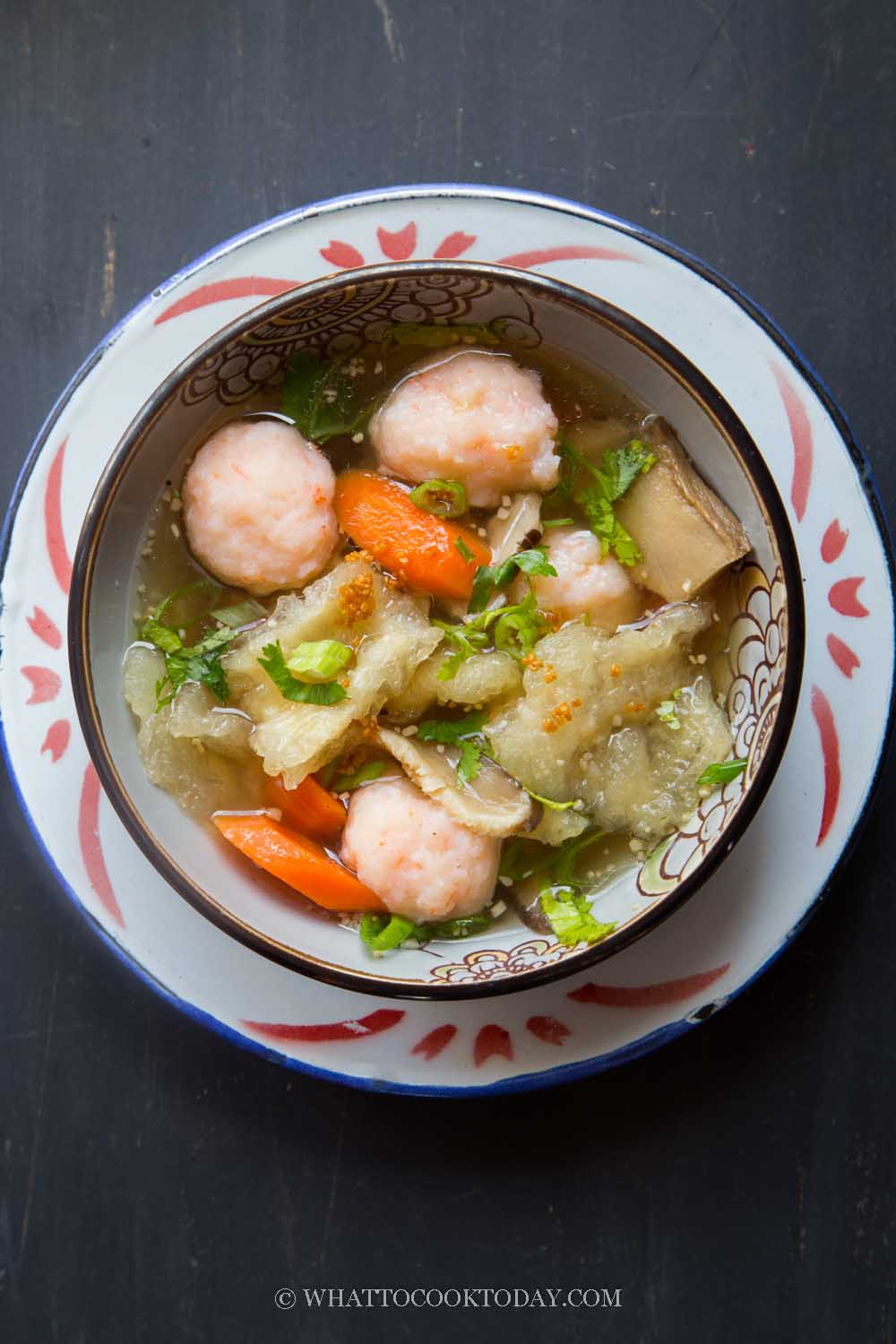 What is Fish Maw?
Fish maw or also known as hu pioh in Hokkien language, is an air bladder from large fishes that contributes to the ability of a fish to float in the water. In some Asian cultures, Fish maw is considered a food delicacy because of its expensive price. It is usually served braised, stewed or in soup. You can actually buy Fish Maw in dried or fried form. The dried form is well, hard and dry, whereas the fried form is all puffy and very light. If you buy the dried Fish Maw, you will need to soak them for a much longer time until they are soft
Fish maw I use in this recipe
I bought the yu piu, already fried, which is much much more affordable. There is also a much more expensive fish maw known as "Fa Gau", which could cost 10 times more than yu piu.
The recipe rundown
Taste: The fish maws soak up all the great savory and naturally sweet taste of the soup
Texture: The texture mainly comes from the soft and somewhat spongy fish maws and shiitake mushrooms and also the tender yet bouncy homemade prawn balls
Level: Medium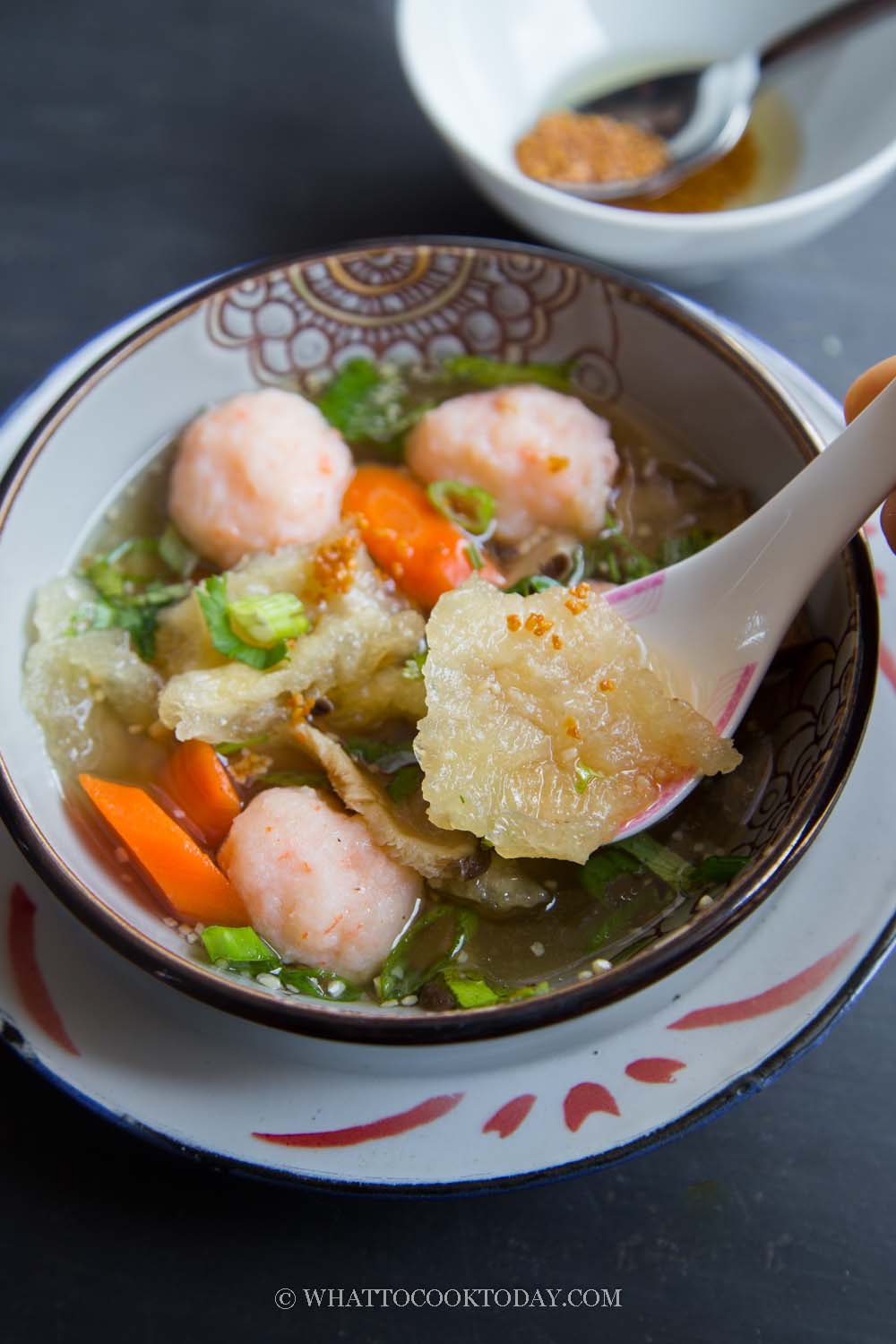 How to make Nyonya fish maw soup
1. Peel and deveined the shrimp. Put them in a food processor and process them into a paste consistency. Add the rest of the ingredients. Use a chopstick and stir in one direction until it forms a sticky paste.

2. Bring a small pot of water to a boil.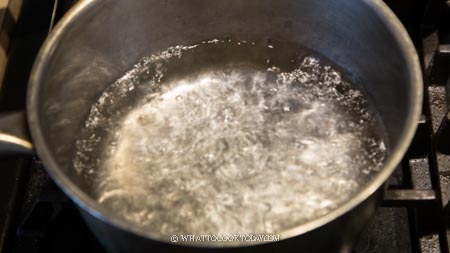 3. Pinch off a bit of the paste and boil to have a taste test. If you are happy with the seasonings, cover the prawn paste and refrigerate until ready to be used, if not, add more salt/sugar/pepper to your preference
4. Bring a medium-size pot of water to a boil. Prepare a bowl of ice water (optional). Wet both of your palms to prevent the paste from sticking to your hands. Scoop about 1 tablespoon of the paste and roll it into a round ball. You can roll all of them into balls and cook later or roll and cook at the same time. Drop the shaped balls into the boiling water and cook until they float to the top.


5. Cook for another minute or until the inside is cooked through. Remove from the pot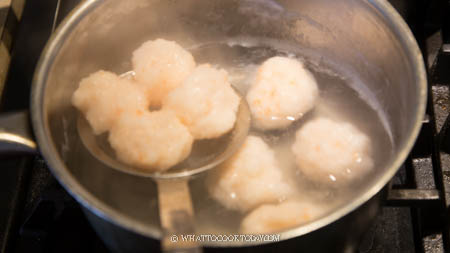 6. Dunk into the ice water if you choose to do so. This will "shock" the prawn balls. Then remove from the ice water into a plate. This can be kept in the fridge for 3-4 days or keep them frozen for up to one month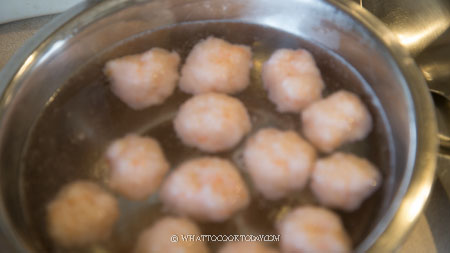 7. Soak the fish maw in hot water until they are soft, about 25-30 minutes. Soak the dried shiitake mushrooms in hot water until plump. Once they are soft and plump, cut the fish maw into smaller pieces. Cut the shiitake mushrooms into slices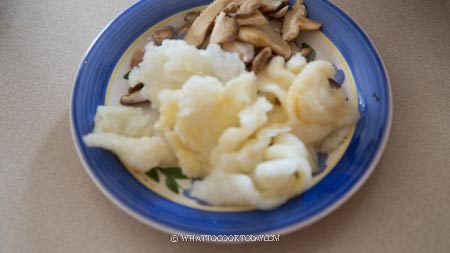 8. Put the oil and garlic in a pan. I like to start with a "room temperature" oil.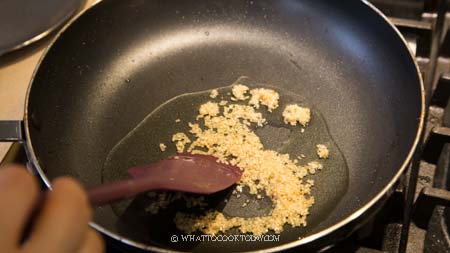 9. Turn on the heat to low-medium and let the oil comes to a gentle bubble. Watch the garlic closely. Let them cook at this low heat until they turn golden brown.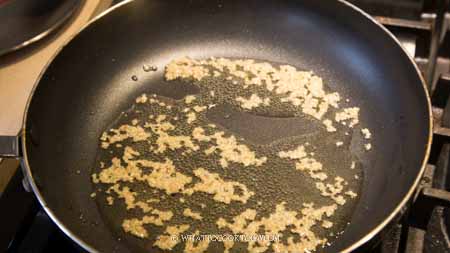 10. Once you see that they start to turn golden brown, remove from the heat immediately. The garlic gets burnt very fast. They will continue to cook in residual heat even after you remove them from the heat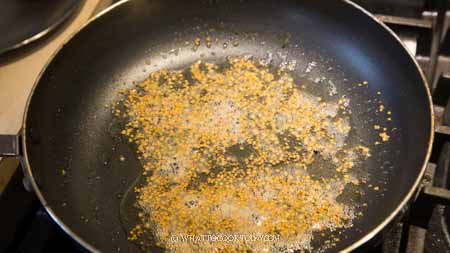 11. Transfer to a bowl or a jar and let them cool down. The garlic bits will continue to crisp up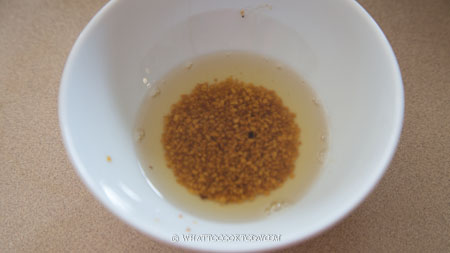 12. Pour chicken stock into a medium-size pot. Bring to a simmer.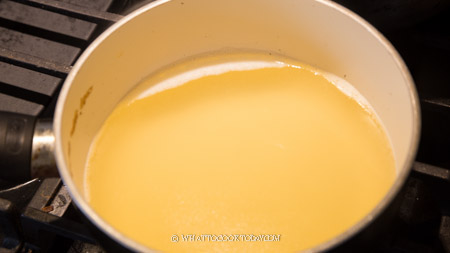 13. Add the fish maw, mushrooms, and carrots (or Napa cabbage if using)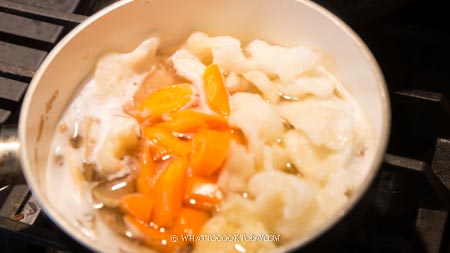 14. Bring the stock back to a boil and then lower the heat to simmer. Cover and let it simmer for 15 minutes. Make sure the heat is low enough but still have a gentle simmering going on to prevent the soup from boiling over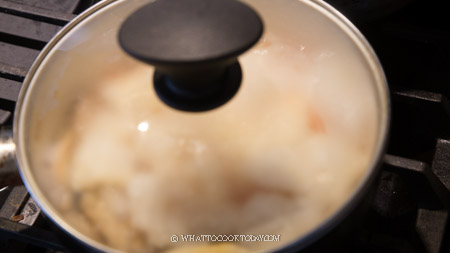 15. After 15 minutes, check if the fish maws are soft enough. Add seasonings for the soup to your preference. Add the cooked prawn balls and cook for another minute. Turn off the heat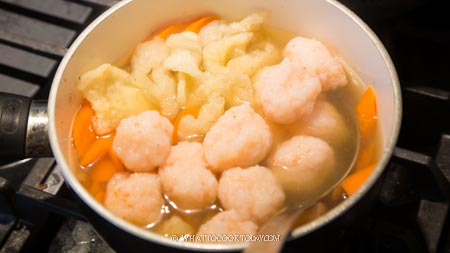 16. Garnish with chopped green onion and cilantro leaves and drizzle of garlic oil with some of the crispy garlic bits. Serve immediately

You might like Fish maw abalone soup or other Asian soup and stew recipes
Did you make this Nyonya fish maw recipe?
I love it when you guys snap a photo and tag to show me what you've made 🙂 Simply tag me @WhatToCookToday #WhatToCookToday on Instagram and I'll be sure to stop by and take a peek for real!

The recipe was last published in September 2017 and updated with new photos and improved recipe in April 2021.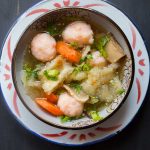 Nyonya Fish Maw Soup (Hu Pioh / Yu Piu Soup)
Ingredients
For crispy garlic oil:
¼

cup

oil

5

cloves

garlic

finely minced
For the soup:
50

gr

fish maw

4

large

shitake mushrooms

soaked in warm water until plump and sliced

6

cups

chicken broth

½

Napa cabbage

optional, I didn't use here, cut into large chunks

1

large

carrot

cut into 1/2-inch slices
Seasoning for soup:
¼

tsp

sugar

Salt and pepper

to taste
Garnishes:
1

stalk

green onion

finely chopped

fresh cilantro leaves

finely chopped
Instructions
Prepare the prawn balls: (can be done a day before)
Peel and deveined the shrimp. Put them in a food processor and process them into a paste consistency. Add the rest of the ingredients. Use a chopstick and stir in one direction until it forms a sticky paste. Bring a small pot of water to a boil. Pinch off a bit of the paste and boil to have a taste test. If you are happy with the seasonings, cover the prawn paste and refrigerate until ready to be used, if not, add more salt/sugar/pepper to your preference

Bring a medium-size pot of water to a boil. Prepare a bowl of ice water (optional). Wet both of your palms to prevent the paste from sticking to your hands. Scoop about 1 tablespoon of the paste and roll it into a round ball. You can roll all of them into balls and cook later or roll and cook at the same time. Drop the shaped balls into the boiling water and cook until they float to the top. Cook for another minute or until the inside is cooked through. Remove from the pot and dunk into the ice water if you choose to do so. This will "shock" the prawn balls. Then remove from the ice water into a plate. This can be kept in the fridge for 3-4 days or keep them frozen for up to one month
Prepare the fish maws and mushrooms:
Soak the fish maw in hot water until they are soft, about 25-30 minutes. Soak the dried shiitake mushrooms in hot water until plump. Set aside and prepare other things
Make the garlic oil: (Can be done few days before too):
Put the oil and garlic in a pan. I like to start with a "room temperature" oil. Turn on the heat to low-medium and let the oil comes to a gentle bubble. Watch the garlic closely. Let them cook at this low heat until they turn golden brown. Once you see that they start to turn golden brown, remove from the heat immediately. The garlic gets burnt very fast. They will continue to cook in residual heat even after you remove from the heat. Transfer to a bowl or a jar and let them cool down. The garlic bits will continue to crisp up
Putting everything together:
Pour chicken stock into a medium-size pot. Bring to a simmer. Add the fish maw, mushrooms, and carrots (or Napa cabbage if using). Bring the stock back to a boil and then lower the heat to simmer. Cover and let it simmer for 15 minutes. Make sure the heat is low enough but still have a gentle simmering going on to prevent the soup from boiling over

After 15 minutes, check if the fish maws are soft enough. Add seasonings for the soup to your preference. Add the cooked prawn balls and cook for another minute. Turn off the heat

Garnish with chopped green onion and cilantro leaves and drizzle of garlic oil with some of the crispy garlic bits. Serve immediately
Recommended products: