Abalone is considered the King of seafood in Chinese cuisine. I made a soup with the abalone and another Chinese delicacy, fish maw and also with some bits of chicken meat and goji berries. This gourmet soup sure went down a treat!
Abalone or what we called Bao Yu in Chinese is considered a gourmet ingredient. In our household (any many), abalone is definitely reserved for special occasions such as weddings, Chinese new year and other celebrations. The flesh of abalones is widely considered to be a desirable food, and is consumed raw or cooked in a wide variety of dishes.
The abalone we purchased came in a can, already precooked. There are 8 medium-size pieces of abalones in the can and it costed us about $48.00/ can (15 oz/can). The one we got is considered a medium-grade Chinese abalone. My husband bought one can that was imported from Australia before and it has 2 large abalones in there and it costed about the same. The highest grade may cost double or more and come from Mexico.
Abalone has quite a chewy texture and some people may not like it for this reason (obviously not me!). You can use abalone not only in soup but also to stir fry with vegetable and other stuff. My mom likes to use abalone to make a soup and I can't think of anything better than an abalone soup in a subzero temperature.
My husband loves it with the fish maw in the soup too. The kids didn't care much for the abalones though (it's the chewy texture!), which is totally fine by us! More for us to eat! LOL.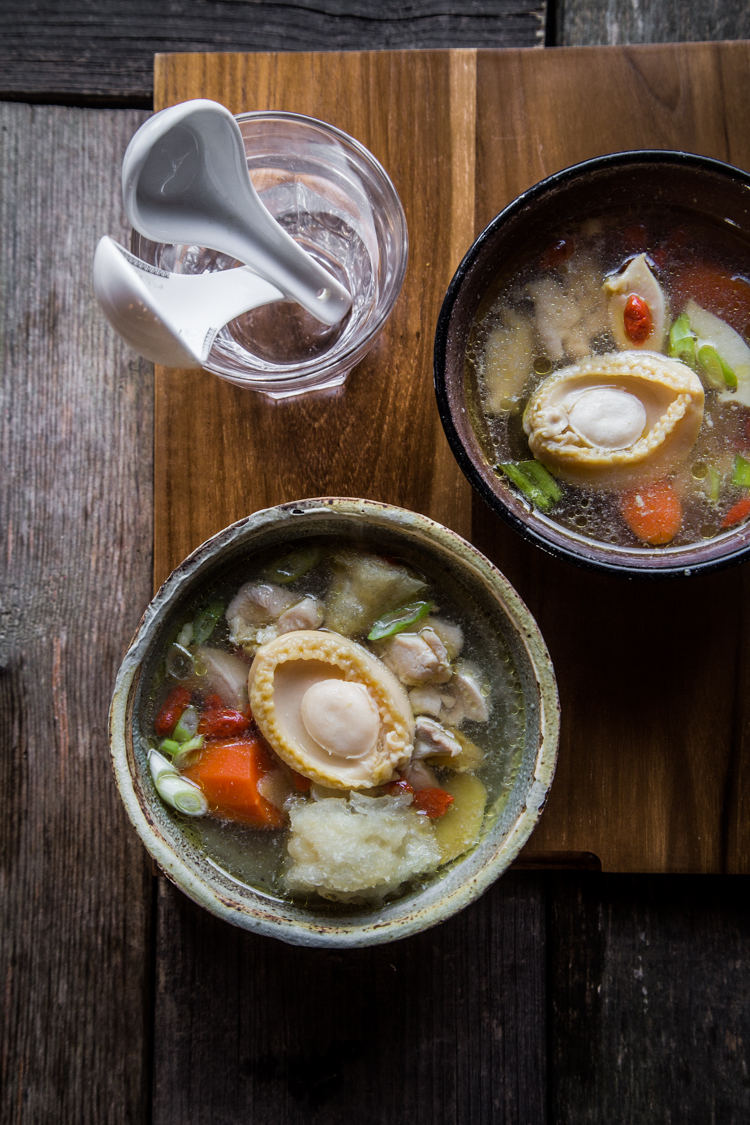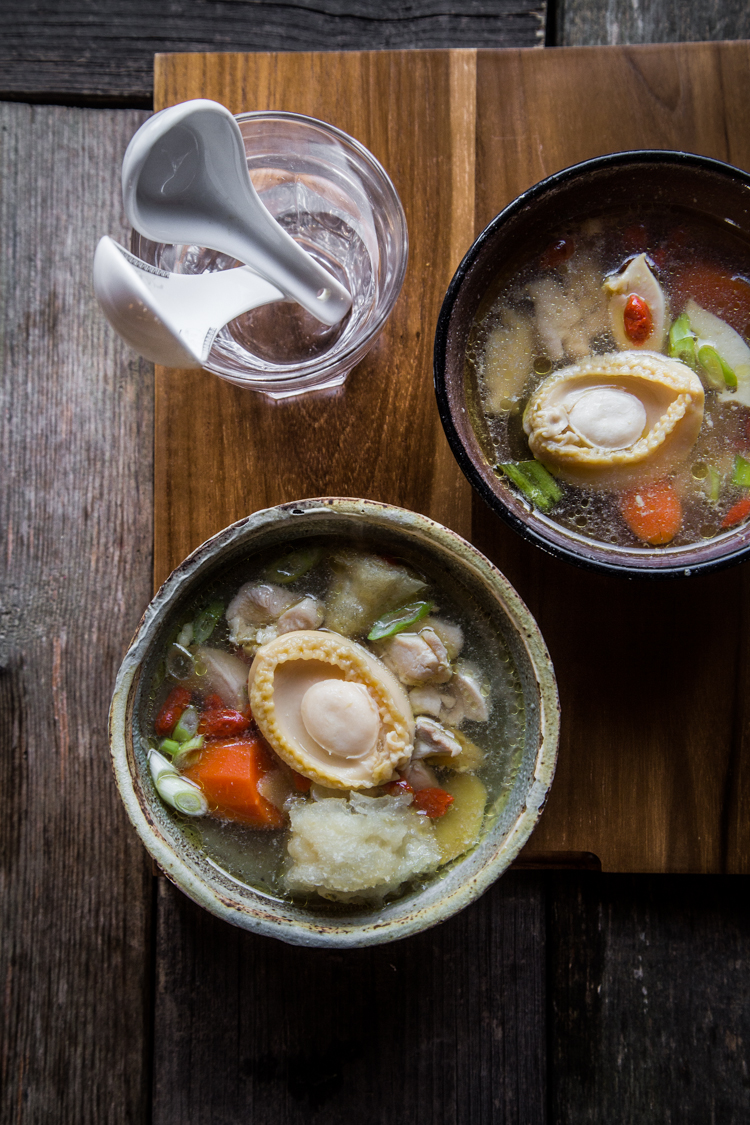 Abalone and Fish Maw Soup
Print
Ingredients
2

large dried fish maws

1

Tbsp

cooking oil

2

cloves

garlic

(finely minced)

3

slices

of 2-inch fresh ginger

(smash with side of cleaver or heavy object)

50

grams

of boneless skinless chicken thighs or pork loin

(diced)

6

cups

of chicken stock

1

large carrots

(peeled and cut into 1-inch slices)

About 400 grams of abalone

(slice into about 1/4-inch thickness or leave it whole if it's small to medium size)

1/4

cup

of dried goji berries

(rinse with water)

Salt to taste

1

stalk of green onions

(finely chopped)
Instructions
Soak the fish maws in hot water until they plump up and soften, about 20-30 minutes. Cut into large chunks

Preheat oil in a medium-size pot. Add in ginger and saute until fragrant, about 1 minute. Add in the garlic and saute for another 30 seconds. Add in the chicken or pork and saute until they turn color. Add the chicken stock and carrots. Bring to a boil and then lower the heat to a gentle simmer and let it simmer for about 10 minutes. You can prepare ahead up to this point

When ready to serve the soup, add in the fish maws and goji berries and cook for about 10 minutes or so. Add in the slices of abalone or whole abalone and let it cook for about 1 minute. Remove from the heat. They are already cooked, so we definitely don't want to overcook them. Season with pinch of salt to your taste

Garnish with chopped green onion and serve immediately
Check out other Southeast Asia recipes you might be interested in.
*This post contains affiliate links. You don't pay extra as a consumer if you choose to click on the link and purchase from there. What To Cook Today just receives a small commission from this. That's all. It helps to pay for the cost to have this blog up and running. Thank you so much for your support !