Adobo is a cooking method of braising using vinegar. In this chicken adobo, the chicken is braised in vinegar and it's a popular dish in the Philippines. I love this easy delicious one-pot dish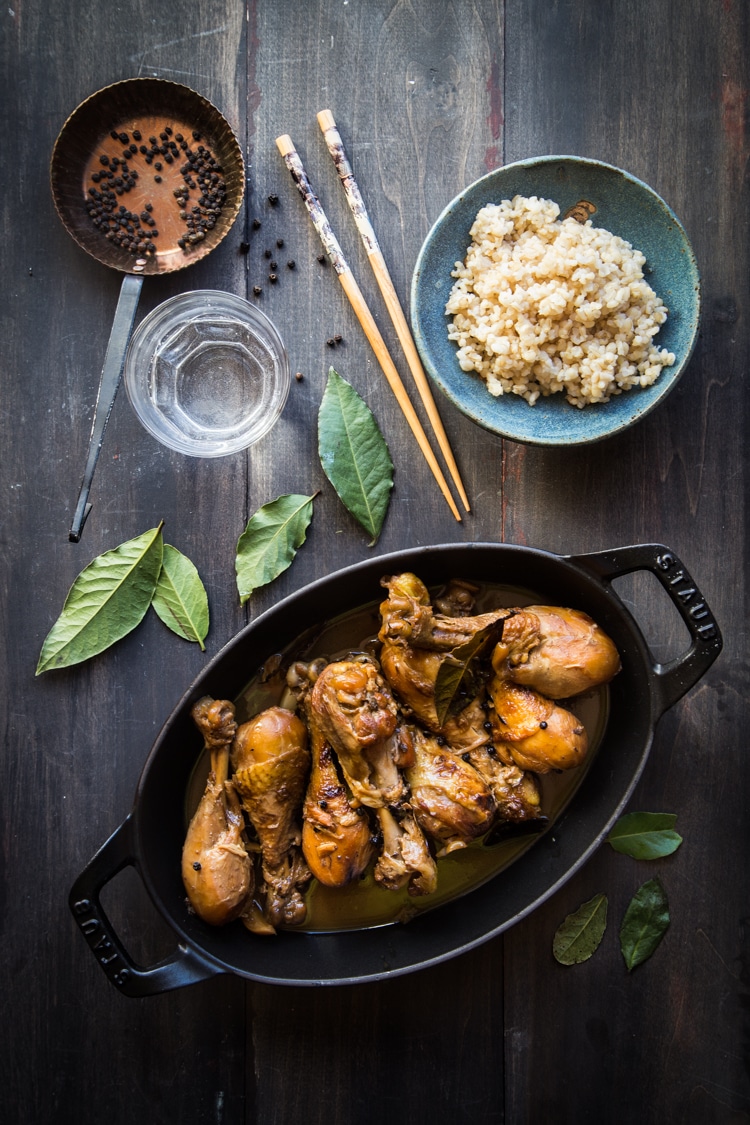 I've never had Filipino food until I was in Kauai, Hawaii many years ago. Strange I know. I've never tasted it when I lived in Indonesia where we are pretty close to the Philippines. I love the Filipino food that we ate in Hawaii. It was very authentic and did not surprise me that it has that familiarity of Southeast Asian food I grew up with. Chicken adobo was one of the foods I tried. I decided to whip it up since I had all the ingredients on hand. It's one of the easiest one-pot dishes I must say. You gotta experiment to get just the right balance of flavors-sour to savory. Adobo can be also used with seafood, vegetables, red meat, etc. It keeps well and like most Chinese braised dishes, it tastes even better the next day. Cane vinegar is used to braise the chicken and Cane vinegar is commonly used in Filipino cooking. Don't let the word "Cane" fools you into thinking that it is a "sweet" vinegar. It is not sweeter than other vinegar. If you can't have it you can substitute with rice wine vinegar.
I was a bit worried that my kids won't like it because it's on the sour side, however, I was worried for nothing. They ate it !! It's sour but has the right balance of savory and sweetness as well. A Keeper!
Recipe is adapted from Memories of Philippine Kitchen by Amy Besa and Romy Dorotan


Chicken Adobo (Vinegar-braised Chicken)
Ingredients
8-10

bone-in skin-on chicken thighs

or mixture of thighs with drumsticks

2

Tbsp

of cooking oil

8

cloves

garlic

peeled and bruise with heavy object

1-

inch

fresh ginger

finely chopped

5

fresh bay leaves

tear the edges to release flavor

1

Tbsp

of whole black peppercorns

3

Tbsp

jaggery sugar

substitute with Muscovado or light brown sugar if you must

1

cup

of cane vinegar

substitute with Japanese rice wine vinegar

3

Tbsp

of dark soy sauce
Instructions
Preheat 2 Tbsp cooking oil in a large pot. Put in the chicken pieces, in batches. You don't want to crowd the pot. Brown the chicken both sides. Remove from the pot and set aside. The chicken is not cooked through yet at this point. We are just browning them. In the same pot, add in garlic, ginger, bay leaves and stir-fry until golden brown, about 1 minute. Add in the whole black peppercorns, jaggery sugar and continue to stir until the sugar blends in. Add in the chicken and stir to coat the chicken with the sauce. Add in the vinegar and dark soy sauce. Bring to a boil and then lower the heat to let it gently simmer (uncovered) for about 45 minutes to 1 hour (depending on how large the chicken pieces is) until the meat is tender and the vinegar has reduced. If you like a little bit sauce like I do, then you may stop cooking after the chicken is cooked through

Have a taste and season with a pinch of salt if needed and serve with rice. Spoon the sauce over the rice or quinoa. Yummy!
Check out other Southeast Asia recipes you might be interested in.
*This post contains affiliate links. You don't pay extra as a consumer if you choose to click on the link and purchase from there. What To Cook Today just receives a small commission from this. That's all. It helps to pay for the cost to have this blog up and running. Thank you so much for your support !