A great combination of mashed banana and cocoa powder in a cottony soft and fluffy chiffon cake.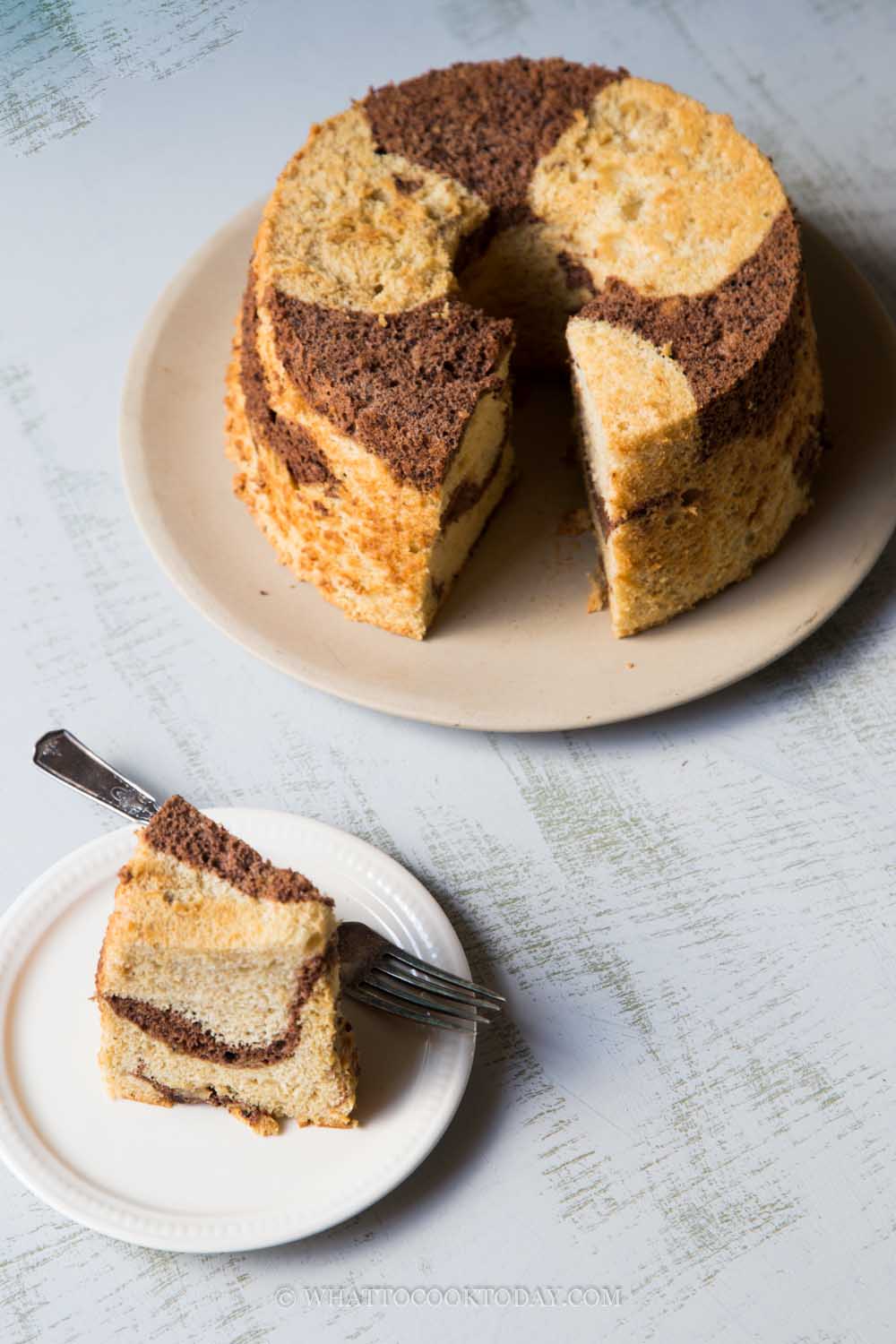 I bake chiffon cake on a weekly basis, sometimes twice a week 🙂 (sometimes more than that if I'm experimenting on a recipe!). I usually have bananas around the house for no specific reason. My kids love to eat them and I love to use them in baking too. The smell of banana, while it's baking, is amazing. My kids said I should add some chocolate flavor too and so there you go, banana chocolate chiffon cake.
Let's take a look at the ingredients
1. Eggs
I always use large eggs, which weigh about 58-60 grams each with the shell
2. Cake flour
This gives a very soft fluffy texture to your cake. If you use all-purpose flour, it's fine too, it just won't be as fluffy
3. Coconut sugar
You can use light brown sugar or regular granulated or caster sugar
4. Granulated sugar
That the common sugar use here in the U.S. You can also use caster sugar
5. Bananas
Use very ripen bananas for an amazing flavor and natural sweetness
6. Oil
I use neutral-tasting cooking oil like grapeseeds oil, avocado oil, etc
7. Baking powder
Baking powder is not mandatory in chiffon cake recipes, to be honest. If you whip your meringue correctly, baking powder is not needed at all. It's more like an "insurance" policy 😉
8. Vinegar
The acid here is to stabilize the meringue. You can use cream of tartar or other acid such as apple cider vinegar or lemon juice too
9. Salt
A bit of salt brings out the flavor in the cake
10. Vanilla extract
Some people don't like the "eggy" aroma of chiffon or sponge cake, so you can add vanilla extract to tone it down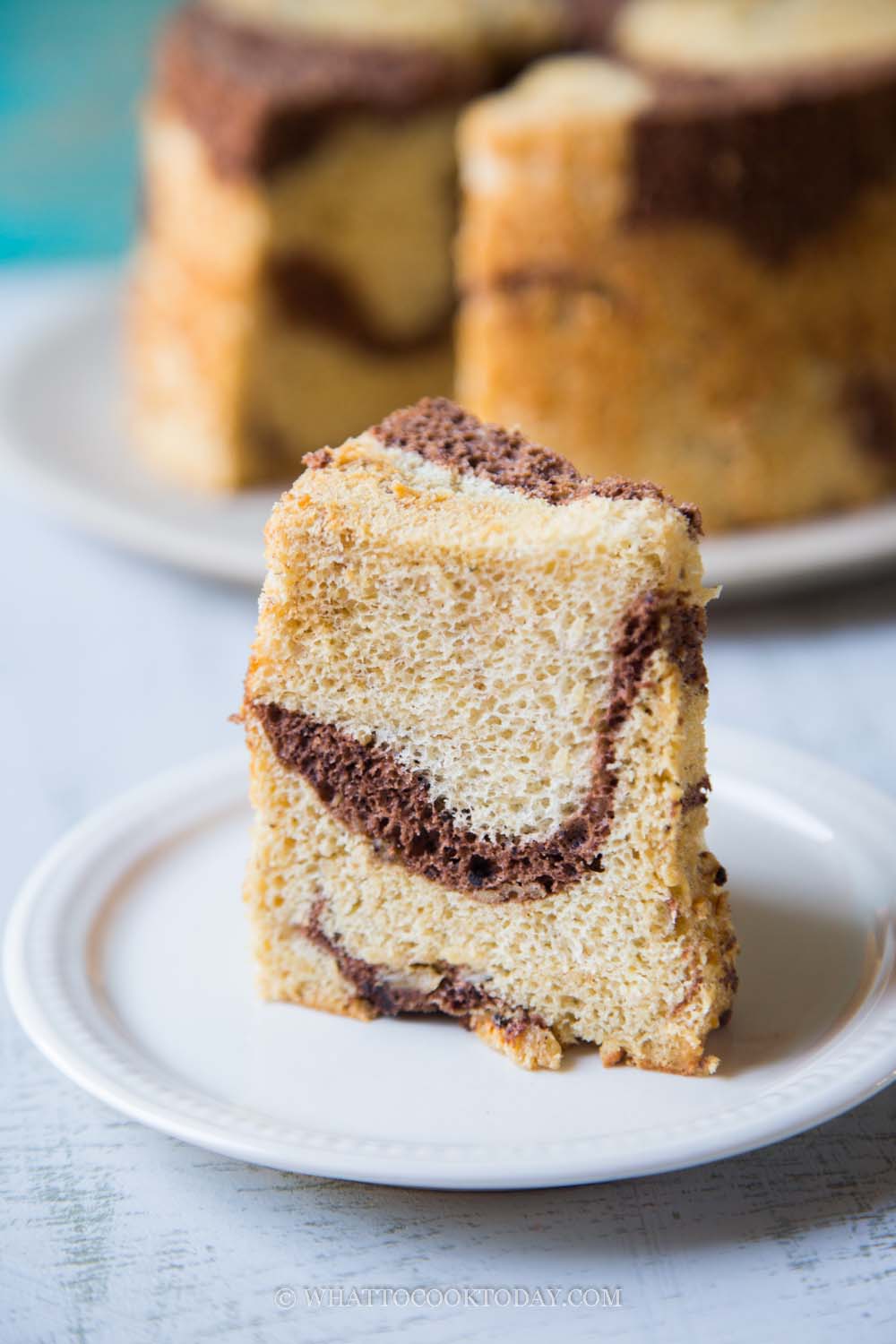 Tips for success
1. Use very ripen bananas. Those very mushy type that you won't eat like that, that's the best for baking
2. Make sure you weigh the bananas without the peel
3. Make sure eggs are at room temperature
4. Make sure the bowl and whisk you are going to use to whip the egg whites are spotless clean. Any grease will give you trouble
5. Make sure you SIFT the ingredients as instructed in the recipe. You don't need a special sifter. I usually just use a strainer and sift the flour or other dry ingredients. This helps to aerate them and also break up any lumps in the ingredients
6. Use a tube pan with a removable base and one that does not have any non-stick coating
7. DO NOT grease the tube pan. The cake needs to cling to the pan to rise tall

How to make banana chocolate marble chiffon cake
1. Use very ripen bananas for best flavor and natural sweetness


2. Preheat oven at 330 F (165 C).If you have a convection oven, I suggest lowering the temperature by 25 F (15 C). Mash bananas together with coconut sugar.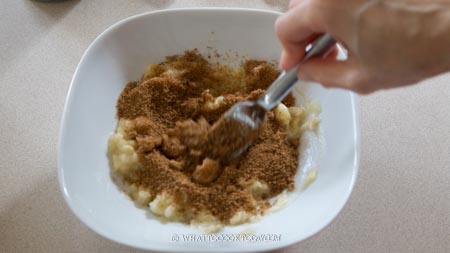 3. Add yolks and oil and whisk to combine.


4. Sift in cake flour, baking powder, and salt and whisk to combine


5. There might be some lumps from the bananas, that's ok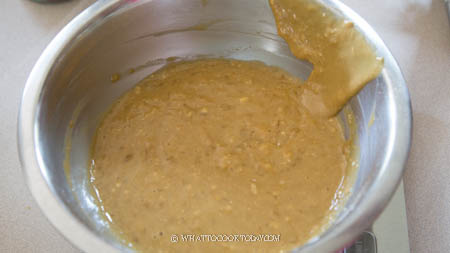 6. Place the egg whites in a mixing bowl. Whisk over medium speed using a whisk attachment for one minute until foamy and then add vinegar and whisk for another minute. Increase the speed to high and add sugar in 3 batches and beat until the meringue is glossy and stiff. You can always stop halfway and check. When you lift the meringue up with the whisk attachment, the meringue should stand up stiff and just bent slightly at the tip but not moving. If you turn the bowl upside down, the meringue won't drip. This is a stiff peak and you can stop whipping. Do not overwhip the meringue or it's going to break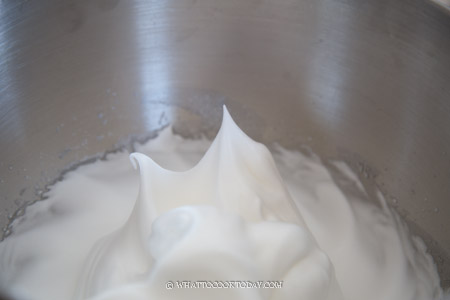 7. Scoop 1/3 of the meringue into the cake batter. Use a whisk or a rubber spatula to gently fold the meringue into the cake batter. Cut through the middle and fold over. Then the next 1/3 and do the same until all the meringue are incorporated into the cake batter and continue with the last 1/3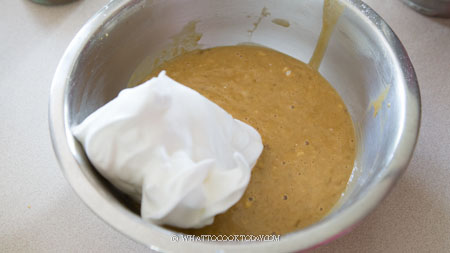 8. The batter should be fluffy and voluminous at this point


9. Divide the batter into 2


10. Sift in 1 Tbsp of cocoa powder and mix gently until incorporated. It's important to sift in the cocoa powder to minimize lump. Very gently fold to mix the cocoa powder into the batter


11. Pour 1/3 of white batter into an UNGREASED chiffon tube pan, then alternate with the cocoa batter and so on. Your tube pan should not have a non-stick coating too or it won't rise high. The batter needs to cling to the pan to rise up tall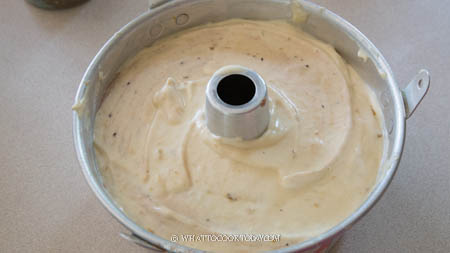 12. Place the cake pan in the middle rack and bake for 50 minutes and then lower temperature to 300 F and bake for another 10 minutes or until a cake tester inserted into the cake comes out clean


13. Remove from the oven and drop the cake pan from about 6 inches height on the countertop. This helps to minimize shrinkage. Immediately turn the cake pan upside down and let it cools down this way for the next 1 hour or so


14. Unmould the cake when it has cooled down completely


15. Run an offset spatula around the edge and the middle of the tube to loosen the edge. Push the bottom up to release the cake. Use an offset spatula to loosen the bottom of the cake and turn the cake over to a serving platter. The cake tastes the best the next day after the flavor has a chance to develop

Did you make this banana chocolate marble chiffon cake recipe?
I love it when you guys snap a photo and tag to show me what you've made 🙂 Simply tag me @WhatToCookToday #WhatToCookToday on Instagram and I'll be sure to stop by and take a peek for real!

Banana Chocolate Marble Chiffon Cake
Ingredients
Meringue:
150

gr

egg whites (room temperature)

from 5 large egg whites (about 30 grams each)

70

gr

granulated sugar

amount also depends on how ripe/sweet the bananas you use

1

tsp

lemon juice/vinegar
Instructions
Prepare the cake batter:
Preheat oven at 330 F (165 C). My oven is conventional with bottom heat only. If you have a convection oven, I suggest lowering the temperature by 25 F (15 C). Mash bananas together with coconut sugar. Add yolks and oil and whisk to combine. Sift in cake flour, baking powder, and salt and whisk to combine. There might be some lumps from the bananas, that's ok
Make the meringue:
Place the egg whites in a mixing bowl. Whisk over medium speed using a whisk attachment for one minute until foamy and then add vinegar and whisk for another minute. Increase the speed to high and add sugar in 3 batches and beat until the meringue is glossy and stiff. You can always stop halfway and check. When you lift the meringue up with the whisk attachment, the meringue should stand up stiff and just bent slightly at the tip but not moving. If you turn the bowl upside down, the meringue won't drip. This is a stiff peak and you can stop whipping. Do not overwhip the meringue or it's going to break
Fold meringue into the cake batter:
Scoop 1/3 of the meringue into the cake batter. Use a whisk or a rubber spatula to gently fold the meringue into the cake batter. Cut through the middle and fold over. Then the next 1/3 and do the same until all the meringue are incorporated into the cake batter and continue with the last 1/3. The batter should be fluffy and voluminous at this point

Divide the batter into 2 and sift in 1 Tbsp of cocoa powder and mix gently until incorporated. It's important to sift in the cocoa powder to minimize lump. Very gently fold to mix the cocoa powder into the batter

Pour 1/3 of white batter into an UNGREASED chiffon tube pan, then alternate with the cocoa batter and so on. Your tube pan should not have a non-stick coating too or it won't rise high. The batter needs to cling to the pan to rise up tall

Bang the cake pan on the counter about 3-4 times to pop large air bubbles inside the cake batter
Baking:
Place the cake pan in the middle rack and bake for 50 minutes and then lower temperature to 300 F and bake for another 10 minutes or until a cake tester inserted into the cake comes out clean
Cooling down:
Remove from the oven and drop the cake pan from about 6 inches height on the countertop. This helps to minimize shrinkage. Immediately turn the cake pan upside down and let it cools down this way for the next 1 hour or so

Unmould the cake when it has cooled down completely. Run an offset spatula around the edge and the middle of the tube to loosen the edge. Push the bottom up to release the cake. Use an offset spatula to loosen the bottom of the cake and turn the cake over to a serving platter. The cake tastes the best the next day after the flavor has a chance to develop
Storage:
If you can wait until the next day to serve, cover the whole cake with a cling wrap once it has cooled down completely and it can be kept at room temperature for 3 days
Notes
Recipe adjustment for different tube size:
 For 6 inch tube: use 2 eggs and multiply 0.4 the rest of the ingredients. Bake for 35-40 minutes , then lower temperature to 300 F (150 C) for 5-10 minutes
For 7 inch tube: use 3 eggs and multiply 0.6 the rest of the ingredients. Bake for 40-45 minutes, then lower temperature to 300 F (150 C) for 5-10 minutes
For 9 inch tube: use the same recipe with 8-inch tube pan recipe (the one I posted on the recipe card)
For 10 inch tube: use 8 eggs and multiply 1.6 the rest of the ingredients. Bake for 50-55 minutes, then lower temperature to 300 F (150 C) for 10-15 minutes
Nutrition
Serving:
1
slice
|
Calories:
183
kcal
|
Carbohydrates:
23
g
|
Protein:
5
g
|
Fat:
8
g
|
Saturated Fat:
1
g
|
Trans Fat:
1
g
|
Cholesterol:
109
mg
|
Sodium:
96
mg
|
Potassium:
110
mg
|
Fiber:
1
g
|
Sugar:
12
g
|
Vitamin A:
154
IU
|
Vitamin C:
1
mg
|
Calcium:
17
mg
|
Iron:
1
mg