Super simple spicy and tangy noodles is really so very simple that I made this so often. It's spicy, savory, and tangy. It took less than 20 minutes from start to finish.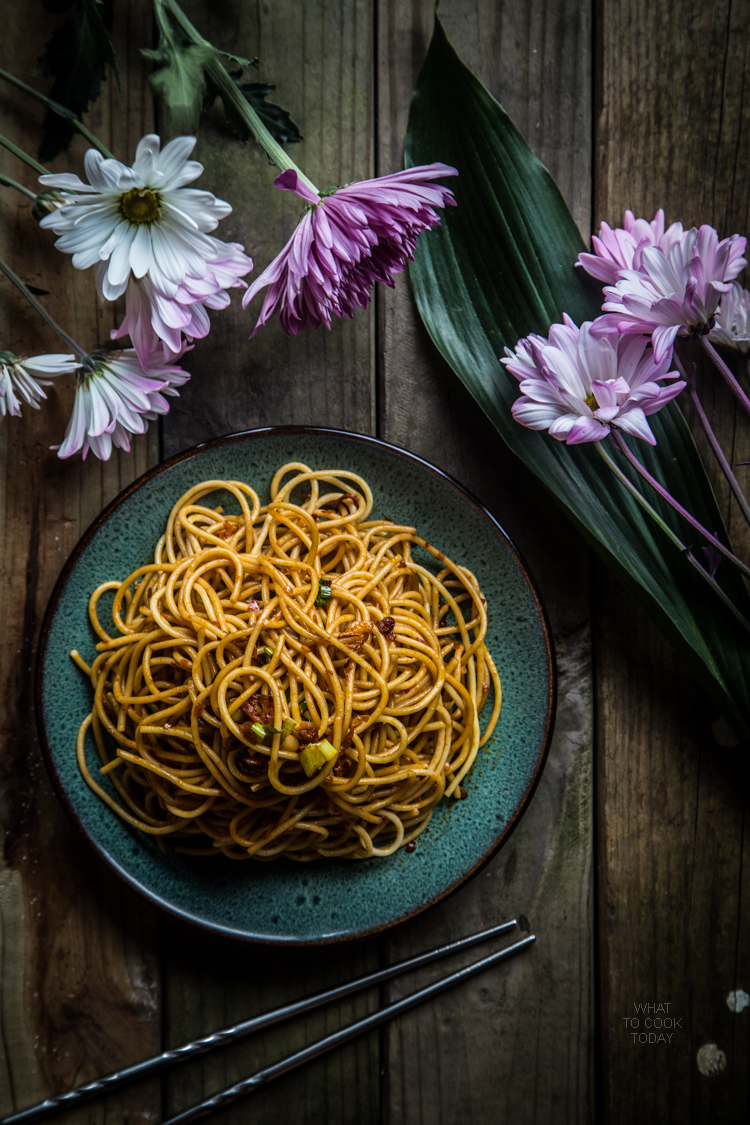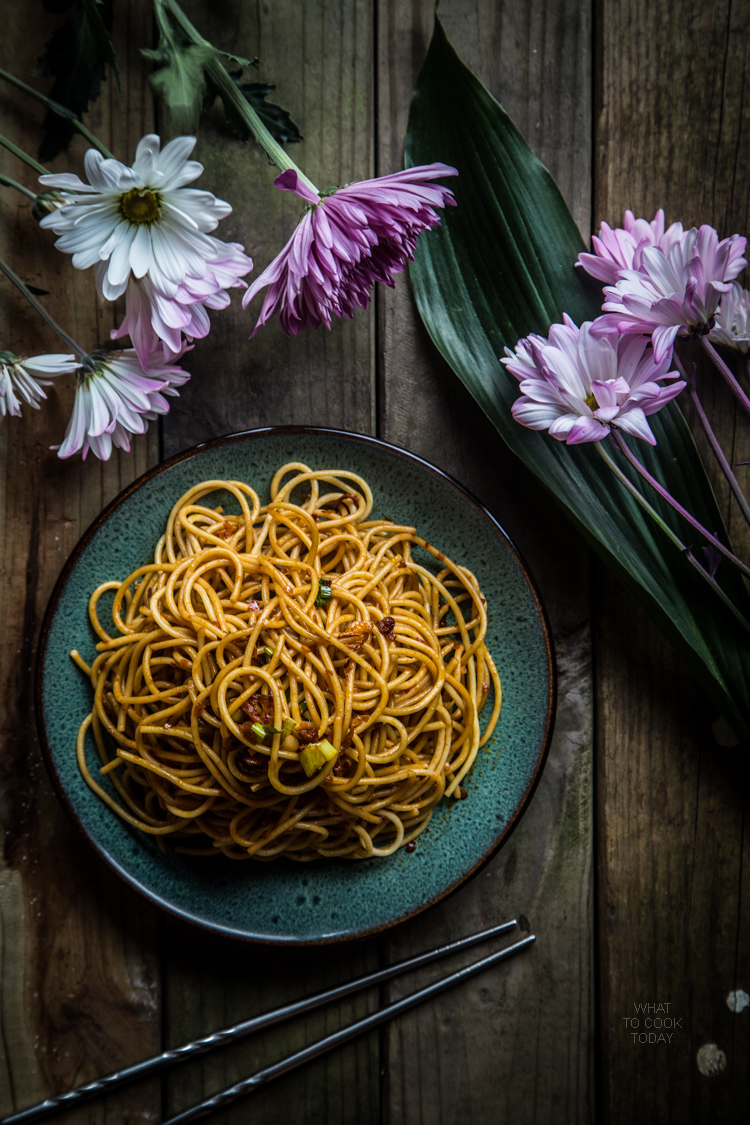 I'm not sure if you will believe me or not, but I pretty much survived on this super simple spicy and tangy noodles the first 6 months when I just had our second baby. No time to cook. Tired mom. Demanding baby. Full-time breastfeeding. Seriously…! cooking was the last thing on my mind. Survival mode on. Mom left me with this recipe before she left. I was almost in tears everyday trying to get back with my daily routine and cooked up something at the kitchen. So, this super simple spicy and tangy noodles feed the entire family (I omit chili paste for my daughter's) and just need to add a protein like eggs, or leftover chicken, or pan-fried tofu to make it more complete.
My mom told me a splash of this and that, but I know it may be a bit difficult to follow if you are not familiar with Asian cooking and taste. So, here's my effort trying to "quantify" it. But ultimately, trust your taste buds 😉 Here's a short clip showing you how REALLY easy this noodles can be.
I know you might think "Wait a minute, this is just carb" Yes it is, but you can easily add in veggies and meat/tofu or even hard-boiled/soft-boiled eggs to make it a complete meal 😉 See recipe for more details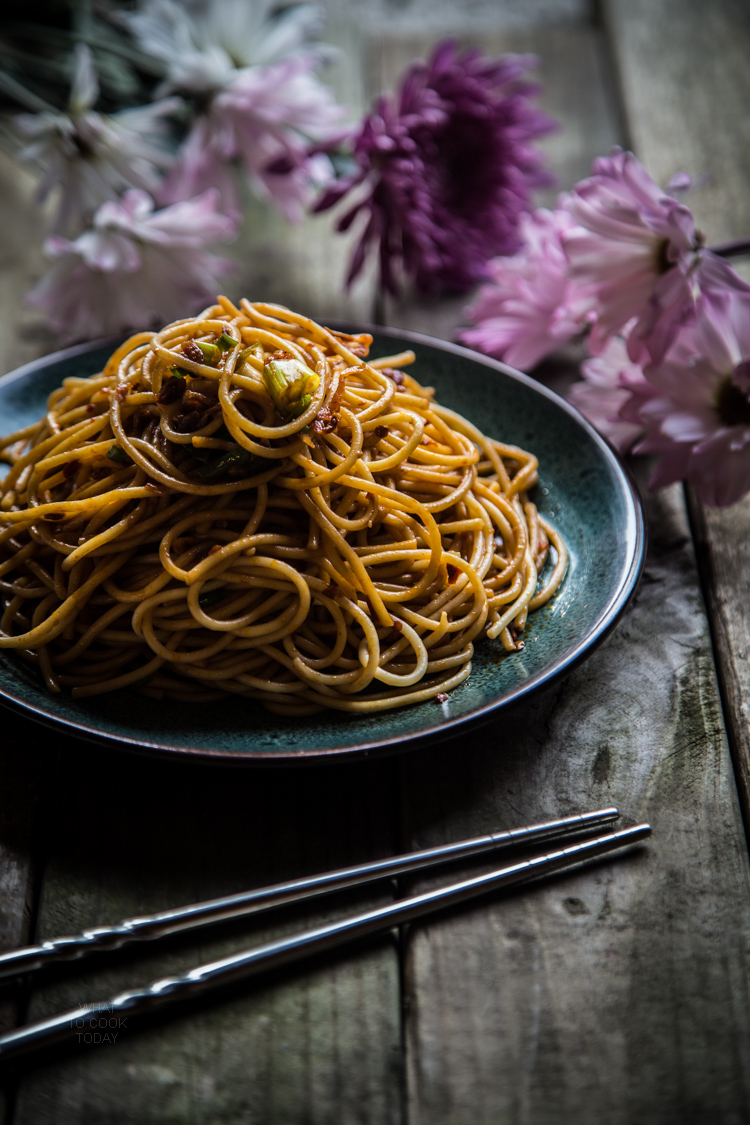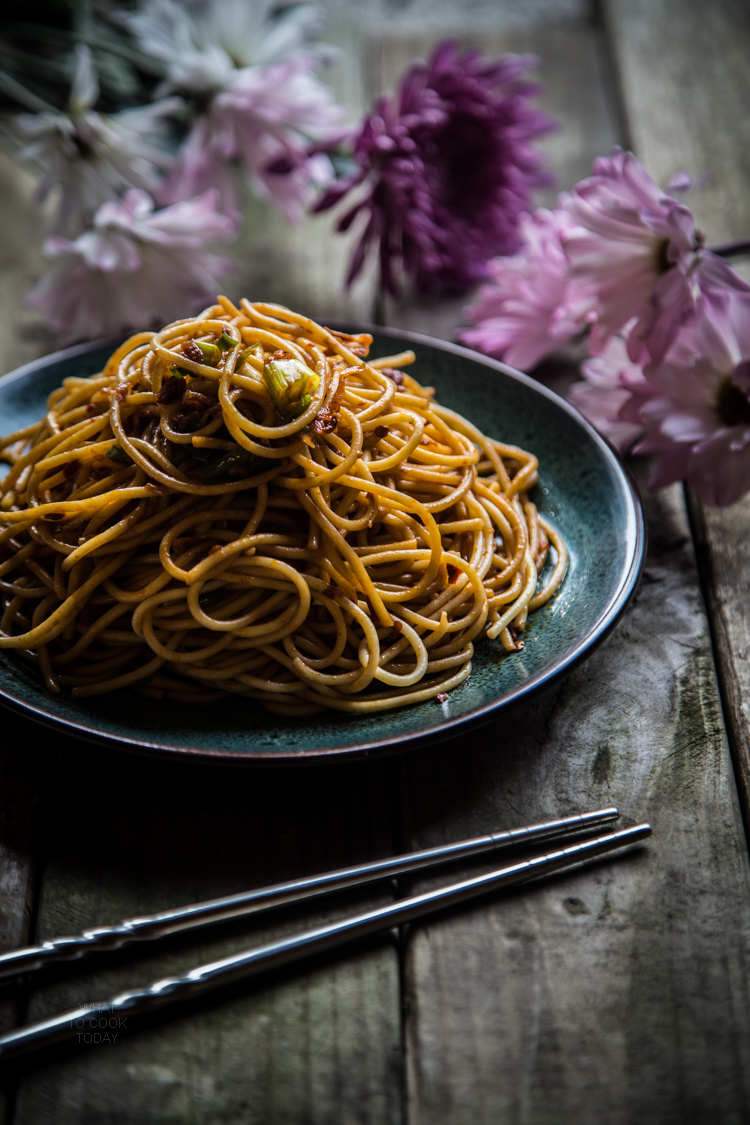 This blog post contains affiliate links. I earn a small commission when you made purchase at no extra cost to you. Learn more.
Super simple spicy and tangy noodles (4 servings)
Ingredients
1

lb

of spaghetti/linguine/angel hair/rice noodles/egg noodles/ramen noodles/udon noodles

whatever floats your boat!
Sauce:
1

Tbsp

of sesame oil/garlic oil/truffle oil

2

Tbsp

of store-bought red chili paste/black bean chili paste

or more if you like it really spicy

4

Tbsp

of Chinese black vinegar

available at Asian grocery store

3

Tbsp

of soy sauce/tamari

or more to your taste
Garnishes:
Fresh cilantro leaves for garnish

1

stalk of fresh green onions

finely chopped

Fried shallots crips

available at Asian grocery store
If you want to turn this into a complete mea (use one or more of the following):
Soft-boiled/hard-boiled eggs

Pan-fried firm tofu cubes

Leftover rotisserie chicken

Grilled chicken/meat/seafood

shrimp or crab meat lumps

Grilled/steamed veggies

asparagus, broccoli, bok choy, etc
Instructions
Cook the noodle as directed on the package. While the noodle is cooking, In a large mixing bowl, prepare the sauce by mixing all the ingredients. Stir to mix everything. Add in the cooked noodles (pan-fried tofu cubes, leftover rotisserie chicken or other protein of your choice if using) and tossed to make sure the sauce is coating the noodles. Have a taste to see if you like it. Add more soy sauce, or more chili paste if you prefer. It should be savory, spicy, and tangy. Garnish with some fresh cilantro leaves. Serve warm, cold or at room temperature
Notes
If you can't find Chinese black vinegar at the Asian Store (usually located near where the cooking wine, soy sauce, etc is), you can use Balsamic vinegar, though to be honest, the taste is not quite the same, but pretty close