Soft tang zhong style buns are topped with cookie crust on top are dim sum favorites and now you can make this at home with this simple fool-proof recipe.
So here you go…pineapple buns with no pineapple! What ?!? I first had this at our favorite dim sum place and I thought it was the best thing on earth I could ever eat. I'm serious! I'm not even heartbroken that there's no pineapple of any kind involved in this bun.
In Cantonese, these pineapple buns are called po lo bao. Po lo means pineapple. Why on earth do they call it pineapple bun? Is it because it looks like pineapple? Look at the photos, do they? I guess, this can be subjective. But that's the reason why it is called pineapple buns. It looks like one! The soft buns against the cookie crust draped on top are simply amazing stuff. My daughter is very selective when it comes to bread or buns, but these….these….she could easily swallow down 2 or 3 without problems!!! And so, every time we go for a dim sum, we ALWAYS order these po lo bao. With that kind of love affair, it's only fair to learn how to make them.
WHY YOU'LL LIKE THIS PO LO BAO RECIPE
1. THAT COOKIE CRUST!!!
I've tweaked the recipe several times throughout these years. While the cookie crust that I've tried were okay, they didn't have nice even cracks like this latest version.
2. THE BUNS ARE SO SOFT AND AIRY
Tang Zhong method is the best for producing soft tearable bread and buns like this
HOW TO MAKE PO LO BAO FROM SCRATCH
1. I USE MY BASIC TANG ZHONG MILK BREAD/BUN RECIPE
I pretty much use this basic tang zhong bread/bun recipe for almost all of Asian-style baked buns here
2. PREPARE THE COOKIE CRUST
Cream softened butter until it turns slightly pale, using paddle attachment if you use a stand mixer. Add the egg yolk and cream again until mix.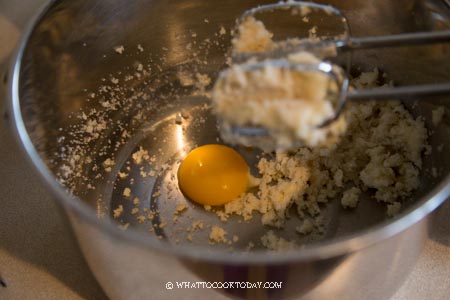 Gradually incorporate the flour mixture into the dough.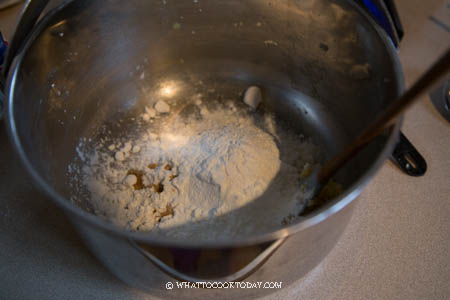 The cookie dough will be slightly at a dry side but if you press on it, it will form a dough. Dry cookie dough will give nice cracks when you bake it later.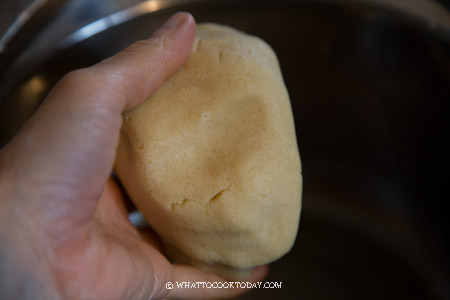 Flatten into a disc and wrap the dough with cling wrap and refrigerate for at least 1 hour


3. SHAPE THE BUN DOUGH
The dough has doubled in size after 1st proofing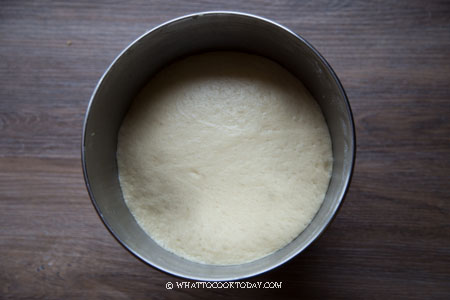 Punch the dough down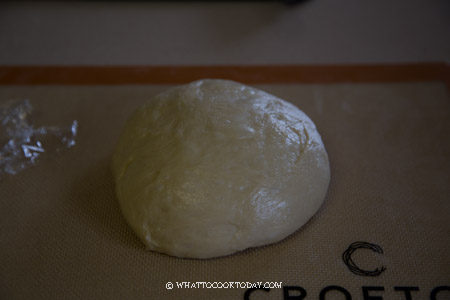 Divide into 8 large pieces (or 16 small pieces if you prefer)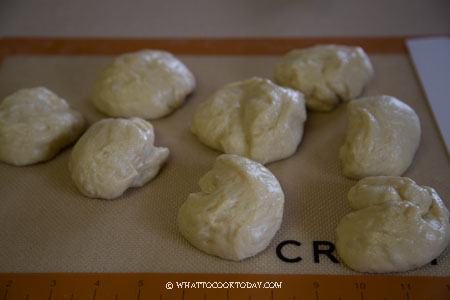 Stretch the edge of each piece and tuck it back into the middle to form a smooth round ball. Placed on a parchment paper (seam side down) about 2-inch apart


Let them proof again for another 40 minutes or until they double in size again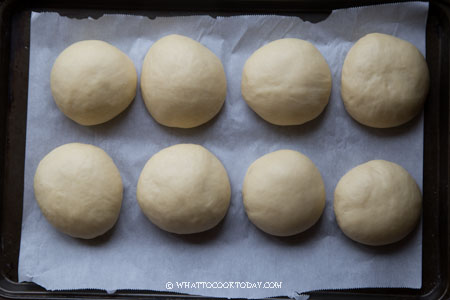 4. BUN + COOKIE DOUGH
Preheat oven to 400 F. 5 minutes before the end of 2nd proofing for the bun, get the cookie dough out from the fridge. The dough will be hard. Use a dough cutter to cut into 8 large pieces or 16 small pieces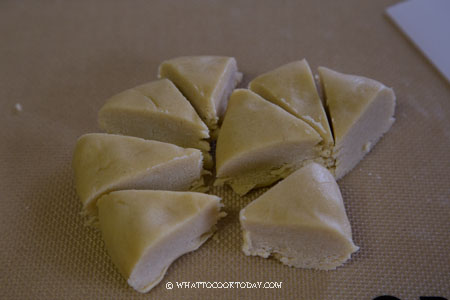 Use your hand to knead the dough briefly and you can feel that the dough will soften slightly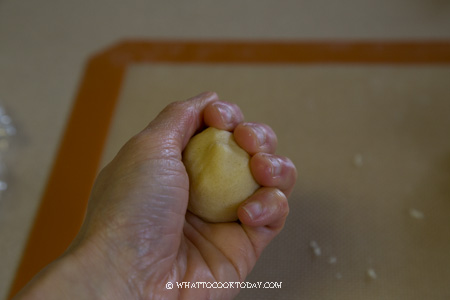 Use a rolling pin to roll it out into a 4-inch circle. The edge will have some crack, don't worry about that because our cookie dough is more at a dry side, which is great for forming those "cracks" when you back later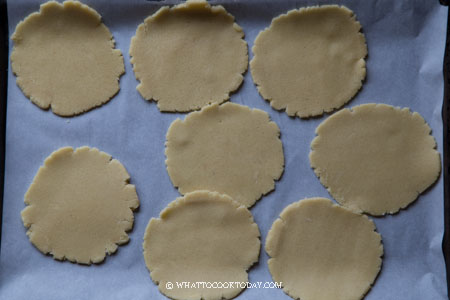 Drape the cookie circles gently on top of the proofed buns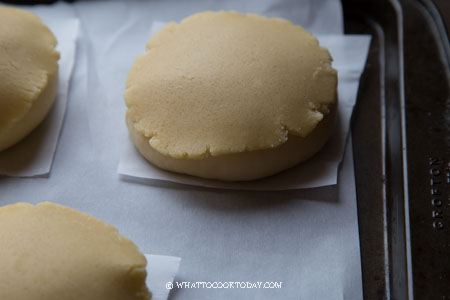 Mix the egg yolk with water for egg wash. Gently brush it on top of the cookie and the buns. Repeat with the rest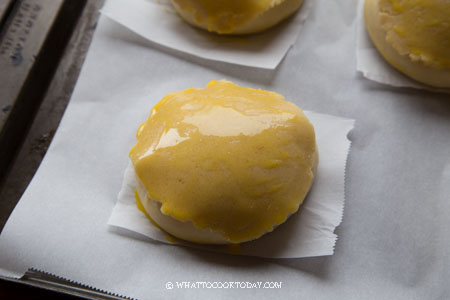 5. BAKING TIME
Place in the oven 3rd rack from the top and bake them for 10 minutes and then lower the temperature to 350 F and bake for another 10 minutes or until the top is lightly golden brown. Remove from the oven and let them cool down a little bit before serving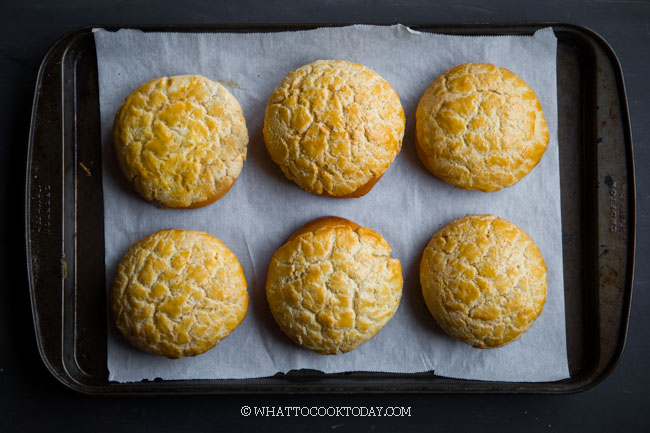 IMPORTANT TIPS TO TAKE NOTE
1. USE BREAD FLOUR
I do not recommend using all-purpose flour to make the buns. They are not the same compared to using bread flour. Bread flour has higher gluten and also can hold more moisture and produce better, softer, and lofty bread and buns
2. CHILL THE COOKIE DOUGH
Make sure the cookie dough is chilled in the fridge for at least 1 hour. If you can chill longer it's even better
3. YOU DON'T NEED TO SCORE THE COOKIE CRUST
In the past, I've used a knife to score the crust diagonally for diamond shape, but you don't want to do that with this recipe. The cookie should have even cracks all over it as it bakes
4. DON'T SKIP THE EGG WASH
The egg yolk wash contributes to the golden brown appearance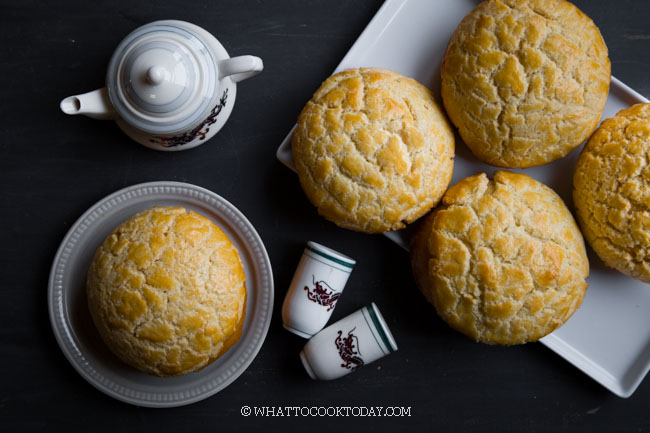 The buns are so soft and airy contrasting with the cookie crust on top! If you cut a warm bun in half and slide a slice of cold butter in there…oh my! You get the idea!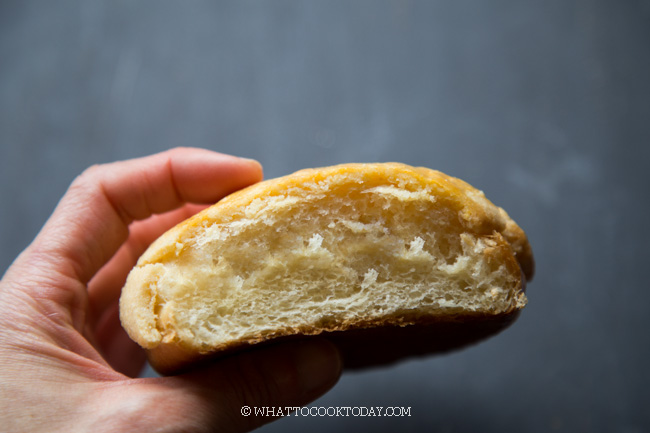 DID YOU MAKE THIS HONG KONG PO LO BAO RECIPE?
I love it when you guys snap a photo and tag to show me what you've made 🙂 Simply tag me @WhatToCookToday #WhatToCookToday on Instagram and I'll be sure to stop by and take a peek for real!

Po Lo Bao / Bo Lo Bao (Hong Kong Pineapple Buns)
Instructions
If you choose to fill the buns with nai wong bao custard:
Prepare the nai wong bao filling. Divide into 8 or 16 small equal portion, depending on the size of the buns you want. Roll them into round balls, covered and keep refrigerated until ready to be used
Prepare the dough and 1st proofing:
Prepare the dough as per recipe here

Once you get a dough, place it in a lightly oiled bowl and let it rise in a warm place for 1 hour. It will double in size. In wintertime, I use my oven bread proof function to do this.
Prepare the cookie crust (can be done the day before too):
Mix both flours, sugar, salt, baking powder in a mixing bowl and set aside. In another mixing bowl, cream the softened butter until it turns slightly pale, using paddle attachment if you use a stand mixer. Add the egg yolk and cream again until mix. Gradually incorporate the flour mixture into the dough. The cookie dough will be slightly at a dry side but if you press on it, it will form a dough. Dry cookie dough will give nice cracks when you bake it later. Flatten into a disc and wrap the dough with cling wrap and refrigerate for at least 1 hour
Shape the dough and 2nd proofing:
Once the dough has doubled in size, punch the dough down and then roll it into a long log and cut into 8 large pieces or 16 smaller pieces, your choice. Stretch the edge of each piece and tuck it back into the middle to form a smooth round ball. If you want to fill the buns with custard, flatten it into about 4-5 inch circle and place the filling in the middle and gather the sides to enclose the buns. Roll it into a smooth round ball. Placed on a parchment paper (seam side down) about 2-inch apart. Let them proof again for another 40 minutes or until they double in size again
Put the bun + cookie crust together:
Preheat oven to 400 F. 5 minutes before the end of 2nd proofing for the bun, get the cookie dough out from the fridge. The dough will be hard. Use a dough cutter to cut into 8 large pieces or 16 small pieces. Work with one at a time. Use your hand to knead the dough briefly and you can feel that the dough will soften slightly. Use a rolling pin to roll it out into a 4-inch circle. The edge will have some crack, don't worry about that

Drape the cookie circles gently on top of the proofed buns. Mix the egg yolk with water for egg wash. Gently brush it on top of the cookie and the buns. Repeat with the rest

Place in the oven 3rd rack from the top and bake them for 10 minutes for large buns and about 6-8 minutes for smaller buns and then lower the temperature to 350 F and bake for another 10 minutes for large buns and about 5-6 more minutes for smaller buns or until the top is lightly golden brown. Remove from the oven and let them cool down a little bit before serving. They are best served warm and can be kept up to 5 days at room temperature
Recommended products:
You may also like this roti boy recipe