Bo Lo Bao is another name for Hong Kong pineapple buns. These buns are soft, fluffy, and slightly sweet, and are topped with crackly crunchy cookie topping, which resembles the texture of a pineapple. I'm also sharing 3 different sweet filling options.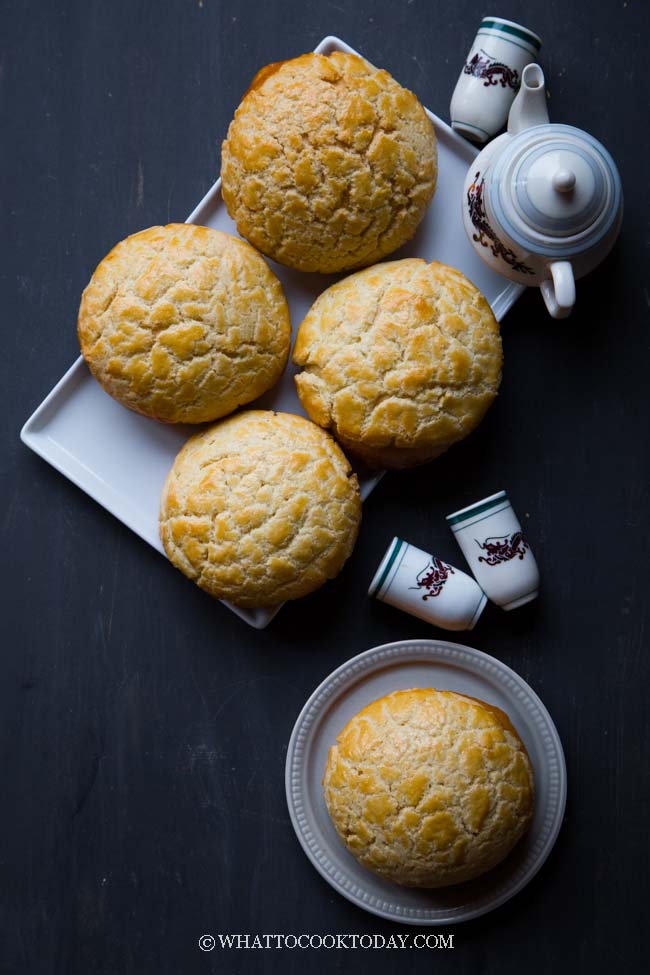 What is Bo lo bao/ po lo bao ?
Po lo bao or pineapple buns is a popular snack in Hong Kong and many Asian countries by now. Despite the name, the buns contain no actual pineapple. Instead, they are named after the crackly crunchy cookietopping, which is said to resemble the texture of a pineapple.
The history of Hong Kong pineapple buns dates back to the mid-20th century, when they were first introduced to the city by Chinese immigrants from Guangdong. Since then, they have become a staple food in Hong Kong, sold in bakeries and cafes throughout the city.
One of the most famous places to enjoy a Hong Kong pineapple bun is the chain of bakeries named Kam Wah Café, which has been serving the buns since the 1950s. Visitors can enjoy a freshly baked bun with a cup of coffee or milk tea, and watch as the bakers make the buns right in front of them.
Another unique aspect of bo lo bao is the crunchy cookie topping, which is made by mixing sugar, flour, egg, and butter. The cookie crust is draped on top of the bun before it is baked to perfection. The crunchy texture and sweet flavor of the topping is what sets the buns apart from other similar baked goods.
Filling options
The choice between filled or unfilled is up to personal preference. Traditionally, they are unfilled, with the sweet, crunchy topping being the main attraction. However, some bakeries offer filled versions, with popular fillings being butter, custard, and one of the readers of this blog informed me that there was a dry milk powder filling. I was quite intrigued by that and decided to give it a try with my own "concoction". The family likes it. I even decided to fill them up with leftover pineapple jam from making pineapple tart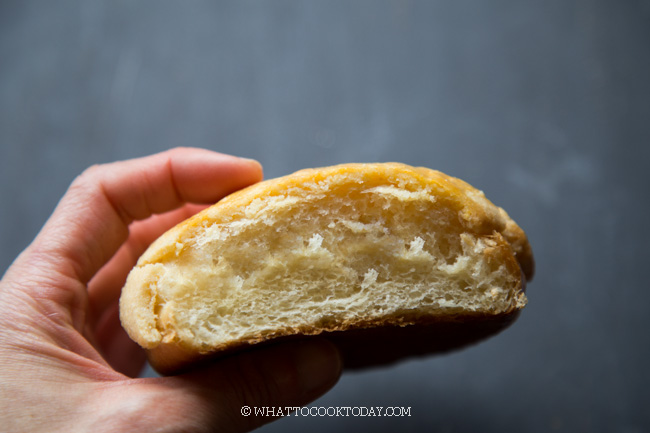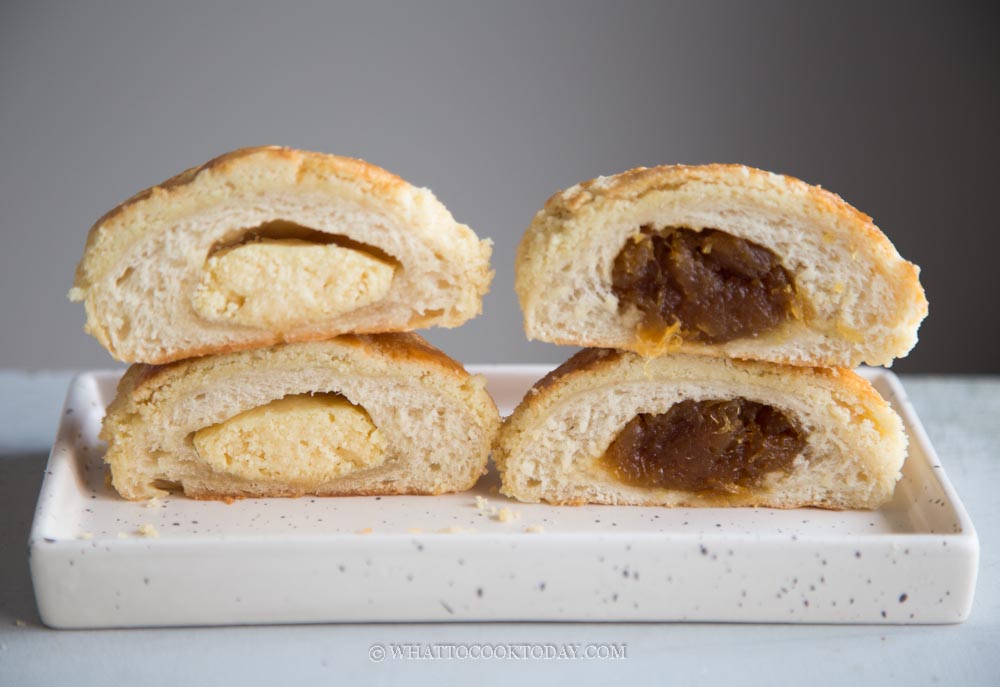 Why you'll love this recipe
1. The cookie crust
I've tweaked the recipe several times throughout these years and this latest cookie crust are nicely cracked without any scoring and very airy and crunchy. It stays crunchy the next days too
2. The buns are so soft and airy
Tang Zhong method is the best for producing soft tearable bread and buns like this
How to make po lo bao from scratch
1. I use my basic tang zhong milk bread recipe
I pretty much use this basic tang zhong bread/bun recipe for most of the Asian-style baked buns here
2. Prepare the cookie crust topping
Combine the flour, sugar, salt, baking powder, and baking soda in a mixing bowl and set aside. Add softened butter and mix with the dry ingredients into crumbles. Add the yolk and vanilla and mix into a moist cookie dough. If the dough seems too dry, you can add a splash of milk, about 1/2 teaspoon until you get a cookie dough. If the dough is a bit sticky, cover the dough with a cling wrap and refrigerate for about 30 minutes to help it firm up and easier to work with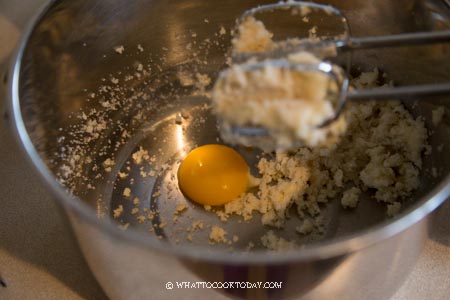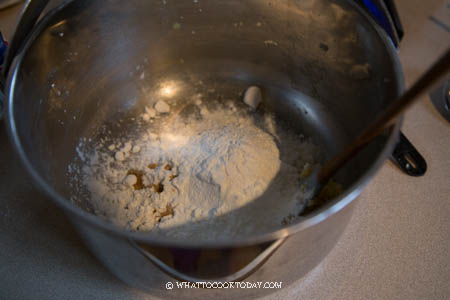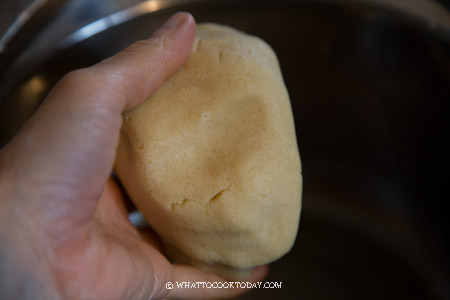 3. Divide into 8 portions. Work with one at a time. Use your hand to knead the dough briefly and you can feel that the dough will soften slightly.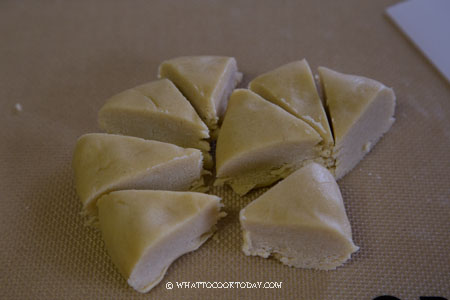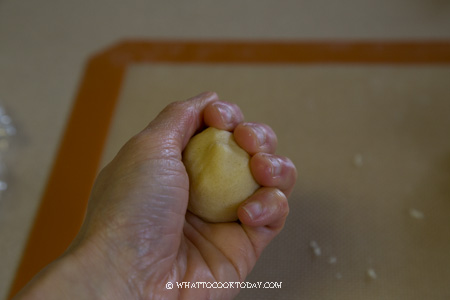 4. Place the cookie dough in between two cling wraps. Use a rolling pin to roll it out into a 4-inch circle. Cover with a cling wrap and refrigerate while you work on the dough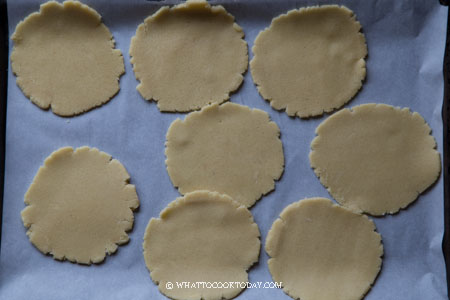 5. Once the dough has doubled in size, punch the dough down and divide into 8 large pieces. Stretch the edge of each piece and tuck it back into the middle to form a smooth round ball. If you want to fill the buns with custard, flatten it into about 4-5 inch circle and place the filling in the middle and gather the sides to enclose the buns. Roll it into a smooth round ball.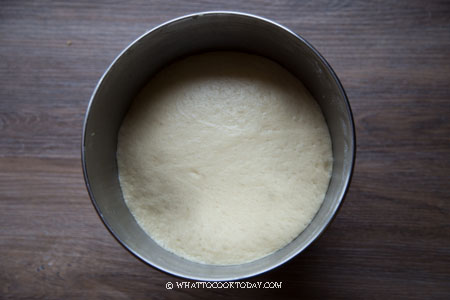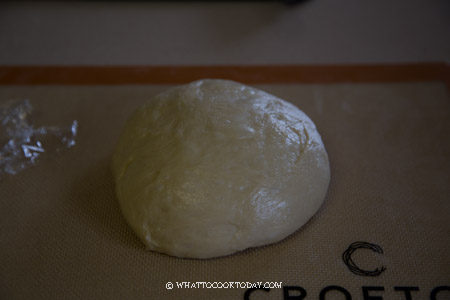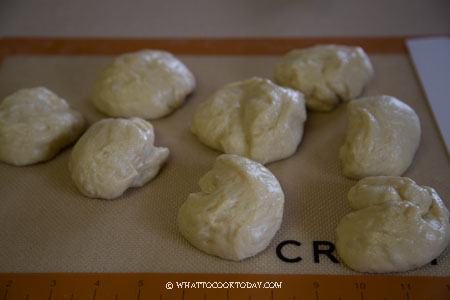 6. Let them proof again for another 40 minutes or until they about 1.5x original size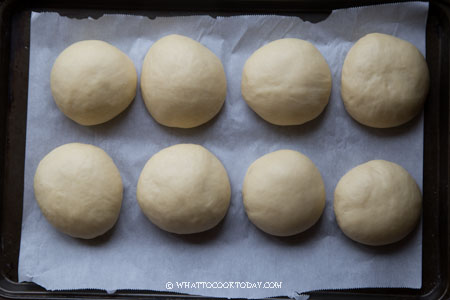 7. Preheat oven to 390 F (200 C) 15 minutes before the end of 2nd proofing for the bun, get the cookie dough out from the fridge. Mix the egg yolk with water for egg wash.
8. Brush the surface of the bun with some egg yolk wash. Put the cookie dough gently on top of the proofed buns. Repeat with the rest of the cookie dough and proofed dough.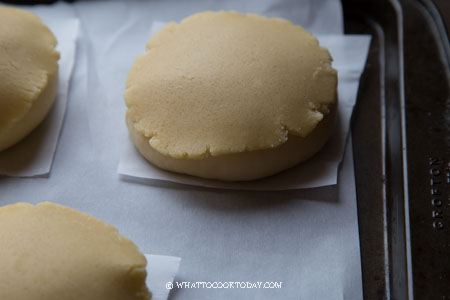 9. Gently brush it on top of the cookie dough. Repeat with the rest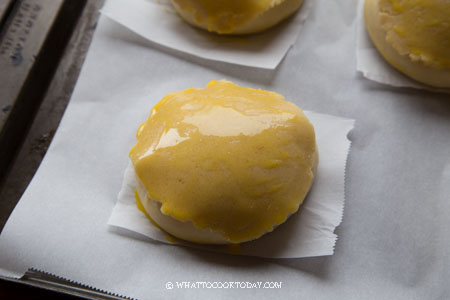 10. Place in the oven 3rd rack from the top and bake them for 15 minutes for large buns or until internal temperature is at least 190 F (88 C). Remove from the oven and let them cool down a little bit before serving. They are best served warm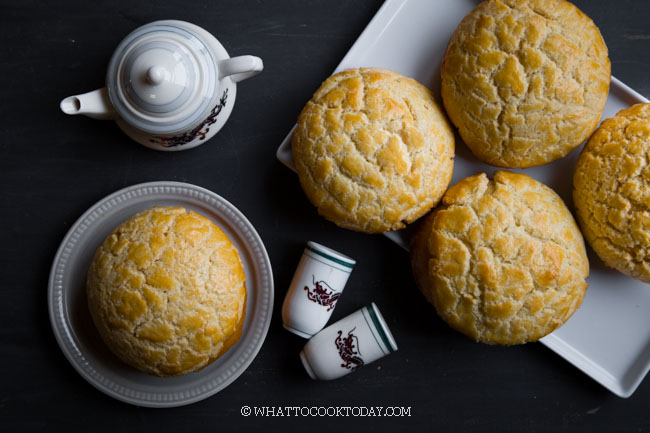 How to store and reheat bo lo bao
Leftover Hong Kong pineapple buns can be stored in an airtight container at room temperature for up to 5 days if they have no filling, with milky filling, or pineapple jam filling. If they have custard cream filling, they need to be kept in the fridge. They can be kept in the fridge for about 5 days. The longer you keep them in the fridge, the drier the buns become. If you want to keep them for a longer period of time, keep them in the freezer for up to 1 month.
To reheat, place the buns in a microwave-safe dish and heat in 30-second increments until they are warm and soft. You can also reheat them in a conventional oven at 350°F for 8-10 minutes or until they are warm.
The buns are so soft and airy contrasting with the cookie crust on top! If you cut a warm bun in half and slide a slice of cold butter in there…oh my! You get the idea!
DID YOU MAKE THIS HONG KONG PO LO BAO RECIPE?
I love it when you guys snap a photo and tag to show me what you've made 🙂 Simply tag me @WhatToCookToday #WhatToCookToday on Instagram and I'll be sure to stop by and take a peek for real!

This post was last published in November, 2019 and has been updated on January 30, 2023 with improved crunchy cookie crust and different filling options.
Po Lo Bao / Bo Lo Bao (Hong Kong Pineapple Buns)
Ingredients
For the dough:
300

gr

bread flour

with at least 12% protein content

5

gr

instant yeast

30

gr

sugar

⅛

tsp

salt

15

gr

milk powder

120

ml

whole milk

50

gr

egg

weight is without the shell

40

gr

softened butter
Dry milk powder filling (optional):
70

g

unsalted butter

softened

20

g

powdered sugar

70

g

milk powder

15

g

eggs

room temperature
Instructions
Prepare the milk filling (optional):
Combine all the ingredients in a mixing bowl. You will get a dough-like consistency. Divide into 8 portions and roll into round balls. Keep them covered in an air-tight container and keep in the fridge if you prepare this few days before. Simply let them come to a room temperature to soften a bit before wrapping
Prepare tangzhong:
Place milk and the bread flour in a small saucepan. Whisk until there is no more lumps. Cook this mixture over low-medium heat until it reaches 65 C (149 F). Remove from the heat and cover with a plastic wrap, touching the tangzhong so the skin won't form. I highly suggest using this the next day instead of using it on the same day. Store this in the fridge
Prepare the dough:
If you keep tangzhong in the fridge, take it out to let it sit at room temperature for about 30 minutes or so. Mix all the dry ingredients together in a mixing bowl. Make a well in the center and pour in the wet ingredients and the tang zhong you made earlier. Use a dough hook attachment to knead the dough on speed 2 until all the crumbly dough starts to come together into one mass, it may take about 2-3 minutes for this to happen. Don't be tempted to add any liquid. You may need to stop halfway and scrape the dough off the hook and the sides of the bowl and knead again for another 3 minutes

Gradually add in the softened butter bit by bit.  The dough will turn into a REAL sticky mess again because of the butter, just keep kneading and stop halfway and scrape the dough off the hook and bowl again and continue to knead until the butter is absorbed by the dough. IT WILL HAPPEN, don't worry! DO NOT be tempted to add any extra flour. You will get a shiny smooth dough that is very elastic. This may take about 10-15 minutes on speed 4. The dough must pass a windowpane test, meaning, when you stretch a small amount of dough thinly, it won't break and a light can pass through

Place it in a lightly oiled bowl and let it rise in a warm place for 1 hour or longer depending on the temperature. It will double in size. In wintertime, I use my oven bread proof function to do this.
Prepare the cookie crust (can be done the day before too):
Combine the flour, sugar, salt, baking powder, and baking soda in a mixing bowl and set aside. Add softened butter and mix with the dry ingredients into crumbles. Add the yolk and vanilla and mix into a moist cookie dough but not too sticky. If the dough seems dry, you can add a splash of milk, about 1/2 teaspoon at a time to get into a moist cookie dough. If the dough is a bit sticky, cover the dough with a cling wrap and refrigerate for about 30 minutes to help it firm up and easier to work with

Divide into 8 portions. Work with one at a time. Use your hand to knead the dough briefly and you can feel that the dough will soften slightly. Place the cookie dough in between two cling wraps. Use a rolling pin to roll it out into a 4-inch circle

Cover with a cling wrap and refrigerate while you work on the dough
Shape the dough and 2nd proofing:
Once the dough has doubled in size, punch the dough down and then roll it into a long log and cut into 8 large pieces. Stretch the edge of each piece and tuck it back into the middle to form a smooth round ball.

If you want to fill the buns with custard, flatten it into about 4-5 inch circle and place the filling in the middle and gather the sides to enclose the buns. Roll it into a smooth round ball. Placed on a parchment paper (seam side down) about 2-inch apart. Let them proof again for another 40 minutes or until they double in size again
Put the bun + cookie crust together:
Preheat oven to 390 F (200 C) 15 minutes before the end of 2nd proofing for the bun, get the cookie dough out from the fridge.

Mix the egg yolk with water for egg wash.

Brush the surface of the bun with some egg yolk wash. Put the cookie dough gently on top of the proofed buns. Repeat with the rest of the cookie dough and proofed dough. Gently brush it on top of the cookie dough. Repeat with the rest

Place in the oven 3rd rack from the top and bake them for 15 minutes for large buns or until internal temperature is at least 190 F (88 C). Remove from the oven and let them cool down a little bit before serving. They are best served warm and can be kept up to 5 days at room temperature
Notes
If you use regular granulated sugar, put it in a food processor and process until it's fine in texture, but not into powdered sugar/icing sugar
Recommended products:
Nutrition
Serving:
1
bun with milk filling
|
Calories:
510
kcal
|
Carbohydrates:
59
g
|
Protein:
12
g
|
Fat:
25
g
|
Saturated Fat:
15
g
|
Polyunsaturated Fat:
1
g
|
Monounsaturated Fat:
7
g
|
Trans Fat:
1
g
|
Cholesterol:
142
mg
|
Sodium:
280
mg
|
Potassium:
263
mg
|
Fiber:
1
g
|
Sugar:
21
g
|
Vitamin A:
831
IU
|
Vitamin C:
1
mg
|
Calcium:
162
mg
|
Iron:
1
mg
You may also like this roti boy recipe