Fresh pineapple is cooked and reduced to a very thick consistency and usually used to fill up Pineapple Tarts.
Pineapples were on sale few weeks ago and with 4 pineapples at home, I thought I would made a compote or what we usually selai nenas in Indonesia. They were easy to make but just need about one hour to get it to a thick consistency to be used in Kue Nastar (Pineapple Tarts) 😉
How do you pick a pineapple?
To be honest, I'm not an expert either. Usually you would be able to smell a nice pineapple aroma at its base. A stranger told me before that I should be albe to tug on one of the inner leaves. Those are the signs that the pineapple is ready.
Look at how much juice was squeezed out. This helps to reduce cooking time. All the cooking does is caramelizing the sugar to make it turn dark brown and to evaporate the liquid. My two kids were fighting for the juice!
The thickness of the pineapple jam is necessary when you are going to use it to make Kue Nastar. The jam is usually rolled into a ball and then wrapped with the dough.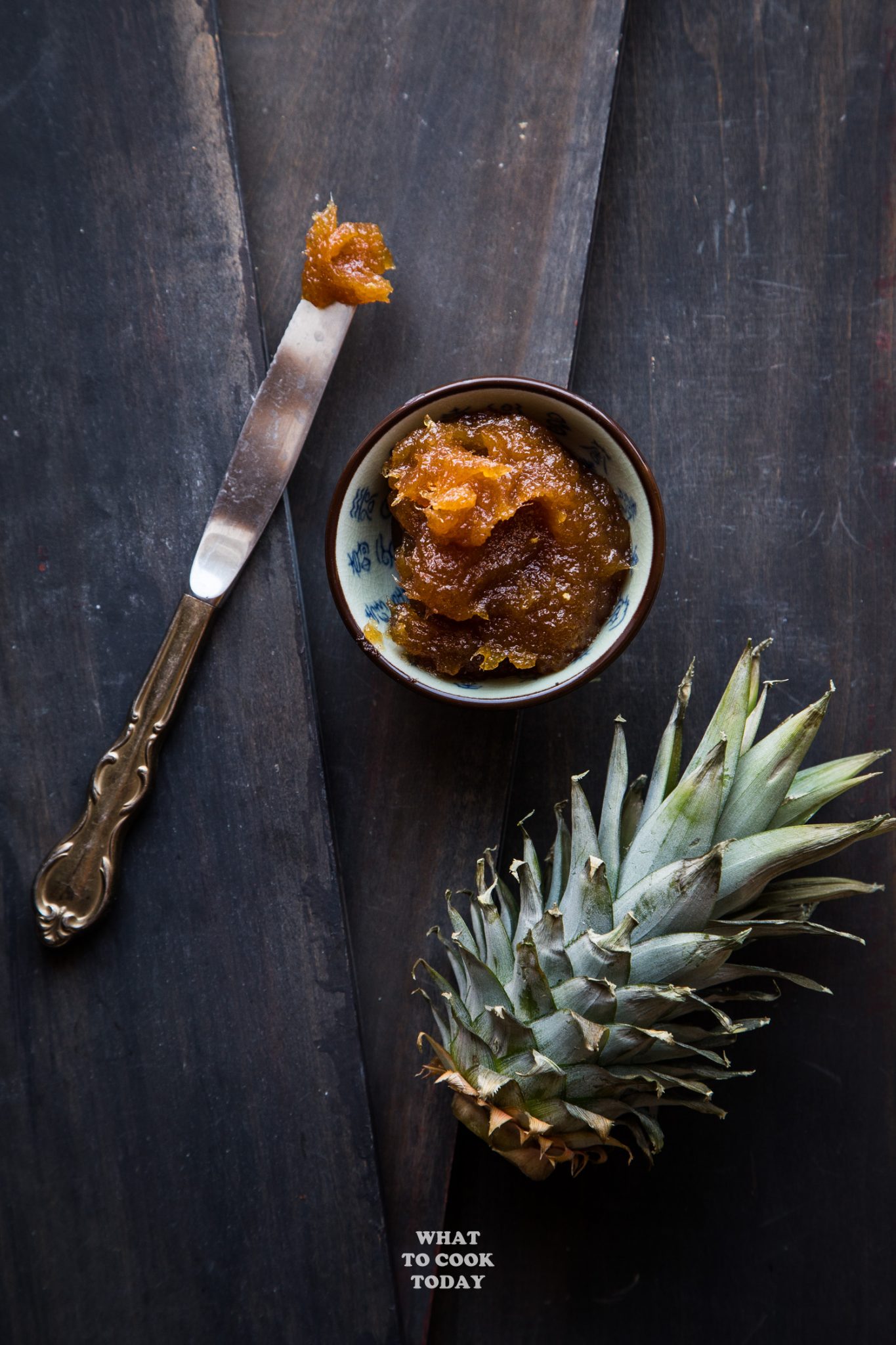 How To Make Pineapple Jam for Pineapple Tarts
Instructions
Trim off the top and bottom of the pineapple. Start trimming the sides and then trim off the "eyes". Slice the pineapple vertically and cut off the core. Cut into little pieces. Use a blender to roughly chopped it. Use a strainer and use the back of the fork to squeeze out the juice. This helps to cut down on cooking time. You can save the juice for drinking or other use

In a large pot, put in the chopped pineapple, sugar, and spices and cook over low-medium heat. Cook until they are dry, about 45 minutes. Store in glass container and let it cool down and store in refrigerator and it's good up to about 2 weeks and can be kept frozen for 1 month
Notes
If you make this pineapple jam to spread on toast, you can reduce its consistency to be more spreadable by not cooking it for so long.
Check out this melt-in-the-mouth Kue Nastar (Pineapple Tarts) recipe and video tutorial. It's a must for Chinese New Year.