If you are looking for a soft and buttery Singapore/Malaysian style open-faced pineapple tarts recipe for Chinese New Year, you want to try this recipe out. No special mold is needed. I use a cookie cutter to make this.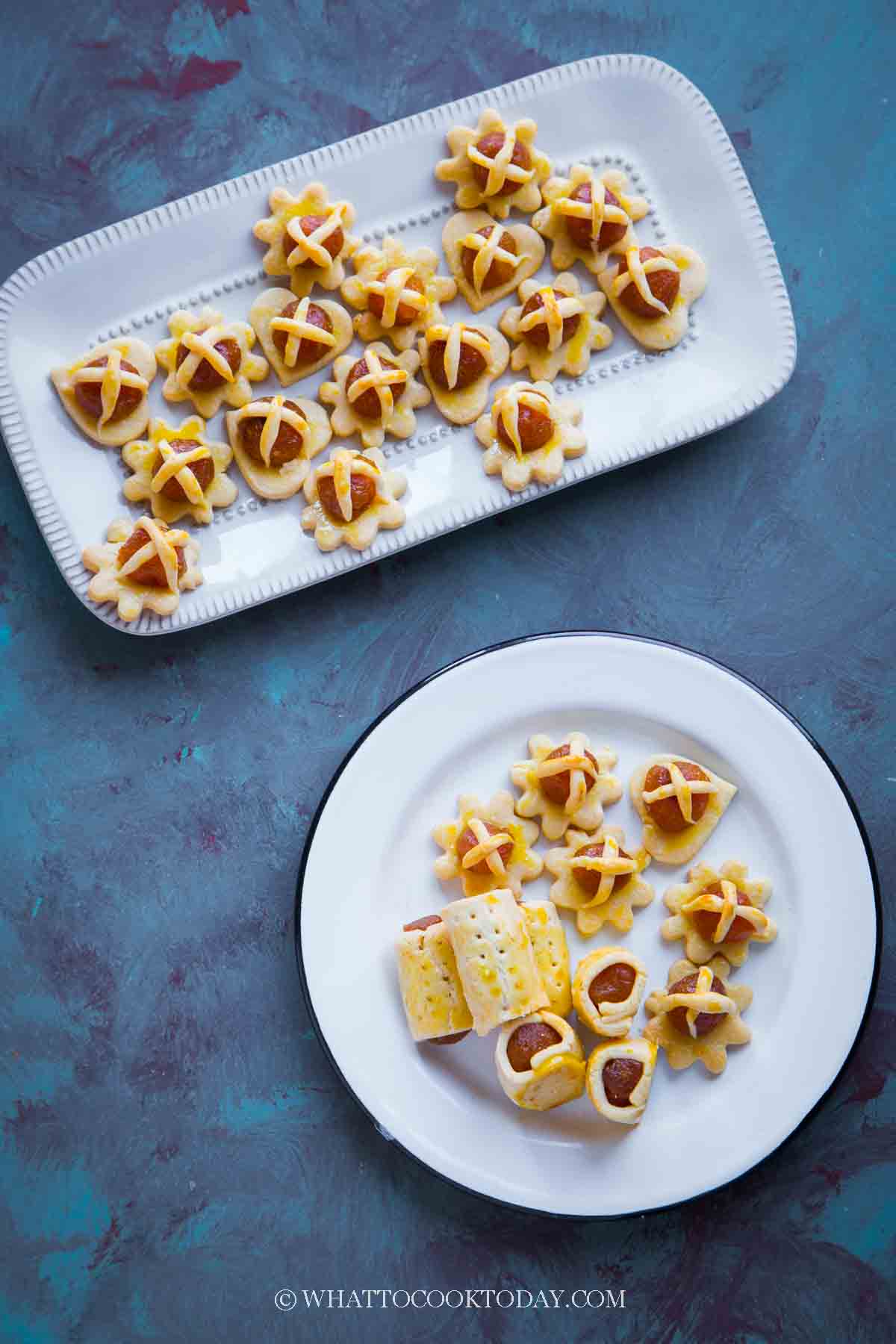 I grew up with the traditional enclosed pineapple tarts or what we call nastar in Indonesia, though the rolled type (nastar gulung) is also getting more common. The open-faced and rolled pineapple tarts seem to be more popular in Singapore and Malaysia.
The recipe rundown
Taste: The pastry is buttery with some sweetness from the pineapple jam
Texture: The pastry is soft and buttery
Pros: No special mold needed
Cons: It can be time-consuming especially if you make the pineapple jam from scratch
You don't need special pineapple tart mold
I didn't make the open-face pineapple tarts any sooner because I didn't have the special mold/stamp where you can easily cut and stamp the dough out with some nice decoration. Then I thought well, I can just use a cookie cutter, can't I? and so that's the direction I went and here we are LOL!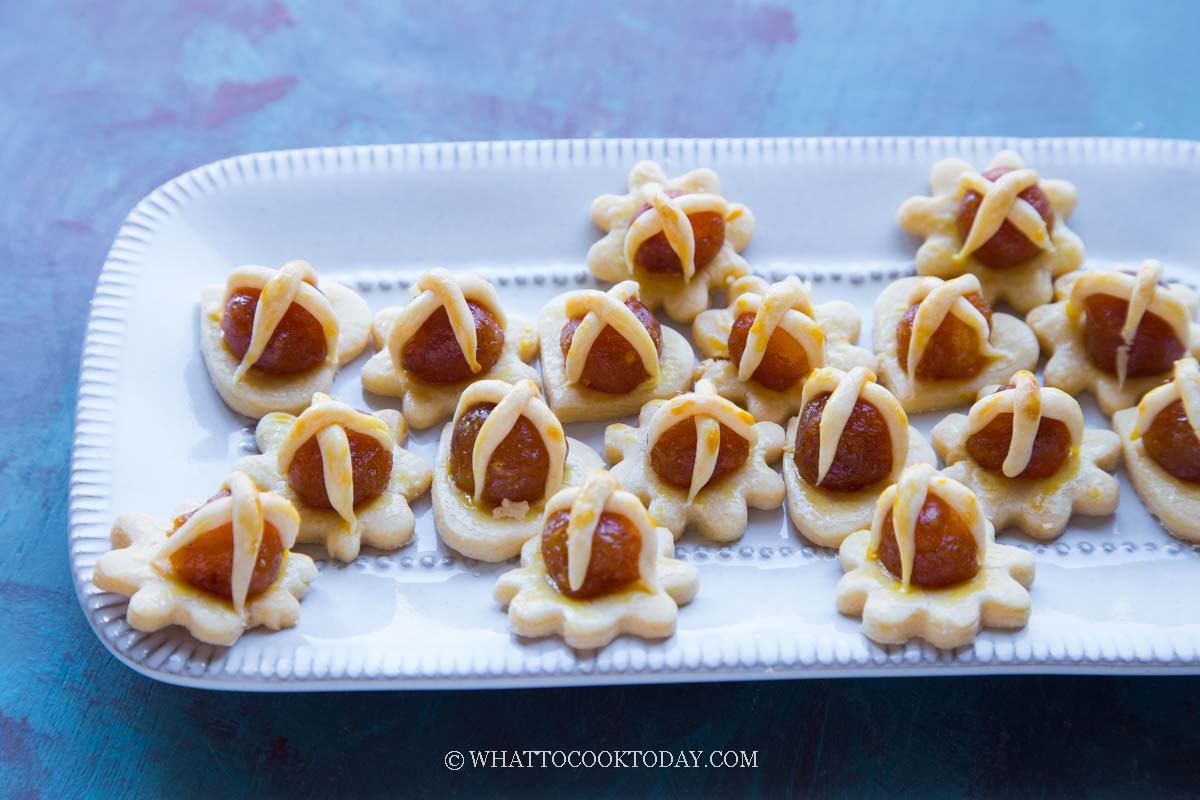 How to make open-faced pineapple tarts
1. Divide the pineapple jam into about 5 grams pieces and roll them into round balls. Cover and keep them chilled in the fridge while you prepare the dough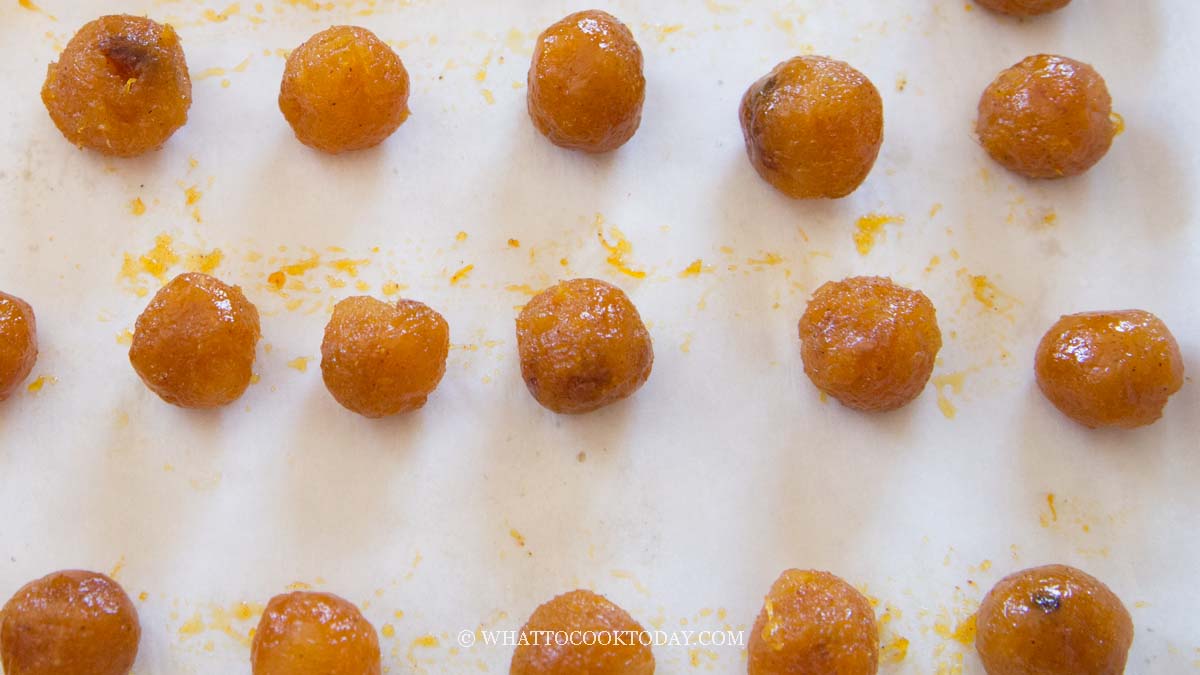 2. Cream the softened butter and sugar until combined. Don't have to cream until it's creamy and pale.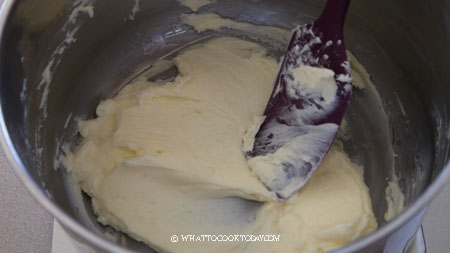 3. Then add 1 egg yolk and the whites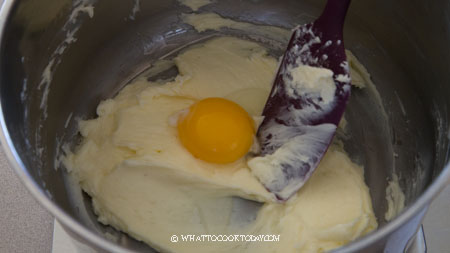 4. Mix again until just combined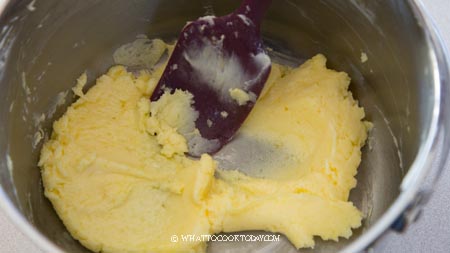 5. Sift in the all-purpose flour, salt and cornstarch.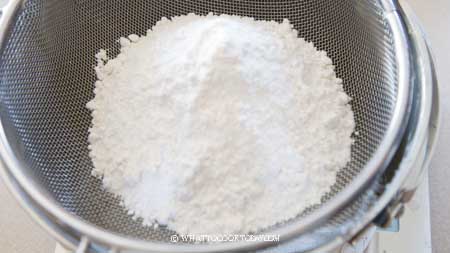 6. Fold with a spatula to roughly combine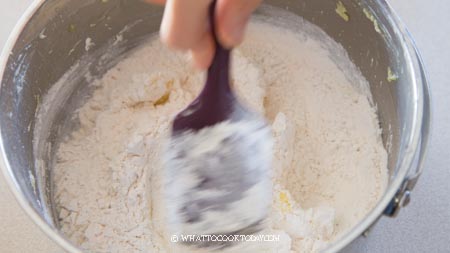 7. Then use your hand to mix into a soft dough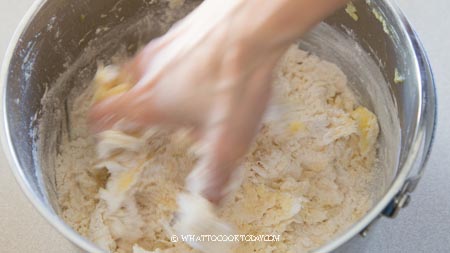 8. Don't knead it too much. We just want it to come into a mass of dough. Cover and let the dough rest for 20 minutes. Do not skip the resting part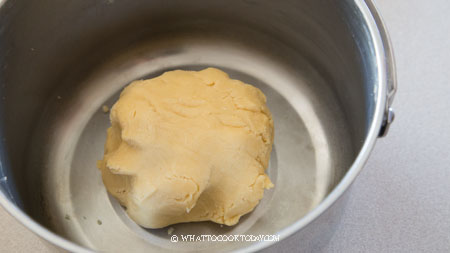 9. Preheat oven to 350 F (180 C). Pinch off a small amount of dough, about 10-15 grams for the lattice top. Divide the dough into two. I find it easier to work with a smaller amount at one time. Keep the other wrap up while you work with one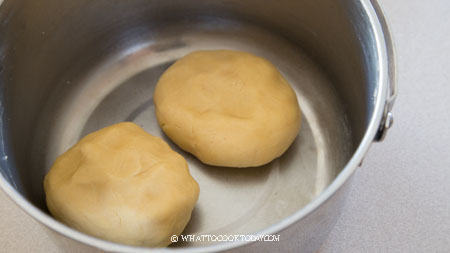 10. If you have a silicone mat, use this to roll the dough out. Otherwise, you can put the dough in between sheets of cling wrap to prevent sticking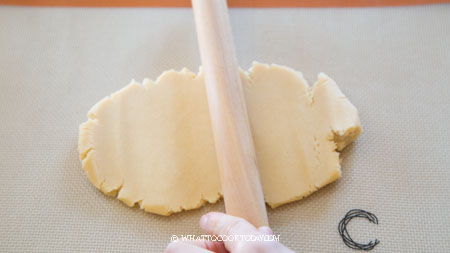 11. Roll it out into about 1/4 inch (about 5 mm) in thickness using a rolling pin. Cut the flattened dough out with a cookie cutter.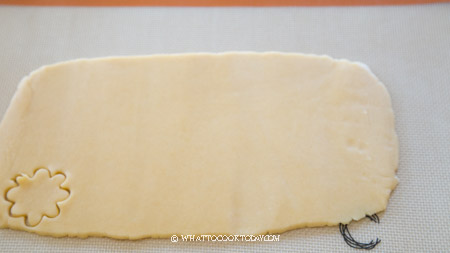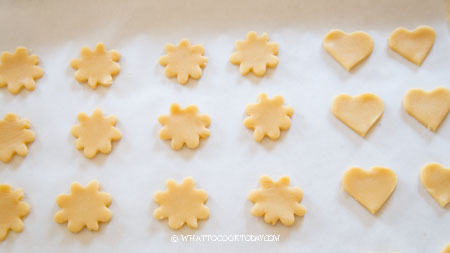 12. I use a thumb to make a slight indentation on the middle to put the pineapple jam. This is optional.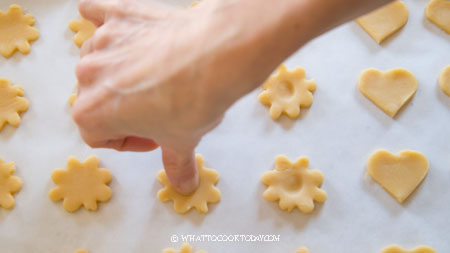 13. Brush with egg wash. Put the rolled pineapple jam in the middle. Repeat with the rest of the cut-out dough and filling


14. Pinch off a very small amount of dough and roll into thin strips and place on top of the pineapple jam for decoration. Lightly brush again with egg wash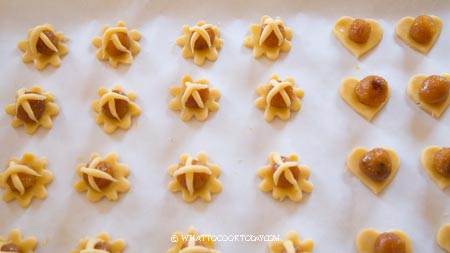 15. Bake in a preheated oven for 12-15 minutes (depending on the size of the tarts) or until just lightly golden brown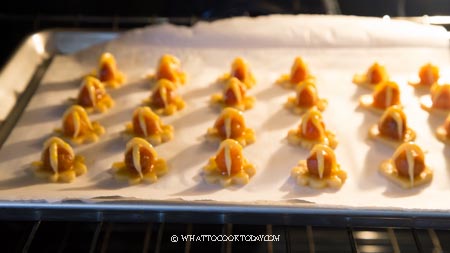 16. Let them cool down on the pan for 1 minute and then transfer to the cooling rack to let them cool down completely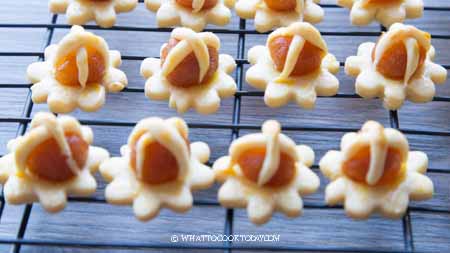 How to store baked pineapple tarts
1. Let them cool down completely
2. Transfer to an air-tight container. Depending on how dry and firm the pineapple jam you use on the tarts, the drier they are, the longer the tarts can be kept at room temperature, usually about 3 weeks
How to freeze baked pineapple tarts
1. Let them cool down completely
2. Wrap them with a cling wrap in small batches (about 5-6 pieces per batch) and then put into a freezer bag
3. Push all the air out and then seal the bag. Date the bag for up to one month
4. When ready to serve, take them out and let them sit at room temperature for 15 minutes or so and they will soften and as good as new again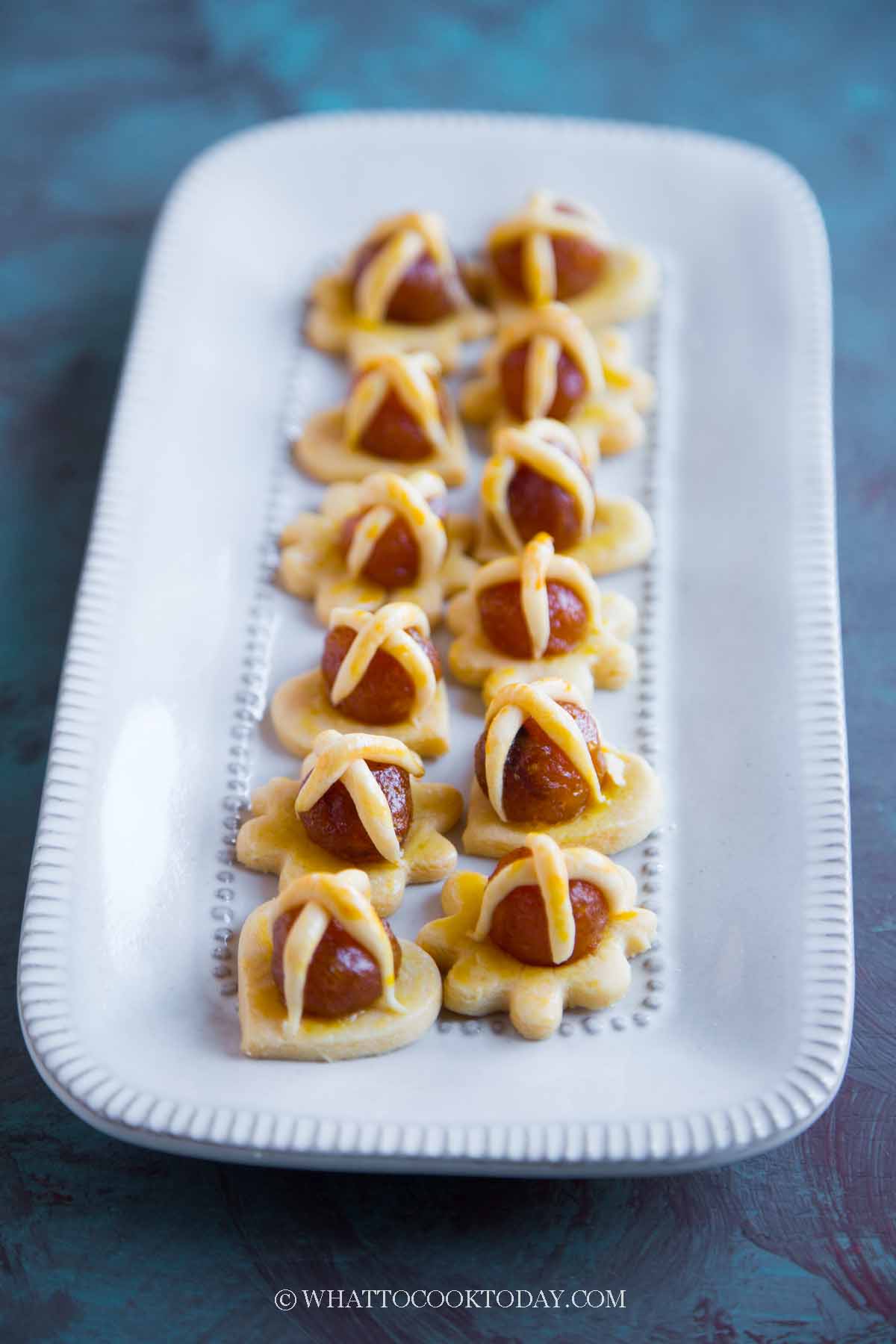 Did you make this open-faced pineapple tarts recipe?
I love it when you guys snap a photo and tag to show me what you've made 🙂 Simply tag me @WhatToCookToday #WhatToCookToday on Instagram and I'll be sure to stop by and take a peek for real!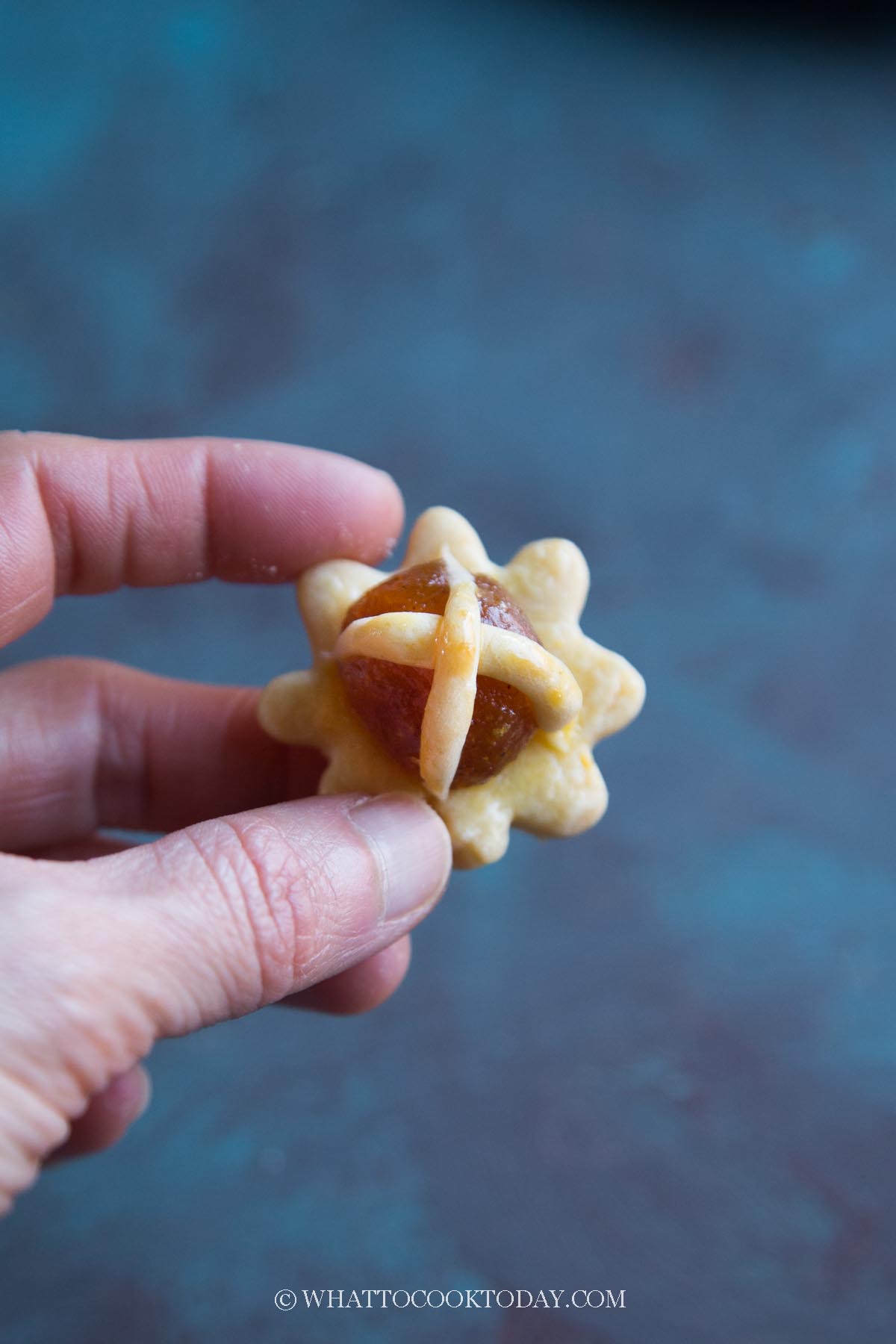 The recipe is adapted from one of my favorite YouTube channels, Katherine Kwa, with slight modifications.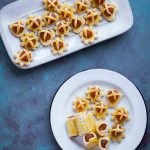 Singapore/Malaysia Open-faced Pineapple Tarts
Ingredients
Cookie dough:
125

gr

butter (unsalted)

softened, you can use salted butter and omit the salt

30

gr

icing sugar

1

egg yolk

20

gr

egg whites

about 2 Tbsp

210

gr

all-purpose flour

¼

tsp

salt

omit if you use salted butter

15

gr

cornstarch
Egg wash:
1

large

egg

lightly beaten
Instructions
Prepare the pineapple jam:
Divide the pineapple jam into about 5 grams pieces and roll them into round balls. Cover and keep them chilled in the fridge while you prepare the dough
Prepare the cookie dough:
Cream the softened butter and sugar until combined. I didn't use a mixer and just use a spatula to mash the butter and sugar until they are creamy. Then add 1 egg yolk and the whites and mix again until just combined

Sift in the all-purpose flour, salt and cornstarch. Fold with a spatula to roughly combine and then use your hand to mix into a soft dough. Don't knead it too much. We just want it to come into a mass of dough. Cover and let the dough rest for 20 minutes. Do not skip the resting part
Shaping:
Preheat oven to 350 F (180 C). Pinch off a small amount of dough, about 10-15 grams for the lattice top. Divide the dough into two. I find it easier to work with a smaller amount at one time. Keep the other wrap up while you work with one

If you have a silicone mat, use this to roll the dough out. Otherwise, you can put the dough in between sheets of cling wrap to prevent sticking, and roll it out into about 1/4 inch (about 5 mm) in thickness using a rolling pin

Cut the flattened dough out with a cookie cutter. I use a thumb to make a slight indentation on the middle to put the pineapple jam. Brush with egg wash. Put the rolled pineapple jam in the middle. Repeat with the rest of the cut-out dough and filling

Pinch off a very small amount of dough and roll into thin strips and place on top of the pineapple jam for decoration. Lightly brush again with egg wash
Baking:
Bake in a preheated oven for 12-15 minutes (depending on the size of the tarts) or until just lightly golden brown. Let them cool down on the pan for 1 minute and then transfer to cooling rack to let them cool down completely
Storing:
After cooling down completely, store them in an air-tight container. The drier the pineapple jam, the longer you are able to keep the tarts at room temperature for up to about 3 weeks