I'm sharing an absolutely easy flourless, gluten-free, no oil or butter almond and seeds florentines that are thin, crispy with a hint of orange. They are perfect for a Chinese New Year celebration or any holiday baking. You don't need florentines powder or bienneta powder for this recipe.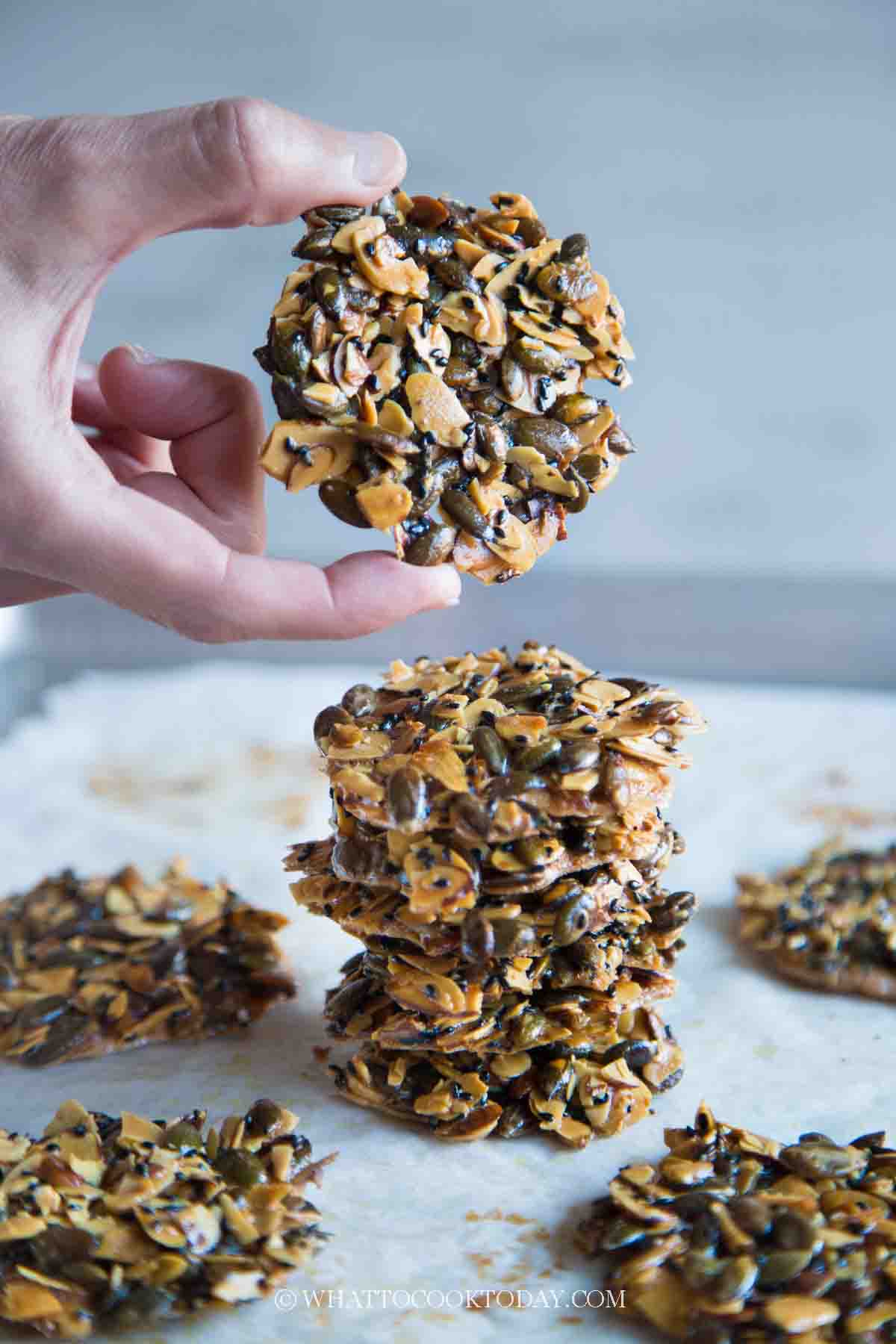 Florentine cookies are popular Chinese New Year cookies. Some of my friends who live in Singapore and Malaysia, will get a premix Florentine powder or Bienneta powder (you need neither one for this recipe) to make florentines cookies or bars. What is florentine powder? By looking at the ingredient list on the package it seems like it's a mixture of dried glucose, sugar, honey powder, fat, butter, and maltodextrin. It's not easy to find florentine powder, which prompted me to find easier florentine cookie recipe and I saw this Ottolenghi:The Cookbook (Ten Speed) crispy almond orange florentines and I decided to try it out with some modifications.
The recipe rundown
Taste: They are nutty and sweet with hint of orange (and chocolate if you using)
Texture: Crispy
Pros: Incredibly easy and you don't need special florentine mix/powder. You can also use nuts and seeds of your choice too
Cons: It's so hard not to finish the entire tray on my own!!!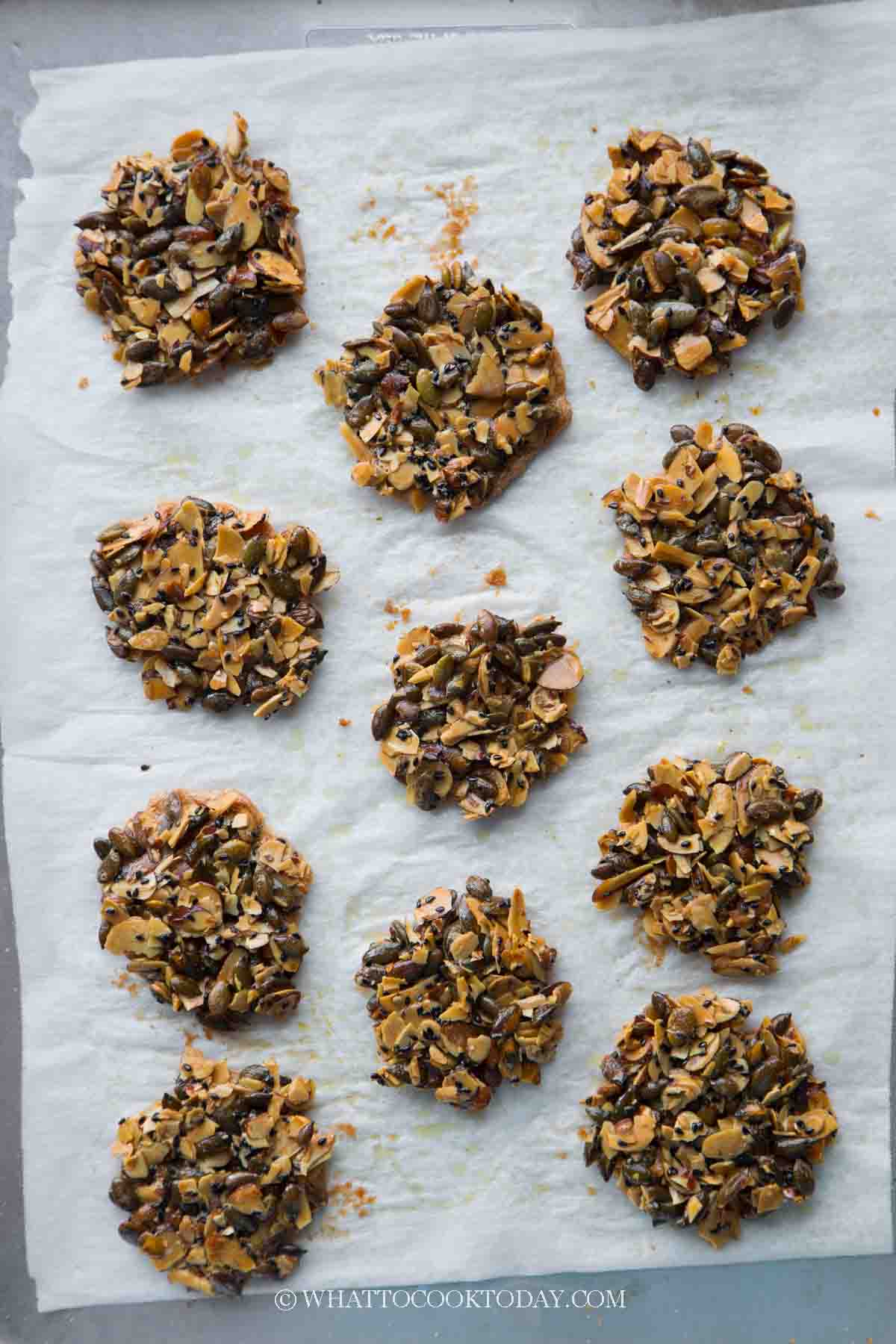 How to make these super easy and crispy almond florentines without florentine powder
1. Preheat oven to 350 F (180 C). Spread the almonds and seeds on a baking sheet and bake for 10 minutes or until nicely golden brown. Remove from the oven and set aside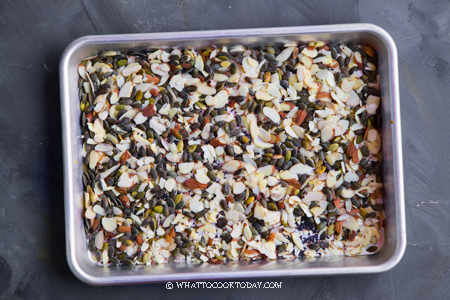 2. Mix egg white with icing sugar with a fork until the egg whites are kinda frothy


3. Add the rest of the ingredients


4. Stir to combine everything and make sure the egg white mixture coats the nuts and seeds
If you enjoy something with nuts and seeds, you have to try this super easy almond and seeds florentine with a nice hint of orange. They are so easy to make, thin, and crispy.
5. Use a spoon to scoop up the mixture on a prepared pan and then use the back of the spoon to spread it thin without any gaps, about 3-inch in diameter. Repeat with the rest of the mixture


6. Bake in a preheated oven for 15 minutes or until they are golden brown. Check the bottom of the florentine, if they are not browned yet, bake a bit longer


7. They appear to be soft out from the oven. Let them cool on the pan for 5 minutes and then transfer to a cooling rack to let them cool down completely. They will be crispy once cooled down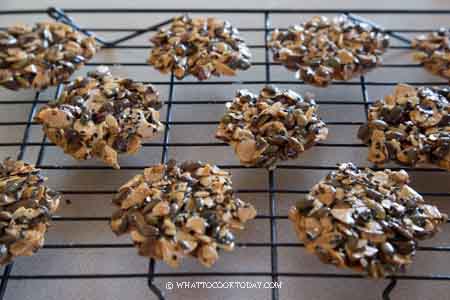 8. Store them in an air-tight container and they can stay crispy for 5 days (it was about a week for me)

Florentines don't stay crispy and how to fix it
This recipe yields very crispy almond florentines that stays crispy for days or weeks. If they aren't, there could be few possibilities:
1. Make sure you spread the mixture thin enough
2. It could be humidity issue where you are. You can simply recrisp them in the oven at 350 F for 10-15 minutes
3. You may need to bake longer than what I did. After baking, turn off the oven, do not open the door and let them stay in there for 30 minutes to 1 hour
Did you make this flourless almond florentines recipe?
I love it when you guys snap a photo and tag to show me what you've made 🙂 Simply tag me @WhatToCookToday #WhatToCookToday on Instagram and I'll be sure to stop by and take a peek for real!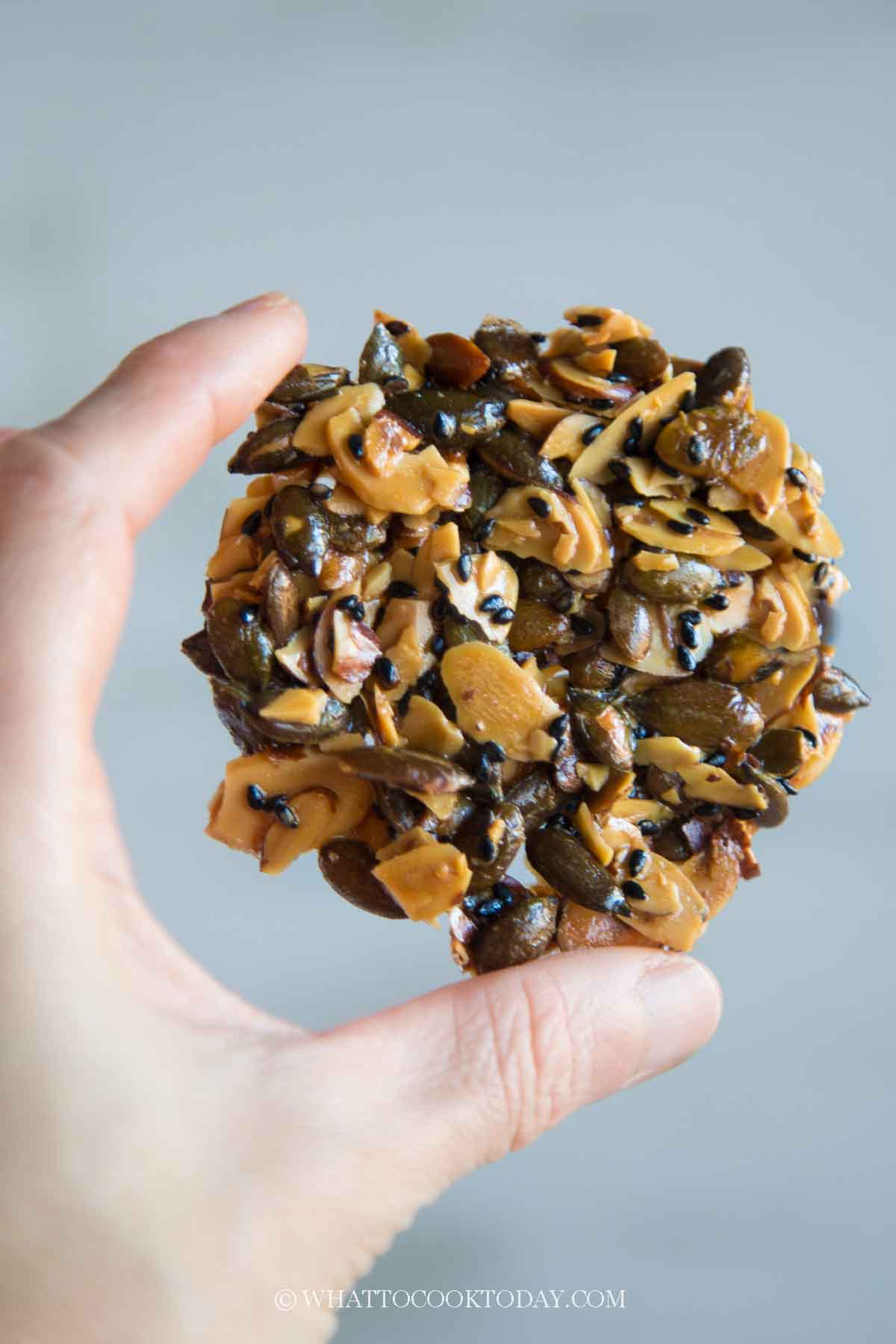 Easy Flourless Almond Florentine
Ingredients
30

gr

egg white

from 1 large egg (about 57 grams with shell)

50

gr

confectioners' sugar

about 1/3 cup

60

gr

sliced almonds

about 3/4 cup

70

gr

pepita seeds

about 1 cup

10

gr

black sesame seeds

1 Tbsp + 1 tsp, or you can use mixture of black and white sesame seeds

¼

tsp

salt

zest of half large orange

or 1/2 tsp orange extract

Cooking oil

for brushing
Optional:
50

gr

semi-sweet chocolate chips
Instructions
Toast the nuts and seeds (optional, but adds extra flavor):
Preheat oven to 350 F (180 C). Spread the almonds and seeds on a baking sheet and bake for 10 minutes or until nicely golden brown. Remove from the oven and set aside

Lower the oven temperature to 300 F (150 C). Line the baking sheet with a parchment paper and lightly brush with a bit of oil to prevent sticking
Prepare the "batter":
Mix egg white with icing sugar with a fork until the egg whites are kinda frothy. Add the rest of the ingredients and stir to combine everything. Make sure they are really well combined and the egg white mixture coats all the nuts and seeds
Baking:
Use a spoon to scoop up the mixture on a prepared pan and then use the back of the spoon to spread it thin without any gaps, about 3-inch in diameter. Repeat with the rest of the mixture

Bake in a preheated oven for 20-25 minutes or until they are golden brown. Check the bottom of the florentine, it they are not browned yet, bake a bit longer

They appear to be soft out from the oven. Let them cool on the pan for 5 minutes and then transfer to a cooling rack to let them cool down completely. They will be crispy once cooled down
If you want to dip in or spread with chocolate (optional):
Melt the chocolate in the microwave for 20-30 seconds and then stir until smooth. Dip half of the crispy florentine in the chocolate and place on a cooling rack to let the chocolate sets. You can also use a spoon to spread some chocolate on top of the florentine crisps and let the chocolate sets at room temperature
Storing:
Store them in an air-tight container and they can stay crispy for 5 days (it was about a week for me)