An absolutely easy and popular traditional homemade Chinese-style dough knots/dumpling knots/dough drops/spaetzle/pasta or known as mian ge da tang, cooked in a hearty tomato and egg soup.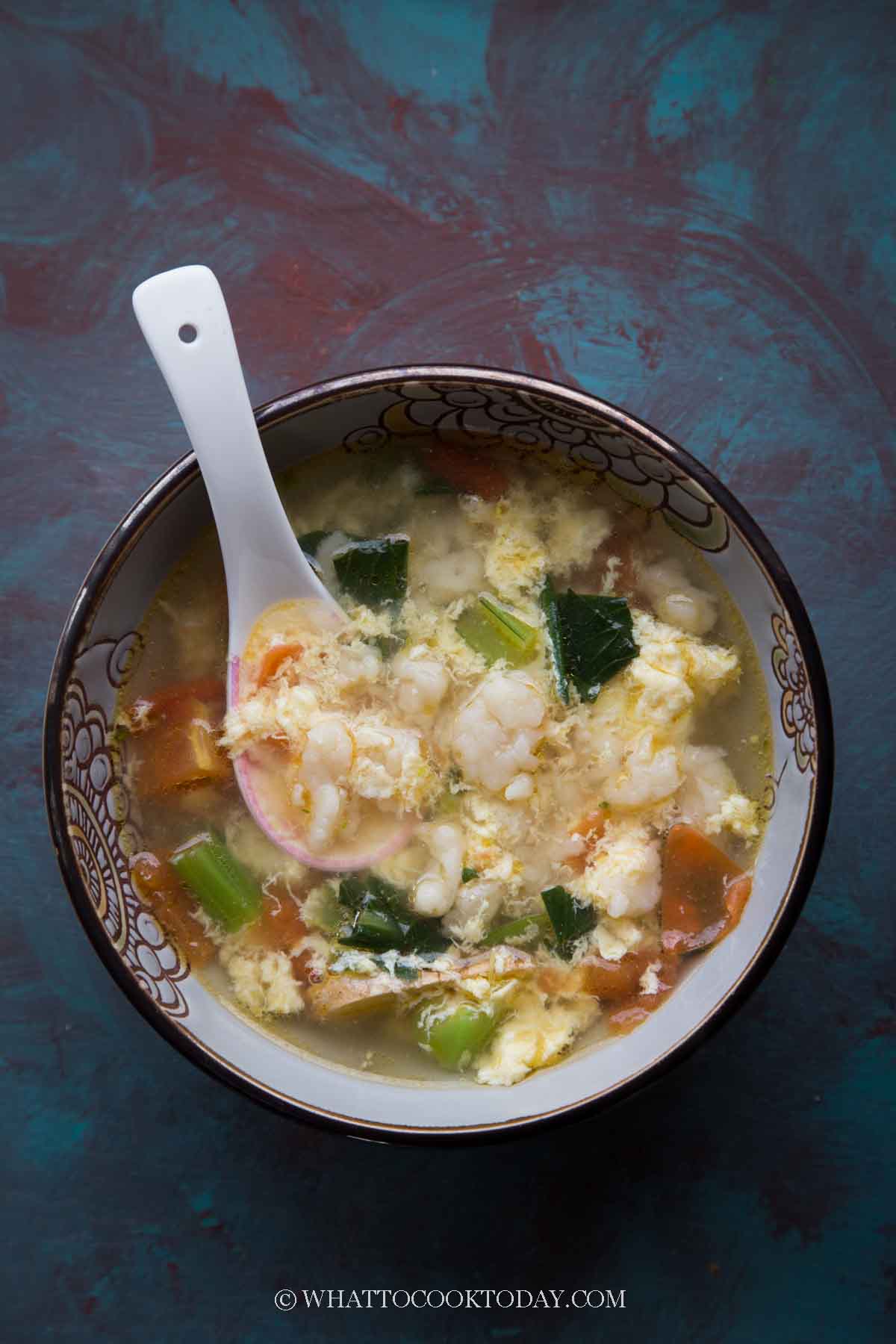 With the subzero weather we are having at this time of the year, I can't help but think of all things soup to warm up the soul! Then I learned about this ge da tang on Youtube. I was intrigued by how easy the whole dish came together and the dough that was so effortlessly shaped into lumps or knots by just stirring.
What is mian ge da tang?
Like in English, Chinese words can have many meanings. Depending on how you use it, mian means wheat/flour, ge da can mean lumps, pimples, warts, knots. In this context, it is referring to the dough/flour knots. Ge da tang or in English known as dumpling knots, dough knots, or dough drop is a very popular home-cooking in Northern Chinese cuisine. The dough knots are cooked in soup with vegetables and some protein like eggs and/or meat. The most common one is the tomato and egg mian ge da soup, which is what I'm sharing here.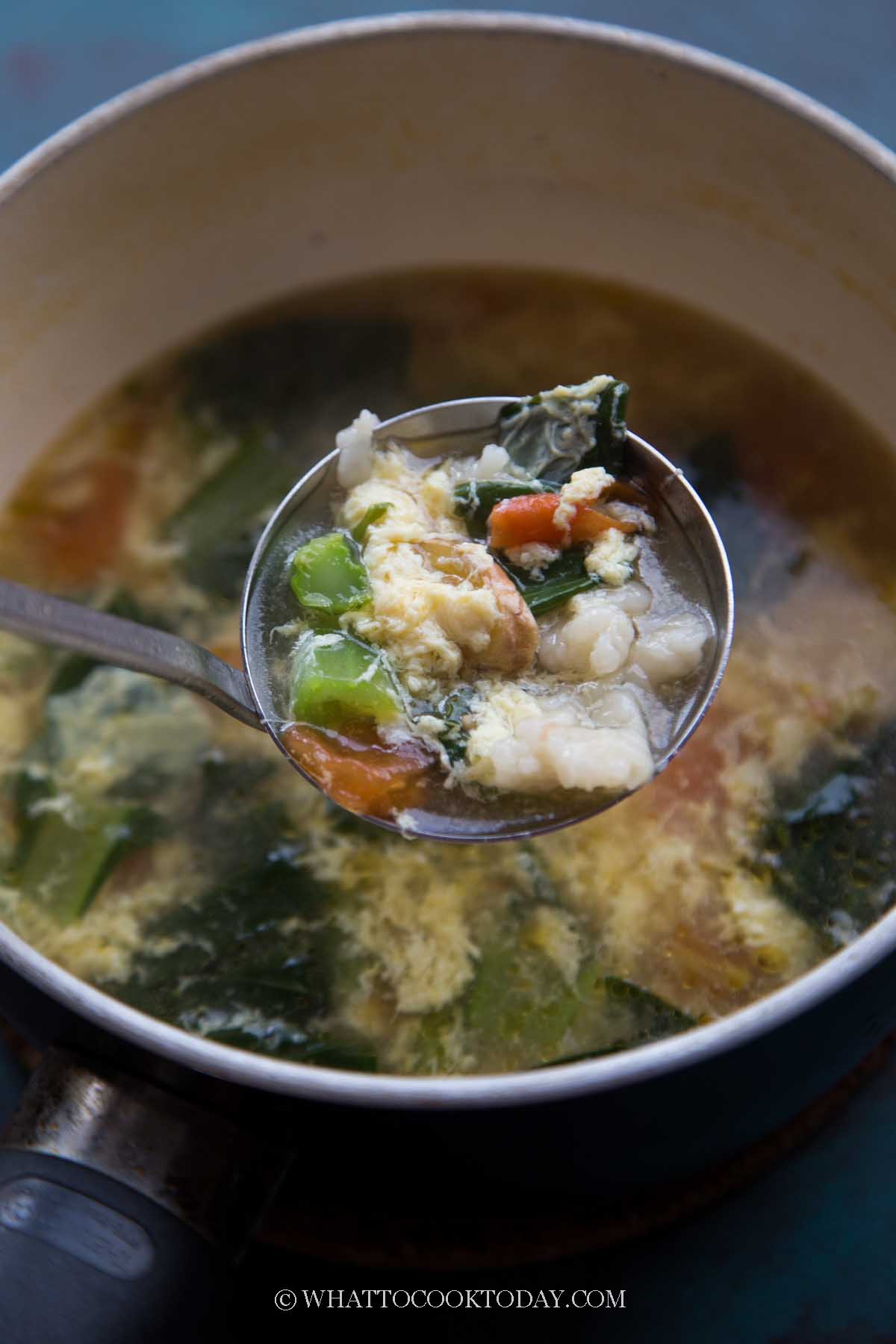 The recipe rundown
Taste: The mian ge da doesn't have much taste on its own but cooked in a savory soup like this, it tastes great and comforting
Texture: Mian ge da has a soft texture
Pros: One of the easiest "pasta" one can make and I can feed my family a complete meal in no time. What you want to put in the soup is very flexible too. The recipe is very forgiving too
Cons: The presentation may not be the most aesthetic
How to make mian ge da
You only need all-purpose flour and water to make mian ge da and it is a very forgiving recipe. Here's how:
Place the flour in a large mixing bowl. Gradually add 4 Tbsp of water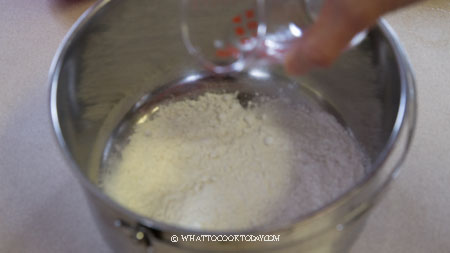 Then use a chopstick to stir in one direction at the same time


Stir until the dough turns into irregular little and some larger lumps. If the dough feels too dry and you can't form lumps, you can add another teaspoon of water at a time. Likewise, if the dough feels too wet, add a bit more flour, one tablespoon at a time


This should be how they roughly look like. Mixture of some larger and smaller lumps

How to prepare ge da tang
1. Preheat a large heavy-bottom pot on medium heat. Add cooking oil and then stir fry garlic and ginger until fragrant, about 1 minute.\


2. Add the broth and seasonings


3. Bring to a gentle simmer and then add the greens and tomato


4. Bring back to a boil and then pick up some of the dough knots with your hands and gently scattered them on top the soup. Don't dump all at once or they will become one large lump. Repeat until all the dough knots are in the soup


5. Gently stir and cook for about 1 minute


6. While one hand is stirring, slowly and gradually pour in the beaten egg and keep stirring so it will form a nice pattern like egg drop soup


7. Turn off the heat. Have a taste and season with more salt as needed. Serve immediately

My husband and I like it with some drizzle of Chinese black vinegar.

Things you can add
1. Protein: tofu cubes, ground meat, leftover shredded chicken, thinly sliced meat
If you use raw meat like ground meat or thinly sliced meat, add them after stir frying the garlic and ginger and stir fry until they turn color and then add the broth
2. Veggies: chopped kale, spinach, bok choy, mixed veggies
3. Mushrooms
How to make ahead
Mian ge da tang is best consumed immediately right after it is made. The dough knots will turn mushy the longer they sit. However, you can prepare the soup ahead but do not cook the dough knots yet until you are ready to serve them. It takes only 1 minute to cook the dough.
Did you make mian ge da tang recipe?
I love it when you guys snap a photo and tag to show me what you've made 🙂 Simply tag me @WhatToCookToday #WhatToCookToday on Instagram and I'll be sure to stop by and take a peek for real!

You may also like similar recipe like this mee hoon kueh
Mian Ge Da Tang (Chinese Dough Knots Soup)
Ingredients
For the dough knots:
140

gr

all-purpose flour

1 cup (unsifted, spoon and level please)

4

Tbsp

water

start with this amount and add as needed
For the soup:
1

Tbsp

cooking oil

2

cloves

ginger

minced

½

inch

ginger

thinly sliced

4

cups

vegetable, chicken or pork broth

homemade or store-bought

100

gr

yu choy

cut into smaller pieces, or use other greens of your choice

2

large

eggs

beaten

200

gr

tomato

about 1 large, cut into quarters
Instructions
Prepare the dough knots:
Place the flour in a large mixing bowl. Gradually add 4 Tbsp of water and then use a chopstick to stir in one direction at the same time until the dough turns into irregular little lumps. If the dough feels too dry and you can't form lumps, you can add another teaspoon of water at a time. Likewise, if the dough feels too wet, add a bit more flour, one tablespoon at a time
Prepare the soup:
Preheat a large heavy-bottom pot on medium heat. Add cooking oil and then stir fry garlic and ginger until fragrant, about 1 minute. Add the broth and seasonings. Bring to a gentle simmer and then add the greens and tomato

Bring back to a boil and then pick up some of the dough knots with your hands and gently scattered them on top the soup. Don't dump all at once or they will become one large lump. Repeat until all the dough knots are in the soup. Gently stir and cook for about 1 minute

While one hand is stirring, slowly and gradually pour in the beaten egg and keep stirring so it will form a nice pattern like egg drop soup. Turn off the heat. Have a taste and season with more salt as needed. Serve immediately
Recommended products: