These irregular shape hand-torn noodles are probably the easiest noodles one can make yet it brings so much comfort served in soup with meat and fried anchovies and poached egg.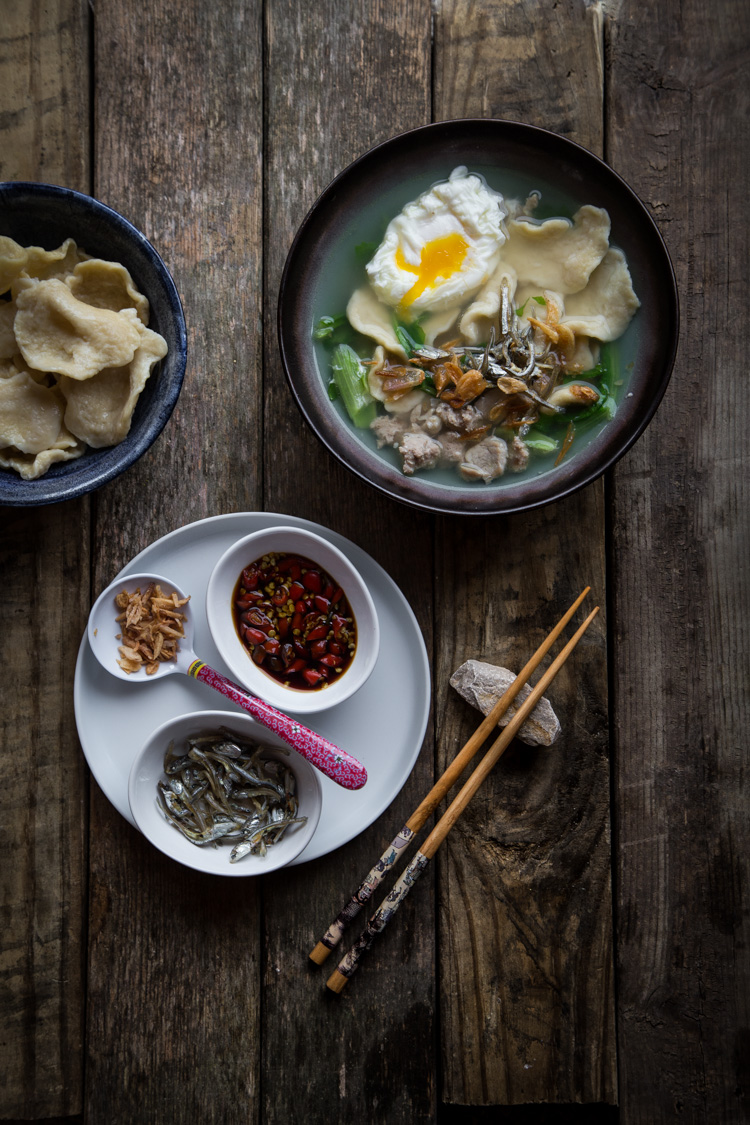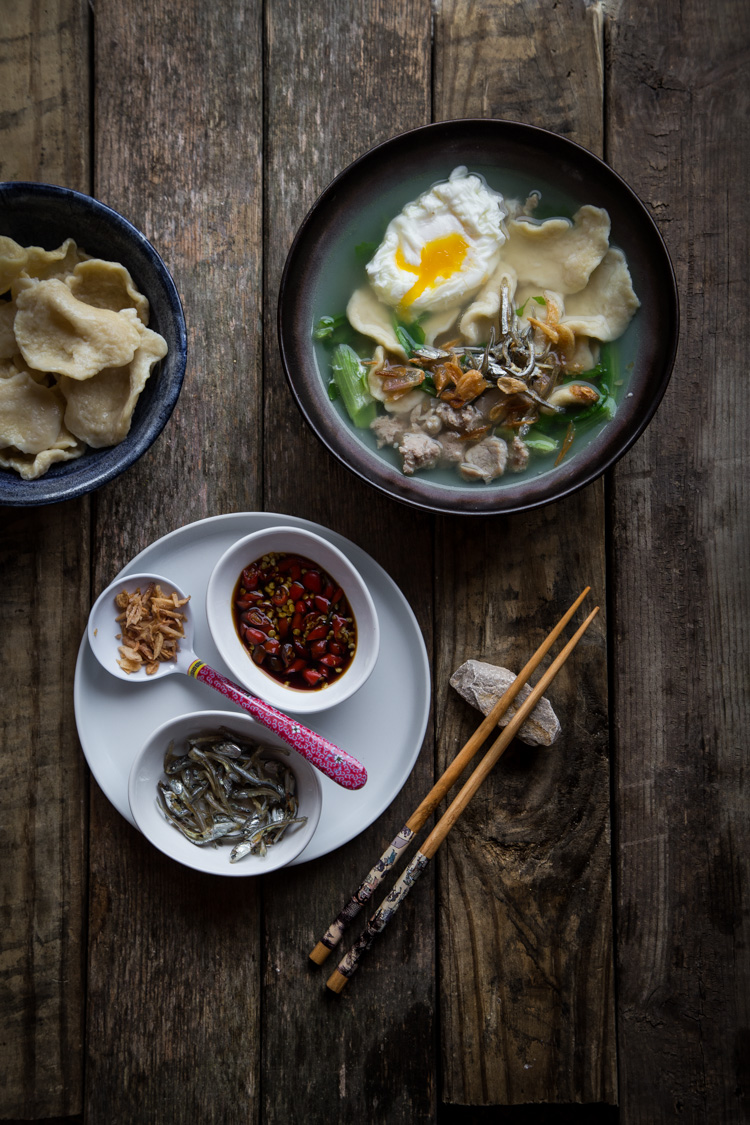 Mee Hoon Kueh is comfort food to many Asian people in Southeast Asia, especially Malaysia and Singapore. The first time I had Mee Hoon Kueh though, wasn't in Asia. I was introduced to Mee Hoon Kueh for the first time by my college housemate from Malaysia many moons ago here in the U.S. She made it and I wasn't quite sure what was it that she was going to feed me at that time. I was just so impressed by how she tore all these thin pieces of flour cake into the boiling broth. Man…I've never had anything like that before.
Mee Hoon Kueh dough is made with all-purpose flour, egg, water, and a pinch of salt. It is slightly chewy and not in any orderly shape either because the dough is torn by hand into thin pieces. Seriously, the easiest noodle one can make 🙂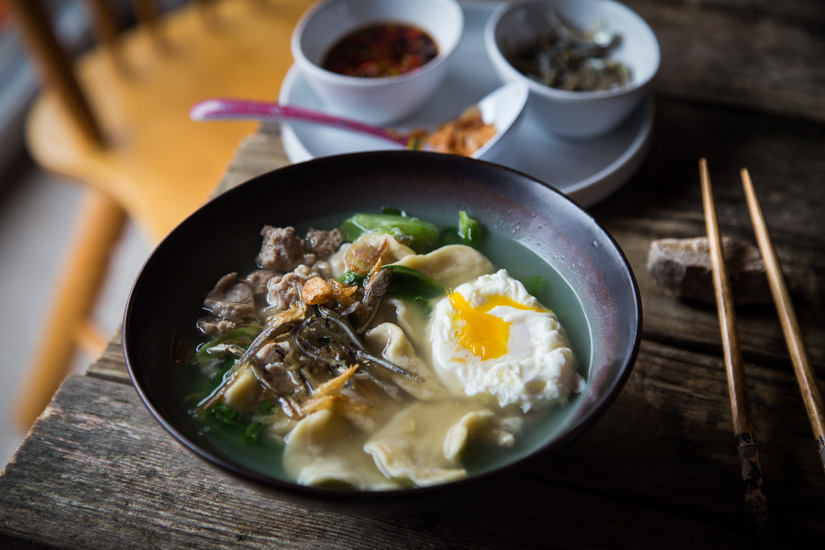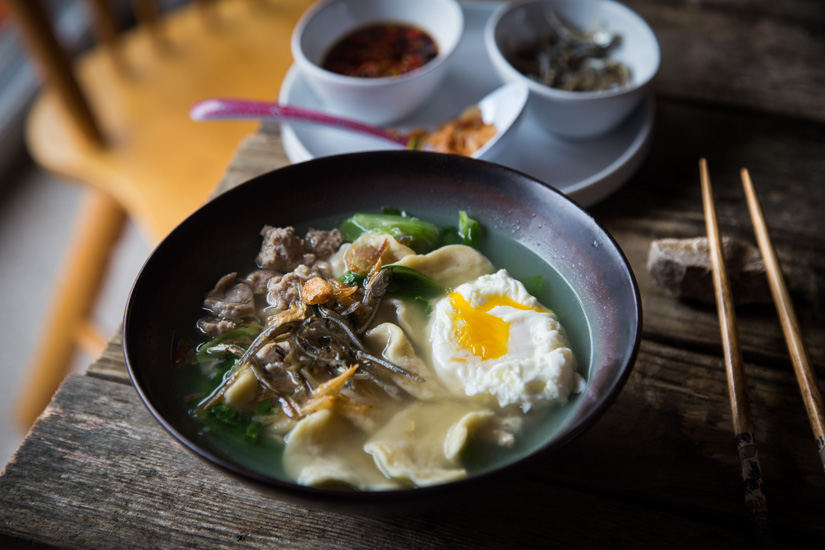 Since then, it has become my comfort food too. When I moved to Singapore for few years, I had Mee Hoon Kueh pretty often for dinner. I did not make it. They are available almost everywhere you go, that's one of the best things about Singapore. Food..food..food…everywhere! I'm surprised I did not gain 20 lbs just staying there for few years lol! Anyways, back to the topic. I was craving for Mee Hoon Kueh and so I made it 🙂 The husband and kids love mee hoon kueh too.
Mee Hoon Kueh (Hand-torn Noodle)
Ingredients
Mee Hoon Kueh:
2

cups

of all purpose flour

About 1/4 cup of water

and add more as needed

1

Tbsp

of cooking oil of your choice

1/2

tsp

of salt

2

eggs
Meat:
8

oz

of ground pork or chicken

1

Tbsp

of sesame oil

Pinch of salt and white pepper powder

1

tsp

of sugar

1

Tbsp

of corn starch
Other ingredients:
3/4

cup

of small to medium-size dried anchovies

to make the soup

1/2

cup

of large-size dried anchovies

deep-fried and set aside

1

large bunch of yu choy

trim off large stems

8

cups

of chicken stock

Cooking oil

Salt and Pepper to taste

4

large eggs
Garnishes:
2

stalks of green onion

finely chopped

Fried crispy shallots

available at Asian grocery store

5-6

mixture of red and green bird's eye chili and doused in soy sauce

finely chopped
Instructions
Mee Hoon Kueh Dough:
Mix all the ingredients for mee hoon kueh in a large mixing bowl. Start with about 1 cup of water and knead with your cleaned hands until it forms a large dough and no longer sticks to your hands. You may need to add more water or more flour to get to that point. Let the dough rest for at least 1 hour and cover with damp cloth. You can leave it in the refrigerator 24 hours prior to cooking too

When ready to use the dough, Prepare a big pot of boiling water with some salt and 1 Tbsp of cooking oil. When the water is boiling, start pinching off small pieces of dough and flatten with your fingers and pulling it into thin wide sheets of irregular shape noodles. into the boiling water. The mee hoon kueh will float to the top when it's cooked. Remove with slotted spoon into a bowl and toss with a bit oil to prevent them from sticking together and set aside and repeat until you are done with the rest of the dough
Making the soup:
In a large pot, add in the chicken stock and bring to a boil. Add in the anchovies and lower the heat and let is simmer for about 30 minutes. Season with some salt and pepper to taste. Set aside

Mix all the ingredients for the meat together, cover and set aside in the refrigerator
Frying dried anchovies:
Preheat a small to medium pan with some oil, just enough to cover the anchovies. Fried the anchovies until golden brown. Remove and place on absorbent paper towel to absorb some extra oil
Serving:
Place the cooked mee hoon kueh in an individual serving bowl. Portion out the cooked veggies into each bowl. Bring the chicken stock back to a boil and drop in small pieces of the ground meat, and vegetables into the stock. The meat and veggies cook quickly too. Crack in the whole egg into the soup without stirring and let the egg white turn white but yolk is still runny and gently scoop the egg out into an individual serving bowl. Ladle and portion out the ingredients into each individual serving bowl and a generous amount of soup over everything. Garnish with crispy fried shallots, fried anchovies, green onion and serve with chili on the side if you like