Easy Shrimp Lo Mein is super easy less than 30 minutes one-pan stir-fried noodle dish for any day of the week really!! Better and more wholesome than take-out !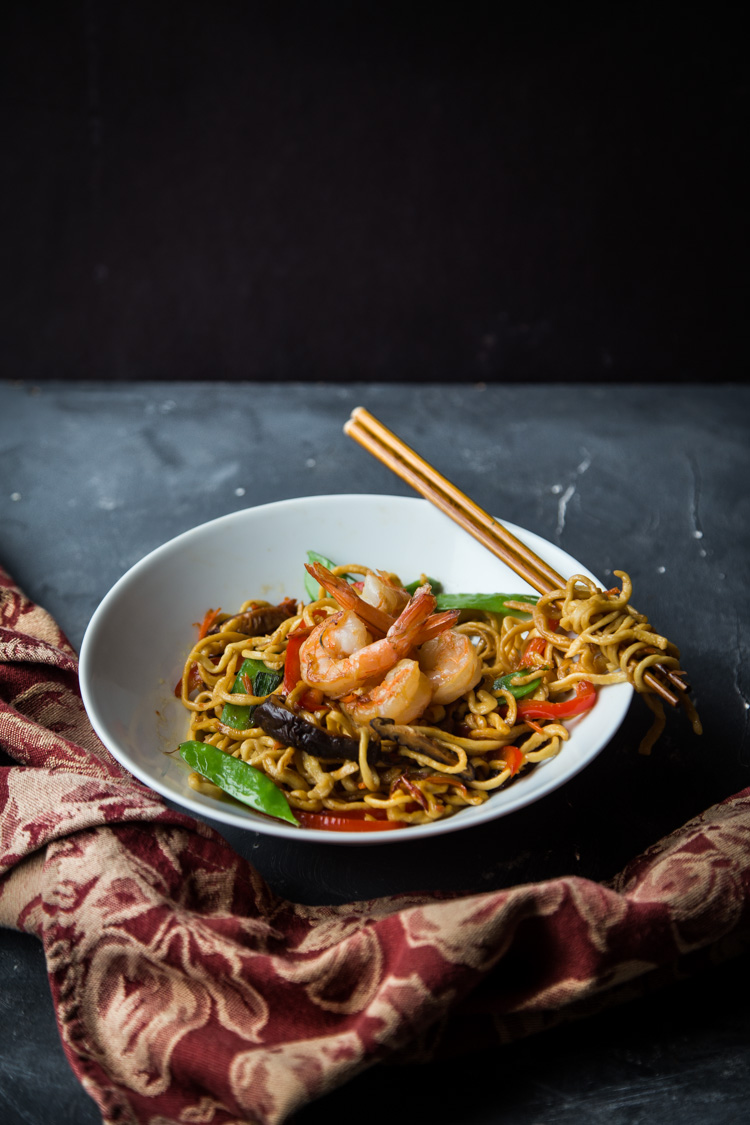 I can't tell you guys enough how often we make stir-fry noodles or noodle soup in this house. Most of the time I find it a no brainer and quick to make (especially stir-fried noodles). There is a gazillion of varieties of stir-fried noodles out there (if you just google it). Sometimes I just stir-fry noodles without any specific recipes, but most of the time it always involved soy sauce, oyster sauce, and dark soy sauce.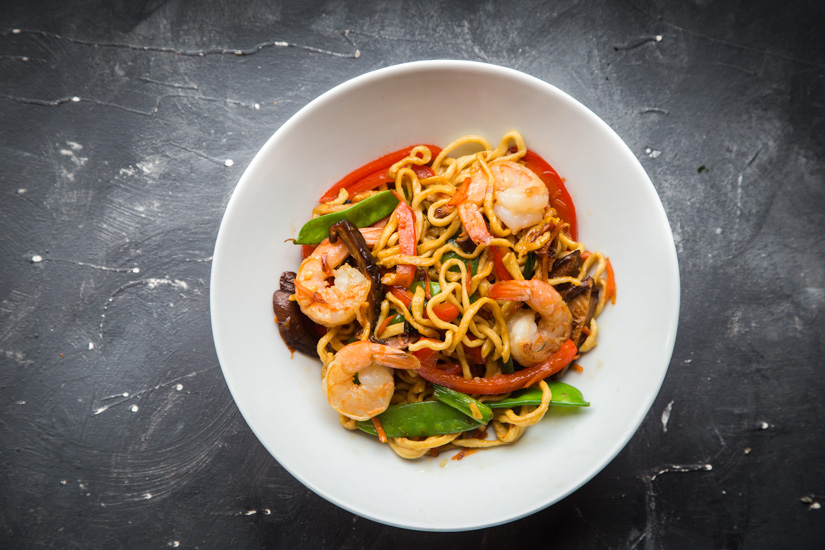 So, this was Sunday evening and I just made a fresh batch of egg noodles in the afternoon and the thought of lo mein just popped up. I didn't feel like cooking up a storm really. Took a quick peek inside the fridge and in less than 30 minutes later, we had this shrimp lo mein. This version I made is more of a Chinese American version. They are easy and I know my American friends love it. I also have requests from readers who want to see some Asian American fusion recipes on the blog, so this is one of them 🙂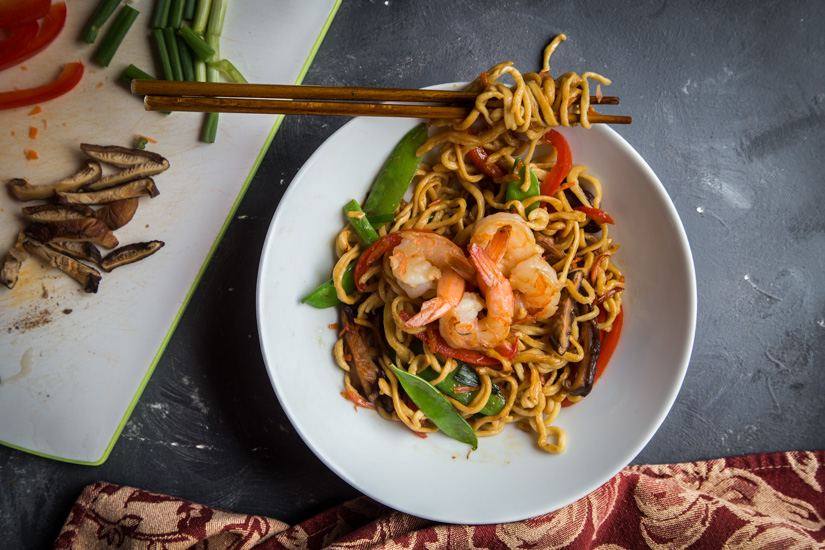 Fiorina came to me and said, "Mama, when I grow up, I want to make shrimp lo mein". I just wanted to burst out laughing because it was such a sweet thing for her to say and how much I love that innocence in her.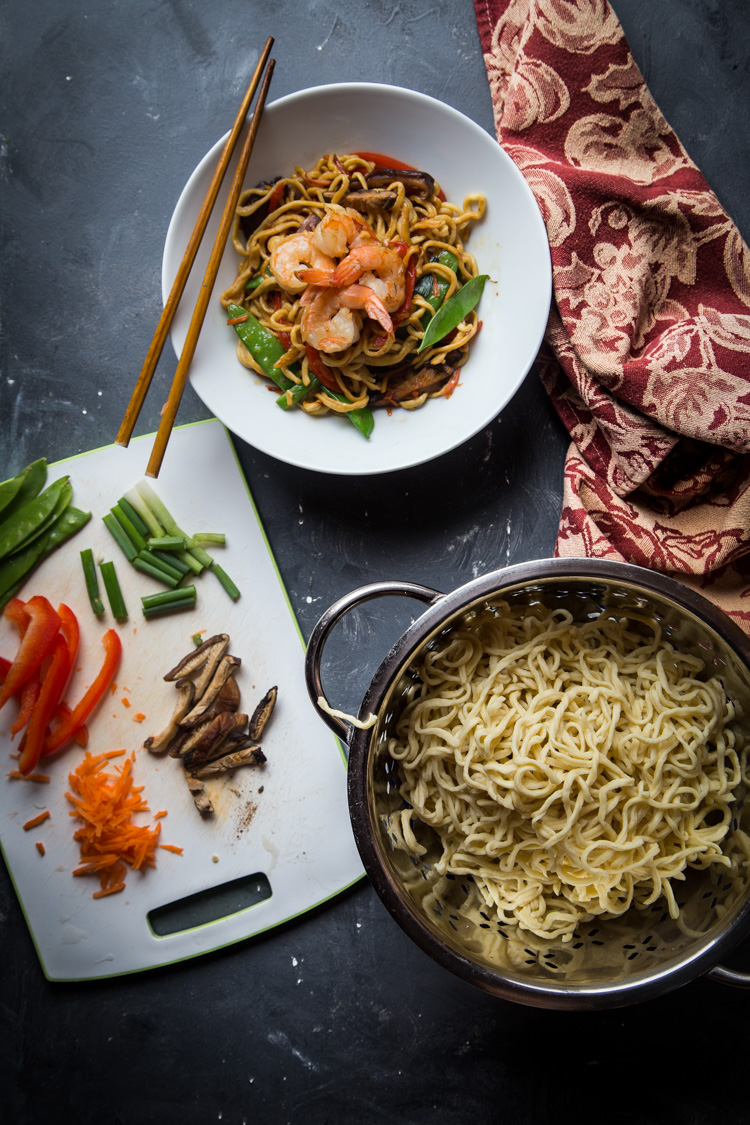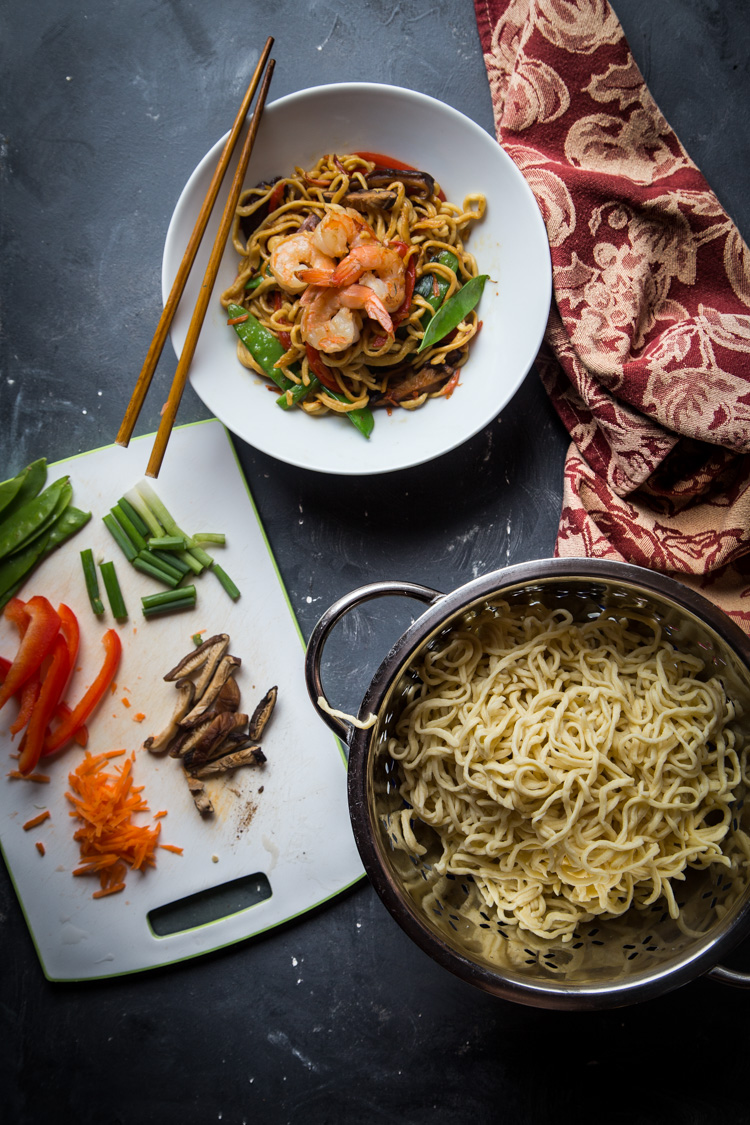 53 seconds short clip of how to make this Easy Shrimp Lo Mein
Easy Shrimp Lo Mein is a super easy one-pan recipe. My little girl said, "Mama when I grow up I want to cook Lo Mein" (the sweetest & funniest thing I heard this week 🙂 ) and she chose the music for the video 😉 What do you think?

Full recipe at: http://whattocooktoday.com/easy-shrimp-lo-mein.html (I was cooking 1 portion in the video)

Posted by What To Cook Today on Monday, March 27, 2017
Easy Shrimp Lo Mein
Print
Ingredients
2

Tbsp

sesame oil

1

clove

garlic

finely chopped

8-10 large shrimp

peeled and deveined

1

stalk

scallion

cut into 2-inch length

1

large

red bell pepper

seeded

1/2

cup

shredded carrots

2

dried shiitake mushrooms

wash & soaked in warm water for 20 minutes, stemmed & thinly sliced

About 10 pieces of snow peas

10

oz

lo mein noodles
Seasonings:
4

Tbsp

soy sauce

1

Tbsp

brown sugar

1

Tbsp

oyster sauce

1/4

cup

liquid from soaking shiitake mushrooms

1-2 Tbsp sriracha chili sauce

optional (if you like it spicy)
Instructions
Cooking the noodles:
Cook the lo mein noodles according to instruction. Fresh noodle usually only take 1-2 minute to cook while the dried version may take 3-5 minutes. Please take care not to overcook the noodles. Rinse the noodle with fresh cold water after cooking
Seasonings:
Mix all the ingredients for seasonings in the bowl and set aside ready for cooking
Stir-frying:
Preheat a wok or stir-fry pan. Add in the sesame oil and swirl to coat the wok/pan. Add in the garlic and saute for 5 seconds. Add in the shrimp and let them cook undisturbed to let them brown a little bit and then flip to the other side. It shouldn't take long to cook the shrimp. Remove from the heat when they are pink, about 1 minute or so

In the same wok/pan, add in the scallion and bell pepper. Stir fry for about 10 seconds. Add in the carrots and give it a few stir. Add in the snow peas and shiitake mushroom. Stir everything for about 20 seconds. Pour in the seasoning and it will sizzle. Add in lo mein noodles and stir to make sure the seasoning is coating the noodles and everything. Add in the shrimp and give it a final stir. Have a taste and add more soy sauce if needed. It should be savory and slightly sweet (but not too much) with some wetness. Remove from the heat into serving platter and serve immediately
Recipe Notes
You can use store-bought fresh /dried lo mein noodles or substitute with spaghetti or linguine (Nobody will penalize you for it I promise)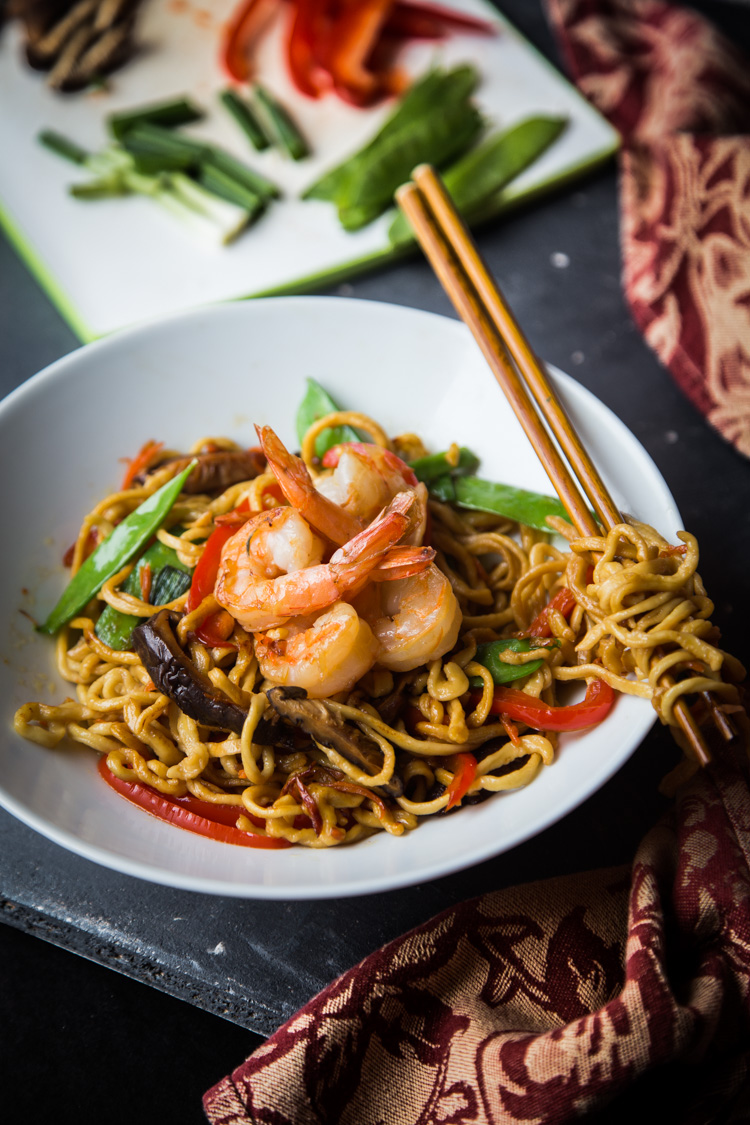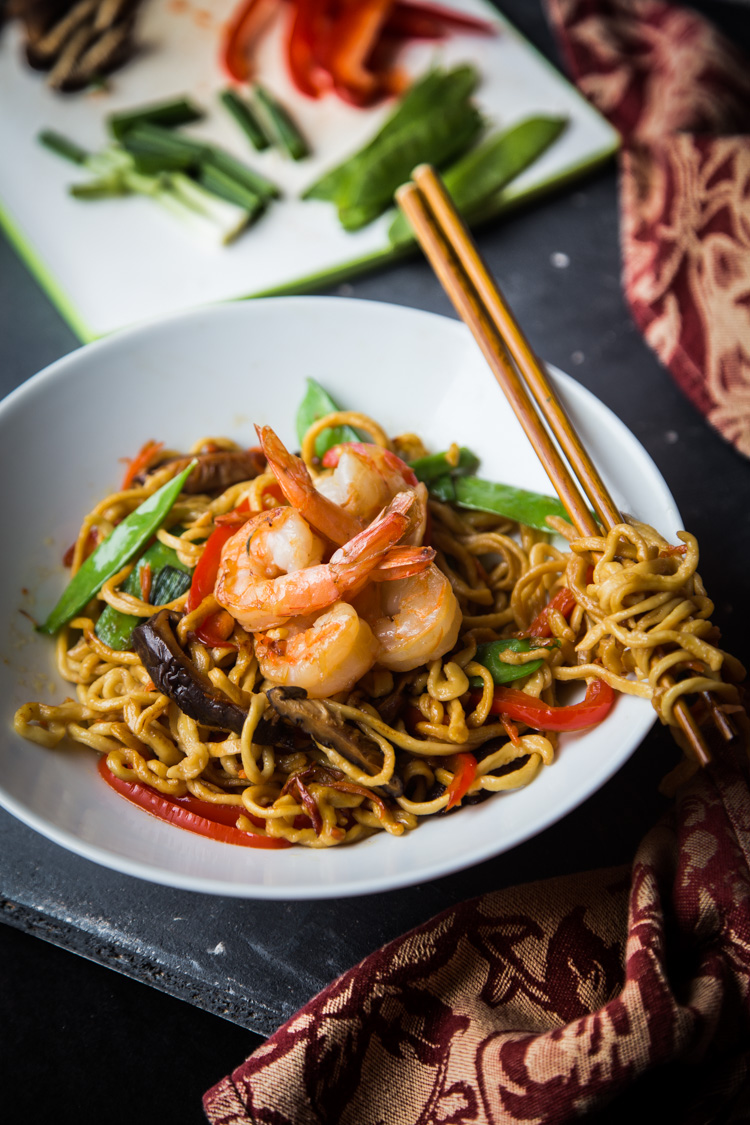 *This post contains affiliate links. You don't pay extra as a consumer if you choose to click on the link and purchase from there. What To Cook Today just receives a small commission from this. That's all. It helps to pay for the cost to have this blog up and running. Thank you so much for your support !