Moist and succulent pieces of chicken are coated in homemade teriyaki sauce is a favorite from kids to adult. The sauce is not thickened with corn starch like in most recipes but from the caramelization of brown sugar.
The term teriyaki itself refers to the cooking method in Japan by broiling or grilling and basted in a sauce that is savory and sweet. This easy chicken teriyaki is not 100% traditional Japanese teriyaki because no grilling and broiling involved. In fact, the term teriyaki is very loosely used now, especially here in the U.S. I pan-fried the chicken and trust me, they still turn out delicious.
You'll find the homemade teriyaki sauce is really easy to make too and equally delicious. I think this easy peasy chicken teriyaki recipe is definitely a keeper when you want to whip up something quick with some Asian touch 😉 I can almost say it will surely please both young and old 😉
WATCH HOW I MADE THIS EASY CHICKEN TERIYAKI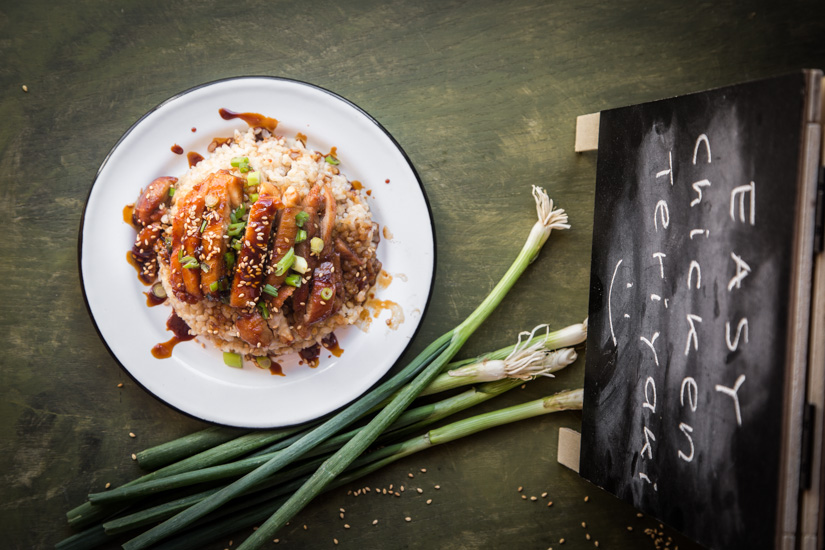 For baking/ kueh making: I highly encourage to weigh ingredients with a digital kitchen scale instead of using measuring cups as they are not very accurate especially when it comes to recipe that requires precision.
GRAMS TO CUPS CONVERSION (UNSIFTED)
INGREDIENTS
About 2 lbs of boneless chicken thighs

-

skin-on if you prefer

1

Tbsp

cooking oil

White sesame seeds

-

for garnish
Teriyaki sauce:
3/4

cup

soy sauce

1/2

cup

brown sugar

1

tsp

grated fresh ginger
INSTRUCTIONS
Mix all the ingredients for teriyaki sauce in a large mixing bowl

Trim off excess fat from the chicken thighs. Place the chicken pieces on a cutting board and cover loosely with plastic wrap and use a meat mallet or pestle (I used pestle) to gently pound the meat into 1/2-inch thickness. Repeat with the rest of the chicken pieces

Preheat a large pan with oil. Place the chicken pieces on the pan in one layer and let them cook undisturbed so they can brown nicely, about 3 minutes and then flip over to the other sides and cook for another 3 minutes. Cook the chicken in two batches if necessary to avoid overcrowding the pan

Gently pour in the teriyaki sauce. It will sizzle. Let the chicken cook for another minute and then flip over. The sugar in the sauce is caramelizing and the sauce is getting thicker, lower the heat so you won't burn the sugar. Remove the chicken pieces into a clean cutting board and let them rest for 1 minute before slicing. Now, let the sauce cooks down to a shiny thick, but still somewhat a bit runny consistency. Remove from the heat and drizzle this sauce over the chicken pieces. Serve immediately