Learn how to make easy homemade golden syrup. Sugar is slowly cooked and reduced/inverted into dark golden/amber color. Golden syrup is commonly used in Chinese desserts and pastries such as mooncakes.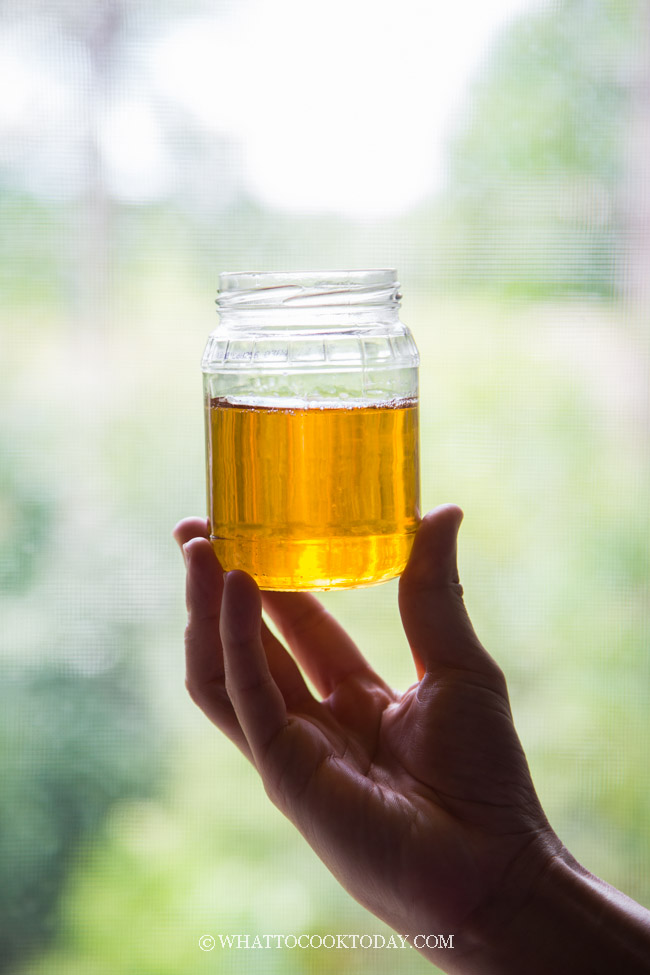 WHAT IS GOLDEN SYRUP (INVERT SYRUP)?
It is called invert syrup because of the inversion of the rotation of plane-polarized light in the sugar (my head hurts just trying to think about what that means!). As fancy as it sounds, golden syrup or inverted sugar syrup is basically made of regular table sugar (sucrose), water, and acid (lemon in this recipe). The mixture is cooked slowly over low heat until it changes color and most water evaporates leaving you with an amber-color syrup with a consistency of honey-like as it cools down.
WHY DO I NEED ACID IN MAKING INVERT SUGAR SYRUP?
Table sugar is made of sucrose, a combination of fructose and glucose. When heats to the ideal temperature of 236°F (114°C), the acid helps so accelerates the conversion of sucrose into fructose and glucose without leaving much of the tartness
WHAT IS GOLDEN SYRUP USED FOR?
Golden syrup is used extensively in commercial baking, confectionaries, ice cream making as sweeteners and at the same time, it extends shelf life, retains moisture much better, improves the quality (smoother texture), and minimizes crystallization in sweets.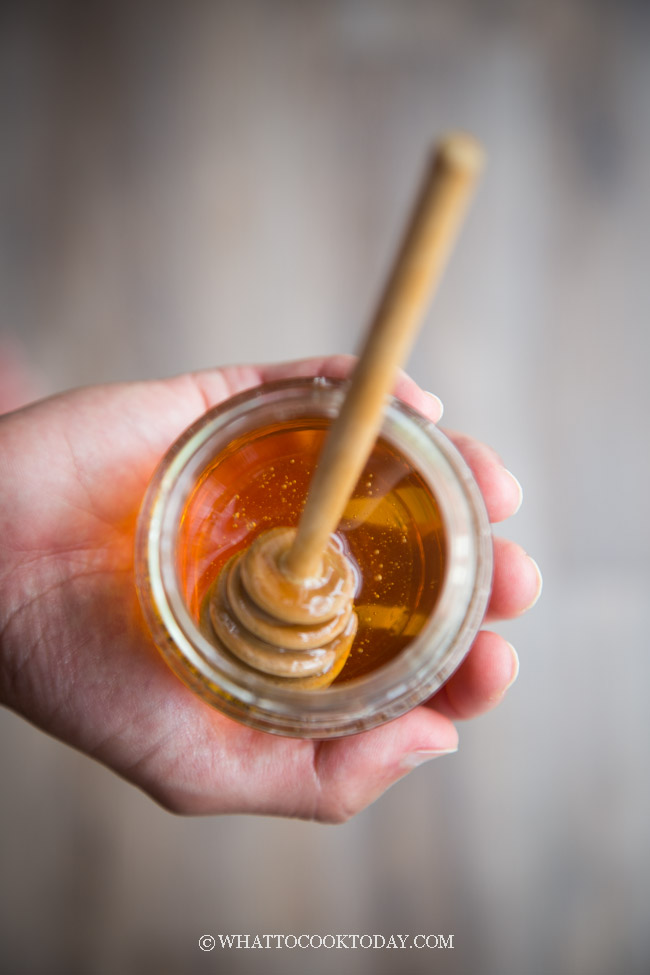 WHY WE NEED GOLDEN SYRUP IN MOONCAKES?
The golden syrup helps to retain moisture and helps to keep the shape of the mooncakes much better without it. I've tried making mooncakes before a super long time ago without golden syrup (what was I thinking!) and of course it was an epic failure!
WHAT IS THE PERFECT CONSISTENCY FOR GOLDEN SYRUP?
The consistency is quite runny and watery when it's still warm on the day you just finished making it (as you can see in the photo and the video), but after a few days, it continues to thicken. So don't cook it until it's so thick and when it cools down it will be too thick.
IMPORTANT TIPS
1. Use a heavy-bottom saucepan. If you use thin material, the sugar will get burn easily. Avoid aluminum and iron materials
2. Once you have brought it to a boil and lower the heat, don't stir the sugar anymore and let it gently cook over low heat
3. We want the consistency of runnier than honey when you finish cooking because it will thicken further as it cools down
4. If you cook for too long and the texture is too thick, you can thin it down by adding a bit more water and cook it again to the consistency runnier than honey
5. If it's too runny, you can cook it a bit longer. If it's too thick, you can add a bit water to thin it out
6. You can wait for 2-3 days before using the syrup, but if you can wait for 2 weeks, the flavor gets better and the consistency is rich and thick but still pourable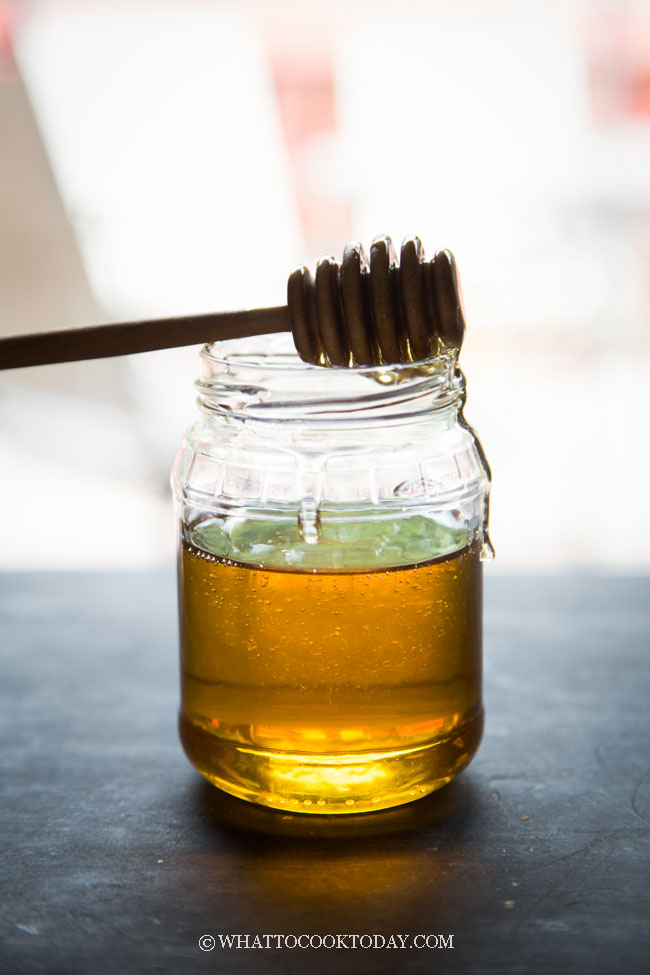 Easy Homemade Golden Syrup For Mooncakes (Inverted Sugar Syrup)
Ingredients
800

gr

granulated white sugar

4 cups, or use caster sugar/fine sugar

600

ml

water

2 1/2 cups

4

slices

fresh lemon
Instructions
Cut the lemon into 4 thin slices. Place the sugar, water, and fresh lemon slices in a medium saucepan, preferably stainless steel or ceramic as they conduct heat more evenly but not too fast that it burns the sugar. Avoid aluminum and iron material

Cook until sugar dissolves on medium heat. Lower the heat to really low to simmer gently for the next 1 hour 30 minutes without stirring it. The sugary water will gradually change color to amber, almost like the color of honey. If you have a candy thermometer (I don't), you can make sure the temperature is between 110-115 C (230 F - 239 F)

Test for consistency: drop some of the syrup in a bowl of water. Use your finger to stir the syrup and if it melts or sort of dissolves, it's done cooking. If you can form a soft ball with it, you have gone a bit too far. Just add a bit more water to the syrup in the pan to "thin" it a bit and test again. The consistency would be close to a runny honey. You don't want to cook it as thick as honey because it will thicken further as it cools down

Transfer to a glass jar and let it cools down completely before sealing the lid. The syrup can be stored at room temperature for up to at least one year or beyond

Let the golden syrup "matures" for 2 weeks before using. The flavor gets better the longer it sits and consistency will be thicker

Simply soak the pot you use to cook the syrup in warm water for 10-15 minutes and the sticky sugar will dissolves and easy to be washed after that
Recommended products: