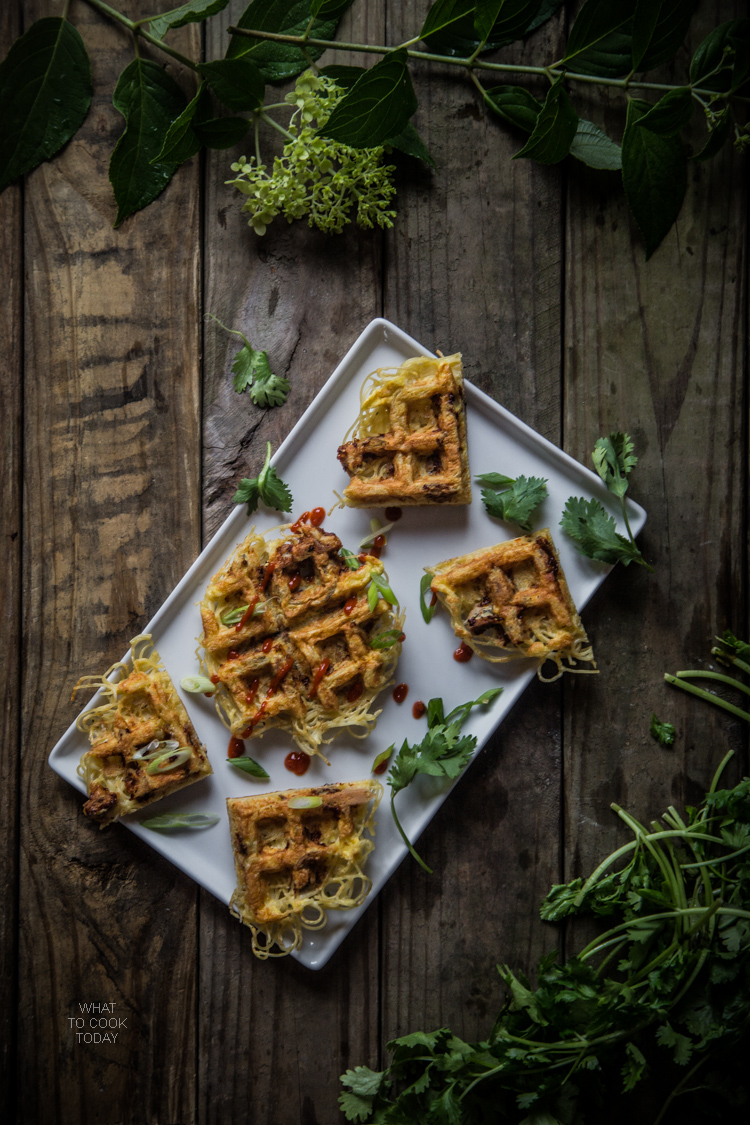 It's okay you can say it! (crazy woman!) I was on a waffle-making frenzy. Yes I know, I'm trying to waffle anything I came into contact with. Can you blame me though ? It's so convenient to have a waffle maker. Honestly! I've baked cookie, brownies, steamed buns, fried rice on a waffle maker. And somehow the kids always fall prey to these food when I made them with waffle maker.
I was inspired by the Spaghetti Fritters that I made a while ago and pretty popular on Pinterest. It's easier than making fritters 🙂
Pasta, bacon and eggs waffles (about 2 large round waffles)
Ingredients
10

oz

of bacon

diced into small pieces

8

oz

dried pasta

I used angel hair here, but you can use spaghetti or other pasta/noodles

A handful of fresh flat-leaf parsley

finely chopped

2

eggs

1

egg yolk

1

stalk scallion

finely chopped

Crumbled sea salt and freshly ground Black pepper
Sweet chili sauce (optional):
5-6

red Anaheim or Fresno peppers

1

Thai chili pepper - if you want it spicier

optional

½

small onion

1

Tbsp

of oil

2

Tbsp

brown sugar

1

Tbsp

of rice vinegar

Pinch of salt
Instructions
Preparing the chili sauce (if you choose to make):
Place the peppers, Thai chili (if using) and onion in a food processor and finely chopped them. Preheat a saucepan with cooking oil. Add in the peppers mixture and stir fry for about 5 minute. Add in the brown sugar and rice vinegar and cook on low heat for about 15 minutes Have a taste, if you want it sweeter, add more brown sugar. Remove from the heat and let it cool down

Let the bacon pan fry on a dry pan until crisp. Meanwhile bring a large pot of water to a boil. Add in pinch of salt and cook the pasta to al dente. Drain and set aside

Place the cooked pasta, cooked bacon bits, eggs, scallion, salt and pepper in a large mixing bowl. Stir to mix everything

Preheat your waffle maker. Spray with non-stick spray or brush with a bit of oil from cooking the bacon. Place half of the pasta mixture on the waffle maker. Try to spread it out as evenly as possible. Close the lid and let it cook until golden brown. I had to cook mine for about 2 cycles. Repeat and serve as is or with sriracha chili or sweet chili sauce on the side
I wrap each one of them well and freeze them and I can just toast it in a toaster in the morning!